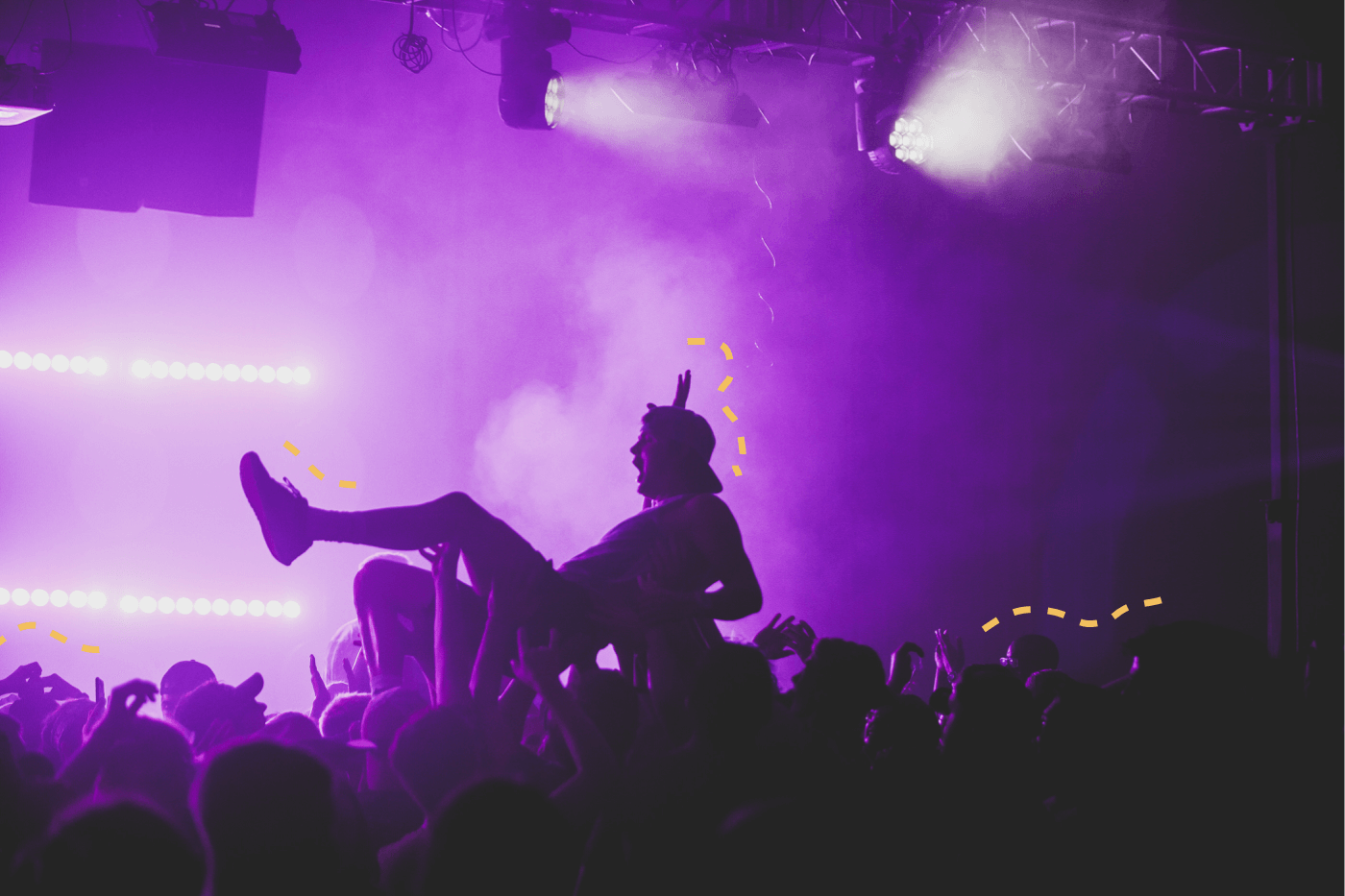 Returning attendees are an important piece of any event strategy, especially with new customer acquisition costing anywhere from 5 to 25 times more than retention. Brands are built on strong fan relationships, but what do you do when someone stops engaging?
You may be tempted to email these unengaged subscribers with your general promotional blasts, but sending them artist announcements and event promotions when they show no signs of engaging will damage your email deliverability.
The chances of these subscribers engaging with your blasts on their own again are very slim. At this point, you should instead push them into a winback automation to re-engage them, getting them to look forward to future communications from your brand. Remember, these fans showed interest in your emails before, so there's a high chance you can pique their interest again with the right content.
Read More: Guide to Email Automations for Event Marketers
Winback emails show high success rates, with 45% of subscribers who received a winback campaign opening a subsequent message. This means that 45% of the fans who aren't engaging with your current emails (and harming your overall deliverability) could be brought back with the right communications.
Building Your Winback Journey
To get started, you'll first need to build a segment of inactive subscribers. Hive automatically buckets your subscribers by engagement level, but if you're on a different ESP, you'll need to create a segment to capture customers who haven't opened or clicked an email in a while (e.g. subscribers who haven't opened or clicked your last 10 emails). This will ensure you don't continue including inactive subscribers in your main email blasts, and creates the segment that will trigger your winback automation.
Related: 21 Email Segmentation Ideas for Event Marketers [Cheat Sheet]
Remember, the goal of a winback email series is to send emails designed specifically to appeal to subscribers and get them to re-engage with your brand. You'll need to think about what types of content will best get them to open and click. This can vary for every brand, but think along the lines of:
Your brand values: what sets you apart from other events or venues?
Discount codes: are your fans price-sensitive?
Exclusivity: do your fans respond well to exclusive content or limited access offers?
Leveraging the things your fans care about will help you form effective and engaging steps for your winback email series.
A good thing to consider is timing your winback series with your brand's buying cycle, especially if you're basing your automations on the last time a purchase was made. If a customer hasn't made a purchase within whatever period of time feels meaningful for your brand (e.g. 90 days), it is probably time to send them a winback email. If you only run annual events, you might consider basing this on venue instead.
Here's a basic winback series outline to get you started:
Email 1: Sent after a subscriber doesn't open or click your last 10 emails
The actual timing of your first email will depend on how often you send emails; if you send less frequent email, you may want to send after 5 emails.
The basis of this email can be pretty simple - what are the reasons that may have gotten a fan to subscribe in the first place? You can reiterate this value using good copy and a CTA in order to re-engage.
Typically, a link to your preference centre that lets fans change the frequency of your sends and/or the types of emails they receive from you does the trick. You could also try a simple reminder linking back to your event or venue website with a 'Still interested in hearing from us?' CTA.
If you have a preference centre, subscribers can use this opportunity to control the types of emails they want to receive, and even opt into segments like genres they're interested in.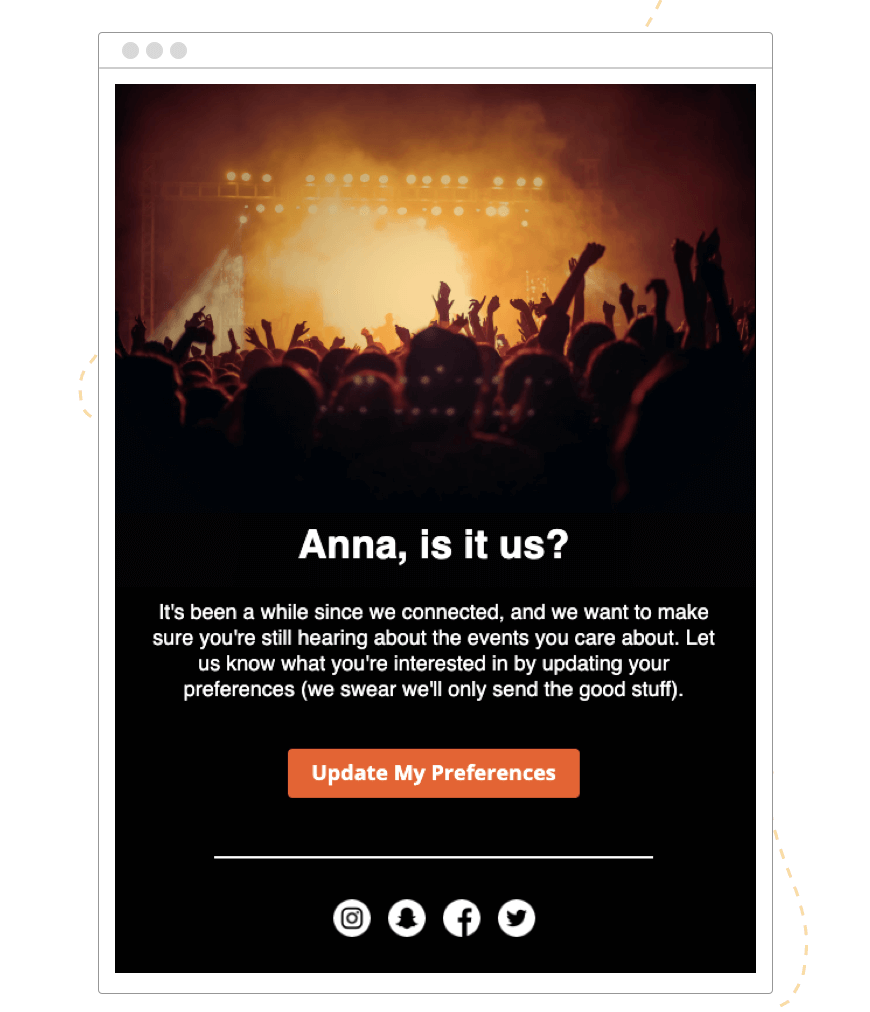 Email 2: Sent 2 days after winback email #1
If your first email isn't enough to hook them, a discount or promo code for your future events might be the extra push they need to re-engage again. Everyone loves a discount!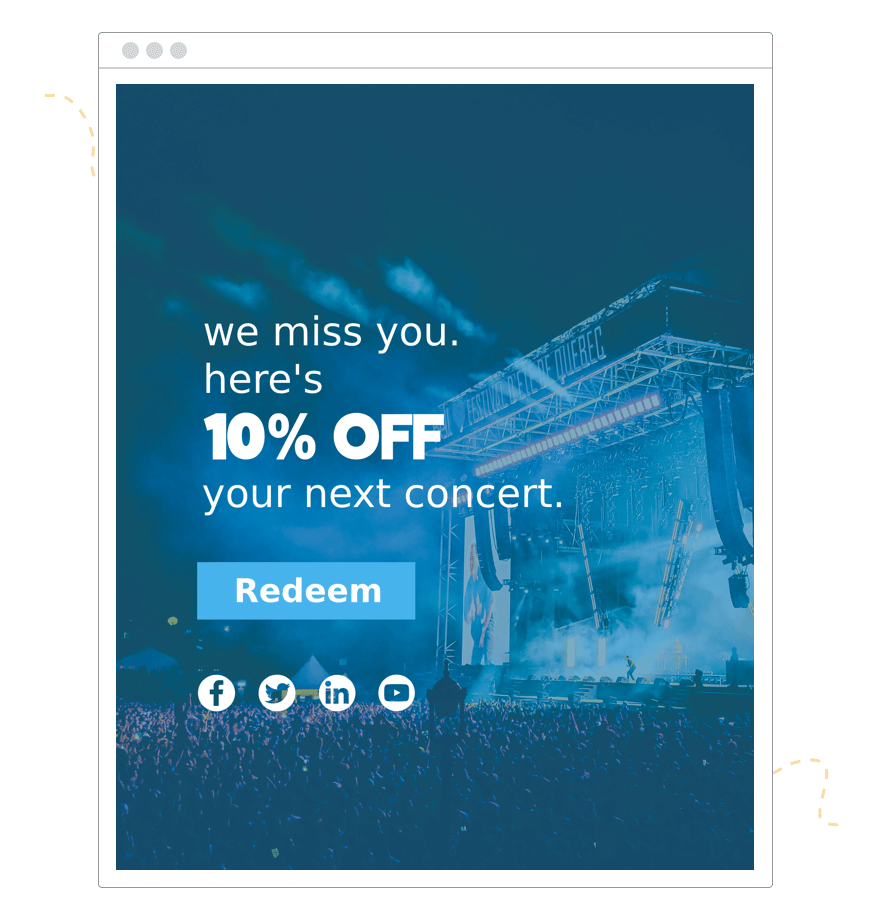 Email 3: Sent one week after winback email #2
This email is your last opportunity to grab your fans' attention. We recommend pulling out all the stops - an increased discount, sense of urgency ("last chance"), or even an invite to be a VIP might finally do it. If you're opting to offer a higher discount, this email would contain the highest discount you're willing to offer.
If fans don't engage with your final winback email, best practice is to exclude them from future sends. At this point, the chance of re-engaging is extremely low, and sending to them will hurt your deliverability.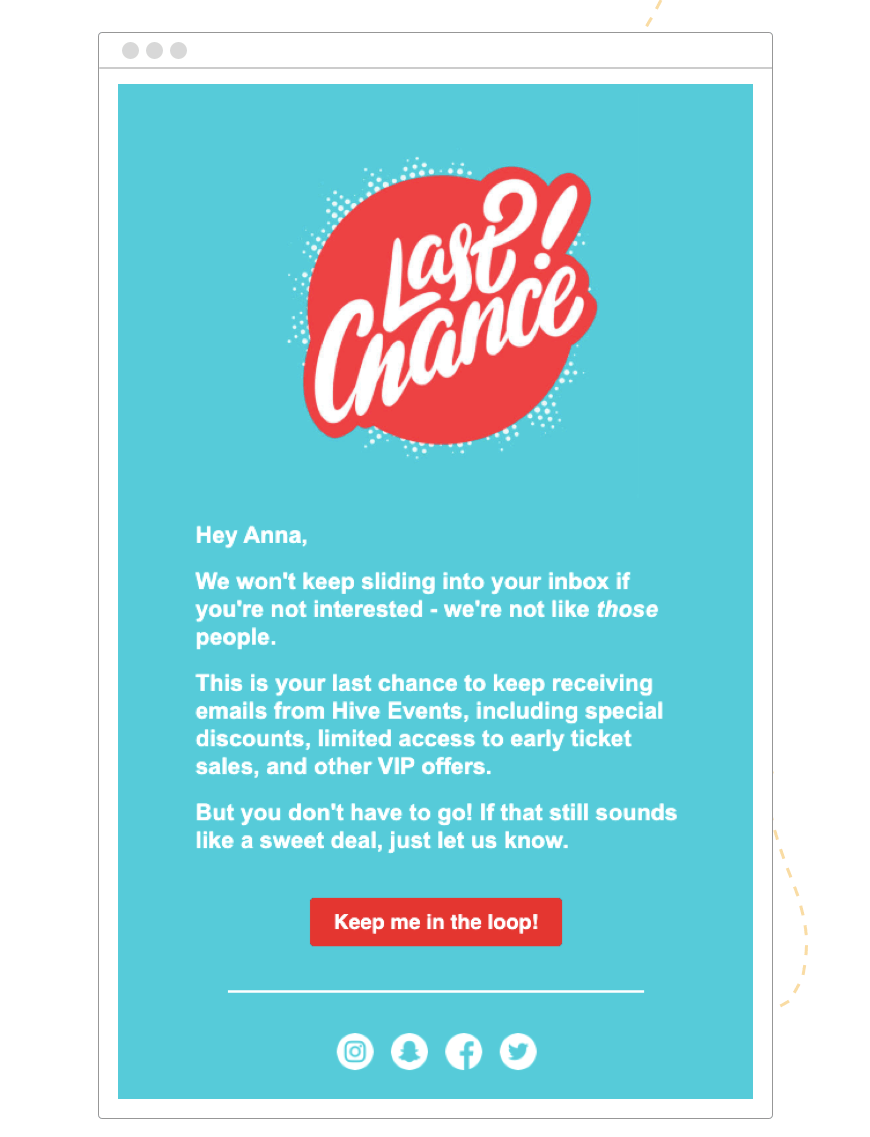 Wrap-Up
You're ready to go! Winback journeys are fundamental to both deliverability and attendee retention. If you don't have the capacity to take on a full series of emails at first, one is more than enough to get you started. You can always iterate in the future!
To get the full picture on how email automations can power your event marketing, check out our Ultimate Guide to Email Automations for Event Marketers. It covers everything you need to fully leverage automations to drive ticket sales and engagement, plus an infographic with all the stats you need to get started. Check it out 👉🏼