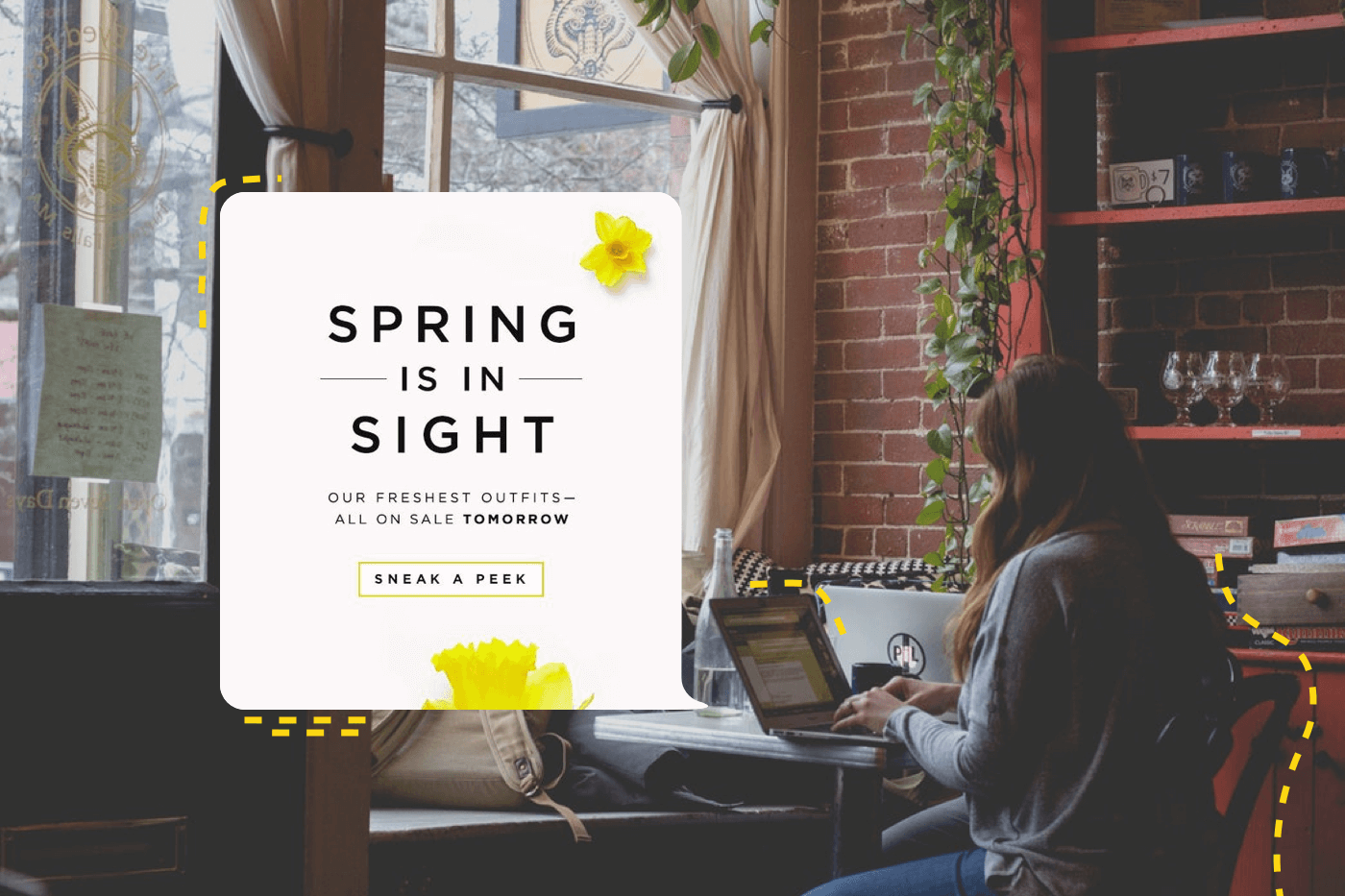 Great email design is no joke - a lot goes into crafting an email that's aligned with your brand and gets your message across. And after putting that much effort into designing a great email, the last thing you want is to not get any clicks.
We've put together a list of tips to think about during your email design process to make sure you're keeping high-level goals in mind and optimizing those call-to-actions (CTAs).
1. Define your goal first
What do you want subscribers to do when they open your email? Shop your latest sale? View your new line? Enter your contest?
It's easy to get a little bogged down with all the information you want to include in your campaign. But by focusing on one clear goal and tying it to your most prominent CTA from the get-go, you can make sure you're focused on what's most important.
Lyft keeps the CTA front and (literally) center, making it crystal clear to subscribers how they can get 10% off weekday rides.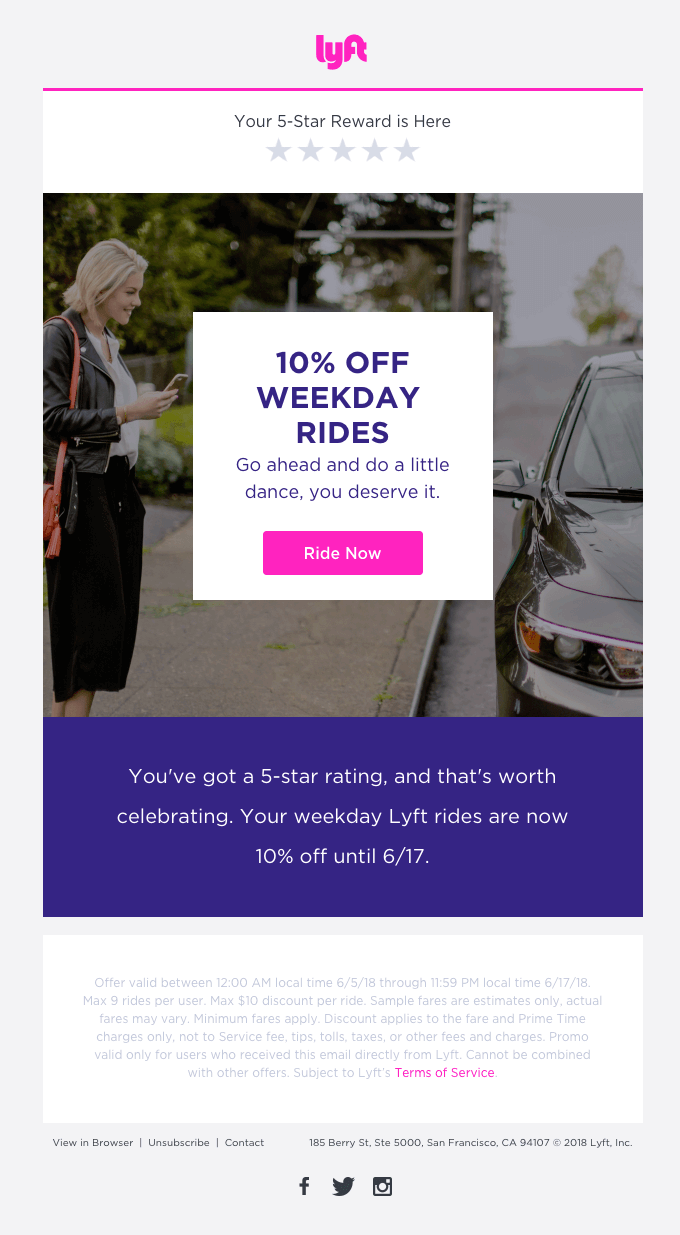 2. Keep your CTA above the fold
This may seem obvious, but after doing a quick scroll through your inbox on mobile, you'll see that brands don't always include a pre-fold CTA that works across devices.
Your subscriber's inbox is a hectic place - you want to make it as easy as possible for them to understand your message at a glance, on any device. Dollar Shave Club keeps it above the fold with a large button in a bold orange.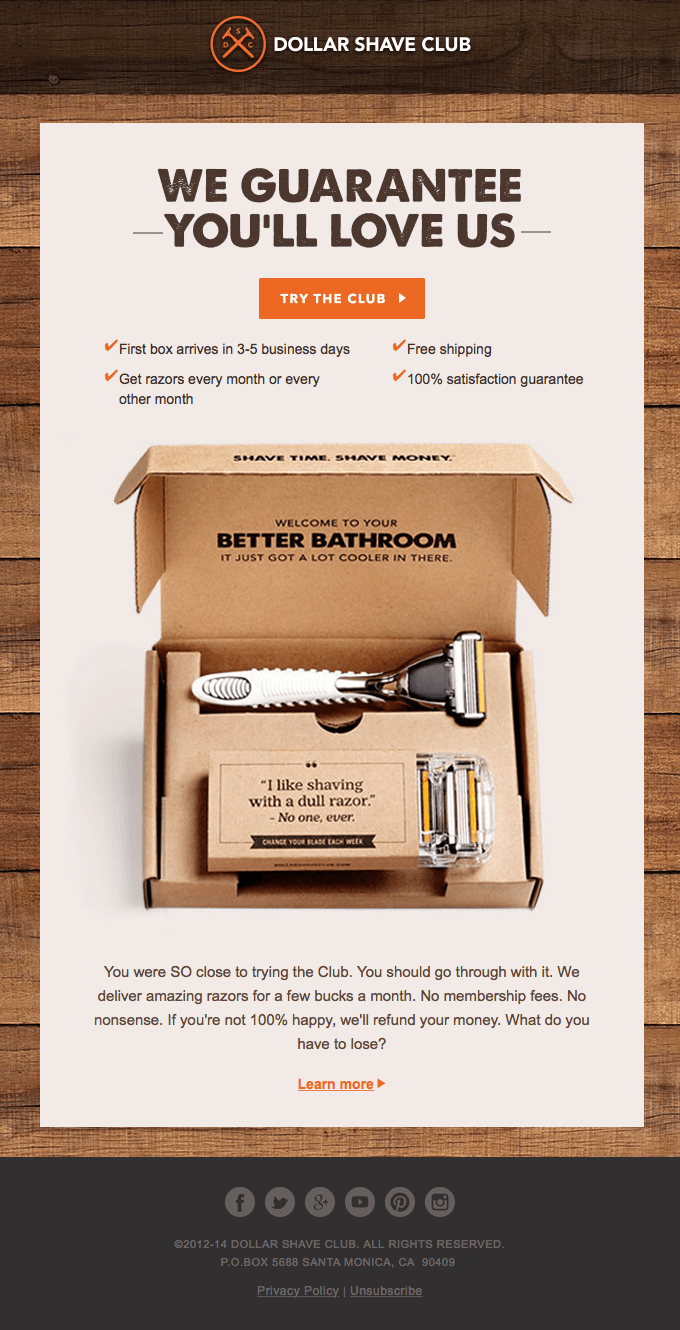 Tip: If you want to provide a little more context in your email to encourage clicks, try including a CTA above the fold as well as one near the end of your email.
3. Use CTA power words
Power words are CTAs that have a proven track record of driving clicks. Try mixing up your typical 'Buy' or 'Shop Now' for more creative copy that will increase conversion.
Well-known power words include: Create, Enter, Explore, Find, Free, Get, Join, More, New, Now, Off, Save, Show, Start, Stop, Try, and Upgrade.
Bespoke Post incorporates all the CTA best practices we've discussed. First, the email is clearly centered around the CTA. Second, the main CTA is appears above the fold. And lastly, the two main CTAs use power words 'Start' and 'Free'.

Time to make some buttons
Feel free to play around with different styles and copy to figure out what works best for your brand. The most useful insights come from testing, and there's plenty of room for iteration. With these three simple tips in mind, you'll be crafting CTAs like a pro in no time.