Building strong relationships with your customers is the foundation of a successful email marketing strategy and accelerates brand growth. Healthy relationships with customers directly increases consumer retention, loyalty and overall revenue! Hive is a powerful CRM that gives you a holistic view of your customers, and lets you collect, organize and analyze their data to better understand your customer journey. Let's dive in!
Using Hive as a CRM to Send Powerful, Targeted Emails
ESPs are one of the main tools email marketers use to maintain direct communication with their customers, and drives revenue growth. When you have thousands of subscribers, it's difficult to maintain a holistic view of your email list, and you might end up sending content that your subscribers aren't interested in. The process of managing and using all of this customer data in ESPs is often fragmented and time-consuming at best. Here are a few ways you can use Hive as a CRM to save time and bandwidth!
Flexible List Management
In Hive, you don't have to spend hours uploading multiple CSVs to see a full view of your contact list. Having fragmented audiences is a pain, which is why you can easily filter your entire contact list using 100+ different parameters directly on your contact page. Use these filters to add contacts to a segment, unsubscribe them in bulk, or email them directly.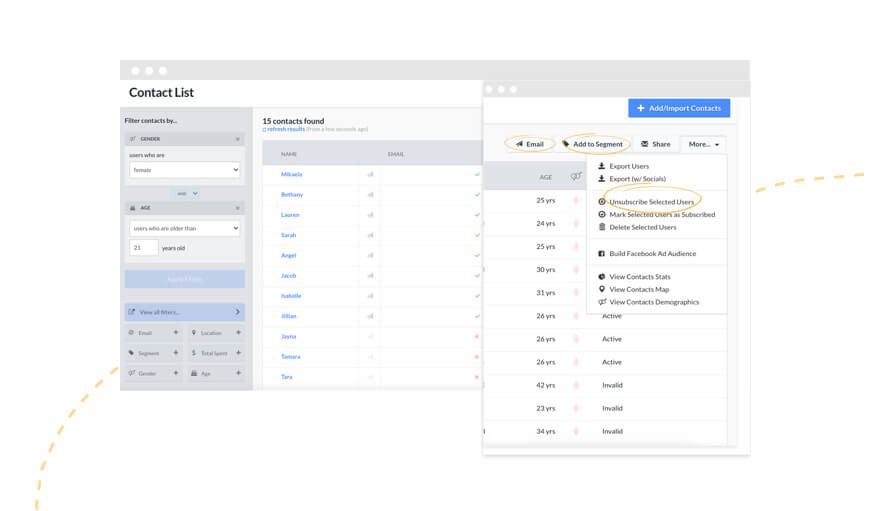 Organized Segments of Your Subscribers
Use segments in Hive to create groups of subscribers based on social actions, demographic data, purchase behavior, and more. You can create static segments, which are equivalent to tags in Mailchimp and only change when manually updated, or live segments, which automatically update over time as subscribers match (or no longer match) the filters you set.
Email marketers can create unlimited segments to send targeted emails with no extra cost for subscribers that live in multiple segments. A dedicated segments page where you can auto-fill search for particular segments, add them to folders, and analyze individual segment data, like growth over time, makes it easier for you to manage the segments you create.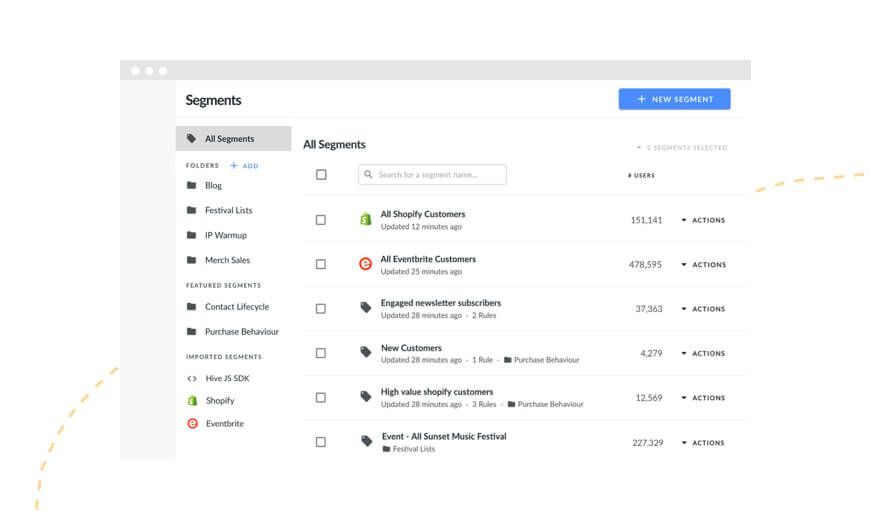 High Level Subscriber Engagement
You need to understand how your subscribers are interacting with your emails to build a strong email strategy. In Hive, you can see a breakdown of your contact list  by engagement level directly on your Hive dashboard, and it automatically updates as emails are sent out. These engagement levels give you insight into your overall list health so you can analyze your subscriber engagement at a high-level.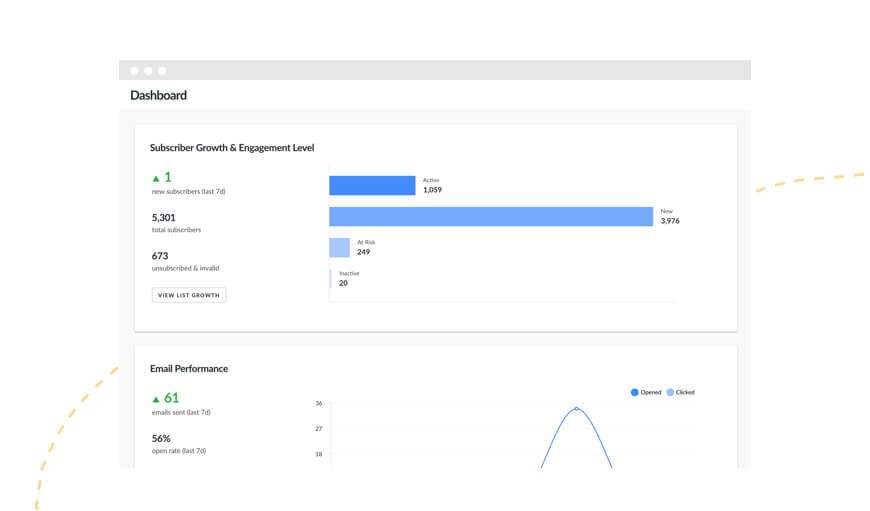 Don't Pay For Unsubscribed Contacts in Hive
A good practice when using a CRM is constantly updating it so it's accurate and reflective of your current customer base. In an ESP, this would include churning out the subscribers who are no longer engaging with your content (only after creating a winback series). Most ESPs discourage this by charging for unsubscribed contacts, which can hurt your overall deliverability in the long run.
We don't charge for your unsubscribed, invalid, or duplicate contacts. In fact, we recommend unsubscribing the contacts who are no longer engaging with your content. Not only does this improve your deliverability, but it will save you money as well since your subscription cost is based on the amount of subscribers you have. A win/win!
Wrap Up
At Hive, we genuinely care about your user experience, overall list health, and email marketing performance. With this marketing channel being so important to your company's success, why not choose an ESP and a CRM built into one with features that you can use to leverage all of your customer data. You'll have more insight into your subscriber list, get better email engagement stats (open rate, click rate, etc) and increased revenue growth over time.
If you're interested, try out Hive for yourself for free here!