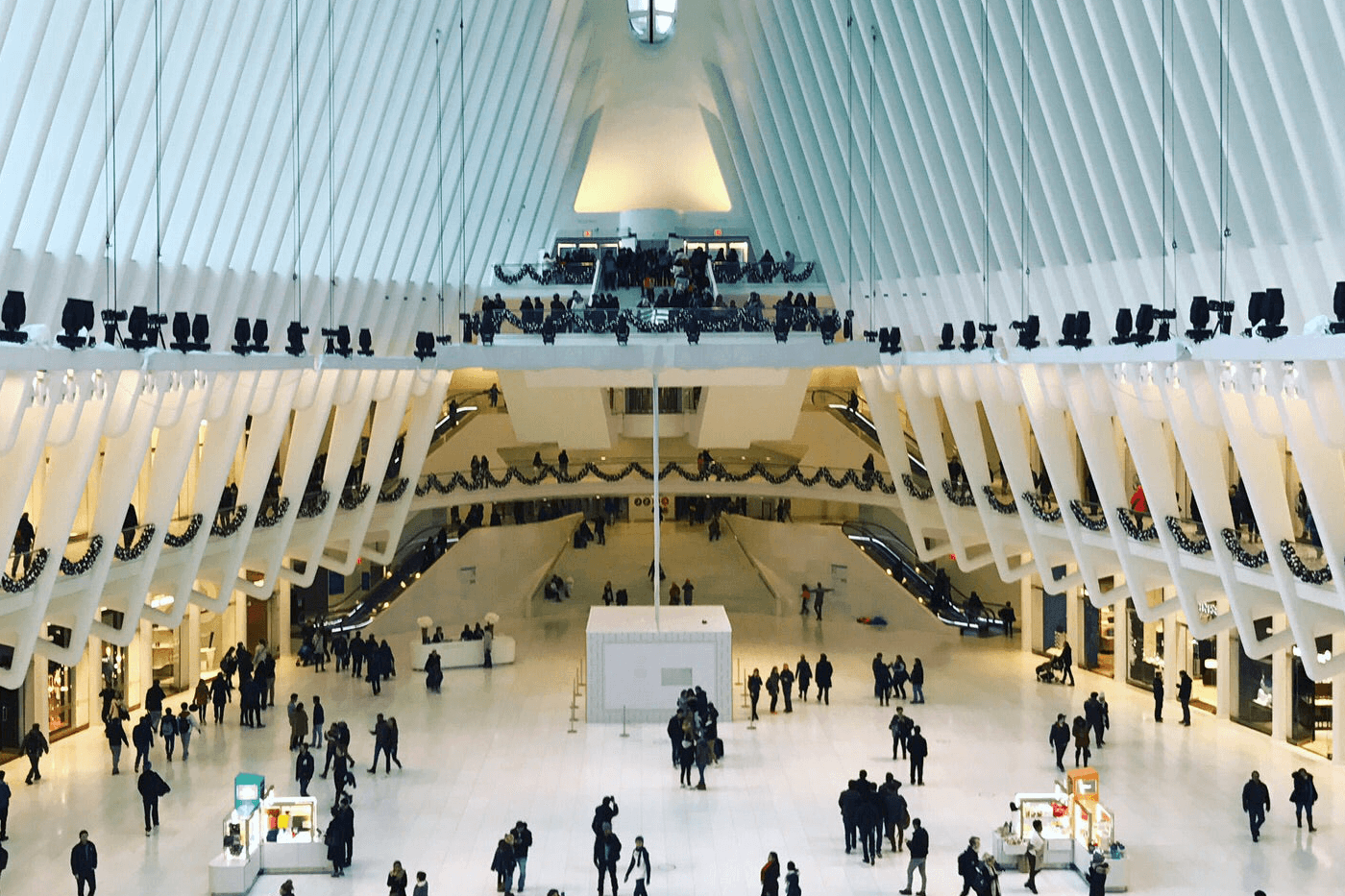 This year, Black Friday is on track to be the biggest day for ecommerce stores, of all time. According to reports from Adobe, in 2016 Black Friday online sales grew 21.6% from 2015. That's $3.34 billion in ecommerce sales in one day, projected to grow even more this year!
If you run an ecommerce store, your head is likely spinning with all the ways you could be marketing your Black Friday deals. Before you put the finishing touches on your email marketing campaigns, run through these dos and don'ts for maximum success.
Dos
1. Segment your campaigns
It's a given that if your store offers Black Friday deals, you'll see increased sales. But that shouldn't stop you from optimizing everything you can by segmenting your email list before sending. If you're still not sold on segmentation, it's worth noting that MailChimp's latest investigation into segmentation reports 14% higher opens for segmented campaigns.
Think about your customers holistically - some will have just purchased from you, some may not have bought from you in a few months, and some may have purchased specific things from you this time last year during black Friday.
You can use all of this data to send a few different types of emails depending on your customers' demographics and how they've engaged with your store recently. For example, send deals highlighting shoes on sale to all your customers who splurged on shoes last Black Friday.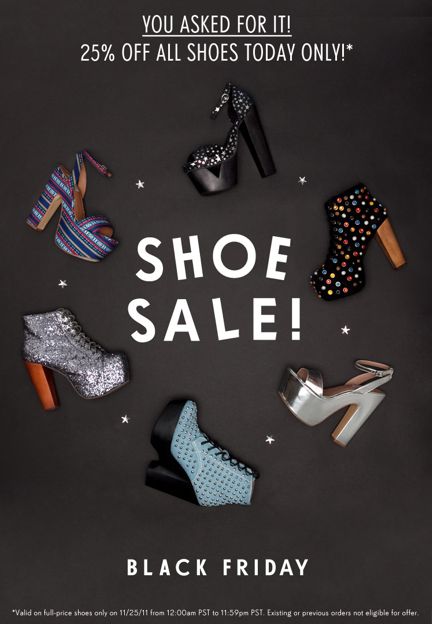 2. Optimize for mobile
Last year, mobile sales accounted for $1.2 billion of all Black Friday sales (that's almost a third)! Many of these shoppers came straight from email promotions. Make sure your email displays well on mobile, doesn't have to be scrolled through to view the offer, and clearly states the deal or coupon code. Club Monaco's email is short, sweet, and mobile-friendly.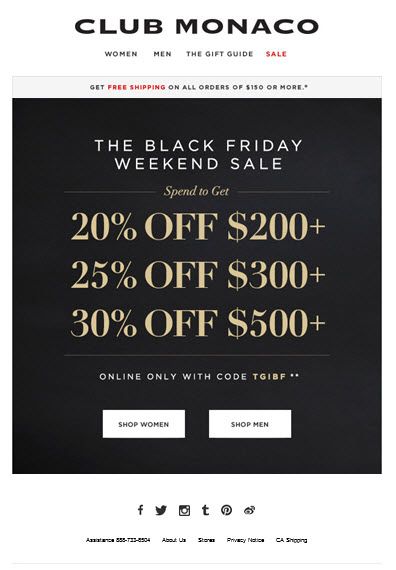 3. Benchmark your deals against competitors
A quick Google search for last year's Black Friday email campaigns or the best deals in your industry should give you something good to go off of. If everyone in your vertical typically does a 20% sitewide sale, that's something you'll want to match or top.
4. Make it easy
One quick glance at your email should let your customers know 1) what the sale is and 2) what they need to do to take advantage of it. Keep it simple and let your deals do the talking.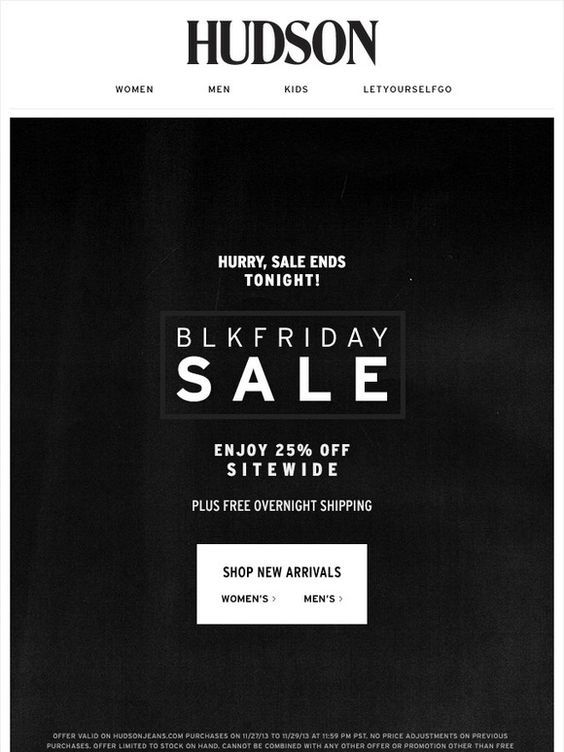 5. Extend your sale
If your email campaign received high opens and clicks, but not a lot of associated revenue, extending your sale so your customers have time to take advantage of it is a win-win.
Don'ts
1. Bury the sale
It's tempting to try to come up with clever subject lines that stand out from the crowd, but make sure you still put your sale front and center. Same goes for the body of the email - get to the specifics right away. You want to make it as easy as possible for your customers to understand the deals you're offering so they can take advantage of them. Frank & Oak's Black Friday email succeeds by being straightforward.

2. Promote vague deals
Everyone knows that "up to 50%" can sometimes mean only 5% off. Many of your competitors will be offering specific deals where everything is a certain percentage off. Don't try to trick your customers only to have them be disappointed when your sales aren't as great as expected. For example, Amazon's email is vague and presents mismatched products.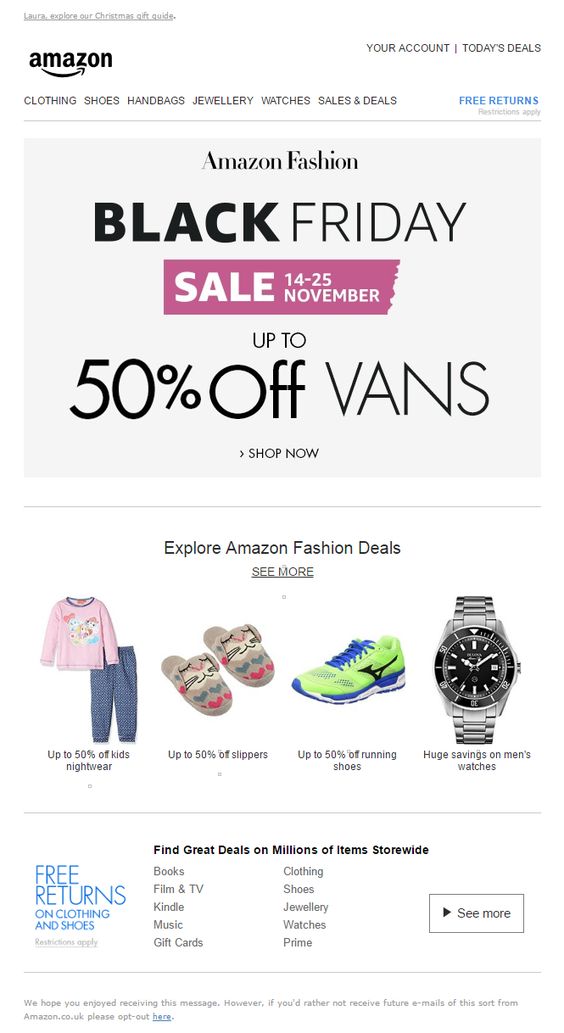 3. Forget about abandoned carts
With so many offers flying around, your customers are bound to be shuffling browser tabs, trying to find the best deal. If a customer almost gets to check out but leaves their cart, make sure you have an automated abandoned cart email set up so that they're reminded to check out before the sale is over or the product goes out of stock. Find inspiration for abandoned cart emails here: 5 Abandoned Cart Emails That Work.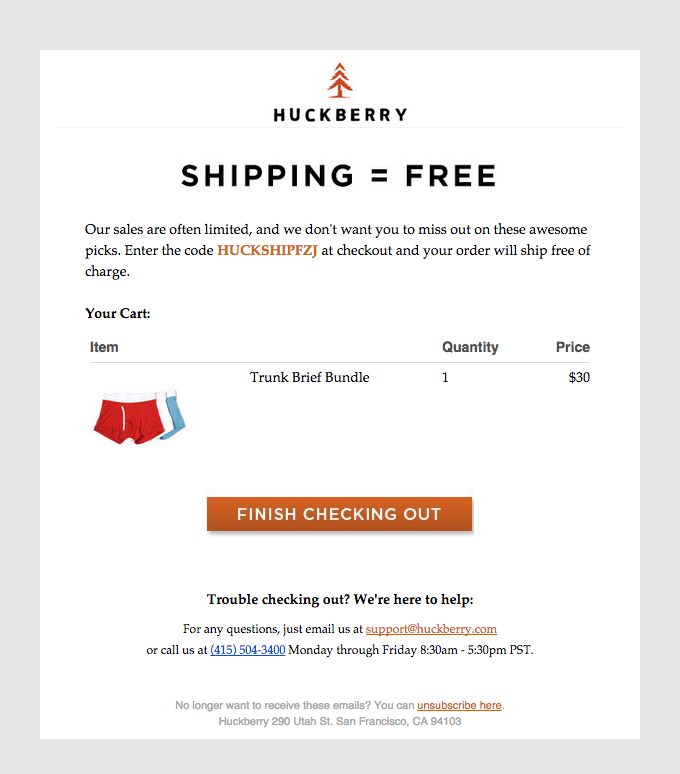 There's still time to make some final tweaks before you send out your first batch of Black Friday emails. If you're thinking about your customer and presenting deals they'll care about in the simplest way possible, you're on your way to success!