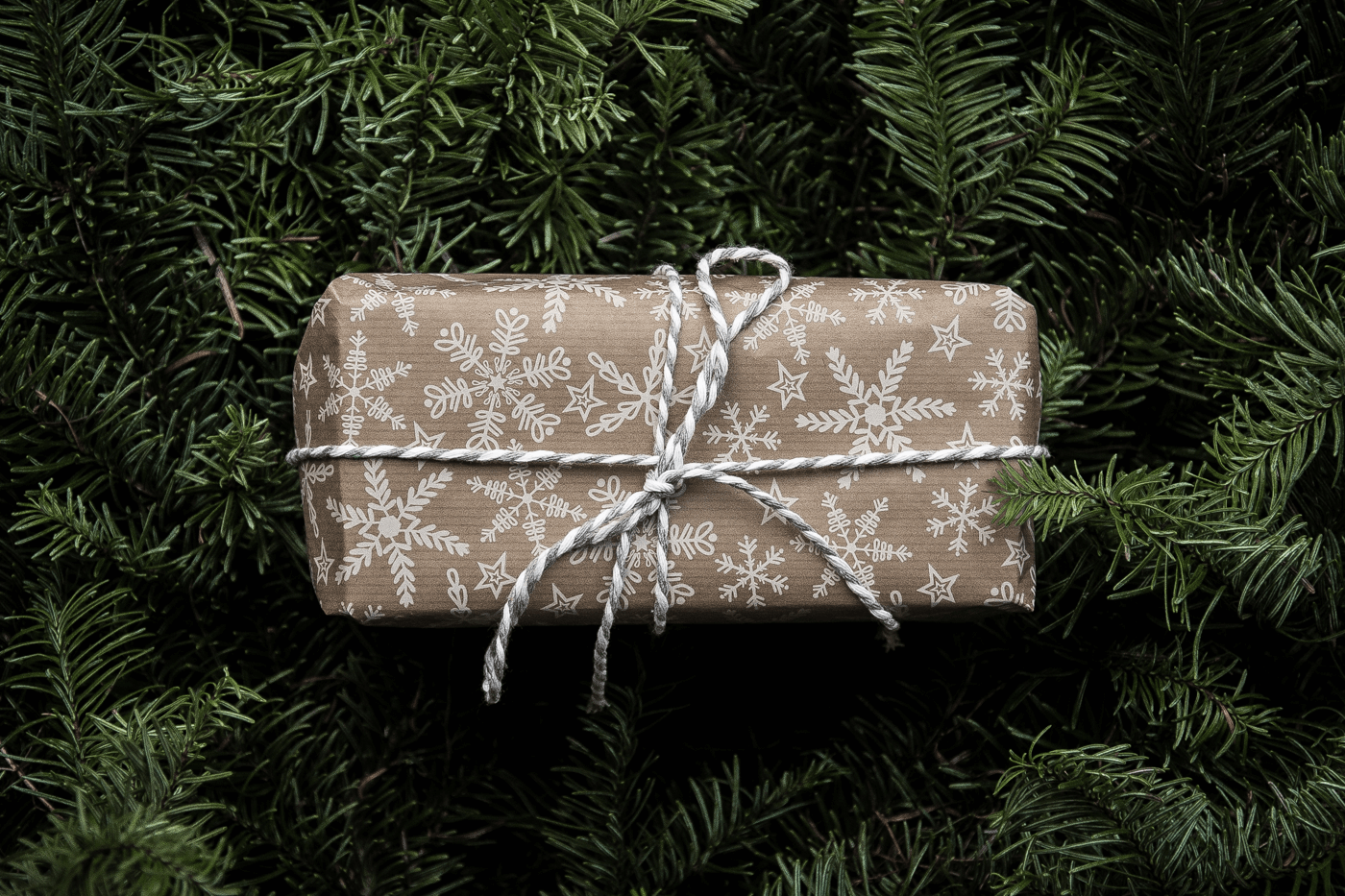 It's November, which means it's almost Thanksgiving, which means Christmas is basically tomorrow! If you haven't already been dreaming up ideas for holiday email campaigns, now is definitely the time.
Check out some of the clever ways these ecommerce brands use the holidays to spread cheer and engage their customers during the busiest shopping season of the year.
1. Frank Body: Free Shipping These Holidays
Is there a better way to start the holiday season than free shipping? Probably not. According to Kissmetrics, unexpected shipping costs are the number one reason online shoppers abandon their carts. Take away that worry for your customers this December and they'll thank you with their purchases (cha-ching!).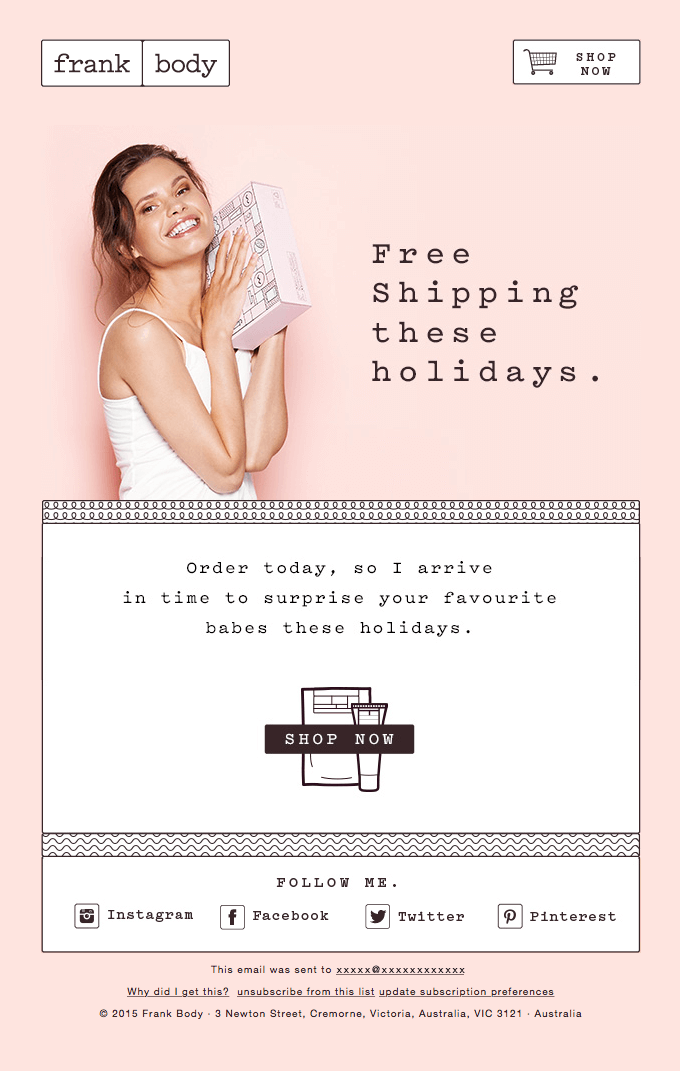 2. The Loft: Holiday Splendor
The holidays are synonymous with holiday parties, which is especially relevant to you if your store sells party-appropriate attire. Save your customers time by sending them new deals plus holiday outfit inspiration.

3. Harry's: Ensure a Harry's Holiday
Asking for a Christmas present can be awkward. Harry's unique email suggesting you forward it as a hint is a great idea to increase your reach while getting customers to think about your brand during the holidays.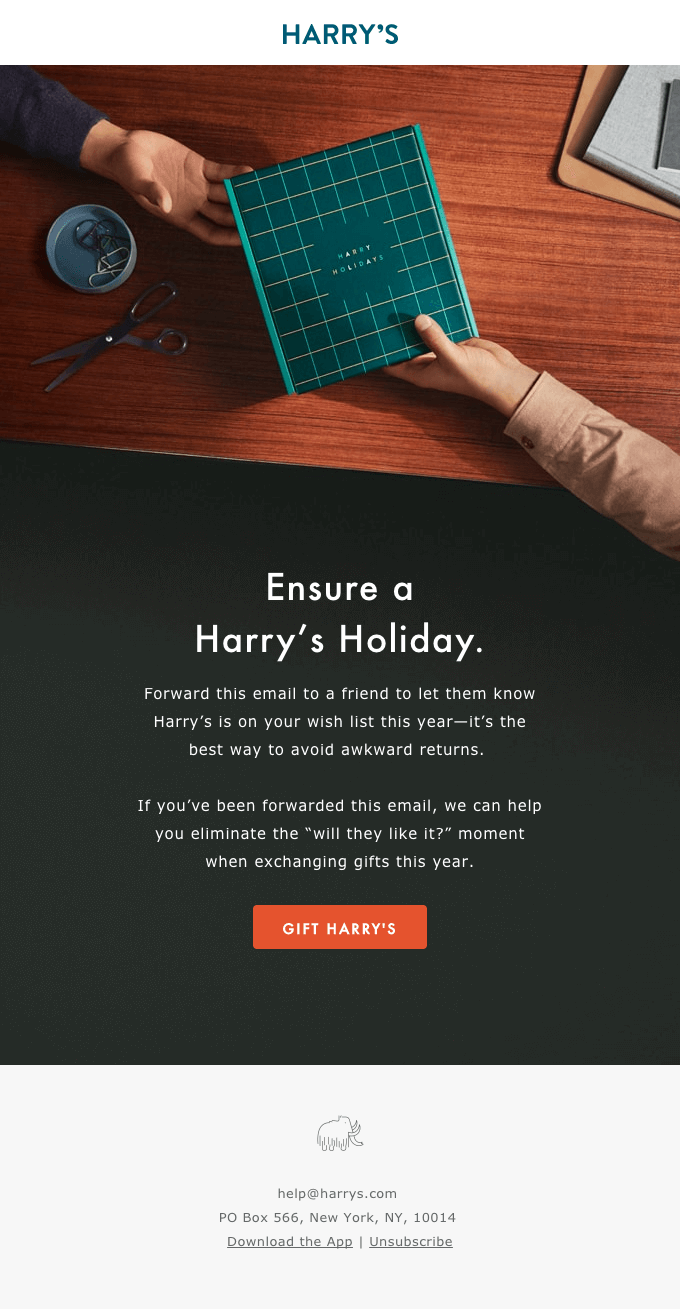 4. Curioos: 20% Off + Free Shipping
Curioos uses a bunch of classic email marketing tactics in this email about their holiday sale - inciting action with scarcity (24 hours only), offering worldwide free shipping and 20% off their whole site - how could you resist? It's straightforward, with enough incentive to entice anyone. (Honestly, I hope this sale comes back this year.)

5. Rifle Paper Co.: Last Chance For a Free Gift
Adding a free gift to holiday orders is an easy way to motivate customers to do their holiday shopping with you instead of competitors. Rifle Paper Co. also leverages the fact that some customers have spending limits by breaking down gift options by price range to make shopping easy.
6. New Look: You Can Still Get It In Time For Christmas
New Look cleverly takes of advantage of everyone's tendency to put off Christmas shopping until the last minute with this timely email.

7. Canopy: Still looking for gifts?
Creating a gift guide is an easy way to provide value to your customers. Gift-giving inspiration for anyone plus promotion of your products is a win-win!

8. Oakley: Deck the Streets
Oakley stays very onbrand with this holiday message - still getting in the spirit of the season with a good pun, but delivering an email in the style that their customers respond to.

9. Francis Lofts & Bunks: Last Chance
Francis Lofts & Bunks plays up the fact that people have guests over the holidays, letting their customers know when they need to order to receive their bed in time. And the snowy gif and note from St. Nick adds the perfect festive touch.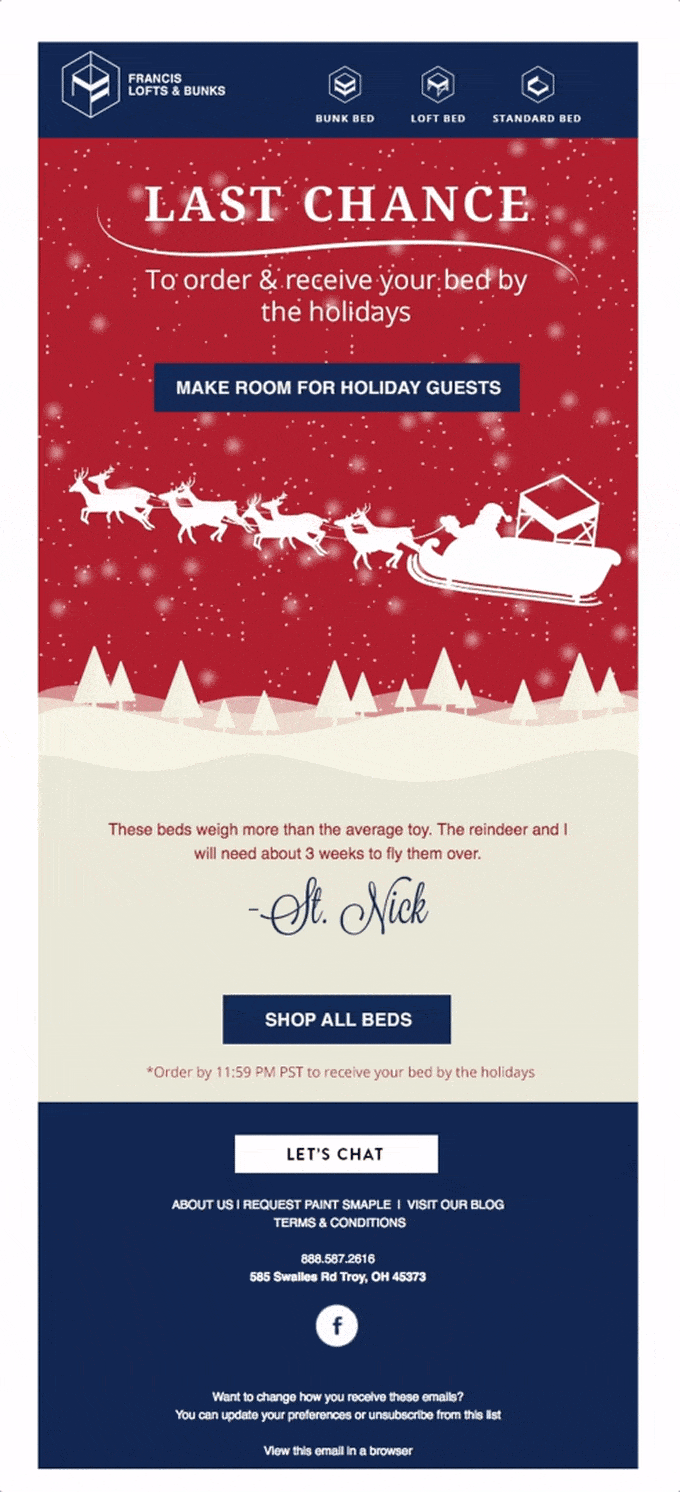 10. Crate & Barrel: Christmas Cheer is Here
Crate & Barrel keeps customers up-to-date with their end of sales reminder, making sure everyone has a chance to take advantage of the deals before they're over.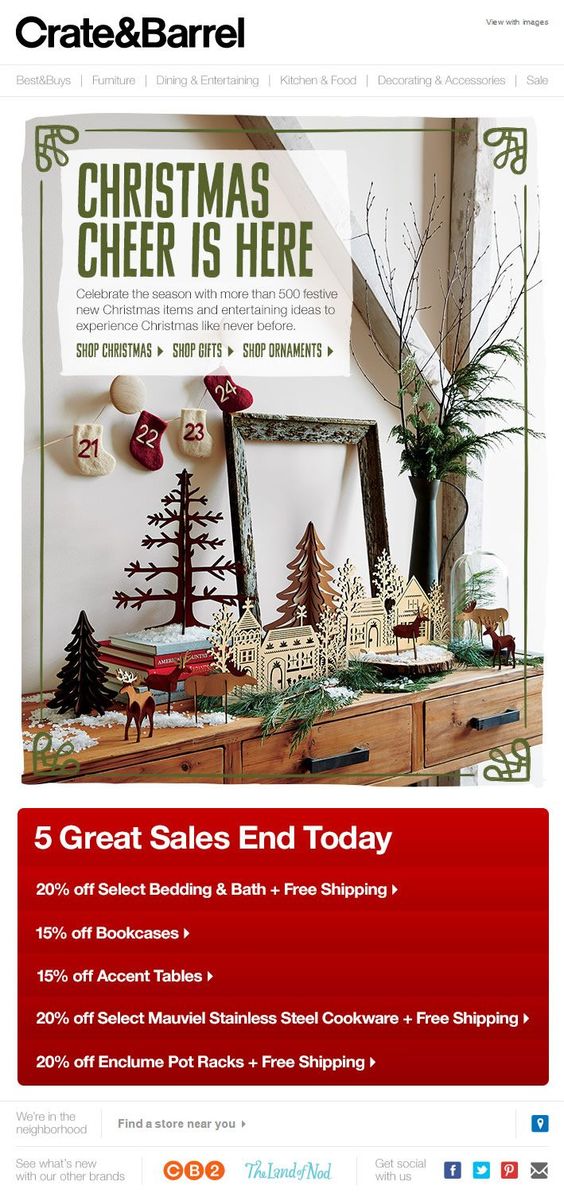 The holidays are a great time to promote sales with email in a fun way. It's easy to provide value to your customers: whether it's with free shipping, gift ideas, or sales is up to you!