According to Emma's 2017 industry report, 64% of email marketers say they don't have the time or resources to do the marketing they'd like. This is definitely understandable - it's hard to keep track of everything and optimize your strategy when you have a small team or are strapped for time.
That said, even if you don't have time to do everything you'd like to accomplish, it's import to set benchmarks for yourself to improve in the new year! This post details steps you can take to start the new year off right by taking advantage of the resources you do have.
Step 1: Audit Your Contact List
First thing's first, you'll want to check in with your contact list to make sure it's healthy.
Questions to ask yourself:
Is my contact list growing?
How often are subscribers unsubscribing or opting out?
Are there inactive or invalid email addresses in my list? (Services like NeverBounce can help you with this)
Is there anything I could be doing to grow my list more?
List Growth
There are many tools you can use to make sure you're always adding fresh subscribers to your email list. Some options include: a newsletter signup on your homepage, exit-intent popup, mailing list signup with coupon incentive, contest, or other promotion. There are ways you can strategically incorporate all of these into your email marketing strategy to consistently grow your list.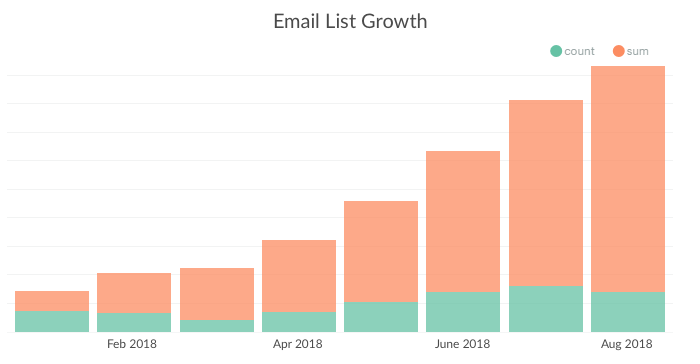 Step 2: Audit Emails Sent in the Past Year
This is the part where you look at all the marketing campaigns you've sent in the past year.
Some more questions to ask yourself:
What types of emails did you send? One-time marketing campaigns? Mainly automations or transactional emails?
Which emails performed the best in terms of opens and clicks? Worst?
What were your average open and click rates? Did this differ across segments?
What were your best performing subject lines? Group similar ones together using criteria that makes sense for you to identify overall trends (e.g. short, long, vague, specific, etc.).
How often did you send emails?
Compiling all of this data will give you a solid overview of the state of your email marketing in 2017.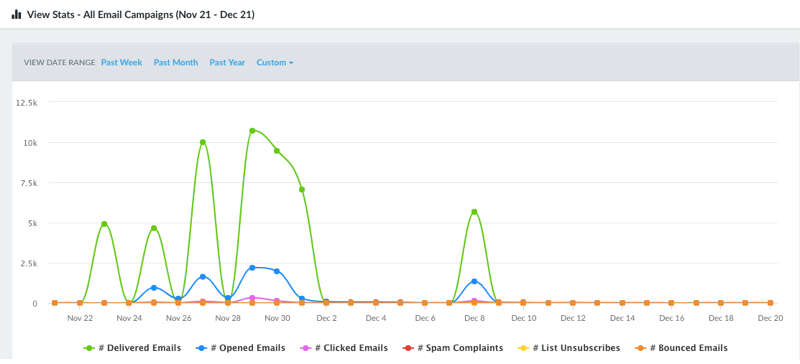 Step 3: Compile Key Learnings
Now that you've looked at the complete picture, it's time to identify what stands out the most. Take note of any trends or particular numbers that were lower than you were expecting.
Another handful of questions to ask yourself:
What are the numbers that are most actionable to improve?
Did your open rates increase or decrease significantly throughout the year? What caused this? (E.g. An abrupt change in sending cadence, a smaller amount of promotions, etc.)
Have you noticed a difference in clicks? Reassess email format, number of links per email and button placement.
Gaining insights from these learnings will have you on your way to a more powerful email marketing strategy in 2018!
Step 4: Define What Success Means to Your Brand in 2018
2018 is the year to focus on more than just opens. Though they're definitely still something to pay attention to, it's hard to increase revenue from your email marketing if you're not also increasing action taken on your emails. In 2018, you should be looking at benchmarks and setting goals for clicks and revenue generated from your emails. If you're really looking to tie revenue back to email in your reporting, you might want to switch to a more advanced email marketing system.
Overall, make sure the email marketing goals you set for 2018 are aligned with your brand's topline goals.
Step 5: Evaluate your ESP
The new year is a great time to figure out if you're using the right email marketing software. It's easy to hold on to a legacy product because setting up something new is daunting. But, if your current software is never going to meet your needs, now's a better time than ever to make the switch (remember the sunk cost effect from ECON 101!).
Final questions to ask:
Does the feature set of your ESP (email service provider) match the features you need?
How many of its total features did you use in 2017? Is there anything you could be taking advantage of more?
What integrations do you currently use? Which ones do you wish you had?
Think critically about whether your software is helping or hindering you and you'll be in a good place to evaluate other options.
Give these steps a try and you'll start your 2018 email marketing off on the right foot. Need help? We're happy to walk through your strategy with you: hello@hive.co