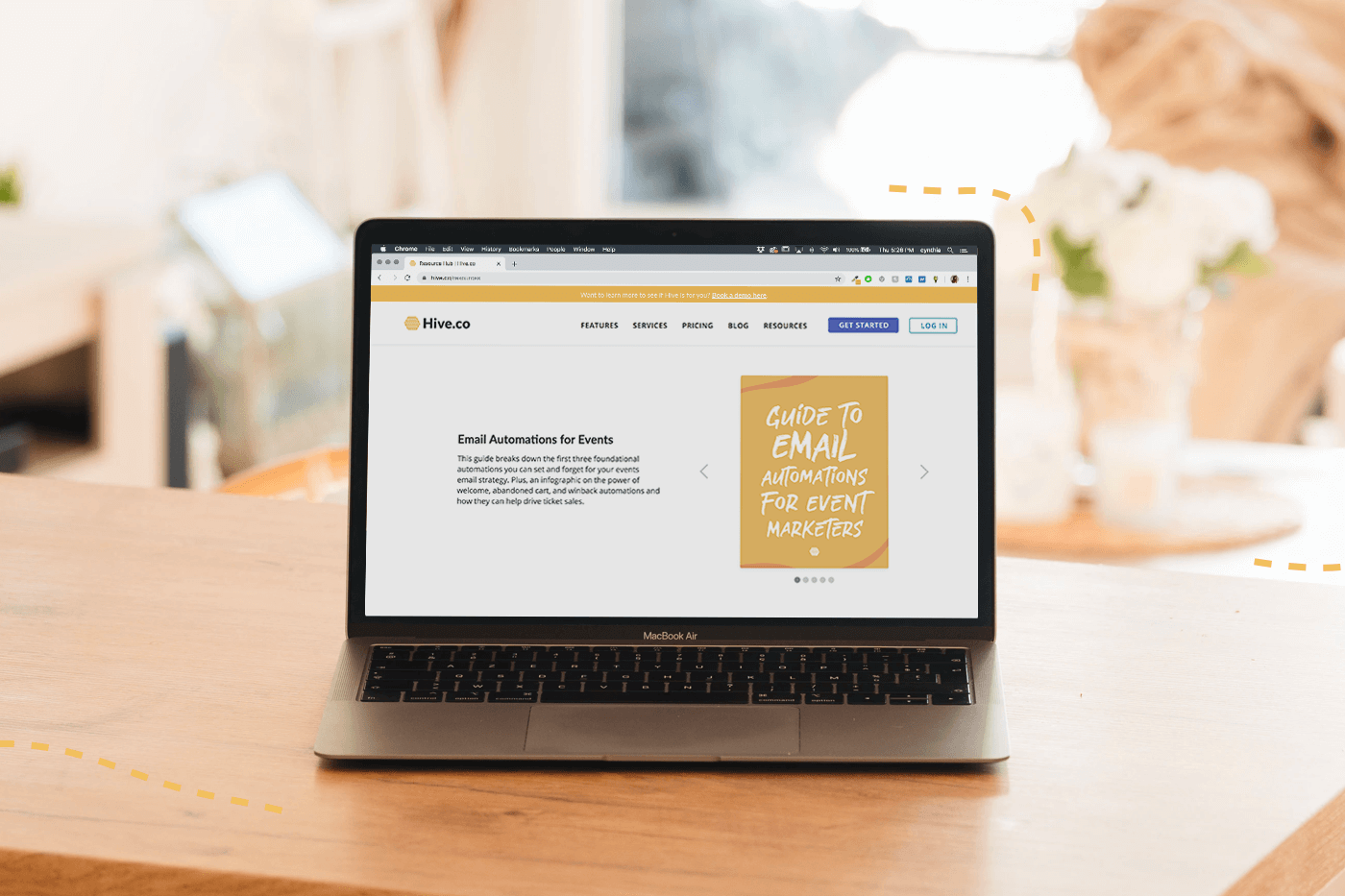 We often see that email automations aren't at the top of event marketers' priorities, and we get it. You're juggling multiple events, artists, or venues that each have their own, diverse promotion schedules, meaning you're left with limited bandwidth to do more than the standard event announcements.
And why should you? Email blasts promoting the latest artists and shows have seemed to traditionally perform well for you, bringing in ticket sales and engaging your attendees.
In actuality, sending only mass emails to your full list hurts your sender reputation, which in turn damages your email deliverability. This means that less people are actually seeing your email in their inbox, because it's landing in spam.
Related: How to Build a Strong Sender Reputation to Improve Deliverability
Think of it this way: when a fan receives ten emails about events they aren't interested in before getting an email they care about, they're likely not engaging with those first ten emails at all. That means when that next email is sent - the email they'd actually be interested in - it's more likely to end up in spam, and losing you a potential ticket sale.
That's why leveraging automations can be so powerful in your email strategy - they help you email customers at exactly the right moments when they're most likely to open and click your emails.
The Myth that Automations Take A Lot of Work to Set Up
We hear time and time again from event marketers that automations are too much work. In reality, they take a similar amount of work as designing an email blast, but bring in exponentially more value since they're constantly running in the background.
Like a blast, you need to know the segment you want to target and what email content will provide value to them. From there, you can set the journey to trigger at the moment this segment will find the most value from your email (with some thought into a subject line and email template, of course).
Not convinced? Automated emails are shown to drive 320% more revenue per email than non-automated promotional emails, proving that they're a powerful tool you can use to drive ticket sales. All while remaining hands-off.
The beauty of an email automation is the freedom you have after setting one up - all you need to do is check in occasionally to make sure it's on the right track, but otherwise, the automation does the rest of the work.
To get you started, we've broken down three simple but foundational automations every event marketer should leverage in their email strategy:
Welcome Email Automations
Welcome automations prime your email for that good deliverability and higher overall engagement we mentioned above.
These automations send welcome emails to subscribers who have just signed up to be the first to know about event updates and ticket releases, so they're a captive audience ready to engage with your brand. You could even say they're expecting to hear from you right away, with stats showing that 74% of consumers expect a welcome email when they subscribe.
Not only are welcome automations expected, they also boost your email engagement, with three times more opens, clicks, and revenue per email compared to regular promotional email campaigns, including a whopping 91% average open rate.
This makes welcome automations a great way to kickstart your brand's relationship with a new subscriber, while also improving your deliverability overall. A single welcome email is a great start, but a series will ultimately have more potential to engage subscribers long-term.
Read More: 2019 Ultimate Guide to Email Automations for Event Marketers
Abandoned Cart Email Automations
According to Eventbrite, up to 70% of people who start a checkout don't buy tickets at all. That's a lot of potential revenue lost (two to four trillion dollars a year from abandoned carts!) that you can recover with a simple abandoned cart email automation.
Abandoned cart automations trigger when a fan adds a ticket to their cart without completing their purchase. Your ESP will typically let you set a time delay between when a fan abandons their cart and when your emails are sent (we recommend a delay of 3 hours for the best click-through rate), so your emails will hit inboxes at exactly the right time.
With an average open rate of 43% and click rate of 20%, abandoned cart automations are a prime example of how you can leverage automations to boost engagement, which in turn will improve your deliverability.
The best part about abandoned cart emails? They're being sent to fans who have shown purchase intent; they've already added the ticket to their cart! That's why abandoned cart emails average a 10% conversion rate -  that's a lot of ticket sales you could be recovering.
You can also create an automated abandoned cart series, where your automation sends multiple emails over a period of time. Setting up an automation containing three cart abandonment emails is proven to maximize your revenue, with research showing that a three-step abandoned cart email series brings in 69% more revenue than a single-step abandoned cart automation.
In this case, sending these emails around the same time of day that your customer added the tickets to their cart is your best guess for when they'll be shopping again.
Whether you send one abandoned cart email or a series of three, you'll be well on your way to recovering lost ticketing revenue.
Winback Email Automations
You may be surprised to hear that an average of 66% of marketers' email lists are inactive. That's a huge chunk of your list that isn't opening or engaging with your emails. It's easy to treat these inactive subscribers like everyone else on your email list, but continuing to send them artist announcements and event promotions when they show no signs of engaging will damage your email deliverability.
The chances of these subscribers engaging with your blasts again on their own again are very slim. At this point, you should instead push them into a winback automation to re-engage them, getting them to look forward to future communications from your brand. Remember, these fans showed interest in your emails before, so there's a high chance you can pique their interest again with the right content.
Winback emails show high success rates, with 45% of subscribers who received a winback campaign opening a subsequent message. This means that 45% of the fans who aren't engaging with your emails, currently harming your overall deliverability and retention, could be brought back with the right communications. Plus, it costs 5x more to obtain a new customer than to retain one, making winback automations a valuable tool that can have a major effect on your bottom line.
If you're basing your winback automations on the last time a purchase was made, you should coordinate them with your brand's buying cycle. If a customer hasn't made a purchase within whatever period of time feels meaningful for your brand (e.g. 90 days), it is probably time to send them a winback email. If you only run annual events, you might consider basing this on venue instead.
Remember, the goal of a winback email series is to send emails designed specifically to appeal to subscribers and get them to re-engage with your brand. You'll be able to leverage the things your fans care about to form the steps of your winback email series.
Want to learn more about how email automations can boost fan engagement and increase ticket sales?
This blog is a sneak peek at our 2019 Ultimate Guide to Email Automations for Event Marketers. The full guide dives into other email automation considerations for event marketers, and even includes sample outlines you can use to inspire your own automations.
Plus, we've designed an infographic with the most important statistics you need to power your automation strategy! This guide is a comprehensive look at how event marketers can leverage email to engage fans and sell even more tickets. Check it out 👉🏼