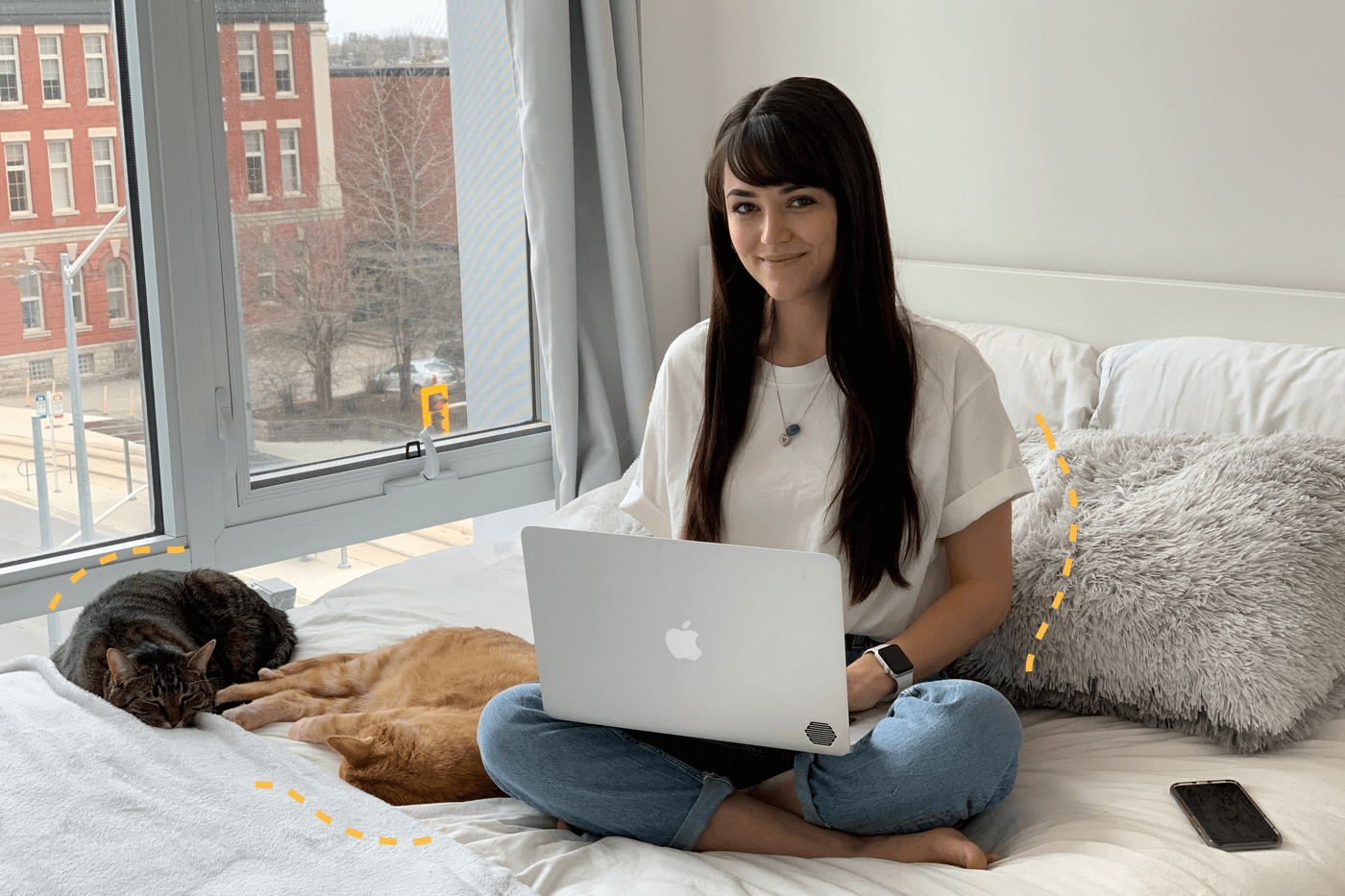 Hi my name is Caity and I'm Hive's new Operations Manager! I grew up in Montreal, Quebec but have lived in Kitchener for the last ten years and am happy to call it home. I have a BA in psychology from the University of Waterloo, a love for organizing and planning, and a passion for connecting with people. My education and interests didn't really present me with an obvious career path when I graduated but after a few years of working in office administration I found I could combine my passions with my admin skills and I ended up in Operations (a fancy little hybrid of HR, finance, and office management)!
So if you want to hear about my first few weeks at Hive and what it was like starting a new job during a pandemic, you've come to the right place!
Interviewing with Hive
From the moment that I sent in my application to my first day on the job I was really impressed with Hive's hiring approach. The job posting sounded like a real person wrote it instead of just using a copied template and they were looking for more than just someone with perfect qualifications, they were looking for someone whose goals, values, and interests aligned with Hive!
During my phone call with Michaela, our product manager, we talked about who I am, what I want my career to look like, and why I'm interested in Hive. We talked about what it means to be happy at work, and what kind of culture I'm looking for. It felt less like an interview and more like a conversation with a friend (one who asks a lot of questions about past work experience) and that kind of embodies who Hive is as a company to me.
I met our CEO Ian just a few days later for coffee to chat more about Hive, the role, and to get to know each other. I could tell how important it was to him to hire the right people and how much he cared about his team and their happiness!
Culture, culture, culture!
Culture and workplace happiness are really important to me; we spend a lot of our lives at work and enjoying that time can have an amazing impact on our mental health! We all want to work somewhere that helps us be the best version of ourselves, where we can laugh and be silly while also feeling empowered by the work that we're doing.
In my first week it was clear that Hive isn't just a workplace, it's a community. A community where each person went out of their way to get to know me personally over coffee! Chatting one-on-one with everyone was so refreshing because it can be kind of scary meeting a group of people all at once, and this gave me the chance to feel comfortable with each person.
By my second week we were quarantined and working from home due to COVID-19. It all happened so suddenly but we made it work! Every morning our whole team hops on a video call to touch base and get some laughs in (shout out to Pat with the endless jokes on deck) before starting the day! We also play games, have virtual coffee hangouts, and Wine Wednesdays because why the heck not? Social distancing hurts a lot less when you have cool people to talk to all day.
Hive is a place where we're people first, and employees second and to me that's the foundation for amazing culture.
Operations at Hive
Every company eventually reaches the point where they need someone dedicated to the things going on behind-the-scenes. Stuff like invoicing, recruiting, planning events, and ordering things get to be a little too much without someone specifically staying on top of them. And when you have as many plants as we do, a full time plant mom is 100% necessary.
Hive has given me the opportunity to build this role from scratch; to jump in and find ways to organize and define processes that may have never been written down. I'm encouraged to think about my career aspirations and grow with the company. It's an exciting time and I feel honoured to be a part of it!
Can't Wait to Beeee Back (obligatory bee pun!)
Even though it's only been a couple of weeks, and most of those were spent working from my couch in quarantine, I can tell this is the start of something really special. And as much as I've loved having my cats all over me while I work from home- I can't wait to be back in our office surrounded by this amazing group of people!