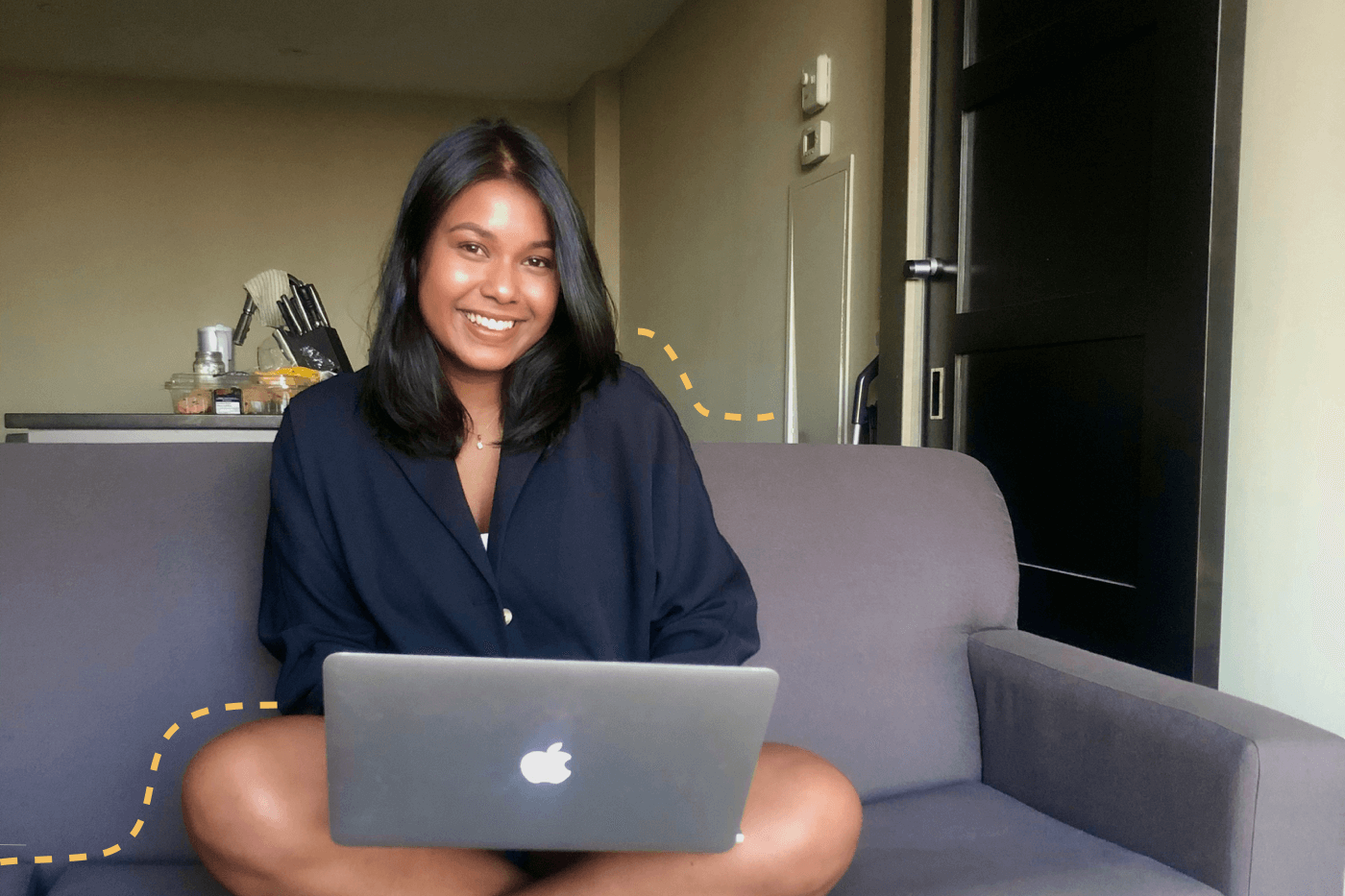 Hi everyone! My name is Anima and I'm the new Marketing and Communications Specialist at Hive. I grew up in East York, Toronto, and moved to Waterloo for University. This May, I finally finished my degree and graduated from the Arts and Business - Co-op program at the University of Waterloo with a major in Sociology and a minor in Psychology. During my undergrad, I always worked for huge companies with thousands of employees and knew I wanted to try something different post-graduation. I loved the idea of working in a tight-knit small team and building the company together, and knew I wanted to work in a startup environment!
Culture and opportunities for growth were two of the most important factors for me when deciding my first job after graduation and I'm super happy that Hive filled both of those needs. If you want to learn more about my experience at Hive so far, keep reading!
Leading Up to Hive
During my undergrad at Waterloo, I finished 4 co-op terms in both the public and private sectors. My first co-op was for the Canadian government in Ottawa where I worked as a junior analyst which gave me great technical experience and started my interest in strategy and data-driven solutions. My following co-ops were all in communications where I gained experience creating communications strategies, content creation, and managing content schedules. I loved my experiences in co-op and I knew I wanted to continue the path of communications and marketing after graduation. That's why this opportunity was so exciting for me!
The Interview Process
From the beginning of the recruitment process to my recent one month anniversary at Hive, it's clear that Hive values hiring good people that are a good culture fit. The interview process for this role was the smoothest hiring process I've ever been through. Michaela (our awesome product manager) reached out to me on LinkedIn and we quickly set up a phone call to discuss the role. Coincidently, I've known Michaela since I was in my first year of university and met her during a networking event set up by my faculty to connect current students and alumni. We kept in touch through LinkedIn and ran into each other at another networking event during my third year when she first joined Hive. When she reached out, I already knew a little bit about the company and the great culture. A few weeks after our phone call, I interviewed with Cynthia (our Marketing Director), and Ian (CEO), and it instantly felt like a very good fit. Throughout the process, I never felt like I was being interviewed but rather speaking to a friend about what we were both looking for and what's important to us in our work.
The Culture
Hive's culture in one word is AMAZING! I've only been on the team for one month and I already feel like I've known everyone forever. Each team member has been super welcoming and personally reached out to make sure I'm well adjusted and getting used to starting a new job during COVID-19. I've felt supported the entire time and can already see improvements in my work. Everyone is dedicated to maintaining the open and collaborative culture that Hive has and supporting each other through anything.
Related: Hive's Careers & Culture
Marketing at Hive
If there's anything I learned during my co-op terms it's that I didn't want to end up in a job where I dreaded waking up and going to work every morning. Luckily, I'm now in a role where I love going to work and I have so much creative freedom to take this role in any direction I choose. There is so much opportunity for growth, both personally and professionally which as a new grad is very important to me. As the Marketing Communications Specialist, I manage our content calendar and work closely with Cynthia and the rest of the Business Development team to strategize and brainstorm new ideas to take our marketing to the next level.
To Wrap Up
My time at Hive has been nothing short of amazing. Even though everyone is currently working remotely, I've still felt super connected and a welcomed addition to the team. I'm lucky to be surrounded by a team that is kind, smart, and super supportive of each other's goals and passions. I love creating content and I can't wait to see how our marketing strategy continues to evolve. As much as I've loved being home, I can't wait to be in the office surrounded by our team's energy!
Interested in joining Hive? Check out open roles at hive.co/careers 🐝