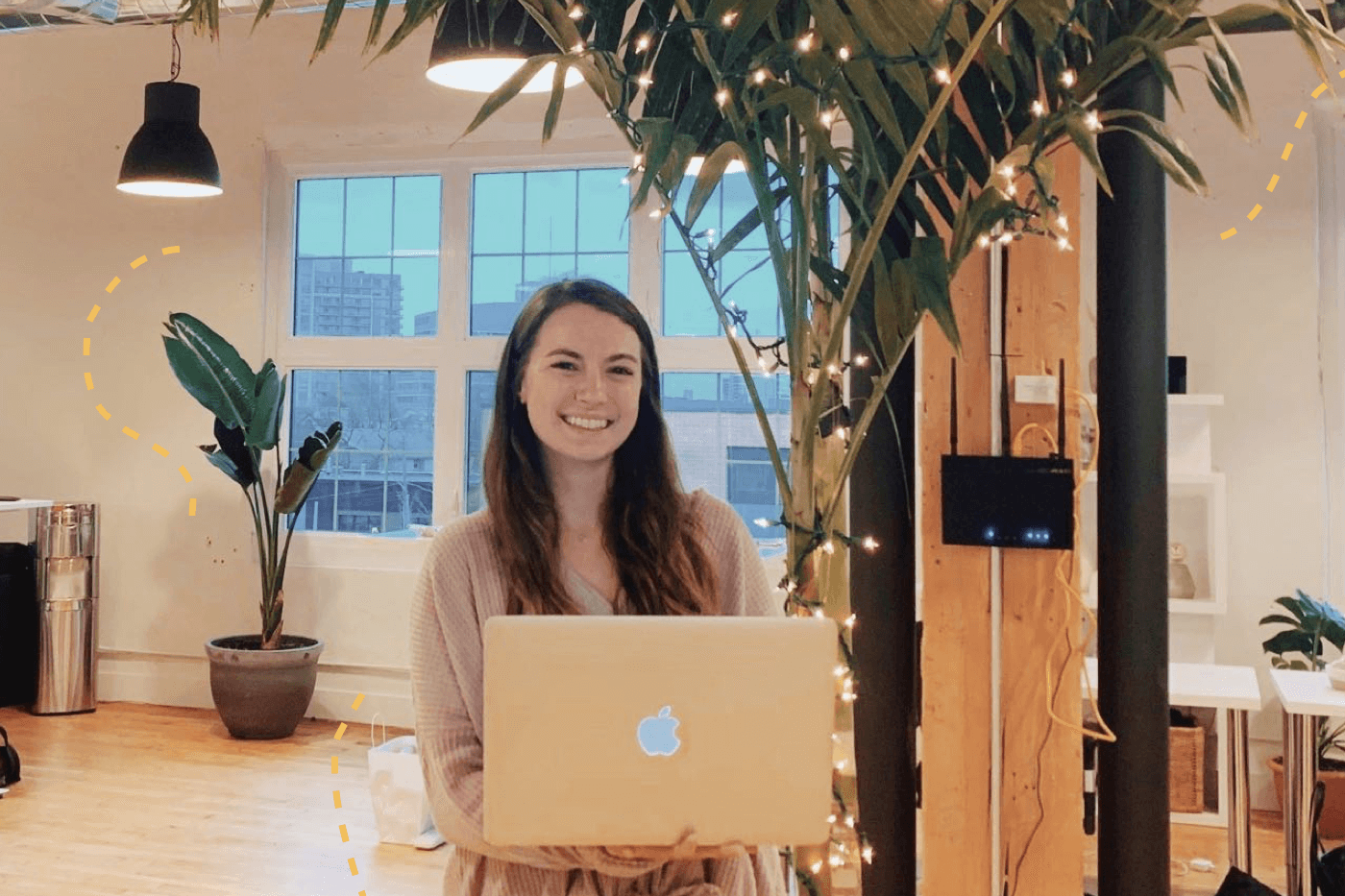 Hello from Kitchener! My name is Bridget O'Neill and I am the newest Customer Experience Manager at Hive! I grew up in Oakville, Ontario and graduated from Dartmouth College in 2018 where I studied Psychology and Geography.
After graduation, I headed into the "real world" full of knowledge and aspirations... without a clue as to what direction my career was headed in. All I knew for sure, was that I was passionate about helping others reach their full potential, I wanted to make an impact on whatever team I was apart of, and I wanted to be continuously learning. I was determined to find a job that fulfilled these three abstract requirements. As me writing this blog post suggests, I found my way to Hive and I couldn't be happier with my experience! Why? Keep reading!
Bee Yourself (Hive Puns?!) 🐝
The team at Hive made it clear from my very first phone call that they don't just value their employees being themselves, but they encourage it! My interviews focused on what kind of team environment I was looking for, what my values were and what I was interested in beyond work. I felt like they genuinely wanted to get to know me as a person and it was apparent that the health and happiness of Hive employees was their number one priority.
Since joining Hive, I've had the chance to get coffees one-on-one with each team member and everyone has reinforced the idea that Hive thrives (unintended rhyme) when we are our best selves. I was immediately impressed by the various things my co-workers get up to beyond our work at Hive. They bring truth to the millennial concept of "side hustles" and have expanded my notion of work-life balance. It's been awesome showing up every day to a team that understands you're human, advocates for your mental health, allows you to take days off when you need them, and is excited about your life outside of work.
Learning Together
Having zero technical background I thought I would be starting miles behind the team and would have had to fake it until I made it. Instead, I was welcomed by a team who has given me all the tools and resources I need to confidently jump in, learn about our product and help our customers do the same. I have the autonomy to get my work done in a process that makes sense to me, but I'm always just a little scoot on my wheely chair (or a message in slack) away from a coworker who's ready to help me when I need it.
Being part of a small team means that I get to learn about the company from all angles. We gather together a few times a week to discuss priorities, goals, objectives, and think critically about how we can continue to improve Hive internally and for our customers. We are encouraged to bring diverse perspectives and opinions to the table, because our team culture and product thrives on our ability to collaborate, take constructive feedback, and be excited about what we're working on. All of this translates into a team that is open-minded, fun to be with, constantly learning from each other (and our mistakes!), and get a lot of super cool stuff done.
Customer Success!
It was important to me that my role engaged with people in a way that made them more confident about using our product and set them up to succeed. I've really been enjoying the process of talking with customers and translating their needs and requests into feedback and tangible results. I get to see the process through from start to finish and ensure that people are getting the most out of Hive. What better way to learn the in's and out's of our product than demoing for clients, troubleshooting their issues, and finding solutions with our team? It's been very cool forming and growing relationships with clients that are built on trust and the common goal to have their email marketing strategy be successful!
So Final Verdict?
I've been at Hive a few days short of a month and I can safely say it's everything I was looking for and more. I'm surrounded by super smart, kind, and passionate people who support me and see my success as their own. I've met more than one office doggo and I get to help clients from all over the world elevate their own company. I am constantly challenged to think outside the box and build my role as I grow. So, yes, I am loving Hive!
Also, here's a little behind-the-scenes sneak peek of what was really going on when we shot the header photo for this blog - featuring Bea, our office pup, and this tree!