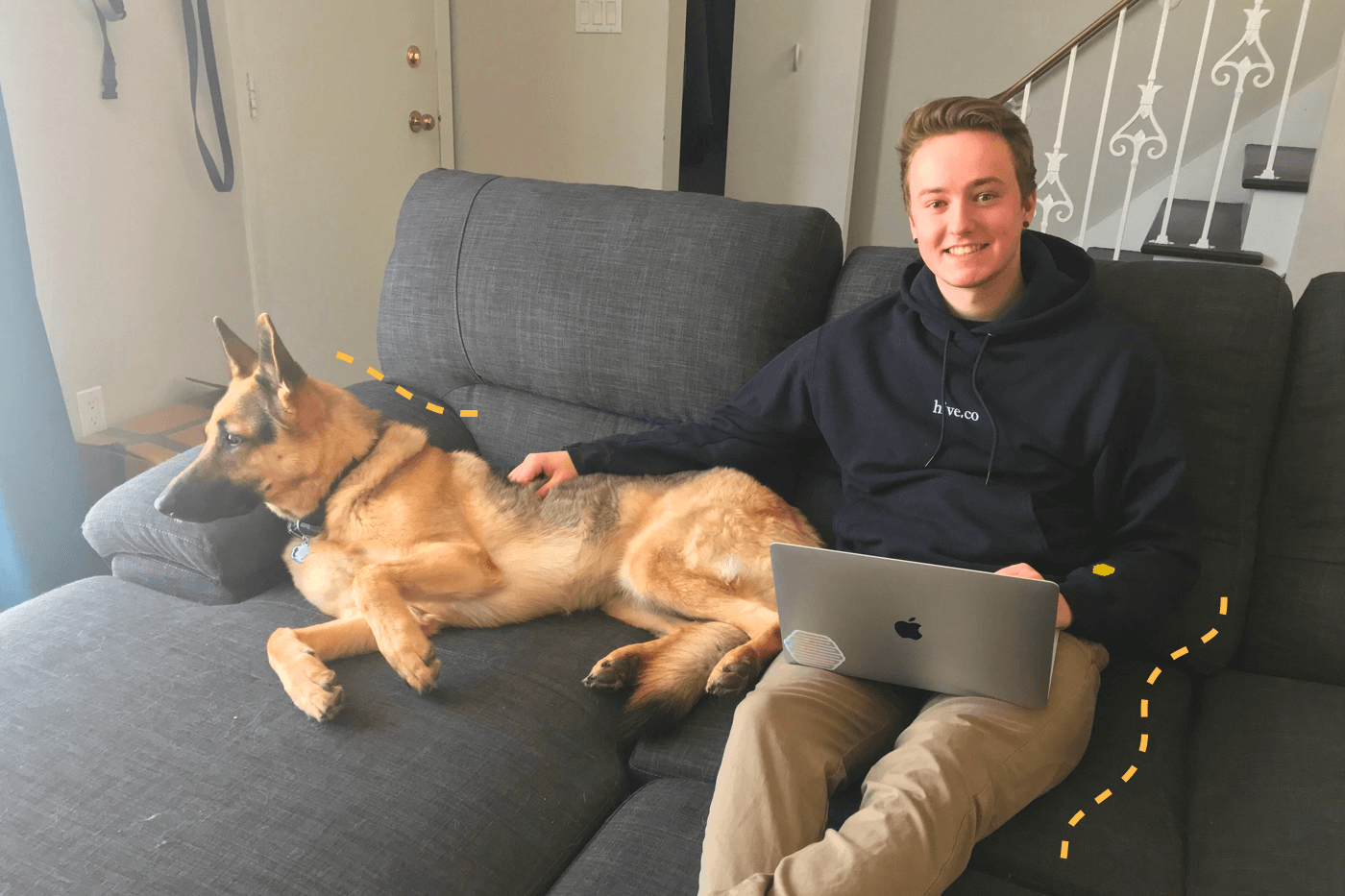 Hello from my new home! My name is Jake Kulchar and I am Hive's newest Customer Experience Manager! I grew up in Barrie, Ontario and recently obtained my Bachelor of Commerce degree with a concentration in Marketing from Carleton University. Working mostly in the nonprofit sector during my four co-op terms, the main focus of my past roles was on reporting. It was my job to convey complex information in simple ways to funders so they could better understand how their money was being used.
After graduation, I began the next phase of my life, which was the full-time job hunt. This can be a scary time for many people, including myself. There was a mixture of excitement and anxiety whenever I thought about the uncertainty of where and who I would work with. I knew that I wanted to talk to different people on a day to day basis, and make an impact by helping them reach their potential. Hive has instantly fulfilled this desire, so keep reading to learn about my experience thus far!
Best Interview Experience Hive Ever Had (get it??)
From just their website and job description, I could tell that Hive was only looking for good people, regardless of professional background. Before my interview with Michaela, I recall googling many different generic interview questions so that I would be prepared for any curveball thrown my way, but to my surprise, the interview focused entirely on what I was looking for in a workplace and why Hive piqued my interest.
Obviously, some companies can promote their workplace culture online without following through, but even in my first few days I knew that was not the case for Hive. During my first week, I was able to go for a coffee/drink with each person individually to learn more about them and chat about both of our interests outside of Hive. In past work experiences, it would take me a few weeks, sometimes even months to truly feel comfortable in my workspace, but with Hive it was almost immediate!
Hive's Workplace Culture
When graduating from university, I was slightly hesitant about winding up in a position where I would wake up every morning and dread going to work. Moreover, I didn't want to be stuck in a position where I got to work and watched the clock slowly tick until I was able to go home. In my first four weeks, not only was I not dreading going to work, but I was actually looking forward to it! The Hive team aren't just co-workers, they're friends (who you just happen to work with). People on the team genuinely care about one another and love to see each other succeed.
One thing I was truly impressed about in my few short weeks at Hive is the amazing communication exhibited by the team. Ian (the CEO) makes it a priority to regularly have one-on-one check-ins with each person to see how they are doing, and he is genuinely interested in any feedback. It is rare that there is such an open line of communication like this in workplaces.
After my first three weeks at Hive, we migrated to temporarily working from home like the rest of the province. Although it can feel lonely in isolation, our team has made sure to mitigate this the best we can via online video chats. Whether it is morning chats to talk about random things, Wine Wednesday calls, or virtual game nights, keeping in constant communication with everyone has made social distancing that much easier.
Customer Success at Hive
It was important to me to work in a position where I am able to communicate with many different people on a daily basis, and use the skills I've learned to help clients master email marketing. Each time I speak with a client, it is my goal to have them leave the conversation feeling like successful problem-solvers. I am always here to answer any questions people may have about Hive, but it is our goal as a team to ensure that each person we interact with feels comfortable using our tool autonomously.
One of the most important aspects of my position is effectively listening to what customers are saying/asking. Whether it is a question, feedback or request, it is my job to ensure that customers feel like they are being given my undivided attention until their inquiry is resolved. Just like my fellow Hive coworkers did with me, I want to make sure that any customer doesn't hesitate to come to me with any question they may have, big or small. Over time, as I start to build deeper connections with our clients and partners, they will know that I am here for them to ensure their email marketing strategy flourishes!
What's Next?!
The most exciting thing about working at Hive is that we have no idea what's next! Our team comes in to work everyday with the goal of making that specific day a great one. We are a small group of individuals who share a common goal of creating a great experience for each client and partner we interact with. The best part about working for a startup is that there is so much opportunity to grow, and although it has only been a month, I am already looking forward to growing each day together and seeing where we end up in the upcoming weeks, months and years!
Interested in joining our team? Check out open roles at hive.co/careers 🐝