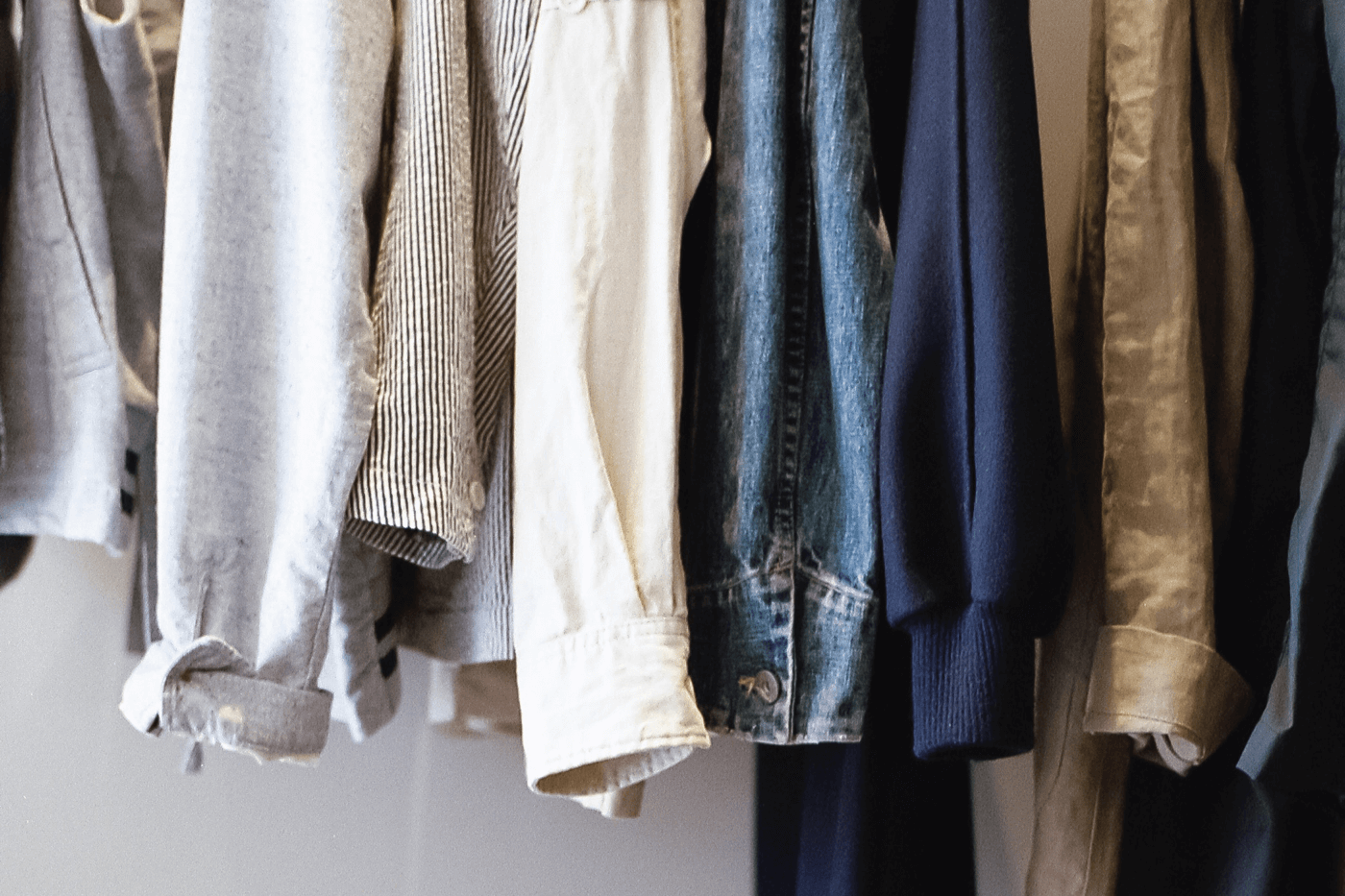 According to Baymard Institute, the average documented online shopping cart abandonment rate is 69.23%. If you're a frequent online shopper, this percentage probably makes sense to you - it's so common to save something in your cart that you might want to buy, and then forget you even put it there. Baymard Institute reports that 58.6% of online U.S. shoppers have abandoned a cart within the last 3 months because they were " just browsing / not ready to buy".
This is where abandoned cart emails come into play. Just a refresher: abandoned cart automations are emails that automatically send when someone leaves items in their online shopping cart. Because of the high rate of cart abandonment, these email automations are becoming more powerful than ever.
44.1% of abandoned cart emails are opened
11.6% of abandoned cart emails are clicked
29.9% of clicks lead to a purchase
The average order value of purchases is 14.2% higher than typical purchases
Luckily, abandoned cart emails are super simple to set up. We've collected some of our favorite templates that you can use for inspiration. These templates are clean and easy to recreate, but that's what makes them impactful.
1. American Eagle: Make It Official
With abandoned cart emails, the goal is clear - remind your customer what they put in their cart and give them the option to go back and purchase it.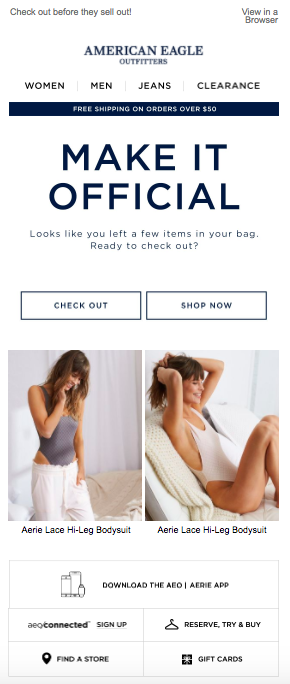 2. Dote: Your shopping bag has abandonment issues.
Fun copy is a great way to convince an unsure customer to complete their purchase. Dote does it well with their tagline, "Save these items hours of therapy and give them a loving home!"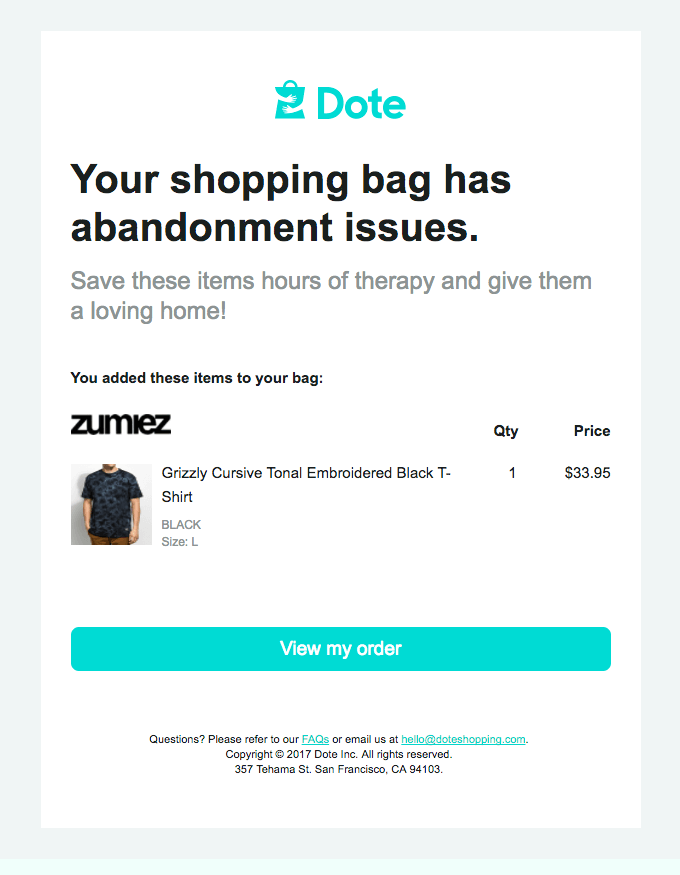 3. FiftyThree: There's Something In Your Cart.
Sometimes, matter of fact, friendly copy can be the best approach in convincing someone to make a purchase.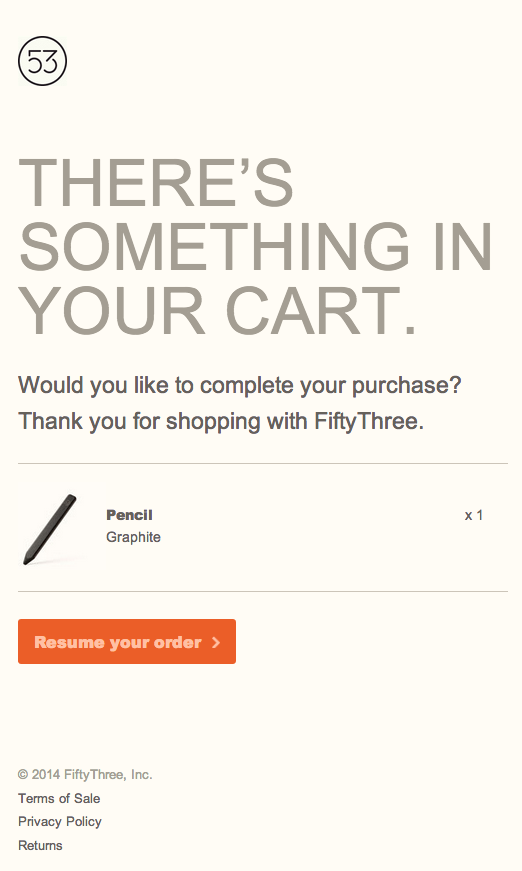 4. Peel: Still Thinking it Over?
Peel frames their abandoned cart email strictly as a reminder, which is a smart, unassuming approach. They're aware that most abandonment is brought on by indecision and that's reflected in their copy.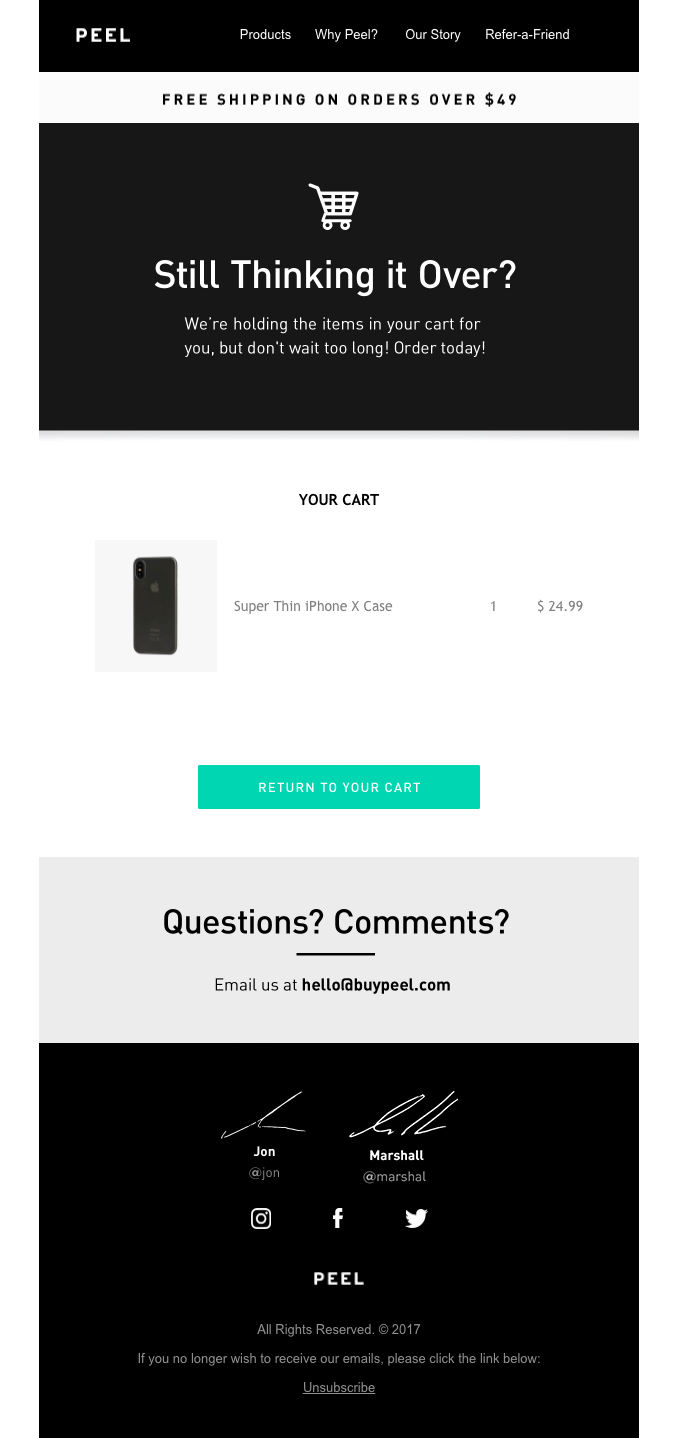 5. Bonobos
Bonobos has such an attention-grabbing abandoned cart email that it's hard to ignore. Without even including the product, this email is memorable and makes you want to click.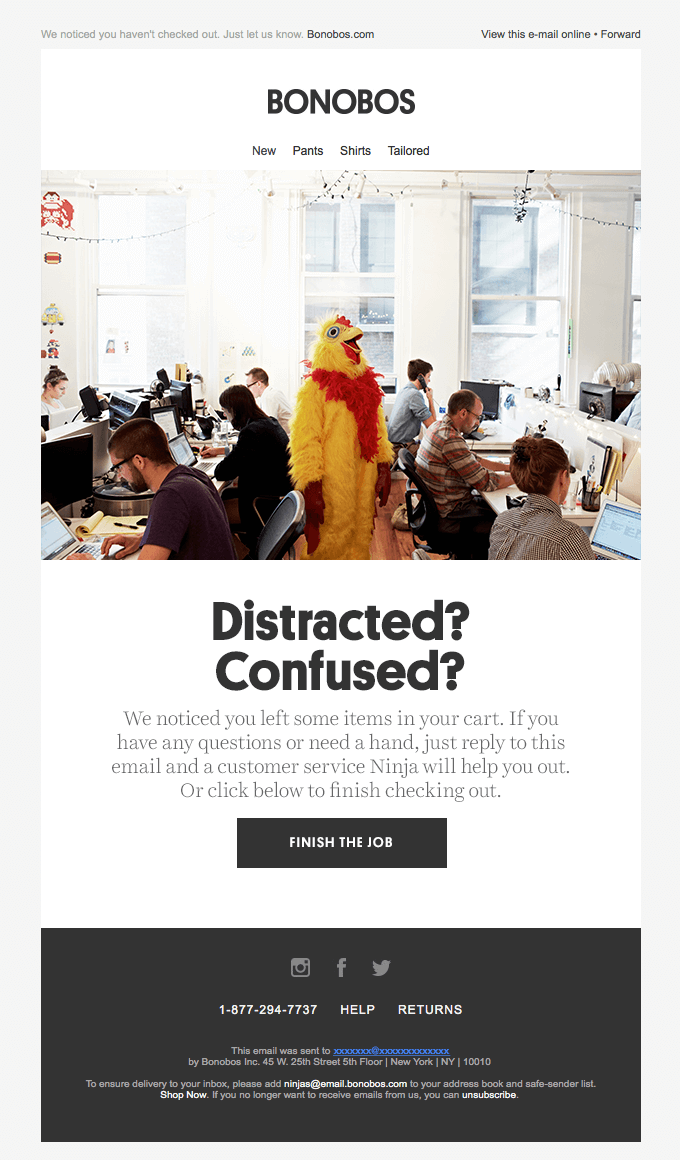 6. Mack Weldon
Mack Weldon hits two strong selling points with this email - that the items may be sold out soon, and that there's a try on guarantee. These are useful tactics to increase urgency and wane indecision.

7. Warby Parker: Want to take a better look?
Warby Parker takes a laid-back approach to the abandoned cart email. Though the copy is casual, they include a few key persuasive points: free shipping and returns and access to their support line.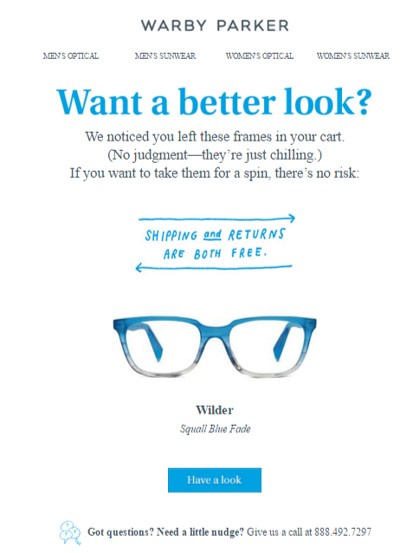 Bonus: if you have a Hive account, we've used these emails to inspire some pre-made templates for you. You can jump right into editing one of these: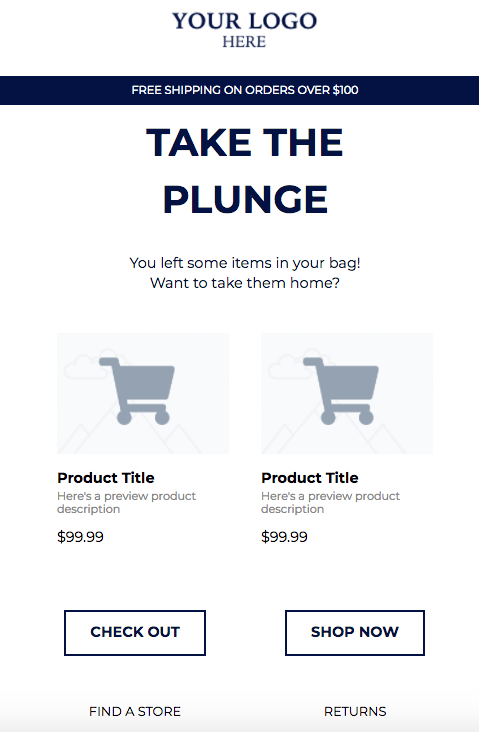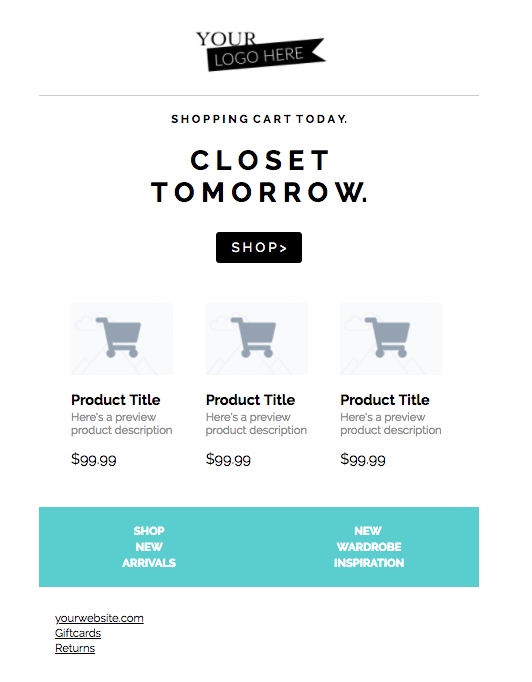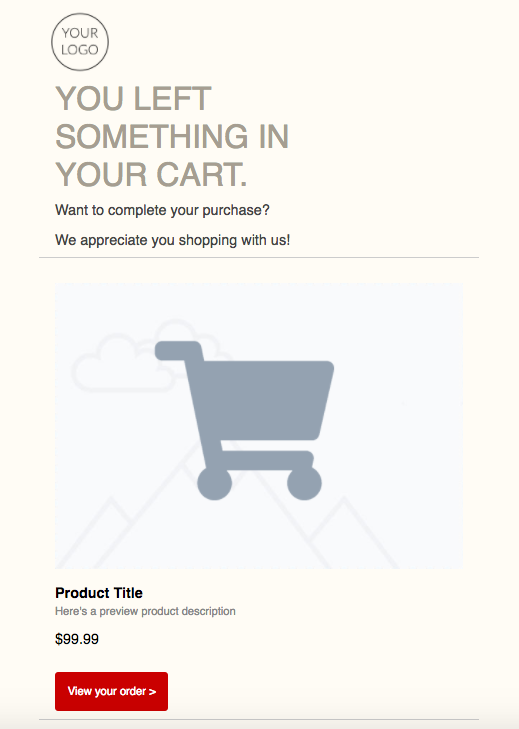 If you're ready to start making back lost revenue, hop into your email service provider and set up an abandoned cart email journey. It's so simple to do and has such a big impact that there's really no reason not to!
P.S. Hive now has automated abandoned cart customer journeys for anyone who has a connected Shopify store 🚀 Learn more here: How do I create an abandoned cart email journey?