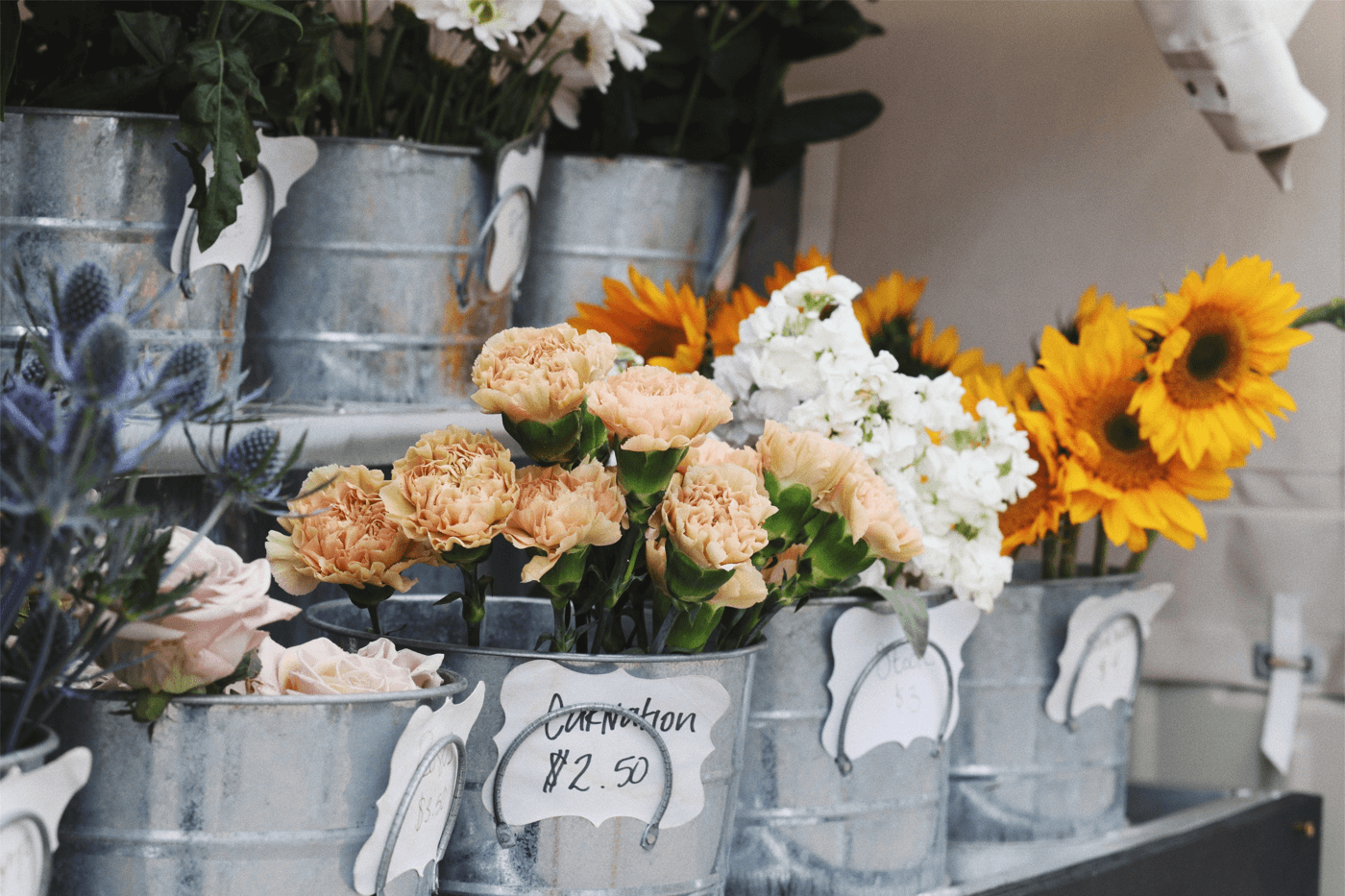 According to the National Retail Federation, total spending around Mother's Day in 2017 hit a record $23.6 billion - and it's projected to surpass that this year. That's a lot of moms being celebrated! If you run an ecommerce store, it's likely you have something to offer Mother's Day shoppers. From clothing and accessories to consumer electronics, people are buying everything for mom.
With everyone scoping out gifts this time of year, you'd be remiss to not run an email campaign (or two) around Mother's Day. This post covers key tactics with some template inspiration on the side.
Gift Guides
When you know your customers will be shopping for gifts soon, an easy way to engage them is to send a gift guide email. Seems pretty obvious, right? Try including bestsellers from Mother's Day last year, similar new items, and staff favorites.
Bezar does a great job of this with a variety of products at a range of different price points.

Offer Value for Free
Ann Taylor keeps their brand top of mind while giving subscribers Paperless Post cards they can send their moms, for free. This is a clever way to get customers to visit your site and maybe take a quick browse after they've sent their free ecard.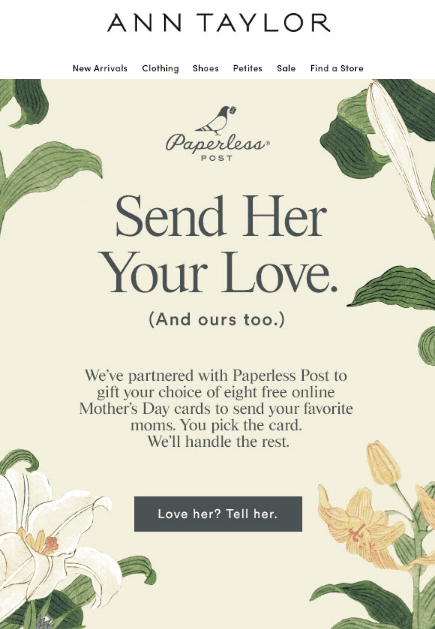 Gift with Minimum Purchase
To increase order sizes, Pandora offers a free jewelry box to any customers who spend over £125. If customers want the free gift you're offering, they're likely to buy more from you to reach the threshold.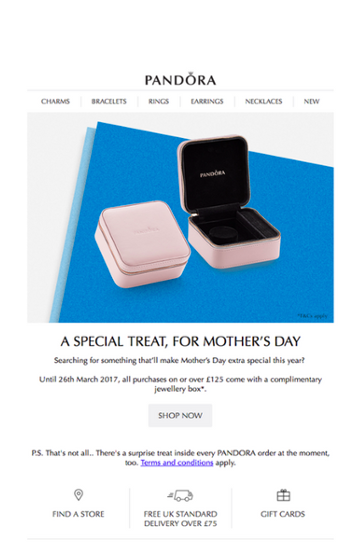 Get Sentimental
Rose & Grey gets to the heart of Mother's Day with an onbrand vintage photo, and sweet messaging about family support. This is the perfect holiday to show the personal side of your brand in emails.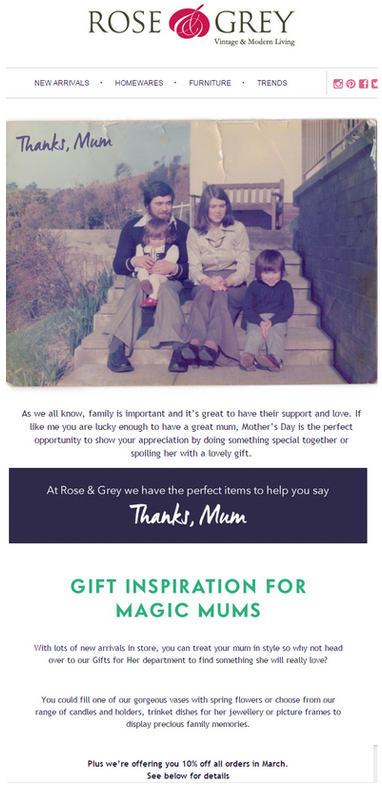 J.Crew follows suit using personal photos. Bonus, they include gift options based on the featured moms' preferences.

Fast & Free Shipping
Mother's Day is one of those holidays that always sneaks up - you think you've just finished Easter and then it's here. Offering free shipping that guarantees gifts will get to your customers in time for the big day is a great way to incentivize purchases (and also win over those last-minute shoppers!).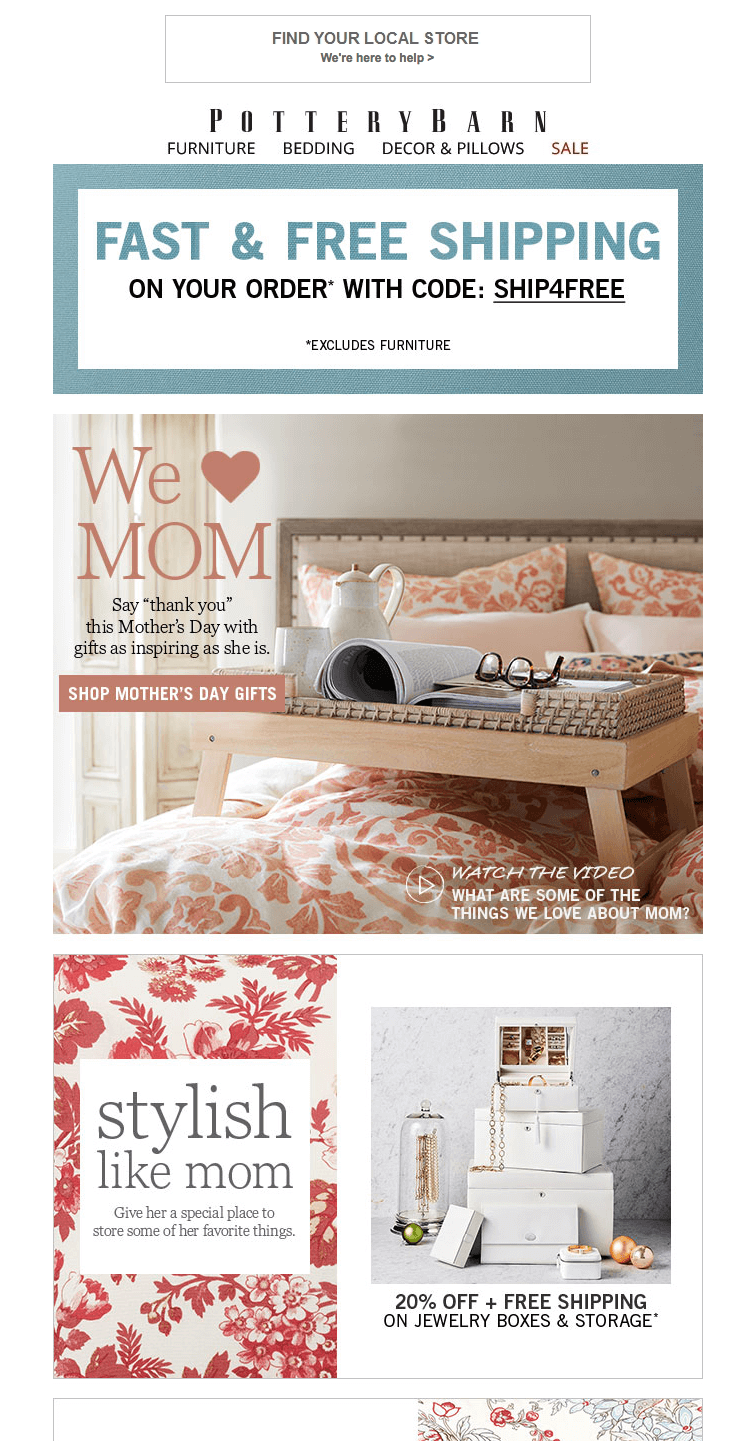 There are a ton of ways to engage customers who will already be shopping for mom in the next few weeks. Combine your favorite strategies from this list to create a successful campaign that resonates!