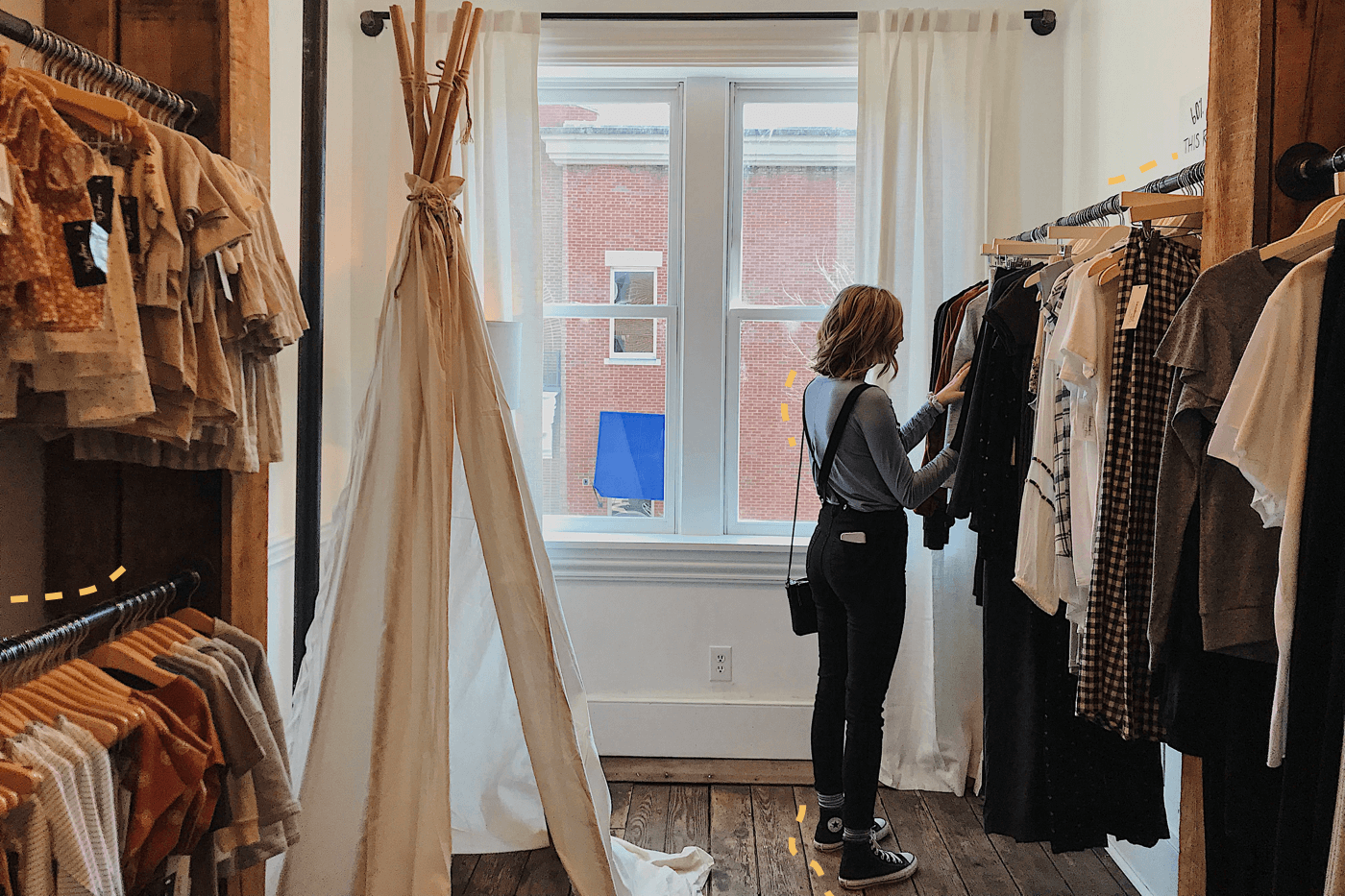 Shopify's out of the box email templates are a useful asset when just starting out your ecommerce store - they offer the foundations you need to communicate with your customers. As you continue to grow and want to fully optimize your email marketing, you might be searching for ways to customize your Shopify email templates.
In this post, we'll show you a few of the ways you can take the concepts behind Shopify templates and level them up.
Keeping It On Brand
Though you can change basics in Shopify's basic templates, like your logo, link text, and button color, an ESP will let you fully customize your email in a way that makes it completely on brand with the rest of your store.
See this simple but impactful upgrade from the Dolan Twins' abandoned cart email using a Shopify default template to Hive's template editor.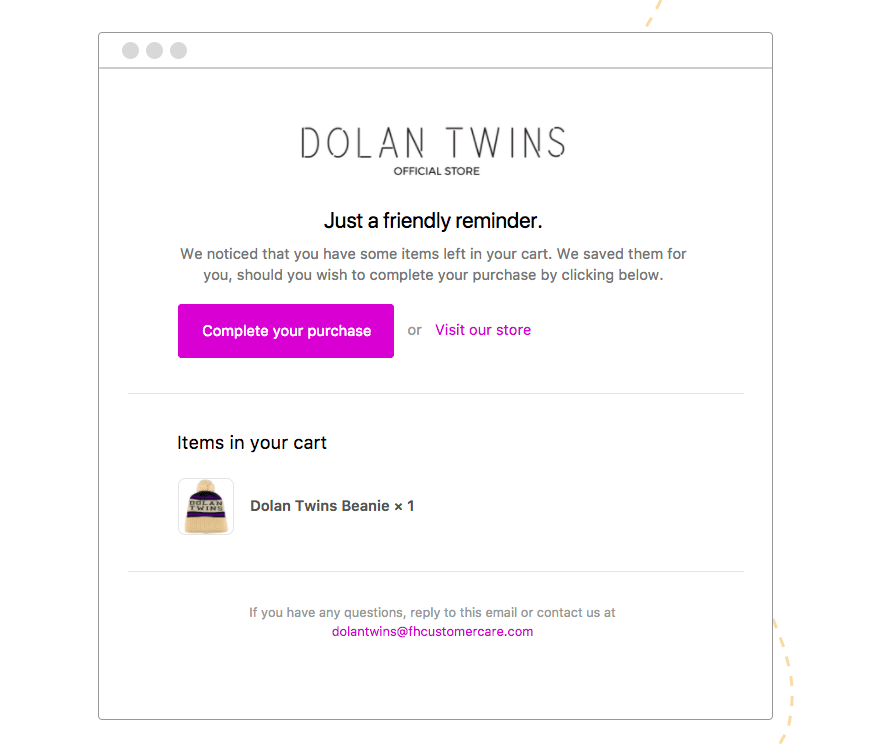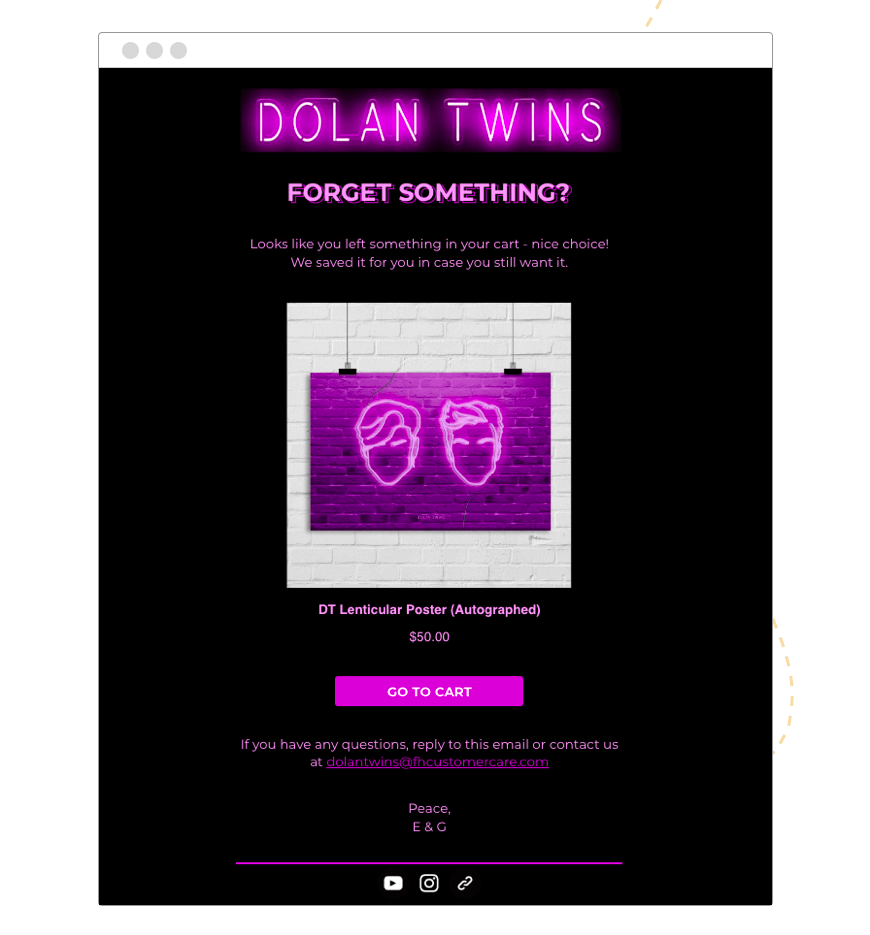 As your brand grows, it's natural to focus more on your customers' holistic experience with your company. You'll want every touchpoint to feel customized, like it's coming right from you.
Related: Hive for Ecommerce Stores
More Effective Abandoned Cart Email
With a more flexible template builder in an ESP, you can do things like choose how many abandoned cart items you show, as well as toggle the details (like photo, item name, and price). Something as simple as making your product photos a little bigger can have a huge impact on conversion.
An easy update to your abandoned cart email is adding a recommended products block. This will automatically pull in recommended items based on your best sellers - if your customers aren't sold on the items they abandoned, this gives you an additional chance to win them over.
You can also use conditionals to tailor your abandoned carts, depending on things like cart size. Try offering free shipping to customers who abandon a cart with a value of under $100 and offering a 15% discount to customers who abandon a cart with a value of over $100.
Lastly, you can add multiple steps to your abandoned cart email journey. We often see the second or third email in an abandoned cart series generate the most revenue - sometimes, you need more than one email to encourage customers to finish their checkout.
Adding Browse Abandonment Emails
If you're seeing a lot of success with the default abandoned cart email from Shopify, you might want to add a browse abandonment email journey to the mix. This is an option with most ESPs - browse abandonment emails send a reminder to customers who looked at products on your site without adding them to their cart or making a purchase.
They're especially effective if a large portion of your customers are repeat purchasers and tend to repeatedly visit your site.
Typical Gamer uses the perfect combination of friendly copy with a callout to free shipping and returns to encourage customers to keep browsing (and hopefully make a purchase!).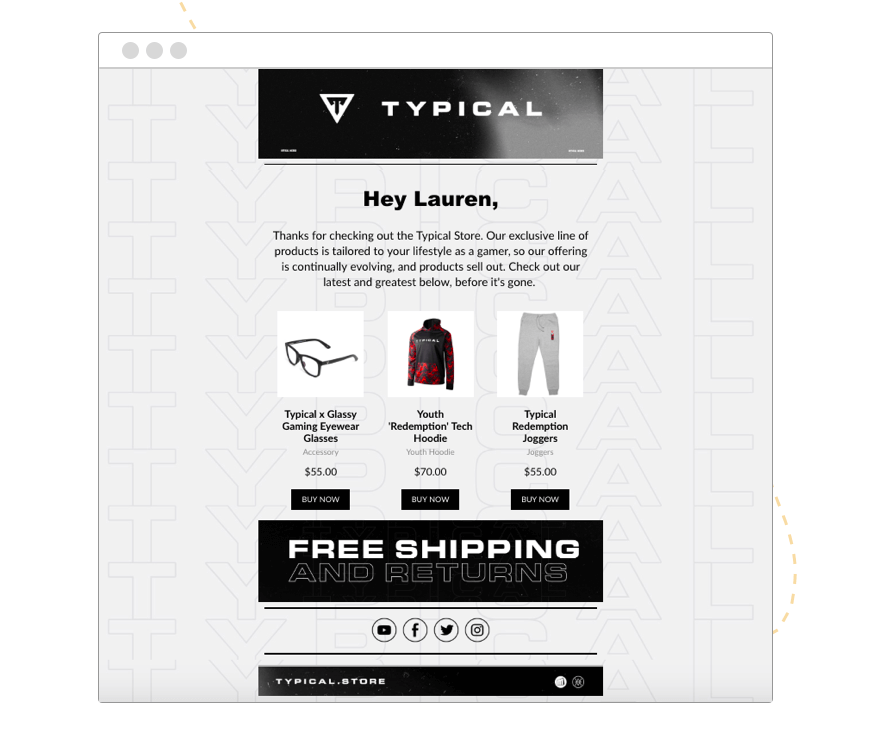 All Your Email Marketing, In One Place
One perk of starting to customize your email templates within an ESP is that you gain more control over how your automations and your marketing emails play together. You can set parameters to ensure that customers aren't receiving too many one-off marketing emails and automations in succession. Better yet, the high engagement you'll see with these well-timed automations will in turn bolster your sending reputation and improve the deliverability of your marketing emails. It's a win-win.
Wrap Up
If you're at the point where you're ready to customize your default Shopify email templates, it's worth checking out the templating abilities ESPs offer. From making the template on brand to adding small optimizations like recommended products, starting to use an ESP for automations can really level up your email marketing strategy.