If you're an email marketer, you would have realized by now that it is inevitable to have a blind eye towards the COVID-19 crisis and carry on with your regular email marketing campaign strategy. While the whole world is ramping up their inbox presence, brands that once used to send weekly or monthly emails are now sending emails almost every day.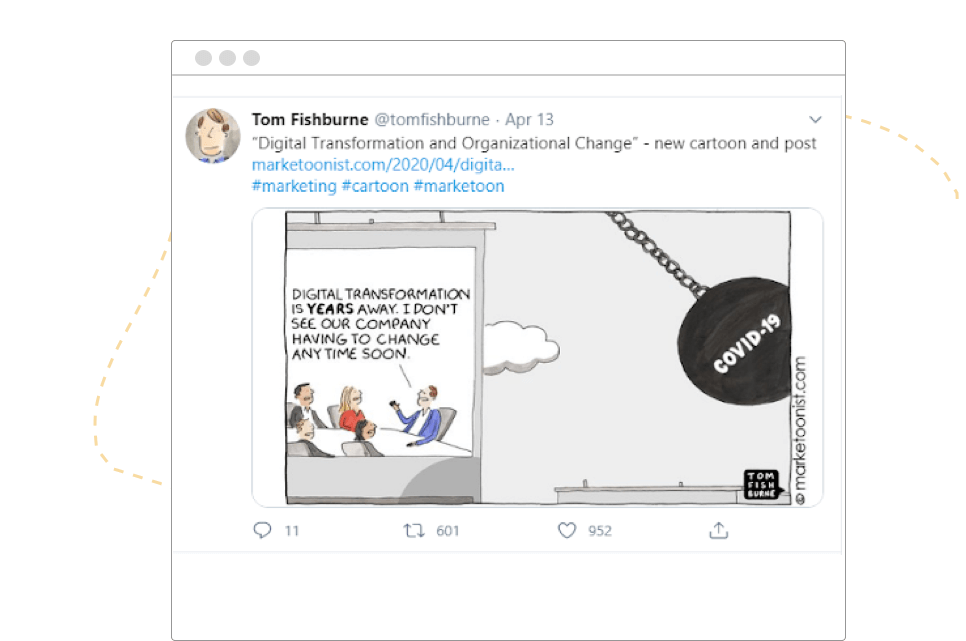 Source: @tomfishburne on Twitter
One of the main reasons for this shift is that traditional modes of business like brick and mortar shops, restaurants, and events have been substituted. Ecommerce options, pickup and takeaway, and webinars and online events are the strategies used to save businesses from going overboard. And in these times email marketing has proven to be a lifesaver tactic. Read on to find out why it is important to adopt an exclusive COVID-19 email marketing strategy and most importantly how to nail it while you're at it.
How to adapt to the COVID-19 Crisis?
Pivoting your business approach
It is important to understand that during this global crisis, as an email marketer one should focus more on the value a brand has to exhibit rather than promoting revenue-generating email content. Irrespective of what side of the counter you are, there are some things that would build your reputation when you give back something to the society or work for a better cause than just your ROI.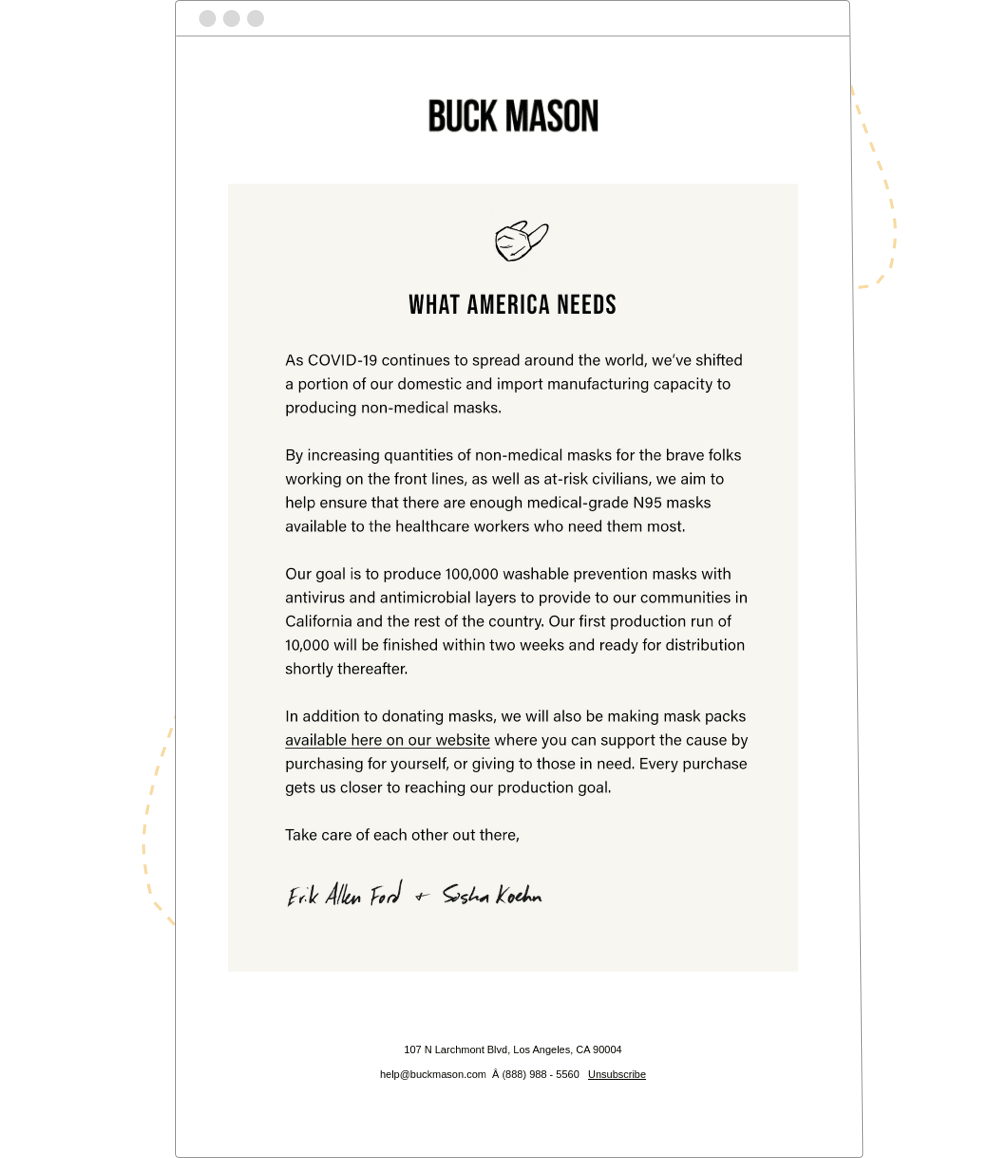 Apart from the subtle design, neat presentation, and straightforward copy, this email by Buck Mason reflects the very act of service and builds brand integrity and respect. Put Empathy before Sales
This might not be the right time to be sales driven and rigorously working towards achieving high ROIs. Although it is not wrong to be goal-oriented, understanding that the whole world, including you as a marketer is going through a global crisis, and not everyone would be interested in making a purchase. What needs to be prioritized is that you assure the subscriber regarding your support and keep them updated on your activities as a brand.Another smart way of retaining customers is by allowing them to pause the email or change their email preferences till things are better for them. This way you are not only retaining a customer but also saving yourself from being unsubscribed or even worse, ending up in the spam folder.

This email sent by Duolingo during the COVID-19 crisis has a warm design and a perfect empathizing message. The design and the concept revolves around offering support to the customer and letting them know that you care for them as a brand.Source: Duolingo
Get to know your audience
At least 37% of marketers have said that segmentation is their major point of focus to have a successful email marketing campaign amidst a pandemic. As inboxes are brimming with irrelevant emails from brands that hadn't communicated in years, it would be difficult to get their attention during such times. How people think and make buying decisions from brands has changed especially for those in the non-essentials industry. Therefore, it is important that brands analyze the change in customer behavior and buying patterns. This will help email marketers in re-conceptualizing strategies to keep their business afloat.
Emails that can be automated during a crisis
1) Welcome emails
When it comes to sending welcome emails, the sooner the better. You should make sure your subscriber doesn't get a chance to forget you, especially when their inbox is bombarded with COVID-19 emails. A smart marketer would capitalize on the very interest due to which the consumer had signed up to the services. The attention span of a new customer stays for less than 48 hours from the time of subscription, so it is very important to set the automation workflow accordingly and initiate a relationship with the customer as soon as possible.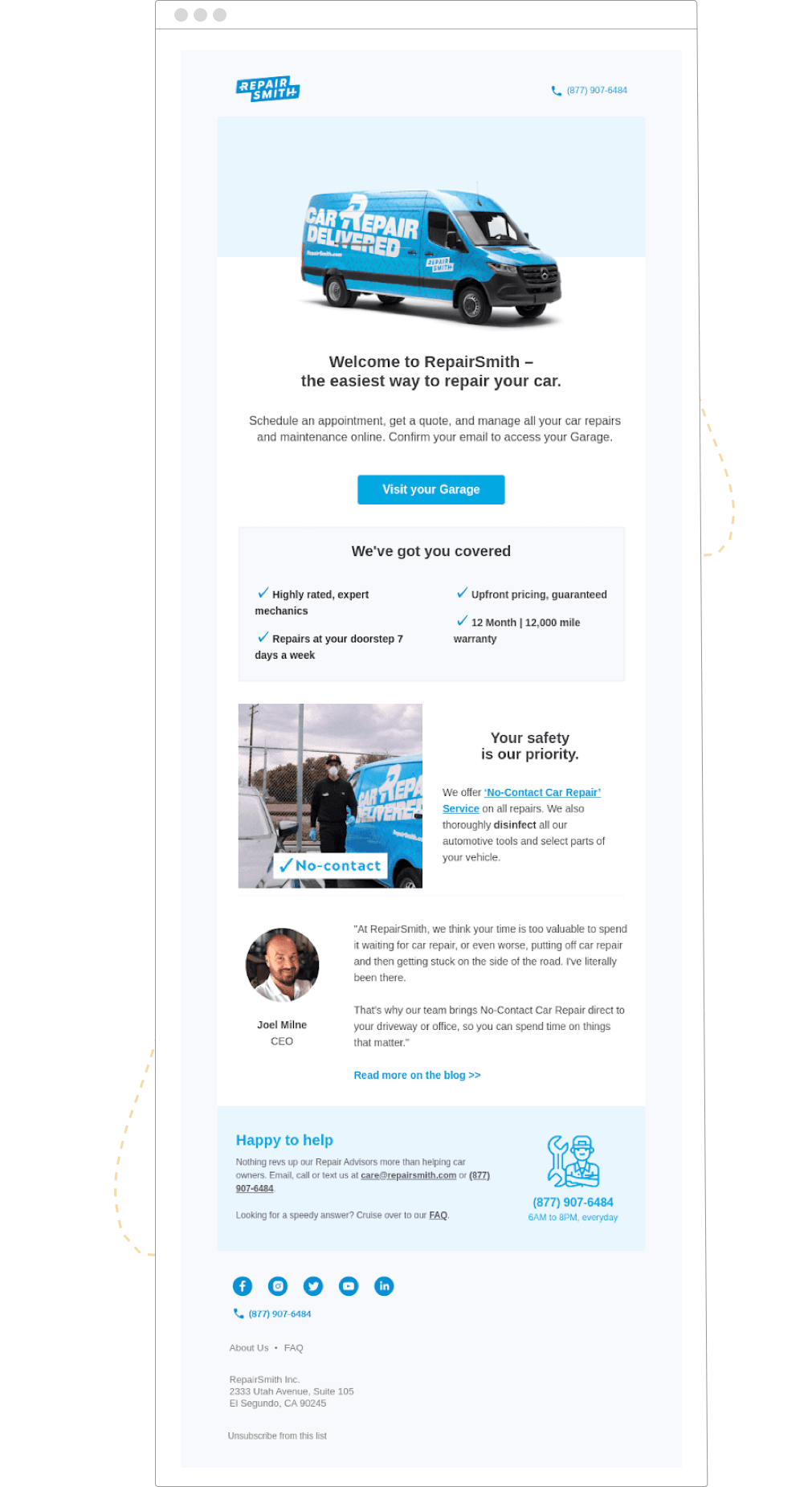 Source: Repair Smith
This email sent by RepairSmith during the COVID-19 crisis has been modified according to the requirements of dealing with a pandemic. For instance, an offer to provide a 'No-contact Car Repair Service' and disinfecting all the tools with which they work and the parts to be fixed on the vehicle. The personal message by the CEO along with his headshot increases the credibility of the brand. A good first impression made, isn't it?
These are a few points to remember when you strategize your welcome email.
What better chance to make your subscribers feel special! And what could make them happier than a discount on a product or free goodies?
Letting your subscriber know who you are would be an ice-breaker session for them to get familiar with the brand values, products, and services, and most importantly the website. Once this relationship is established, it would be a cakewalk to get the necessary data you need to collect, be it a phone number confirmation, or setting up preferences.This email by Target welcomes the subscriber and offers a tour of the website and the products available with a message about how the brand is doing its best to provide for the subscriber.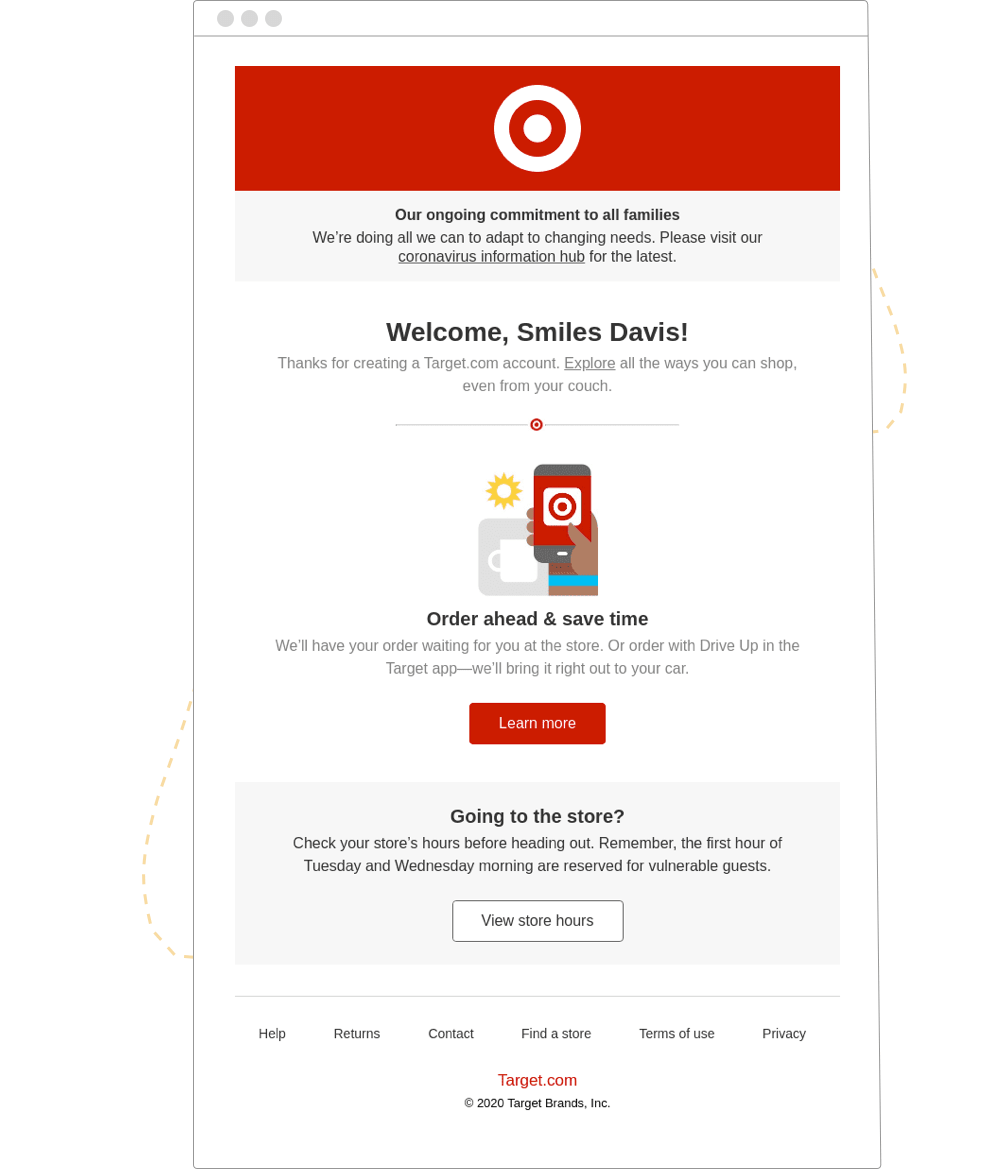 Source: Target
A consumer would only let go of his guard if he believes in the authenticity of the brand, which is why a good welcome email, with a brand introduction, will create a long-lasting impact.
A series of emails would not only get the subscriber to get acquainted with your brand but as mentioned earlier, it's the best time to collect information and know about your customers. At the same time, it is very important that one doesn't cross the fine line between the frequency of the welcome email series and sending too many irrelevant emails. Whether you have an automation set in place or are starting from scratch now is a good time to revisit your welcome automation to start your relationship with customers off on the right foot.
2) Appreciation and thank you emails
Thank you emails are the most effective follow up emails, especially during the first few hours of subscription or after the customer completes a purchase. Apart from building brand loyalty, it also adds a human touch to an automated email. Appreciation and gratitude will help to create a positive brand value and build better customer relationships. This email by AWeber sent during the COVID-19 crisis thanks the subscriber for joining in a live stream. The copy is kept extremely personal and informal and therefore makes it a perfect automated thank you email.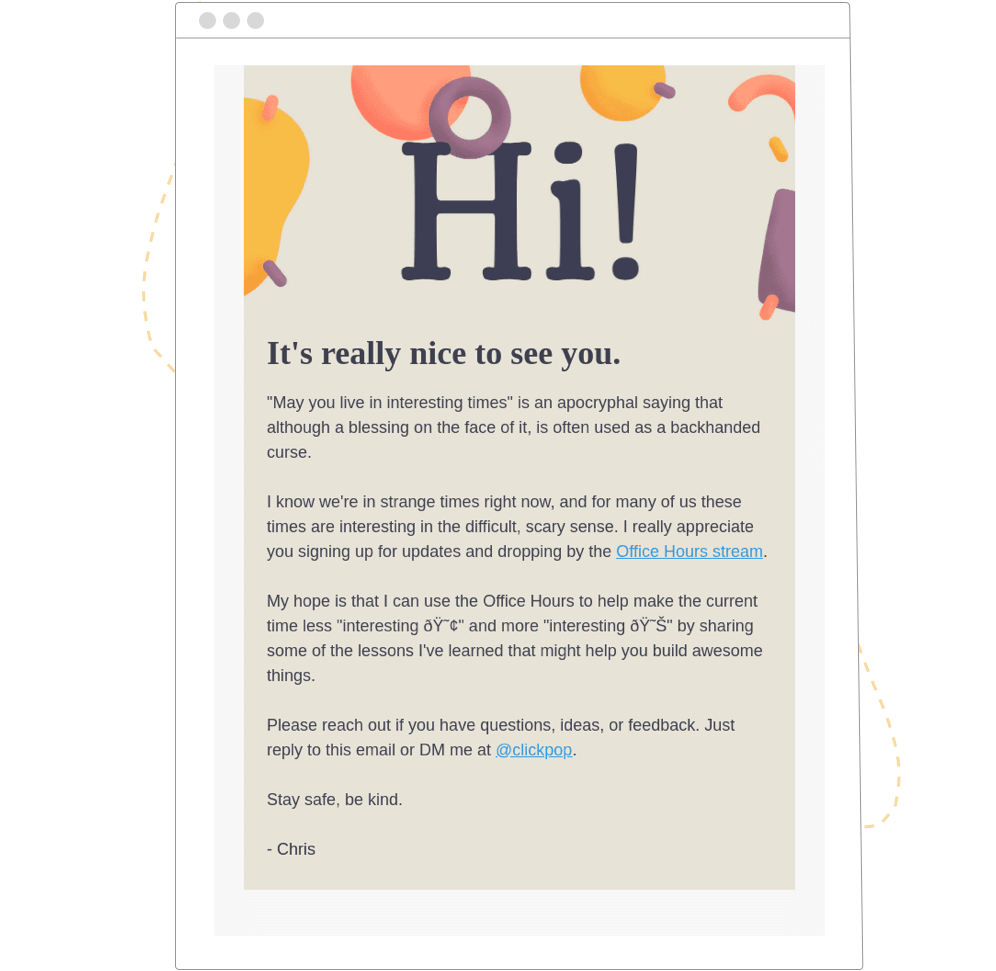 Source: Aweber
3) Abandoned cart or browse abandonment email
It is very important to make sure one doesn't miss out on the revenue because of cart abandonment. Usually, you can send out cart recovery or browse abandonment emails after the subscriber exits from the website or leaves the checkout page without completing the purchase. These emails are crucial, especially during a time like this, when every small conversion of your brand lays out a clearer path to keeping the business alive.
4) Re-engagement emails
Apart from engagement and retention, re-engagement emails are useful in sending gentle reminders to inactive subscribers that you remember them and care for them. During COVID-19, you must make sure that your re-engagement email lets the subscriber know of any new initiatives you have launched in the light of the crisis. Instead of sending a simple "We miss you" email, talk about why they should come back to you and consider buying from you again.  
5) Occasion-based email
Just because we are amidst a pandemic doesn't mean we should not remember any special occasions. Keeping in mind that not every subscriber might be on the same boat, brands can continue to send occasion-based emails while maintaining empathy in their tone. Insensitivity to the situation, inappropriate jokes, or going over the top to celebrate will only put you across as callous. This email by Beya Made has been modified to celebrate Father's day amidst the pandemic by exhibiting gifts which would be relatable in either scenario.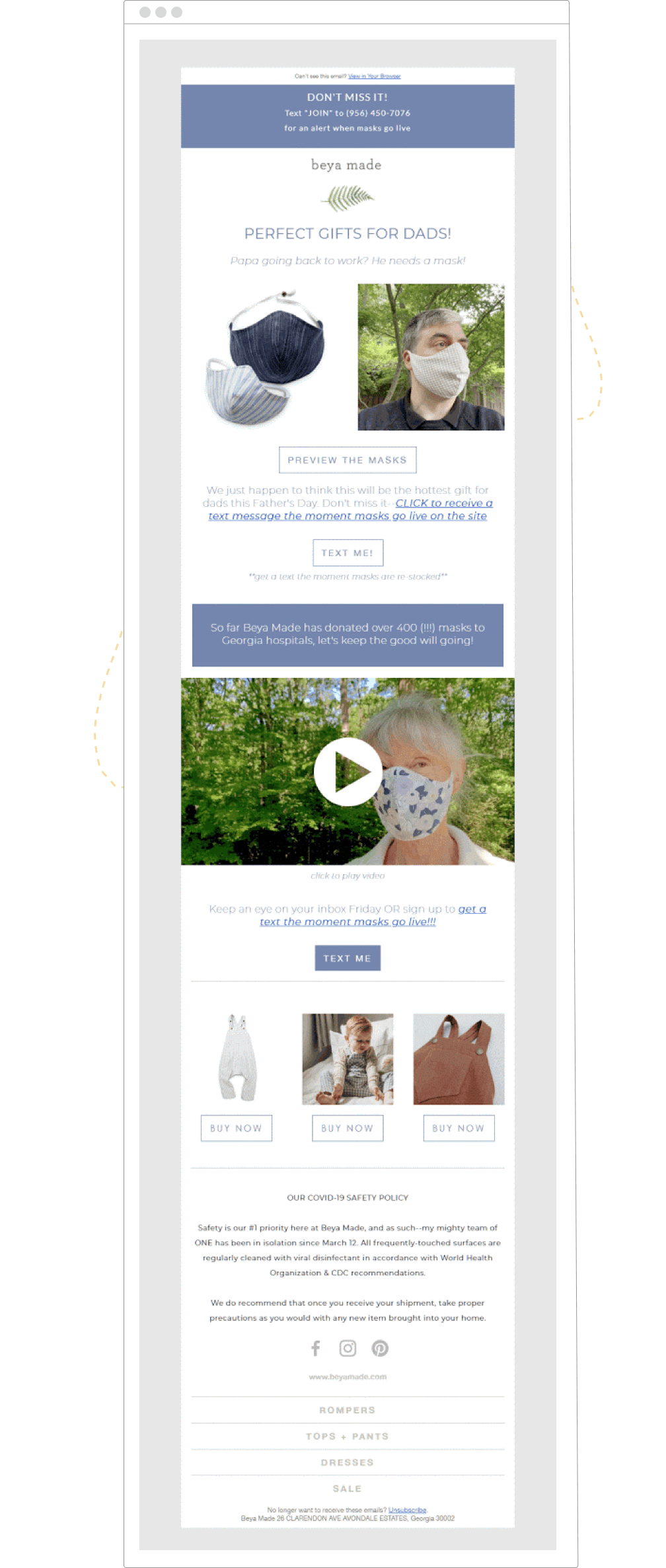 Source: Beya Made
Wrap Up
Recognizing that your brand needs a make-over in the COVID-19 email marketing strategy is the first step towards a better performing email campaign. Leveraging meaningful and empathetic emails to your customers will build a stronger relationship and increase your credibility. Abusing the current situation by raising the prices or denying assistance, closure, or support to consumers, especially without proper communication will break your email reputation in the post-pandemic period as well.