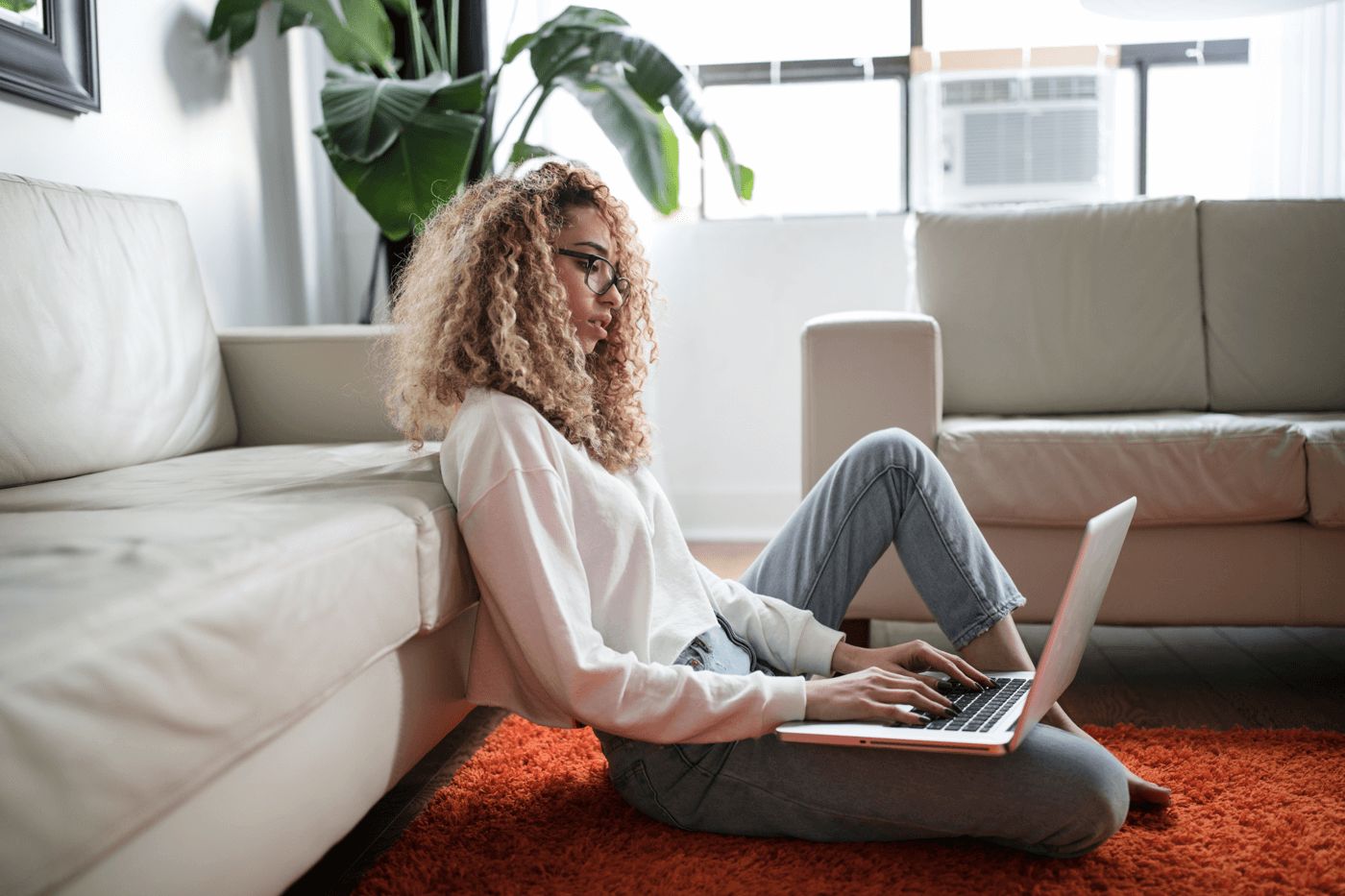 If you're looking for an avenue to regularly update your audience on industry news, trends, and your brand, look no further! An email newsletter is the perfect medium to keep subscribers up-to-date on everything they care about in association with your brand.
With a little planning to set some groundwork, you'll be able to launch a newsletter that gets the results you want - whether that's engagement, pageviews, sales, or all of the above.
Let's dive in.
Defining your goals
Before you start building your email list or planning content, you'll want to take a second to think about the overarching goals of your newsletter. Why do you want to start an email newsletter in the first place? This will help you articulate your value prop - what your audience will get out of subscribing.
Some questions to answer:
Format: Will it be editorial or strictly headlines?
Frequency: Will you send daily, weekly, or monthly?
Key metrics: What will define your newsletter's success? Engagement? Pageviews? Sales? A combination of all three?
List growth: How many subscribers do you want to have by the end of month one? Month six?
Considering these aspects before sending out your first newsletter will help you build a foundation that sets you up for success.
Building your list
If you've already been collecting an email list - awesome! You're halfway there. Note: if you haven't emailed your subscribers in a while, you'll want to send an initial message to set expectations and let them know you're launching a newsletter.
If you're starting from scratch, you'll want to set up key touch points where your audience can subscribe. Some places to think about:
Signup field on website
Popup form on website
Permalink signup form in social bios
Share links to subscribe on social channels
It's a good idea to set a goal for the number of subscribers you want to have before you send your first newsletter - it could be anywhere from 100 to 10,000 - the total size of your audience will dictate what goal is reasonable for you.
Planning content
In preparation for sending out your first newsletter, you'll want to have a general idea of the types of content and layout that each newsletter will include.
A common format includes:
A header image
Brief overview of the topics in the newsletter
Main content (article summaries or headlines linked out)
Fun content (relevant social media post, link to quiz or contest)
Crooked Media sets the bar with the "Enjoy" section at the end of every newsletter: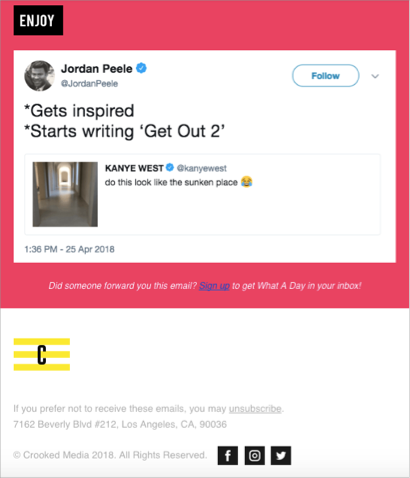 Tip: To increase engagement, include snippets and a range of different types of content that subscribers will want to click. Don't be afraid to test a few different types of content to see what your audience is most interested in.
Creating a flexible template
Here comes the fun part - in order to have a newsletter with consistent styling, you should aim to create a template that's flexible enough to hold the new content that will come with every newsletter.
Some elements that are helpful to create, right off the bat:
Header image (a specific style that you can replicate works well)
Headings
Subheadings
Linked text
Buttons
Dividers
Background color(s)
Crooked Media hits the nail on the head with their headers - they use recognizable elements in each one, but switch it up enough to add some intrigue to every edition:

Having flexible elements that you can use throughout each edition of your newsletter will give it consistency, while still being visually compelling.
You're ready for your first draft!
Now that you've thought about the details of your newsletter in-depth, you're ready to start crafting the first draft. Keep your key goals in mind while writing copy and choosing graphics and you're on your way to creating an email that your subscribers will look forward to receiving!