How to Keep Your VIP Customers Engaged with Email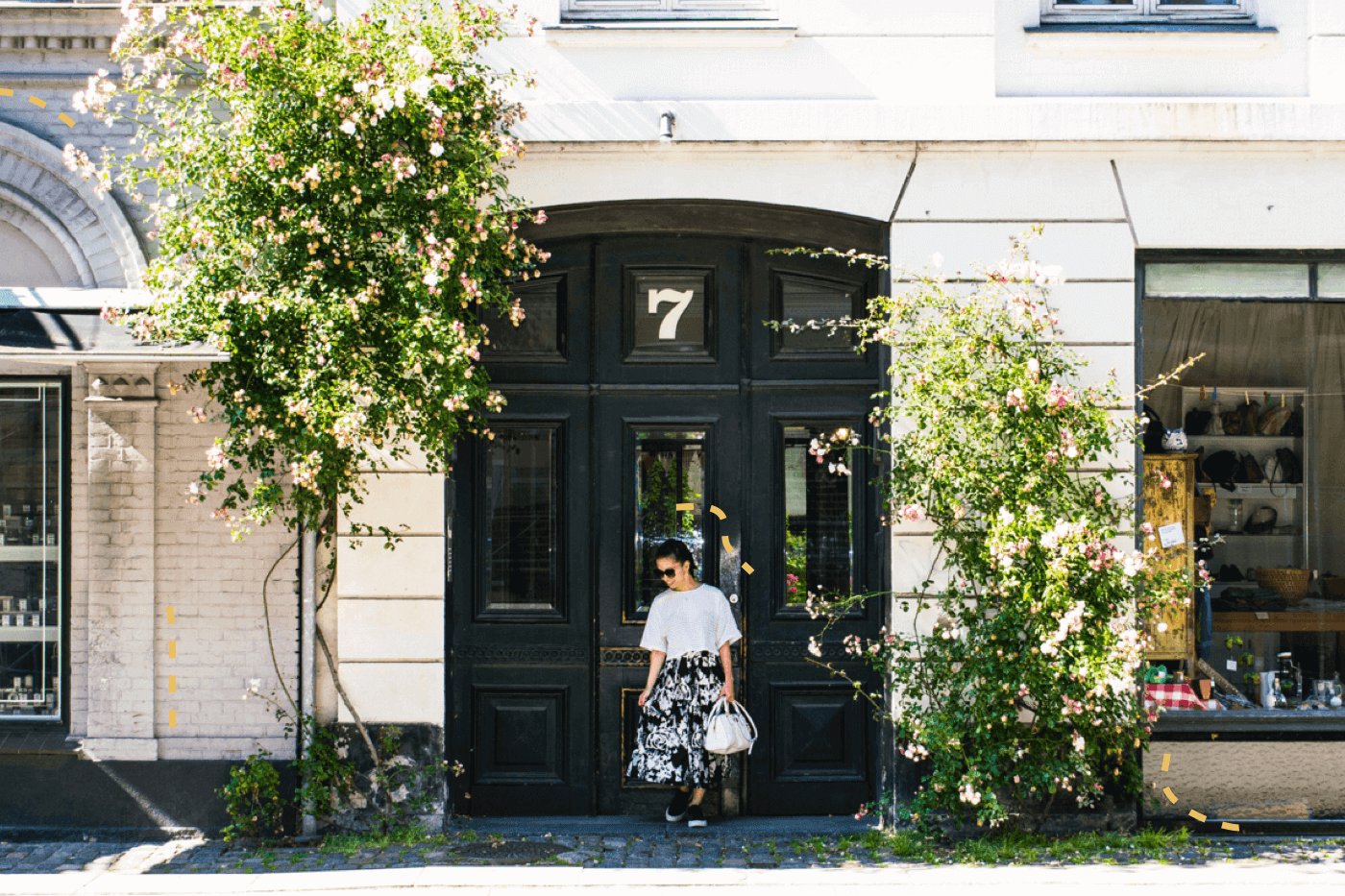 Editor's Note: This post was originally published on October 31, 2017 and was updated for accuracy and comprehensiveness on November 12, 2019.
There's a lot to think about when it comes to keeping your VIP customers engaged. They've discovered your brand in various ways, have different spending patterns, and will engage with you in-store and online in hundreds of distinct ways throughout their customer journey.
Just keeping track of all these customer touch points can be hard enough, let alone getting to your actual goal of using your customer data to engage customers and ultimately, increase revenue.
Related: How Emails Can Level Up Your VIP Program
In this post, we'll focus specifically on how to increase engagement with your VIP customers–the ones who contribute the most to your bottom line. These customers are the most loyal, and they contribute the most to your business. After all, 40% of an ecommerce store's revenue is created by only 8% of its customers.
Here are a few ideas on how to reward your VIP customers when they keep coming back for more.
Let them be the first to know
If you're releasing a new product line or have a sale coming up, add your VIP customers to an insider segment that gets all these updates first. Send them an email a day or two before the rest of your customers, and let them know they're getting the first look because they're on your VIP customer list. This is an easy way to make them feel appreciated and incentivized to continue purchasing from you.
Sephora's VIB Rouge email campaigns are a great example of how to get VIP customers coming back again and again.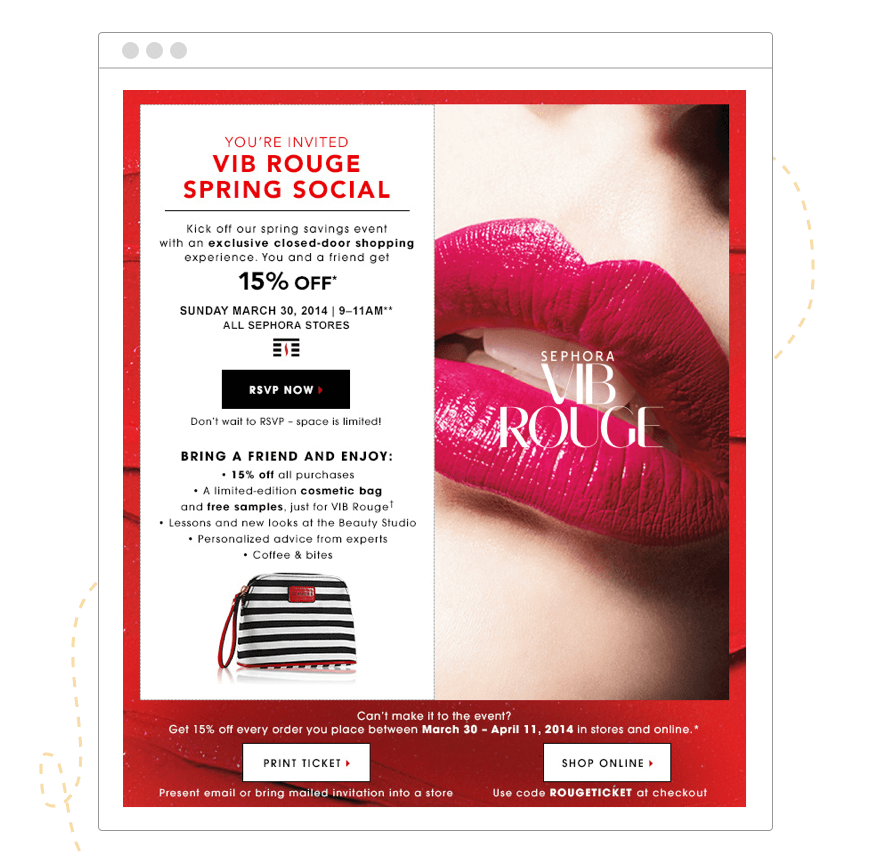 Say thank you
Saying thank you to the customers who regularly contribute to your company's success is something not enough brands do. Everyone enjoys a little appreciation, and saying thanks is a great way to differentiate your brand. Luckily, customer thank you emails based on purchase behavior are easy to automate with most email platforms. Set up thank you emails for your VIP customers when they spend their first $100 or $500 dollars. A simple thanks or coupon code for their next purchase goes a long way.
Ask for their opinion
Your VIP customers have the most experience with your products, making their feedback the most valuable. Send them an email with a survey that gives them the opportunity to provide feedback. You can easily do this with survey sites like Survey Monkey or Polldaddy. Not only does this give your VIP customers a chance to feel heard, their feedback may even inspire your next promotion or product line.
Warby Parker says thank you in a genuine way while asking for feedback.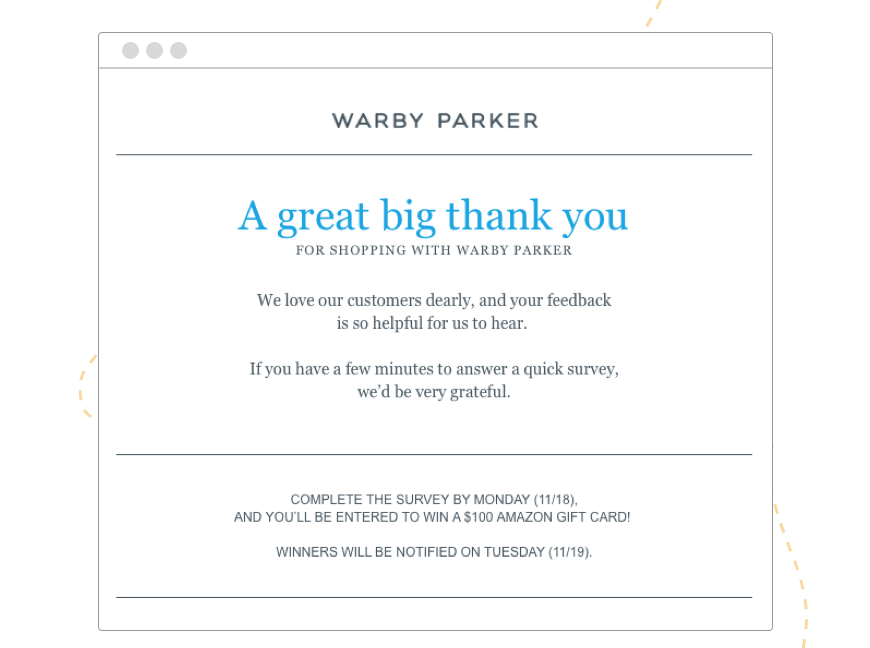 Encourage them to share
Most customers are more than happy to share their favourite products on their social accounts. Encourage social sharing in an email campaign that promotes your referral program, social contest, or the opportunity to be featured on your brand's Instagram. Not only does this keep VIP customers more engaged with your brand (who doesn't want to be a brand advocate!), it also helps your brand reach more people.
The Dolan Twins combine a thank you email with a CTA to share on Instagram along with a hashtag to get featured on their merch account.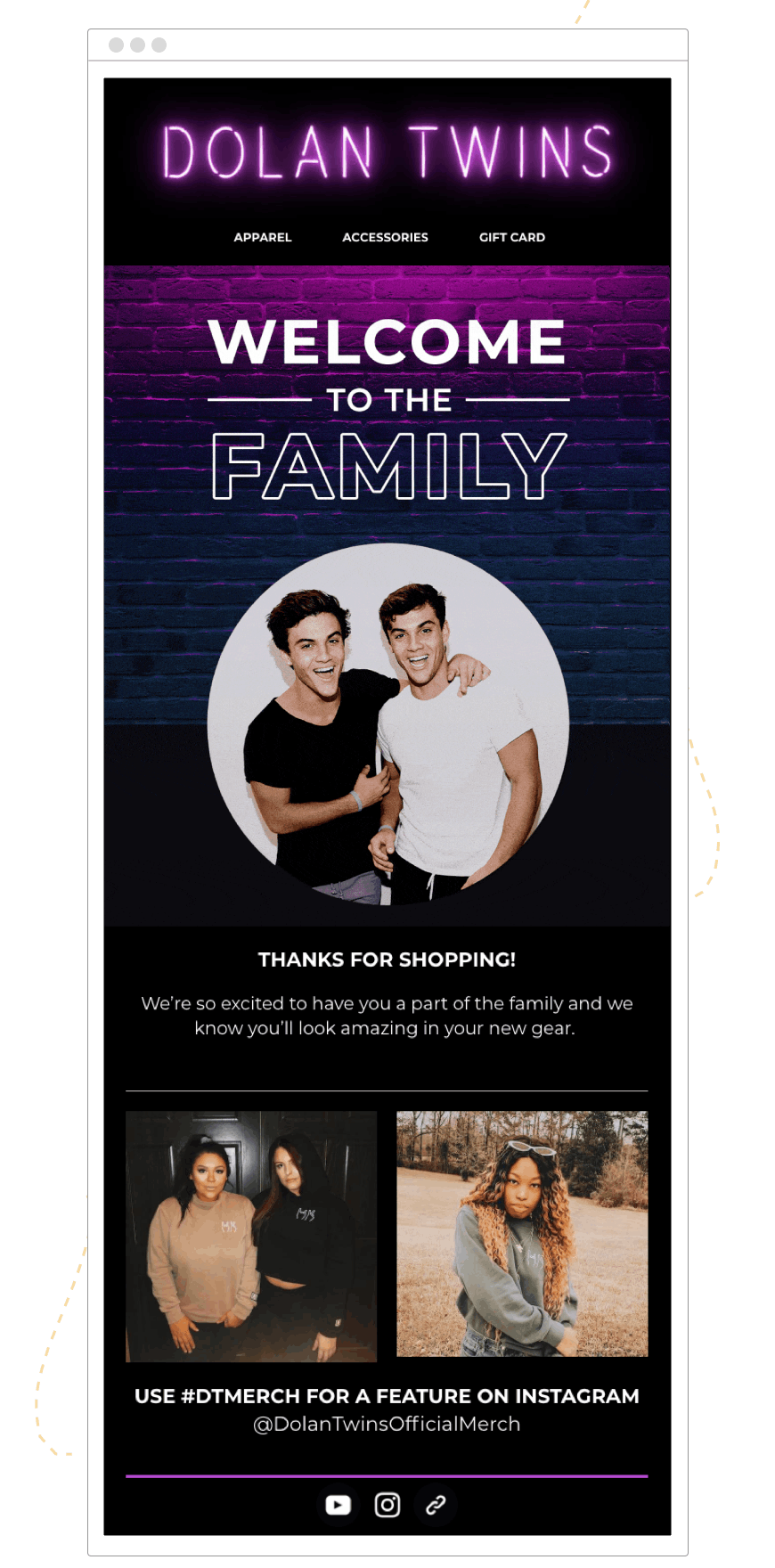 Keep tabs on your VIPs
Last but not least, routinely check the engagement level of your highest value customers. If they're opening and clicking on every email you send - awesome! There might be room to send them even more product updates and offers.
If there's a segment that was once opening every email but hasn't recently engaged or purchased, make you're taking it into account when you send them emails in the future. For example, create a segment of customers who've spent over $500 in the past year, but haven't opened an email or made a purchase in 90 days. Filtering out this segment will let you send them more thoughtful messaging, like a winback campaign.
Girlfriend has a simple but strategically timed winback email series, ensuring that customers who've made multiple purchases are encouraged to come back and purchase again.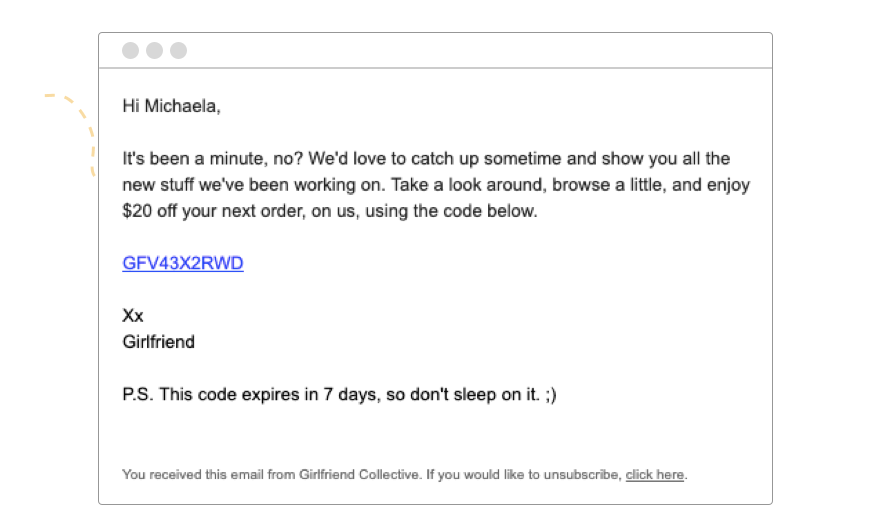 Wrap Up
Putting in a little extra effort to take care of your VIP customers now will benefit your brand in the long run. The more incentive you give them to stay loyal, the more likely they are to continue being repeat customers for years to come!