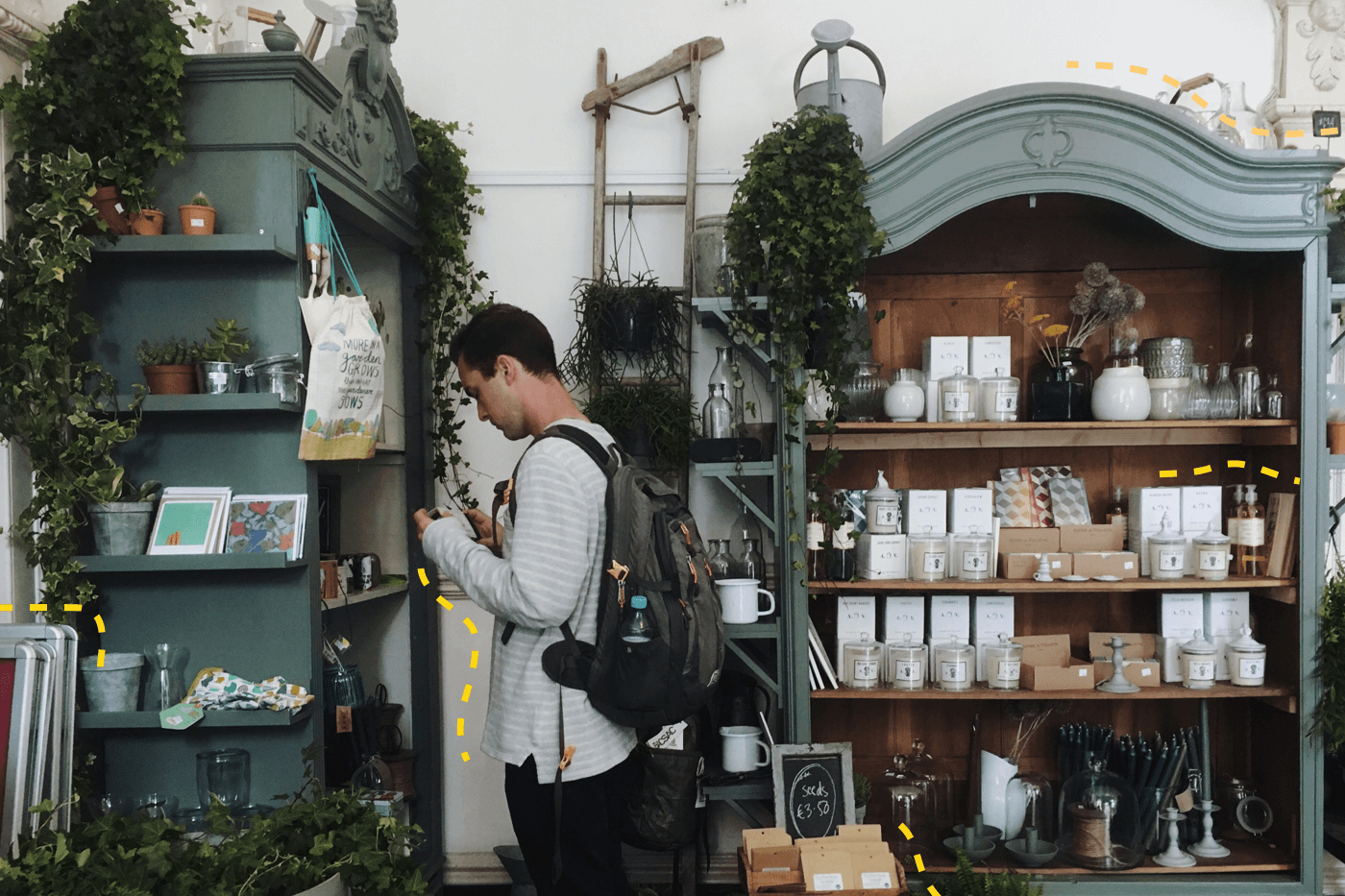 It's almost become an indisputable fact - email marketing is here to stay. Some of the most recent stats from Salesforce report that for every dollar spent on email marketing, there's a $38 return. That's an ROI of 3800% - hard to beat!
Though there's no doubting that email marketing has become insanely valuable, that 3800% return didn't come without a little bit of strategy. If you're trying to get the most out of your emails, it's worth spending the extra time to think about building a relationship with your subscribers through email, which means focusing on engaging your customers with relevant content instead of potentially spamming them with things they might not care about.
This posts walks through building a targeted, automated email series to strategically engage subscribers, getting them excited enough about your brands and product that they'll convert. By being intentional with how you engage your customers through email, contacting them only at specific, relevant points in their buying lifecycle, you can get through to your customers in an way that will make you stand out.
Plan your customer journey
Before you dive into templating or setting up rules, you'll want to take a step back and map out the experience of your customers at each stage in their journey. By considering each step holistically from the start, you can make sure you're creating a logical flow of emails that your customers will appreciate. It's okay (and probably the most effective) to not be pushing product in every email - use your series to slowly educate your subscribers, getting them on board with your brand before purchasing.
Check out this blog post on lifecycle marketing for more insight into what stages you should be mapping out: The 5 Key Lifecycle Stages for Ecommerce Email Marketing.
Focus on one thing at a time
When planning out your journey, be sure to tie in each step with clear business goals. Whether that's educating customers about your brand's values or ultimately driving customers to make a purchase, by having specific goals for each step, you'll be able to measure the effectiveness of your strategy when it's live.
Start segmenting
Using segmentation based on relevant points in your customer journey is one of the best ways to send personalized, timely emails. By sending emails right when your customers are thinking about purchasing, you can help them take the leap to support your brand (vs. interrupting them during times when they're not ready to online shop).
One of the best ways to get this going is by setting up a welcome email. They earn 320% more revenue per email than other promotional emails and bonus: they're a great opportunity to show subscribers what they can expect from your brand's email marketing.
One thing to note: the more data you have on your customers, the easier it is to send more personalized emails. Make sure your ESP has the ability to store all of the data points that are important to your store - from automatically connecting with Shopify to importing any specific preferences your customers have shared.
Build out automations
If you're wary of setting up email journeys or just aren't sold on their effectiveness, rest assured that they're the kinds of emails your customers want to receive. In Q1 of 2018, automated email open rates were 60.2% higher than regular emails and click rates were 91% higher than regular emails.
So which email journeys should you set up, asap?

Abandoned Cart
With cart abandonment rates at an average of 67%, it's important to remind your potential customers to check out! Some customers will respond well to discounts, while others may need a little more information about the product before taking the plunge.
Chubbies shows real people in their products to add some FOMO to their abandoned cart email.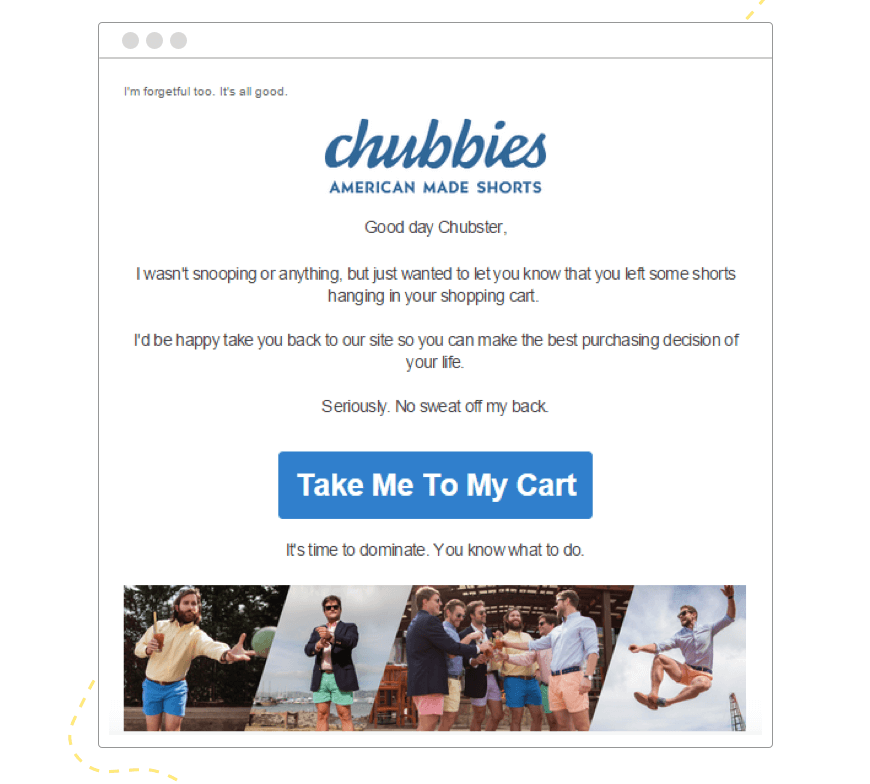 Browse Abandonment
You can send browse abandonment emails as product recommendations based on browsing history, or just as a friendly reminder of what your potential customer was looking at.
Loeffler Randall hits the nail on the head with tone - the copy in this email is just the right level of casual but persuasive. By including other options to browse at the bottom of the email, customers are more likely to visit the store again and resume browsing.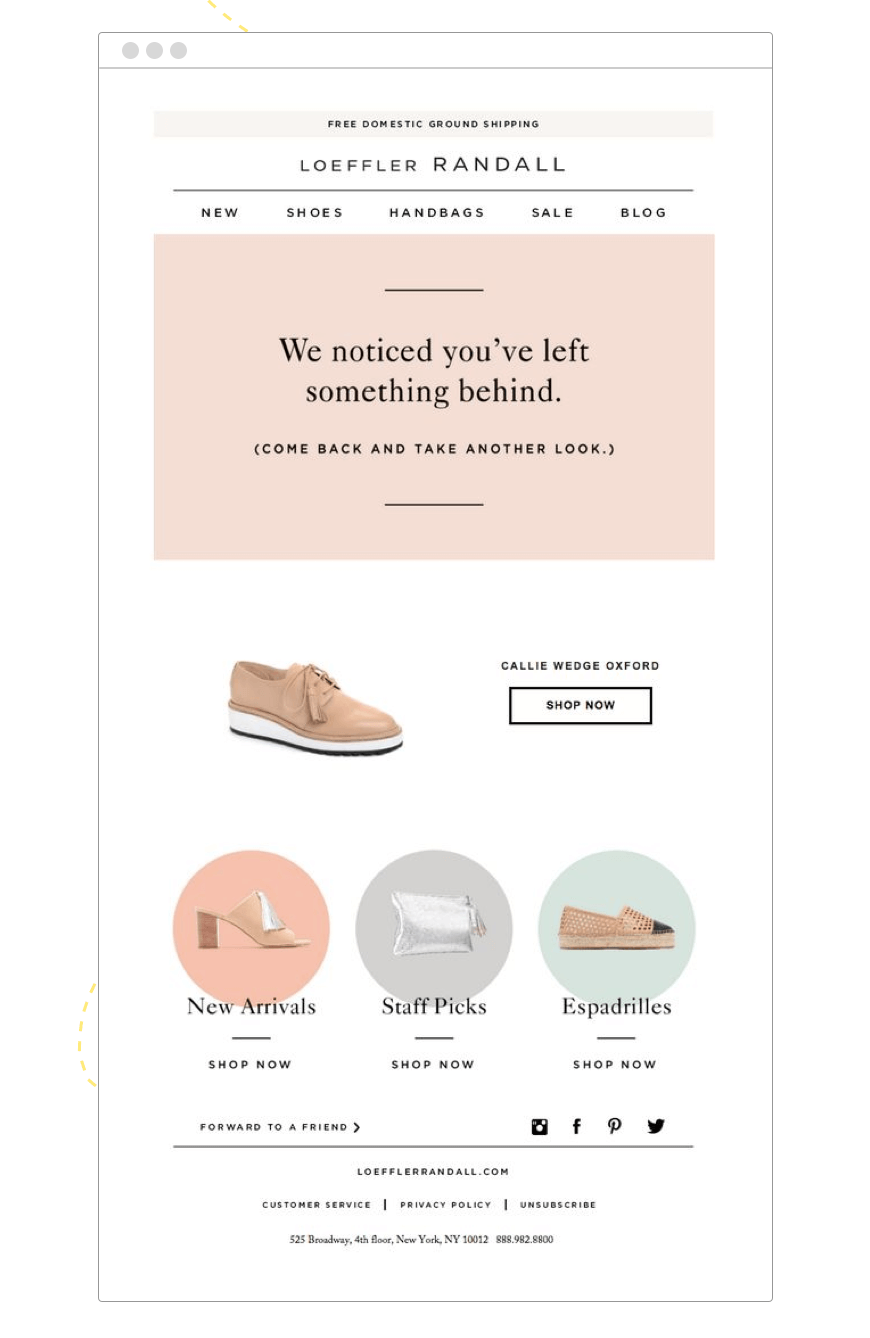 New Customer Thank You
It's surprising how few ecommerce brands go out of their way to show customers appreciation. With differentiation being more important than ever, showing gratitude is something you can win at. When's the last time you received a thank you for shopping at one of your favorite stores?
Swanky Badger uses a personalized message from the founder as well as a discount for your next purchase to really get long-term buy-in from new customers.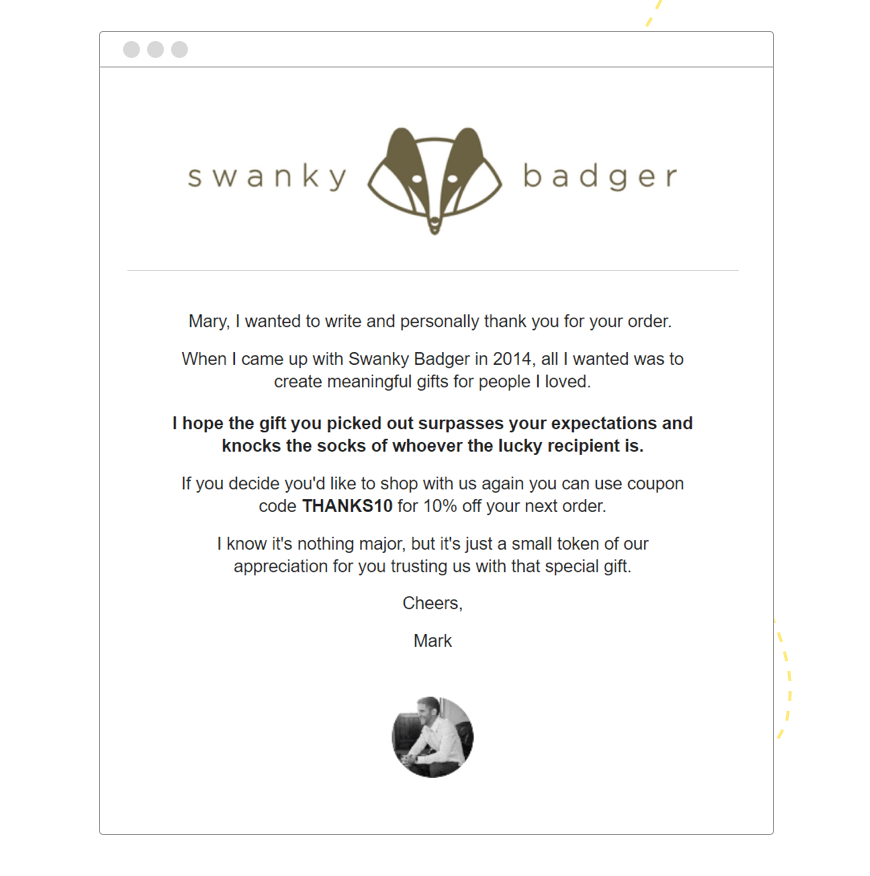 Review results and iterate
The best thing about email marketing is that everything you do is quantifiable. Not only can you see engagement in the form of opens and clicks, you can see exactly which emails are generating revenue. Learn from the emails with the highest ROI to tweak the ones that could use some improvement. With a little bit of testing, you'll be on your way to creating a high value, engaging email strategy.
Get planning!
Now's the perfect time to really think about how you want your brand to come across in email. What are your goals with email? How will you engage potential customers, detail the benefits of your product, and share what makes your brand different? Once you figure out the foundational pieces, you'll be able to create a top notch email strategy to go along with them.