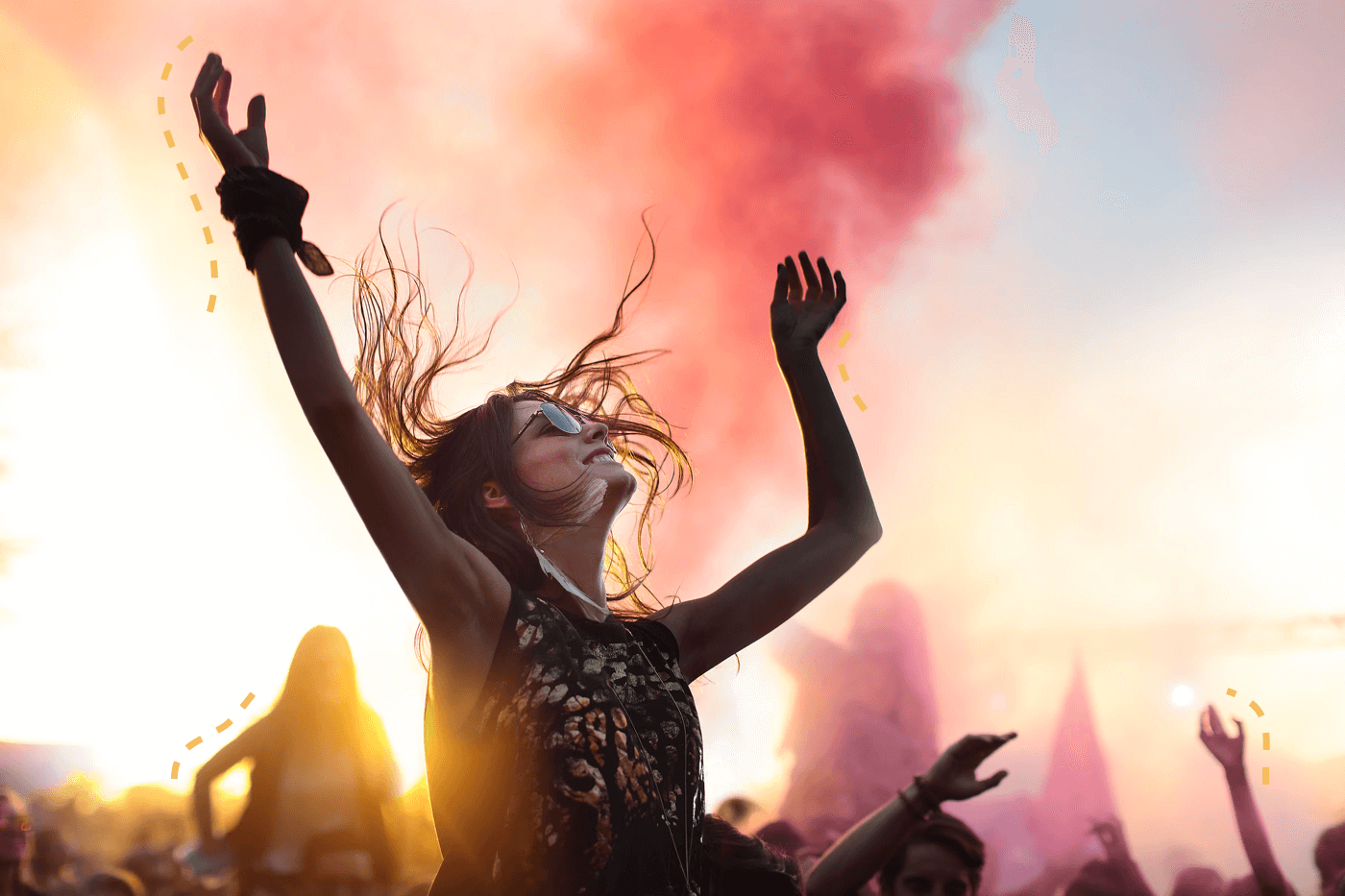 We believe a good email strategy is key to powering your business, whether that's selling products online or tickets to your next show. Today, we're breaking down what a good event email strategy looks like by diving into Lollapalooza's festival emails.
Lollapalooza is an annual 4-day music festival based in Chicago. Their overall email strategy educates fans and drives ticket sales leading up to the festival. Similar to other annual event strategies, their campaigns prioritize the sale of 4-day passes before announcing 1-day tickets. By pairing consistent and concise email design with intentional copy, Lollapalooza does a great job of not only conveying their fun brand, they also engage subscribers at every point of the ticket purchasing lifecycle.
Let's dive into the teardown 👉
Build Hype with a Welcome Automation
The first step to a good email strategy is a strong welcome email - this is the first email your subscribers receive and it's your chance to convey your brand and build excitement leading up to your event. Welcome emails are shown to drive 320% more revenue per email than other promotional emails, so it's also a good time to drive initial sales.
Related: The Ultimate Guide to Building an Effective Welcome Series
Lollapalooza automates their welcome email to send immediately after someone subscribes to their email list - this is especially great for event marketing because subscribers are signing up to be the first to know of updates and ticket releases. You should reiterate what subscribers can expect to hear about in this email, whether that's first access to tickets or lineup announcements.
Subject line: Welcome to the Lolla Experience!

Each section in this welcome email lets subscribers learn more about a specific part of the festival, whether it's exploring the line up, discovering local restaurants (especially cool for attendees travelling from other cities) or learning about VIP packages. Keeping your welcome email concise and digestible will drive more clicks, and make it easier for you to segment subscribers earlier on (think: adding subscribers who click to view VIP packages into a segment you can retarget later).
Evoke FOMO with a Low Ticket Warning
We love a segmented follow-up email. Lollapalooza evokes fomo by warning subscribers that their 4-Day GA+ Tickets are running low, and includes a CTA to 'Buy Now'. They then sent out an email the next day announcing that the tier of tickets had sold out, and tweaked their copy to drive fans to purchase the tickets that were still available.
By segmenting the follow up email to subscribers who opened the initial email but didn't purchase tickets, Lollapalooza was able to target fans with the highest purchase intent and exclude those who've already purchased tickets.
Subject line: Low Ticket Warning ⚠ 4-Day GA+ Tickets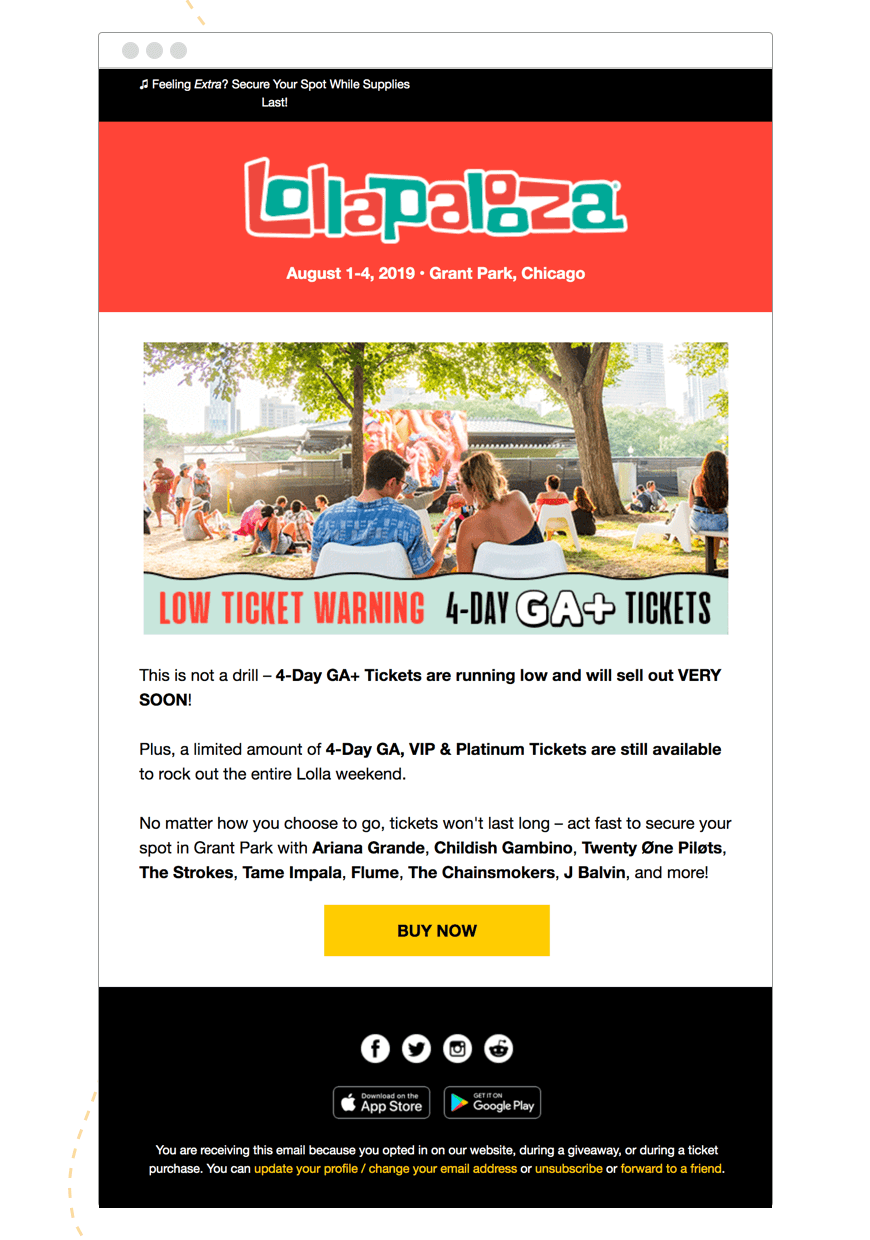 Subject Line: Get Tickets + See Twenty Øne Piløts In VIP Style!
To entice fans even more, Lollapalooza includes their lineup in the second email, showing fans exactly what (or who) they'd be missing out on. To keep email engagement high (which is important for a healthy sender reputation), they also announce their Twenty One Pilots giveaway with a CTA to 'Enter to Win'.
Announce Lower-Tier Ticket Sales & Follow Up
If you know what your most popular ticket tier is, you should definitely plan an email series around it. Lollapalooza scheduled a campaign with three emails: (1) announcing when 1-day tickets go on sale (2) announcing that the tickets are live + sharing the lineup by day and (3) a follow up reminder.
An email series is a super effective way to push fans to purchase tickets, especially if the emails are scheduled to go out daily. By sending multiple emails, you offer subscribers multiple chances to engage and purchase tickets, and you also lower the chance that subscribers miss your campaign (due to time of send, etc).
Subject Line: 🎟️ 1-Day Tickets On Sale Tomorrow!

Lollapalooza keeps the messaging of this email straight to the point - subscribers can quickly see that 1-Day tickets "go on sale tomorrow at 10 am". While subscribers mark their calendars and set alarms, the CTA conveniently drives them to explore ticket options (a great way to potentially upsell subscribers to higher tier tickets).
Subject Line: The Lineup By Day Is Here + 1-Day Tickets On Sale!

Along with announcing that 1-Day Tickets are live, Lollapalooza puts their daily lineup front and center. This is a key example of knowing what your subscribers expect from you - by putting the lineup image at the top of the email and the CTA to buy tickets below the fold, subscribers can immediately see which day they want to attend and click through to snatch up tickets.
Related: 5 Event Email Marketing Strategies to Engage Attendees Better
Subject Line: Did You Hear? 1-Day & 4-Day Tickets On Sale Now!

In their follow up email, Lollapalooza uses a GIF header to catch subscriber's attention. In contrast to their previous email, the CTA is now placed above the fold to drive higher conversion.
Leverage Seasonal Events to Share Your Values
Lollapalooza's Earth Day email campaign shows their commitment to sustainability and shares how attendees can do their part at the festival. Leveraging seasonal events in your email strategy is a great way to appear timely and relevant while building brand affinity with your subscribers. Lollapalooza's email not only showcases their values, it's a smart way to give subscribers another reason to buy tickets to the festival.
Subject Line: 🌎 Happy Earth Day! 🌍

Feeling Inspired?
With an intentional and thought-out email strategy, Lollapalooza sets a prime example of how event organizers can leverage email to educate attendees and drive ticket sales. Smart segmentation and concise email design can take your event email marketing to the next level. What are you waiting for?