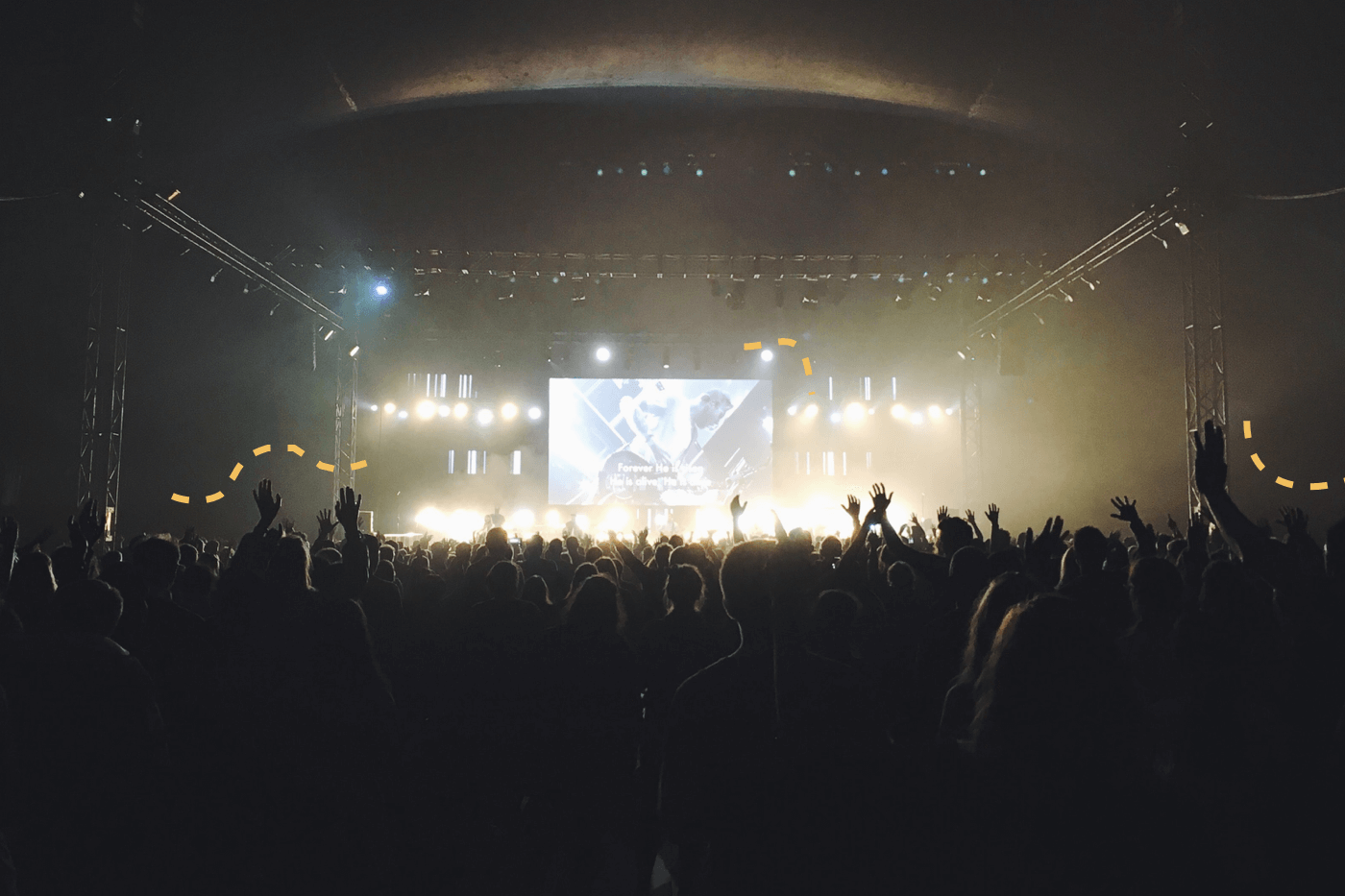 We've all experienced it at one time or another - the dreaded FOMO, or fear of missing out. People don't want to miss out on the potential for an amazing experience, especially when we know other people will be there, having the time of their lives.
According to Eventbrite, nearly 7 in 10 millennials experience FOMO. This feeling is actually the latest version of psychological patterns that marketers have been using to build campaigns for decades: loss aversion, social proof, scarcity, and exclusivity.
Leveraging FOMO in your event email marketing strategy can build a sense of urgency in potential attendees, encouraging them to take advantage of ticket sales while they can. By tweaking the content or messaging of your promotional event emails, you can give fans something they don't want to miss out on, growing attendance and ticketing revenue along the way.
Here are a few ways you can use FOMO to create urgency in your event emails:
Social Proof
The best way to showcase your event? By sharing content directly from attendees! User-generated content gives fans an authentic peek into the experience they'll be missing if they don't buy tickets.
People see this content as a form of endorsement, so try pulling posts from social media that capture your event in its best light or share content taken at previous events.
Studies have shown that social media has increased the sense of FOMO in society. Use this feeling to have fun with your emails and give fans a glimpse at the crowd's experience.
Show That Your Event Is in Demand
Not every potential attendee will hear the word-of-mouth buzz around your event, so use email to share just how many people will be or are anticipated to be attending your event.
Show subscribers that an event is in demand by opening up a waitlist for tickets, including a "tickets sold" counter, or by sharing how attendee numbers have grown over the years. Knowing that there's competition for tickets ups the urgency for fans to buy tickets before they miss out.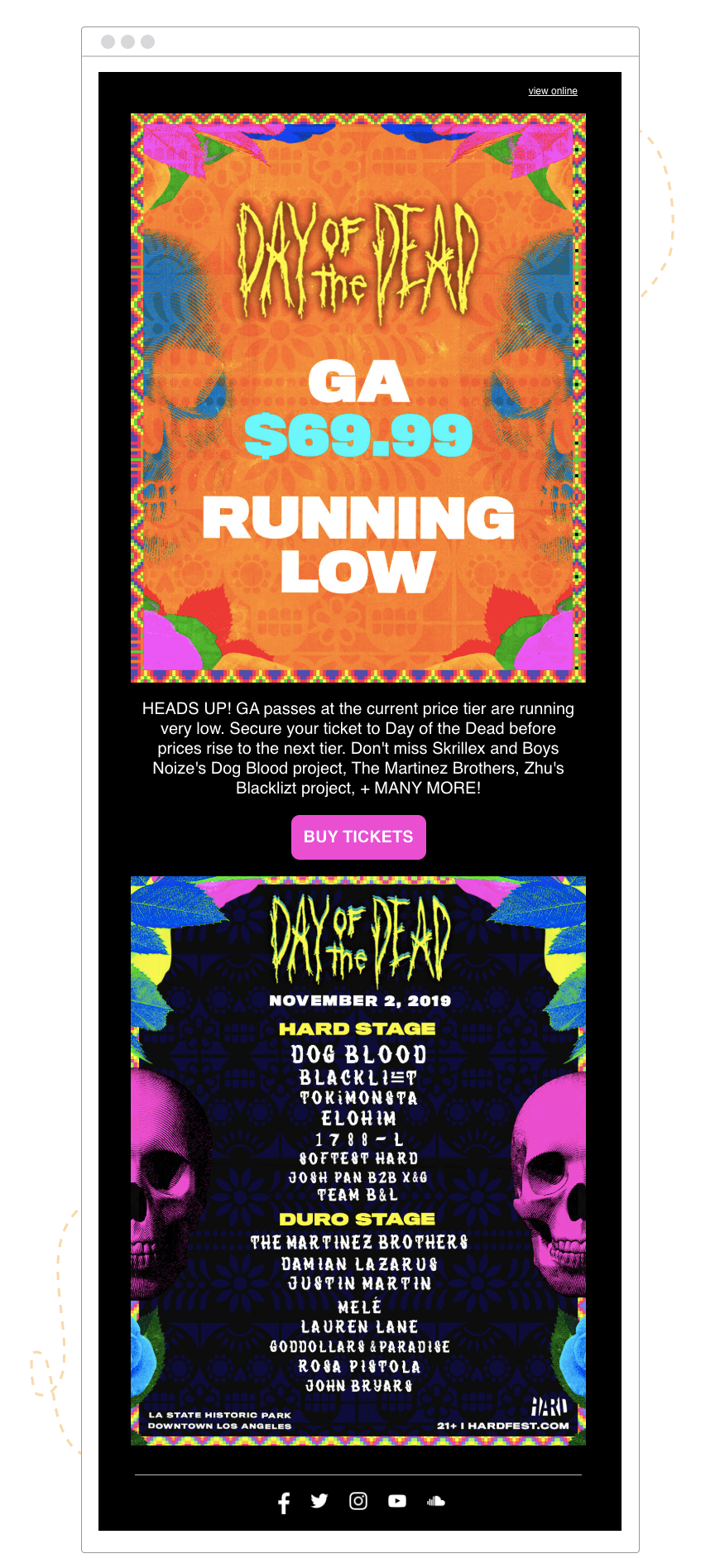 Limited Time Offer
Ecommerce brands know the appeal of a limited time offer. Although ticket sales are usually run a little differently, that doesn't mean event marketers can't take advantage of the same scarcity tactics.
Limited offers are a great way to get ticket sales started. This can look like early bird ticket tiers, VIP packages only available for a brief period, or limited tickets that offer add-ons like meet-and-greets. You might even run a contest where the first 100 ticket sales are entered to win a prize or experience.
No matter what you offer, this is one of the most popular strategies email marketers can use to convey urgency and get subscribers feeling the FOMO.
Artist Content
People look to authority figures to determine if an experience is worth having. With events, these authority figures are already built in - fans look to artists as taste makers, thought leaders, and innovators.
Feature artist voices in your emails to connect with audiences, whether that means sharing the artists giving shoutouts to every city on a tour or including behind the scenes content. Putting your artists front and centre is sure to make your event one fans don't want to miss out on.
Showcase Event Exclusivity
The beauty of events is that they are, by definition, an exclusive experience. Even a festival with thousands of attendees will take place over a limited period of time, with a set number of attendees.
Play up the exclusivity factor to entice fans and give your ticket sales a bump. Promoting an artist who doesn't tour often? Or a one-off collaboration? Share that with subscribers. Even your regular events can be given an exclusive twist by focusing on limited seating, or the fact that they only come once a year.
FOMO-Inducing Copy
If all else fails, you can get fans feeling the FOMO by using some creative copy. Imply that they'll be missing out by not buying tickets, and you're already ahead of the curve. Here are some phrases that might do the trick:
One night only
Tickets are limited
Intimate performance
Your last chance to see…
______ only comes once a year
Don't miss _______
Only __ tickets left
Ticket sales end tomorrow
The party of a lifetime
Wrap-Up
FOMO may be a modern term, but the psychology behind it has been used by marketers for years. You can leverage fomo in your email strategy to show your fans just what they'll be missing if they don't get tickets, and create a sense of urgency to boost ticket sales. Show your event in its best light, and make it one fans can't miss!
Want more tips to improve your event email marketing strategy? Check out these 3 Key Music Event Templates and Segmenting Strategies for more inspiration.