Tim Peckover is the Growth and Content Marketing Specialist for Smile.io, a rewards platform helping small businesses create repeat, loyal customers that can't help but smile.
---
The key to any successful VIP program is keeping your members engaged. You can spend all the time in the world getting your program set up, but without the proper motivation and incentives to interact with it, your members won't see the value in moving up through your VIP tiers.
You can counteract this possibility by using customer engagement tools that are proven to work. Few things have as good a track record as emails, which is why they're a vital part of motivating your VIPs to continuously engage with your program, and providing a stellar experience at every step of their relationship with your brand.
Encourage customers to join your program
Even if they love your brand, it's possible that some of your customers aren't part of your VIP program yet. Whether they prefer to check out as a guest or simply can't be bothered to make an account, some of your site visitors probably need a little extra push before they join.
You can move guests towards your first tier by including details about your program in post-purchase emails. Letting guests know how they could have benefited from this VIP tier is often enough to encourage them to make an account. Even if your brand isn't marketing to millennials, FOMO and the related psychological principle of loss aversion affects us all, prompting your customers to do whatever they can to not lose out on future perks.
By showing them all the benefits they could be getting, you prime the pump for them to start engaging with your VIP program sooner rather than later.
When haircare brand oVertone launched the new Color Club VIP program, they made sure to let all their past customers know about the new benefits of joining the club. By outlining the perks members could start taking advantage of right away, they made it a no-brainer decision for customers to join and start earning points on their next purchases.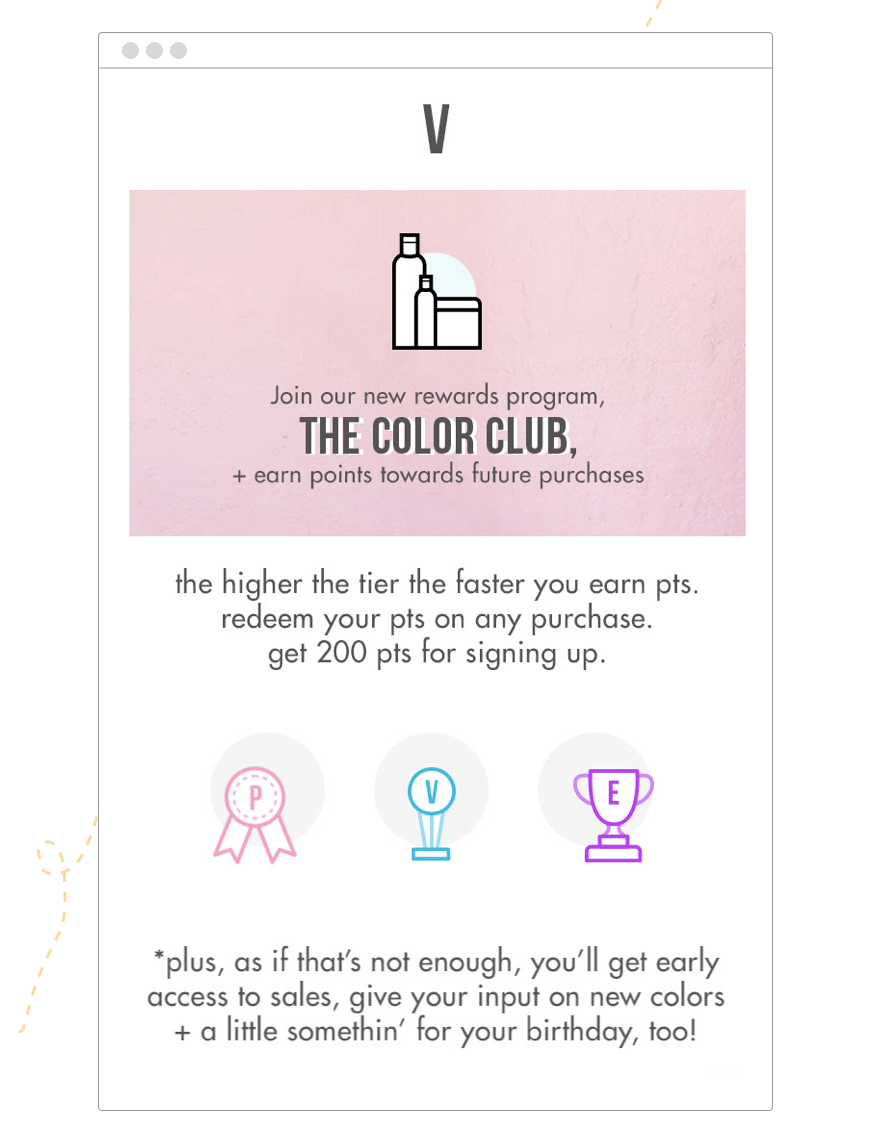 Consistently remind members of their VIP status
The initial sale and early VIP engagement are like the "honeymoon phase" of your relationship with your customers: everything seems fun and exciting, and you can't get enough of each other. But sooner or later the thrill wears off, and simply having a VIP program isn't enough to keep customers coming back.
If you've structured your VIP tiers correctly, members should be able to earn enough points for a reward after making a purchase or two and completing other easy earning actions like signing up for your newsletter or engaging with you on social media. These actions should also push them closer to a new tier, which is why it's critical that they know how close they are to unlocking the next tier.
An easy way to make this more visible is by including your customers' points balance in every email you send them. That way you not only keep your program top of mind but also show how just a little extra engagement can give them access to all sorts of new and exciting rewards.
For Maniology, including their members' VIP status and Stamps point balance in every promotional email has been a subtle but persistent reminder that makes sure their VIPs never have to guess where they stand. Even if the rest of the email isn't loyalty related, they use their program to kick things off so their members have achieving new loyalty heights on the mind no matter what the rest of their content is about.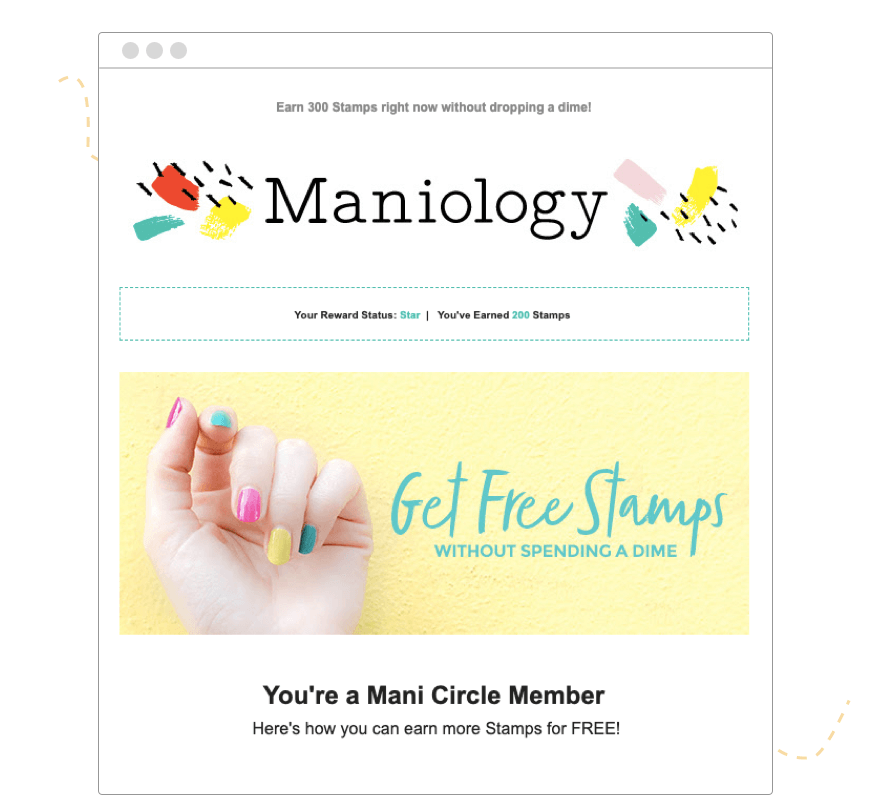 Motivate VIPs to take advantage of their perks
The primary advantage that VIP programs have over any other kind of customer loyalty program is gamification.  At its core, motivating members to earn points in order to move up through tiers and earn all the associated perks is what forms the emotional and psychological connections that create long term loyalty with your customers. When you build relationships with customers beyond a simple sale, you start to be seen as more than just a brand, and more like a trusted friend.
With email segmentation, you have the power to treat your VIP tiers as separate groups and interact with each of them uniquely, depending on how deep their loyalty to your brand is. By sending different emails to each tier, you can include only the information that's relevant to each member, including reminders of all the perks (like points multipliers or free shipping) they can take advantage of in their particular tier.
At the same time, you can tease lower-tier members with perks and benefits available at the top tiers and inspire them to reach the prestige of your most loyal levels.
You can see email segmentation put to perfect use in this email from Mark Bell Sling Shot. By restricting these emails to not just members of the STrong Squad VIP program, but to only Silver and Gold members as well, it lets members know they've earned a perk that Bronze members didn't get access to. This exclusivity reinforces how valuable the program is to upper-tier members, and encourages them to continue engaging with it so they can keep receiving their exclusive perks.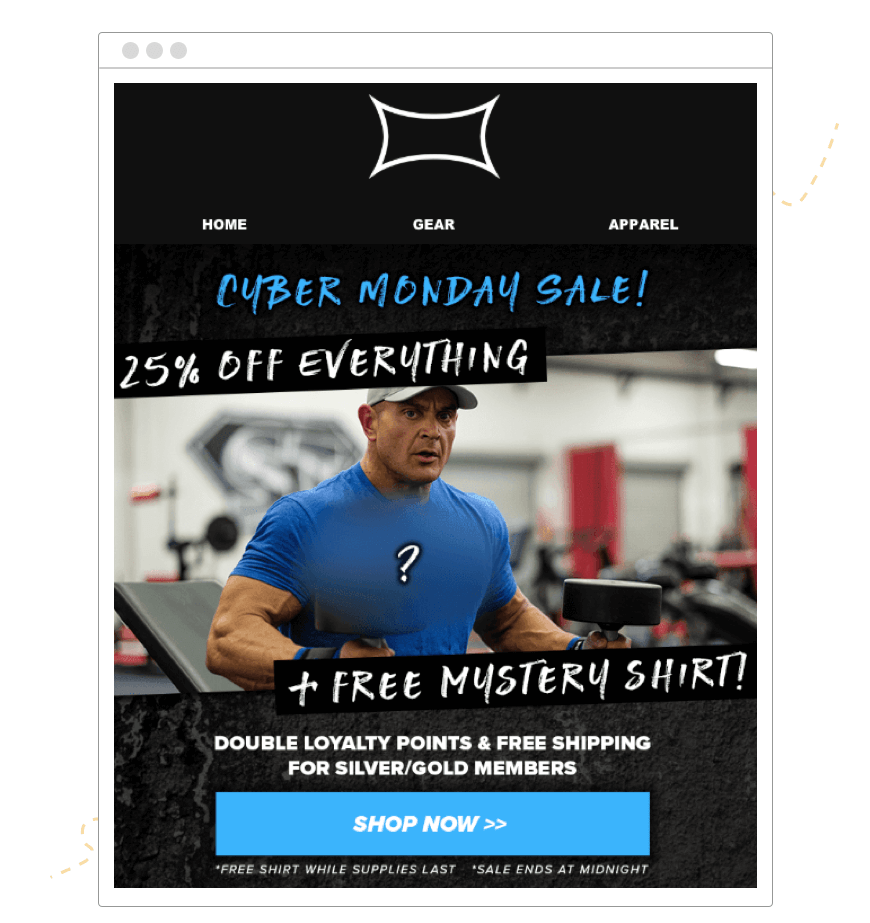 Segmenting your email lists based on membership tiers lets you personalize customer communications in ways you otherwise can't. With the right tools, letting only your best customers have access to the best deals, reminding them of perks they've earned, or motivating them to move up to the most rewarding VIP tier is only a few clicks away.
The right emails can supercharge your VIP program
Much like how you move your web visitors from awareness of your product through the customer journey towards a purchase, the real value of your VIP program comes from moving customers up through your membership levels.
Showing the value of each step along the way moves shoppers from being just members of your VIP program to being delighted, engaged, and enthusiastically retained MVP customers.
Interested in bolstering your VIP or rewards email strategy with Hive? Get in touch with us for a demo here.