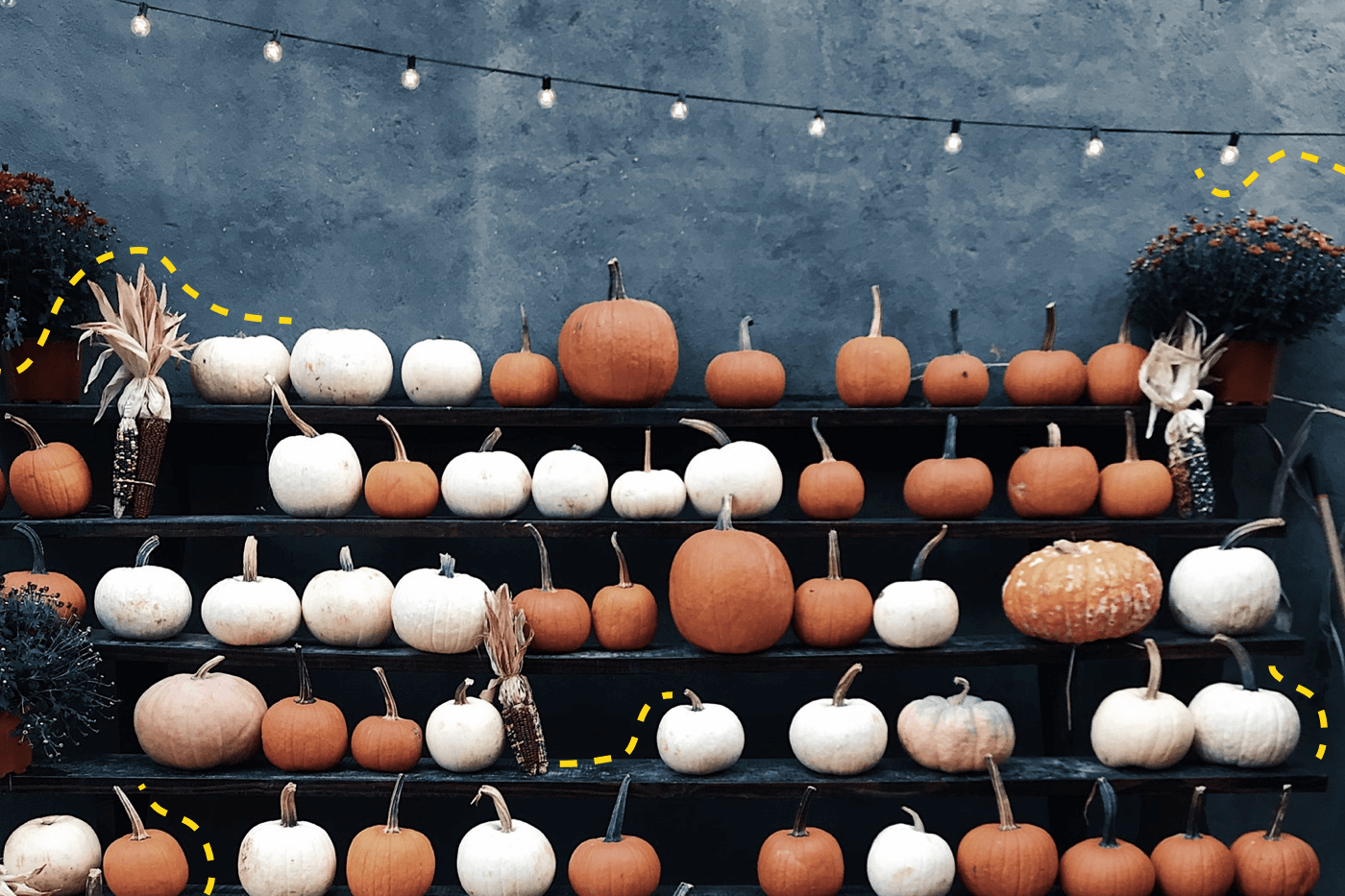 We're already halfway through October and Halloween is upon us! Customers are bound to start thinking about costumes and parties celebrating the occasion soon (if they're not already ready to go). We've collected a cornucopia of fun, festive emails - from GIFs to creative coupon codes, these templates will get you in the mood to be spooky!
1. American Eagle: 31% Off
This American Eagle email gets straight to the point - 31% off, only on the 31st! By offering a day only sale, customers are more likely to act immediately to make sure they don't miss out on the deal. It's a cleverly created discount with a simple email style that's festive but not distracting.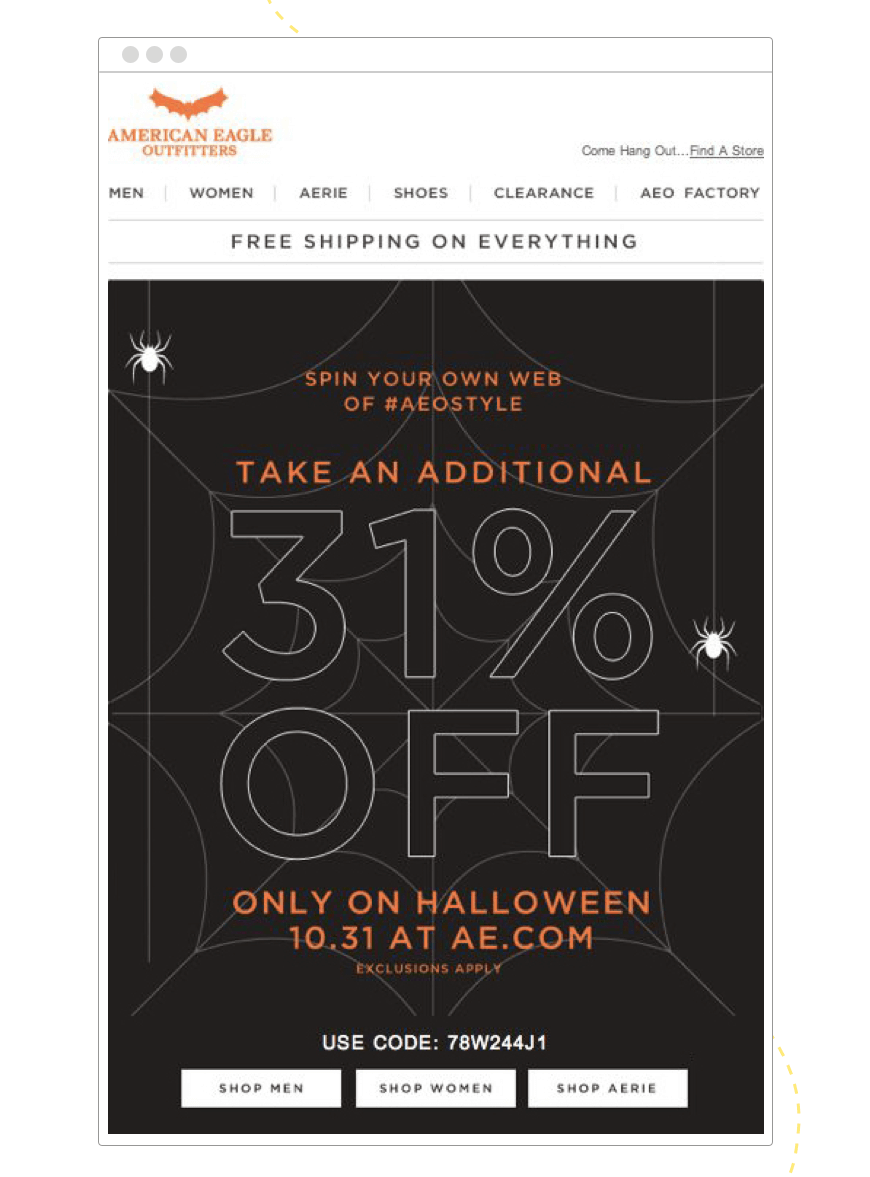 2. JCrew Factory: Flash Sale
JCrew never fails to impress with clever copy, throwing it back to childhood trick-or-treating. The "Get Your Treat Now" CTA is super relevant, perfectly tying in with the rest of the email and enticing customers to see what they're in for.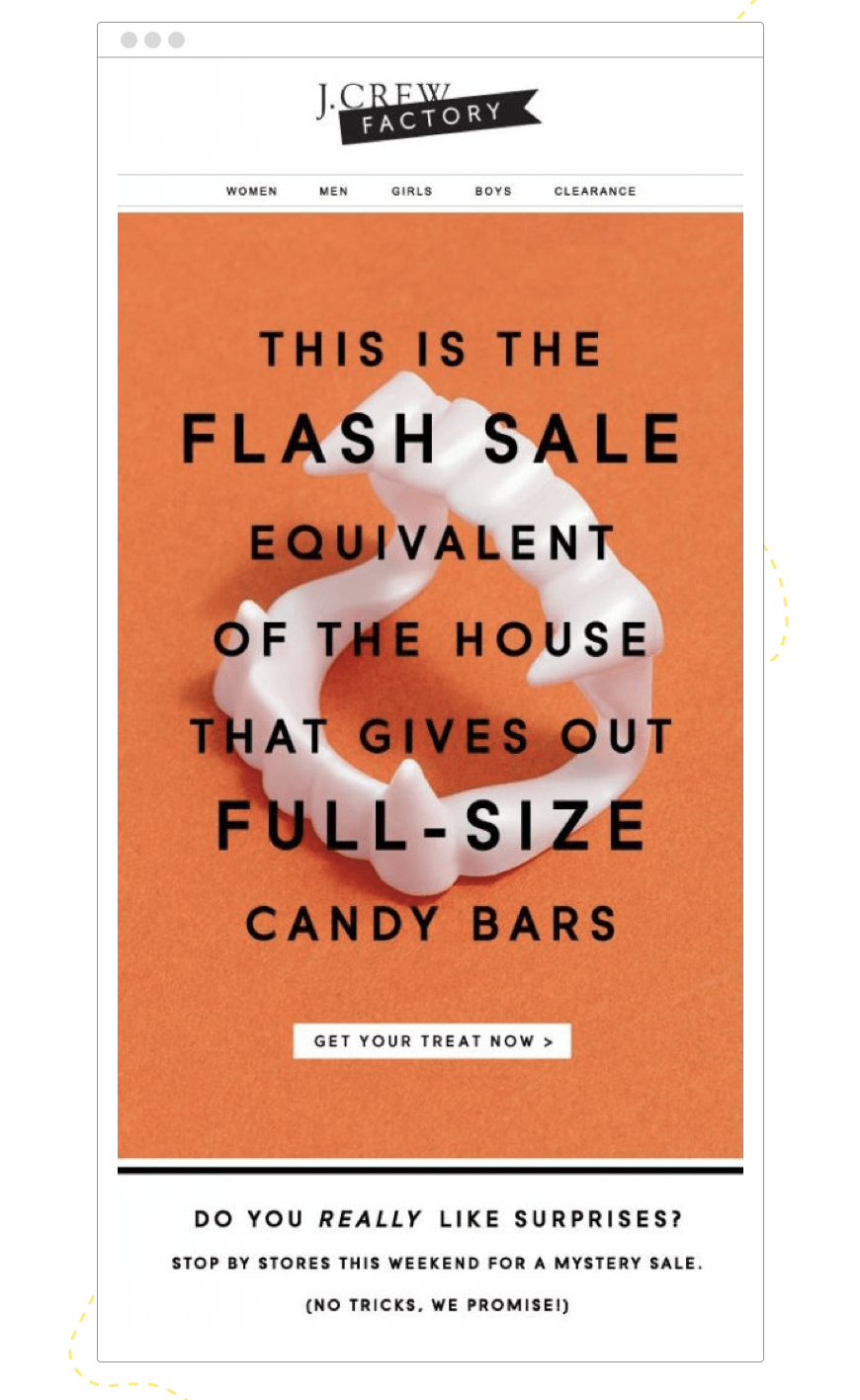 3. NastyGal
NastyGal takes Halloween ambience to the next level with this witchy GIF. It showcases the dress with just the right amount of spook to make the email Halloween-ready.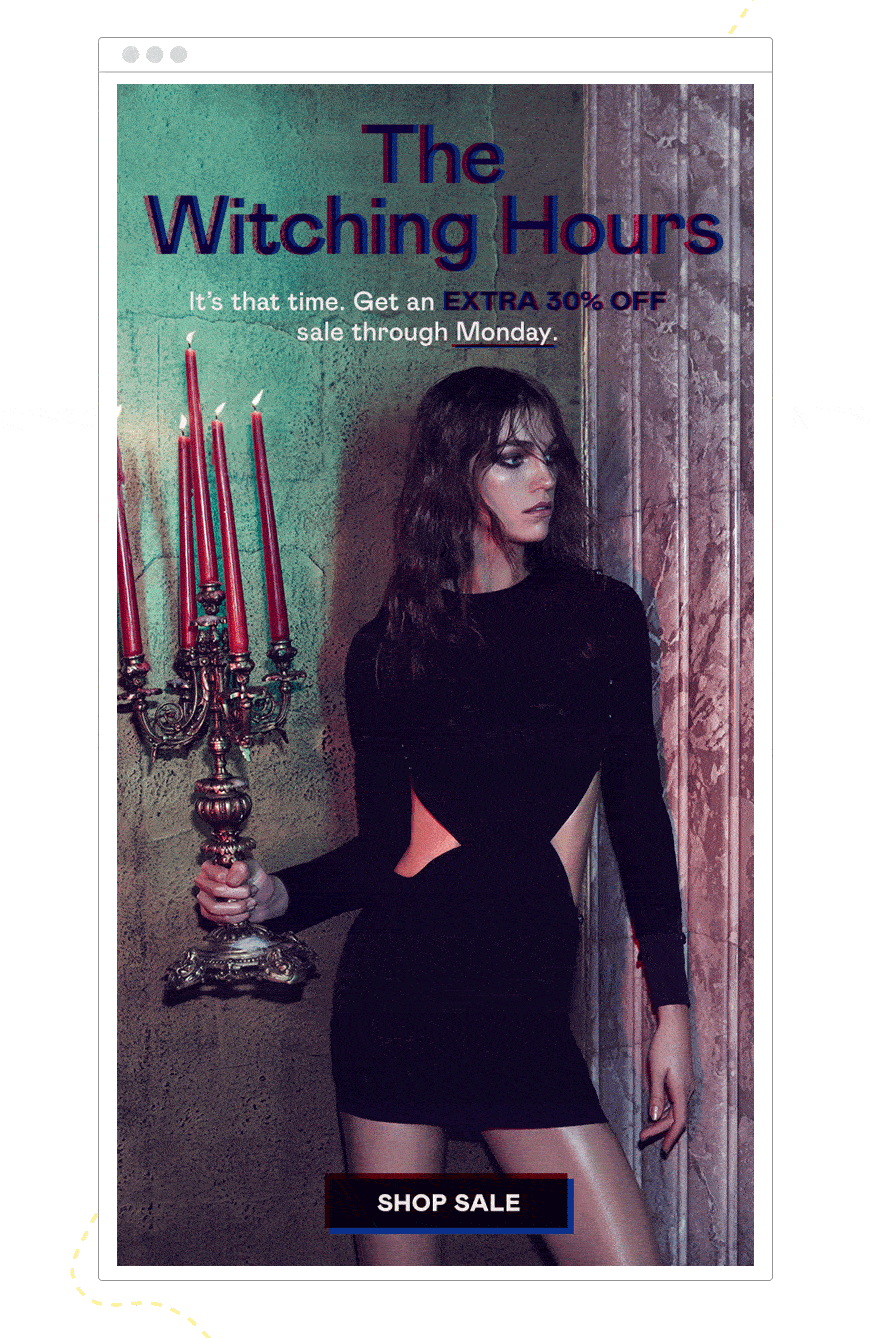 4. Whistlefish: Trick or treat?
A surefire way to get customers to check out your sale and find something they like is to create a mystery coupon code - Halloween is the perfect time of year to do it! Whistlefish wins with their cutely themed email and coupon code 'TOMBSTONE'.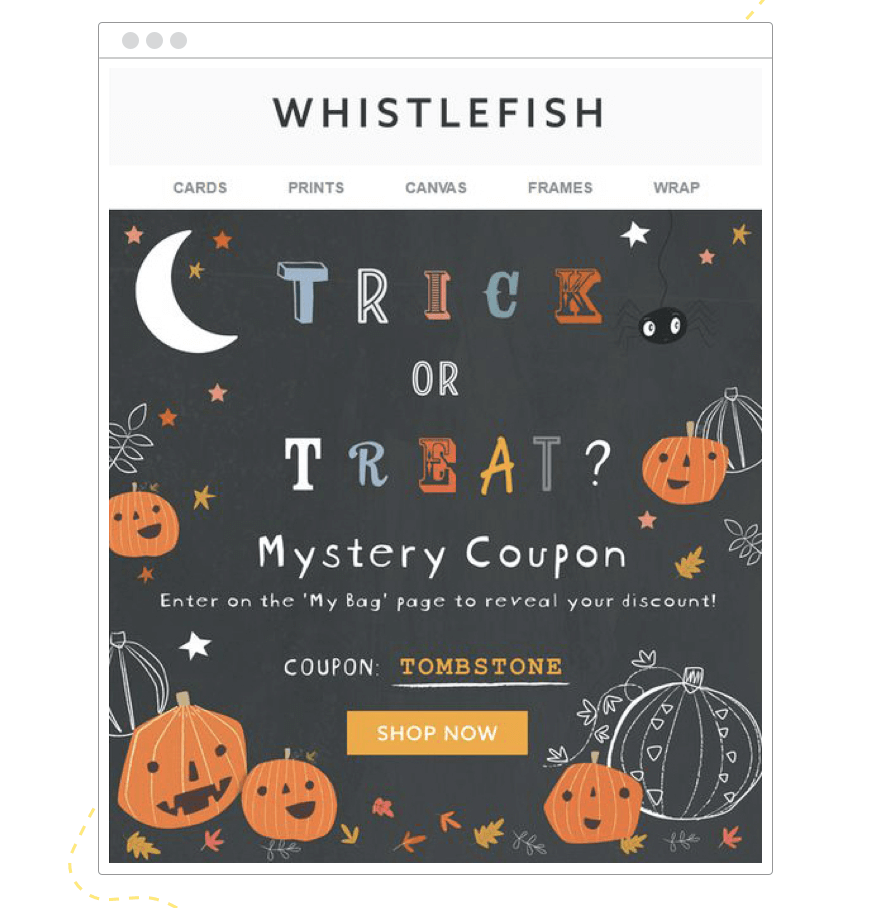 5. Land's End
Land's End takes the cake for incorporating products in a spooky way by arranging sweaters and shirts into an actual ghost and moon in their email. Following suit, they offer 31% off and an easy to remember, relevant coupon code, 'BOO'.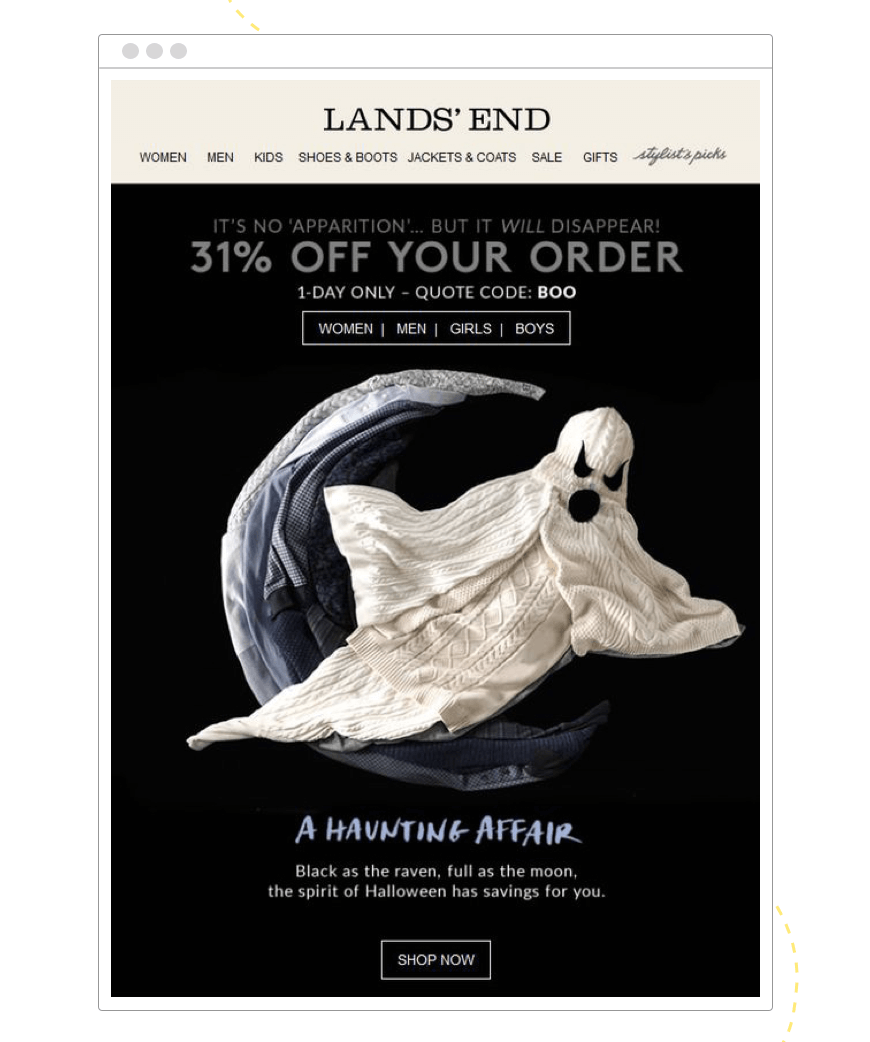 6. TRX Halloween Flash Sale
If you're worried that your brand doesn't have products that tie into Halloween, TRX shows that you can still get in on the celebration - customers always appreciate a sale! The countdown GIF adds a fun dynamic element while encouraging customers to act quickly.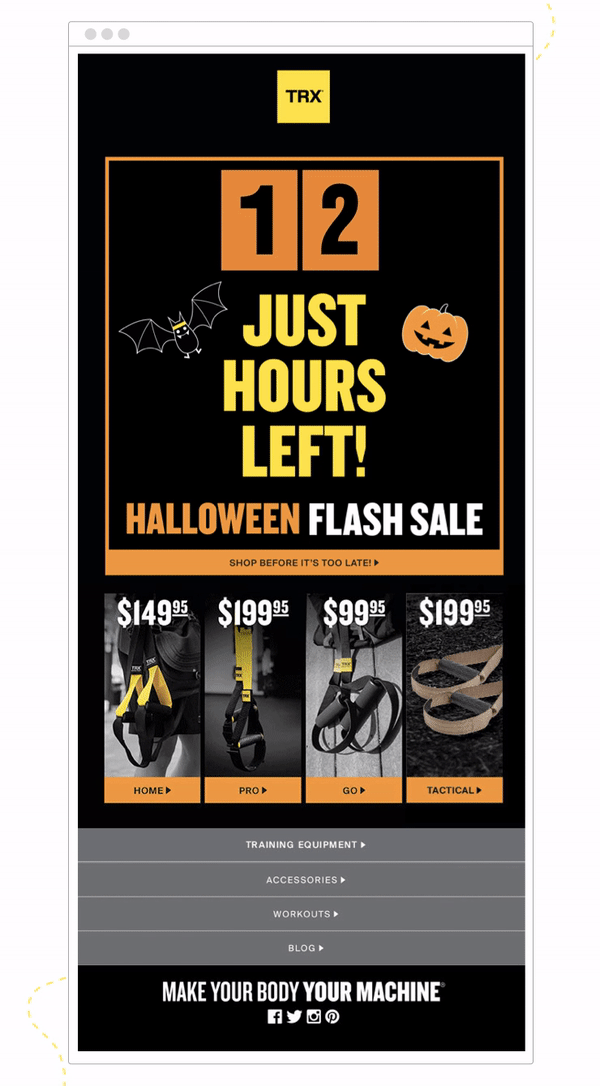 7. RayBan: This Year Be An Icon
RayBan proves that simple can make an impact with this GIF pairing together iconic hair and glasses styles. By showcasing costume ideas and product recommendations all-in-one, the email is captivating and makes customers want to shop.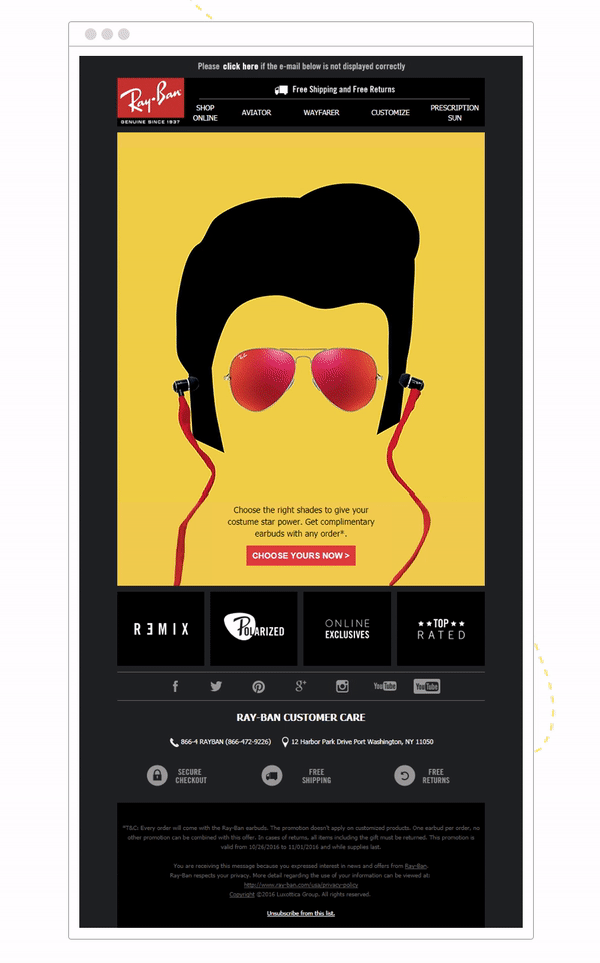 8. Topman: All Treats, No Tricks
To get customers to consider your store when costume shopping, just follow Topshop's lead. By including specific recommendations for complete outfits in your email, it's easy for customers to get ready for Halloween, all in one go.

9. Urban Outfitters: Halloween Shop
Urban Outfitters shows that all you need for Halloween is a fun GIF and festive CTA. By not including products in their email, they invoke customers' curiosity about their Halloween products, encouraging them to click.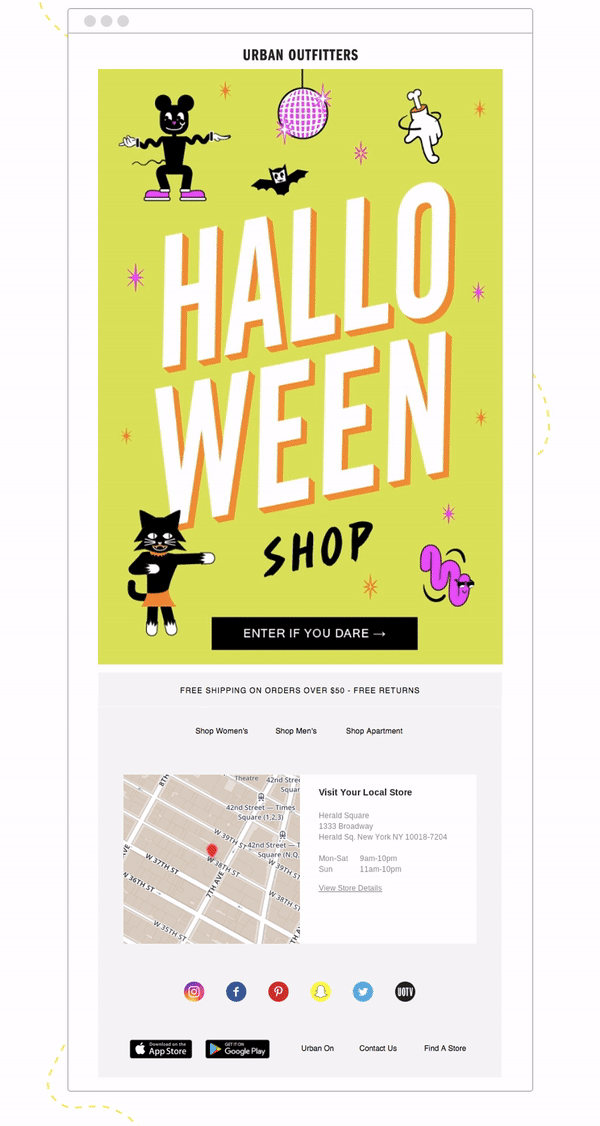 10. Loft: Flash Sale
This email from Loft gets straight to the point - their Halloween flash sale is on now. The spooky cauldron GIF adds an element of fun, while holistically, the email stays on brand. They also throw in a clever 'Free Shipping' with minimum purchase, encouraging customers to get the most out of the sale.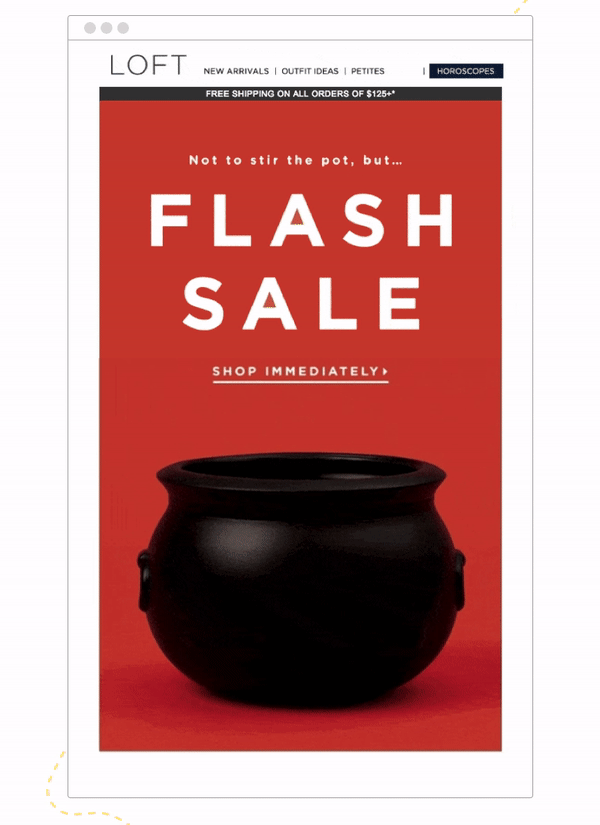 11. Postable: 15% off
Postable wins for incorporating a classic Halloween meme in their email with this dancing pumpkin man GIF. A little bit of fun, a little bit of a discount, and everyone's happy!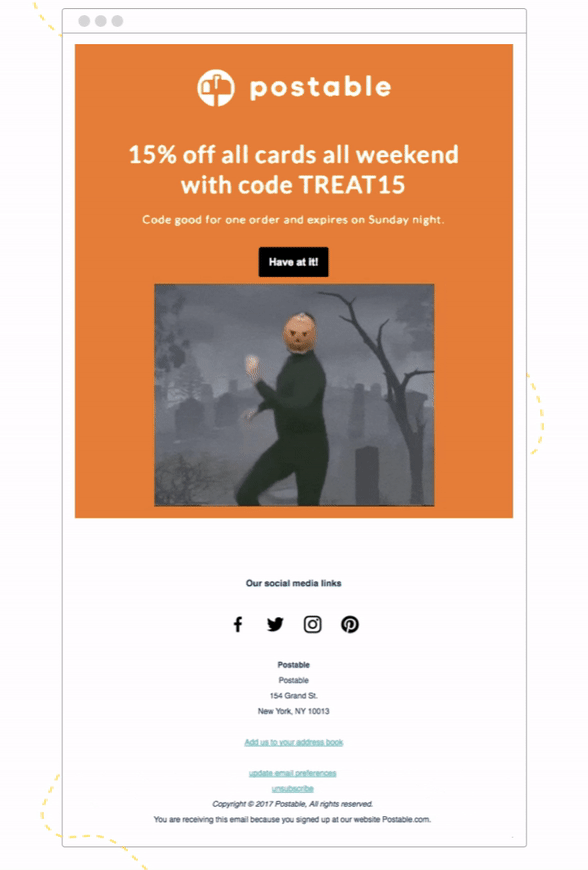 12. ModCloth: Witch, Please
ModCloth proves that there are many ways in which you can dress up as a witch for Halloween. By also offering themed products with skulls and cats, they give customers the option to get the taste of Halloween without going all out - a great example of showcasing products without a sale.

13. Dog Vacay: Is your dog ready for Halloween?
If all else fails, you can always include dogs in your email marketing! We can't think of anything cuter than puppies dressed up in creative costumes. Dog Vacay offers Halloween inspo for pups while promoting pet sitters for the big night.

We hope you've been significantly spooked and are ready to start creating your Halloween email campaign! Play with discounts, coupon codes, and costume inspo to get your customers ready for the big day 🎃