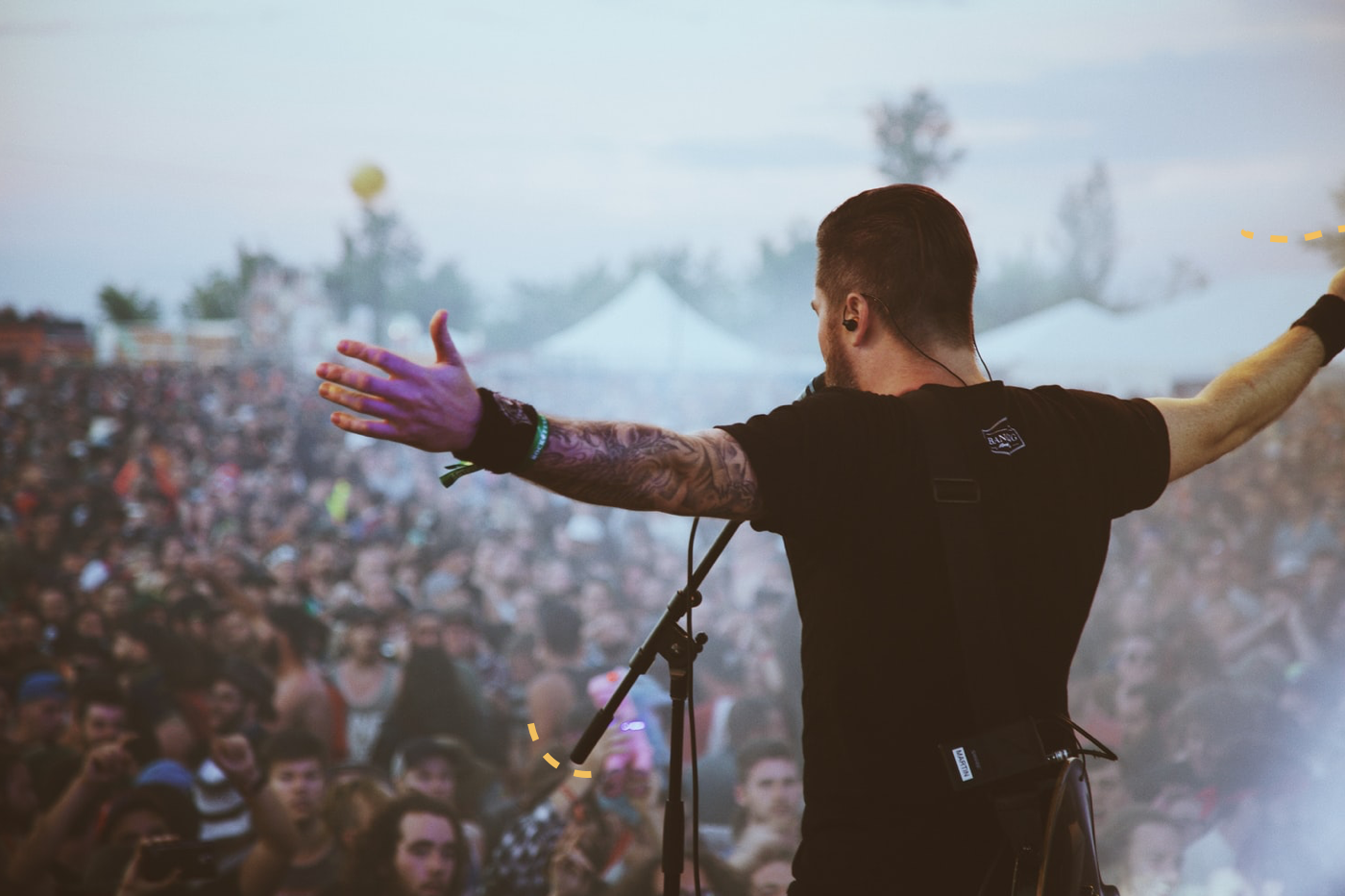 Picture this: It's September 2021, your band Firebird is super excited to get back to touring. Most fans are vaccinated, COVID-19 numbers are declining, and fans can't wait to get back to your shows. You'll be sharing the news that you're going back on tour, and planning to release a new song to get fans excited.
As an artist, you're ready to use email and SMS to drive engagement for your next tour's marketing campaigns, increase ticket sales, and get fans to buy your new merch. You know SMS and email are great for maximizing engagement and driving ROI but you're not sure where to start, and how to leverage this powerful duo.
Whether that's using email and SMS to promote your song, get fans excited about your next tour, remind them to stream an album, or release tickets, you can use this curated artist strategy below to increase fan engagement and drive higher sales. Let's get this show on the road!
Step 1: Find your audience and build your list
The first step is to find your audience and build a list of excited fans who want to hear from you and engage with your campaigns. You can't share all of your exciting news, or get your fans to your next shows without first building your list.
Use popup forms
Set up a web popup form, and a mobile specific popup form so you can give fans an even better browsing experience. The mobile specific popup form will ask all the same questions as the regular popup form but only ask for fans to sign up for the SMS list.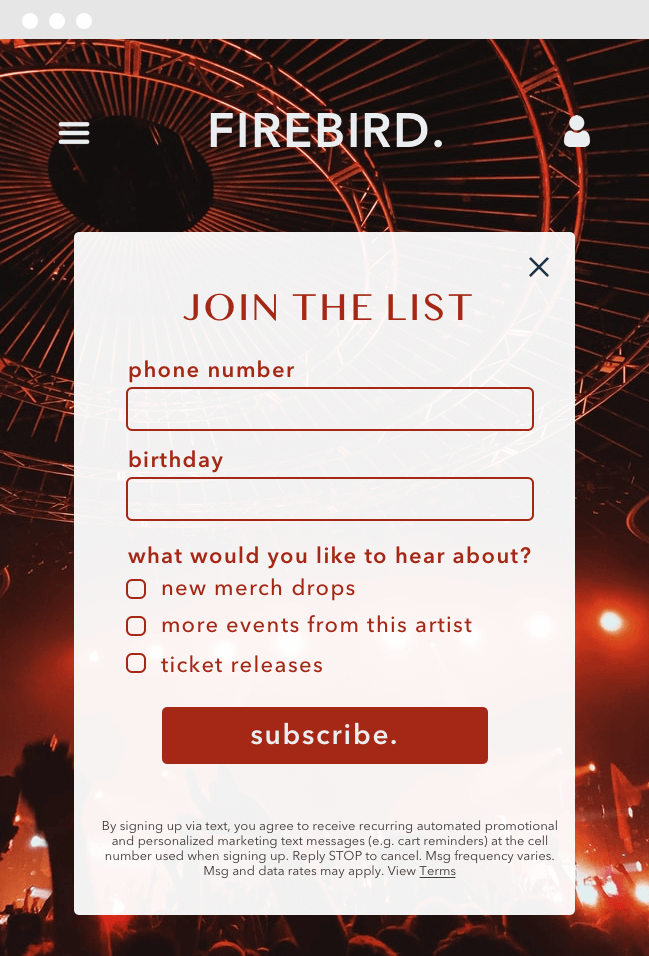 Ask fans about their name, location, and age to get a sense of who they are and then ask them questions about their interests, what kind of music they like, and whether they want to stay updated about your future news, releases and tour updates.
Create an Instagram contest
Using social media platforms like instagram will give you a treasure chest of valuable information about your biggest fans. Not only do you know who's most likely to buy tickets to your next show because they've already shown interest by entering the contest, but with a little bit of legwork, you can send targeted campaigns that will get fans to convert in no time.
Set up a contest that asks fans to sign up using their email address, and phone number for a chance to win 2 tickets to your next show. Ask entrants to also tag friends in the comments for extra exposure.
Build a landing page
There's nothing more exciting for a fan than when their favorite band announces that they're going on tour. Send a text to fans letting them know you're going on tour and keep the excitement going by adding a link to a landing page with a timer that counts down to when tickets will be released.
Segmenting your list
Congratulations, you now have a list you can send emails and SMS too but there's still a few more steps before you can send your first campaign. Remember, you never want to mass blast emails or SMS without a strong segmentation strategy. That's a sure fire way to get fans to drop off and unsubscribe, or worse land you in spam.
Here are the must have segments you need to set up before your next campaign:
Demographic
Name, location, and birthday are all important information you'll need when creating your next campaigns. You can't send great campaigns without a basic understanding of who your fans are. The last thing you'd want is to send an email about your show in Toronto to a fan in Texas, or about tickets to a 21+ show to a fan that's 16. Without this data, you're missing out on the opportunity to build stronger fan relationships.
Previously attended event history
If you have fans that have been to your previous shows and have ticketing data within your ESP, you're sitting on a goldmine of data! There's so much information there about the shows they're interested in, the albums they resonate with, and the amount of money they're willing to spend on tickets to your next show. Use this information to send future updates, highlight specific albums or songs they'd be interested in, and announce early presales to your fans that have attended your shows in the past.
Venue
Send venue updates to fans who've been to your shows at the venue previously! Ask them if they have any feedback, and what their experience was like.
If you've played at the same venue before, send an email with memories from your last show to create some nostalgia about the great times you've had together. If they enjoyed their previous experience at the venue, they're more likely to want to go to another show at the same venue again.
Segmenting by engagement
By segmenting your sends on unique past engagement behaviour, you're sending emails to fans based on when and how they'll most likely engage, and can tailor their email experience to their unique relationship with Firebird so far. Use the engagement segments below to build stronger fan relationships, and engage them in meaningful ways that improve retention, and drive sales:
Active
These are the subscribers who've opened or clicked any of the last 5 emails they received. This segment is your bread and butter because you know they're likely to engage with any new emails you send. Make sure you're sending your main campaigns to your active subscribers.
New
Your subscribers who haven't yet engaged but have received less than 5 emails. For new subscribers who've just signed up to your list, it's super important to send them a welcome email right away. This is the most effective way to engage new subscribers, as welcome automations trigger based on unique individual signups.
At-Risk
Your subscribers who haven't engaged recently and received at least 5 emails. It's important to strategically send emails to those subscribers that haven't been engaging with your regular emails. Send a re-engagement email with copy like "We miss you" or "Is it us?".
Inactive
These are the subscribers who haven't engaged with any of the last 10+ emails they've received. You should be sending re-engagement campaigns to your inactive subscribers as well! Start off with a re-engagement email with good copy, and if that doesn't work, send them an exclusive discount as an incentive. These inactive subscribers were interested in your brand once upon a time, so there's a high chance you can pique their interest again with the right email content.
Invalid
Contacts who have unsubscribed, spam complained, or have invalid emails. You should never email your invalid subscribers!
Related: The Key to Maximizing Opens and Clicks: Segmenting By Engagement Level
Automate, automate, automate
Not only are your email and SMS automations going to increase your opens and clicks, but you're more likely to get a ticket purchase because of how relevant and timely they are, since they're triggered by your fans' behavior. The best part? These automations take less than 5 minutes to build, and once you're set up you can walk away and let them work their magic, completely hands free.
Welcome
It doesn't matter who you are, or how big your list is, a welcome automation is a necessity for your email and SMS workflows. Over 74% of fans expect a welcome email as soon as they sign up for your list and this is when they're most interested in your brand and likely to engage. Plus, you wouldn't let someone into your house without welcoming them, and it's the same for their journey with your band. You want their initial impression to be a good one, and to create a warm fuzzy feeling that will carry over to your shows.
As soon as a fan signs up for your list, send a SMS with a discount code to purchase your merch or for tickets to your next show. A few days later send them another email sharing a little bit more about your band, and a schedule of your next shows. Finish your email series with a final reminder a few days later to use their welcome discount.
Abandoned cart automations
To put it simply, with 70% of carts being abandoned you can't afford to not have an abandoned cart automation. They have an average 10% conversion rate, so if you have 1200 abandoned carts, you can potentially make 120 sales, or you risk losing out on a lot of  revenue.
Your abandoned cart email is triggered when a fan adds a ticket to their cart without purchasing. Since fans who've abandoned their cart already have some purchase intent, send them a text with a 20% off discount to nudge them in the direction to buy. If that doesn't work, wait a few days and send them a reminder email about their discount. Follow up a few days later with a warning text that the show is almost sold out and create some FOMO urging them to not miss out on the upcoming event!
Birthday automation
Who doesn't love a sweet message on their birthday? This is another way to show your fans some extra love for all of their support through the years, and to strengthen their relationship with the Firebird brand. Set up an automation that sends a text with a unique discount code for 20% off their next merch purchase as a little birthday gift.
Must have campaigns
Your email and SMS marketing strategy isn't complete without these campaigns set up:
Merch drop text
Your fans love Firebird and want to rep your merch wherever they go! Set up a campaign to send your fans a text when you have a new merch drop before your next tour. Make sure you add a link to a dedicated landing page that houses all of your fab new items!
Surprise! New song just dropped SMS
New song releases are some of the most exciting parts of being a fan, and we've seen some of the best in the industry drop new music without any press beforehand (We're still not over Beyonce's self-titled album). Hype up your new release by sending a text as soon as the song drops with a link to the music video on Youtube, or the song on Spotify and watch your streams go up in no time!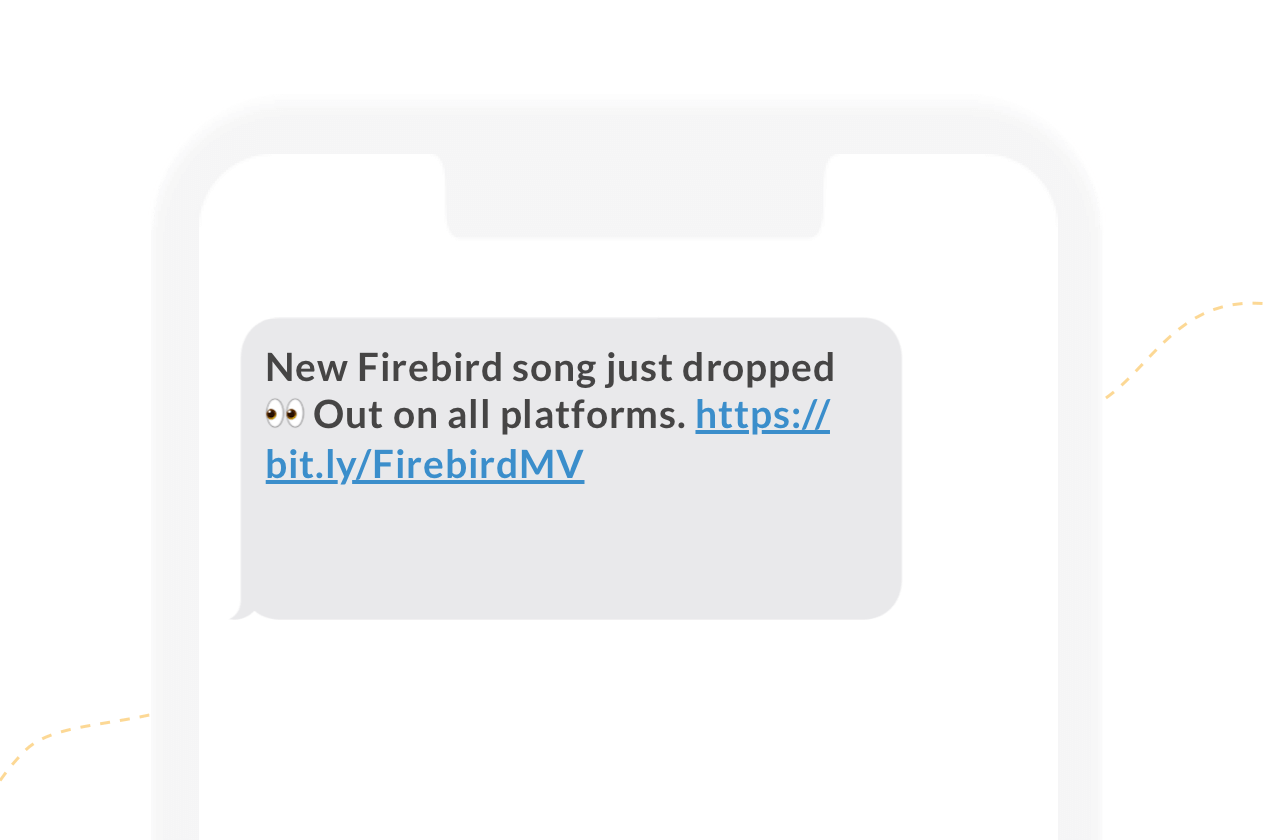 We're going on tour!
Your song just released, and now it's time to share the exciting news that you're going on tour! Send your biggest fans an email with a link to a landing page that has a ticket release countdown, and pre-registration for early bird tickets.
Wrap up
Your email and SMS strategy doesn't have to be complicated. By following the steps in this strategy you'll be able to maximize your opens, clicks, and engagement, and drive higher ticket sales for your next tour!
Get all the strategies you need on events SMS marketing in The Event Marketer's Guide to SMS 👇🏼