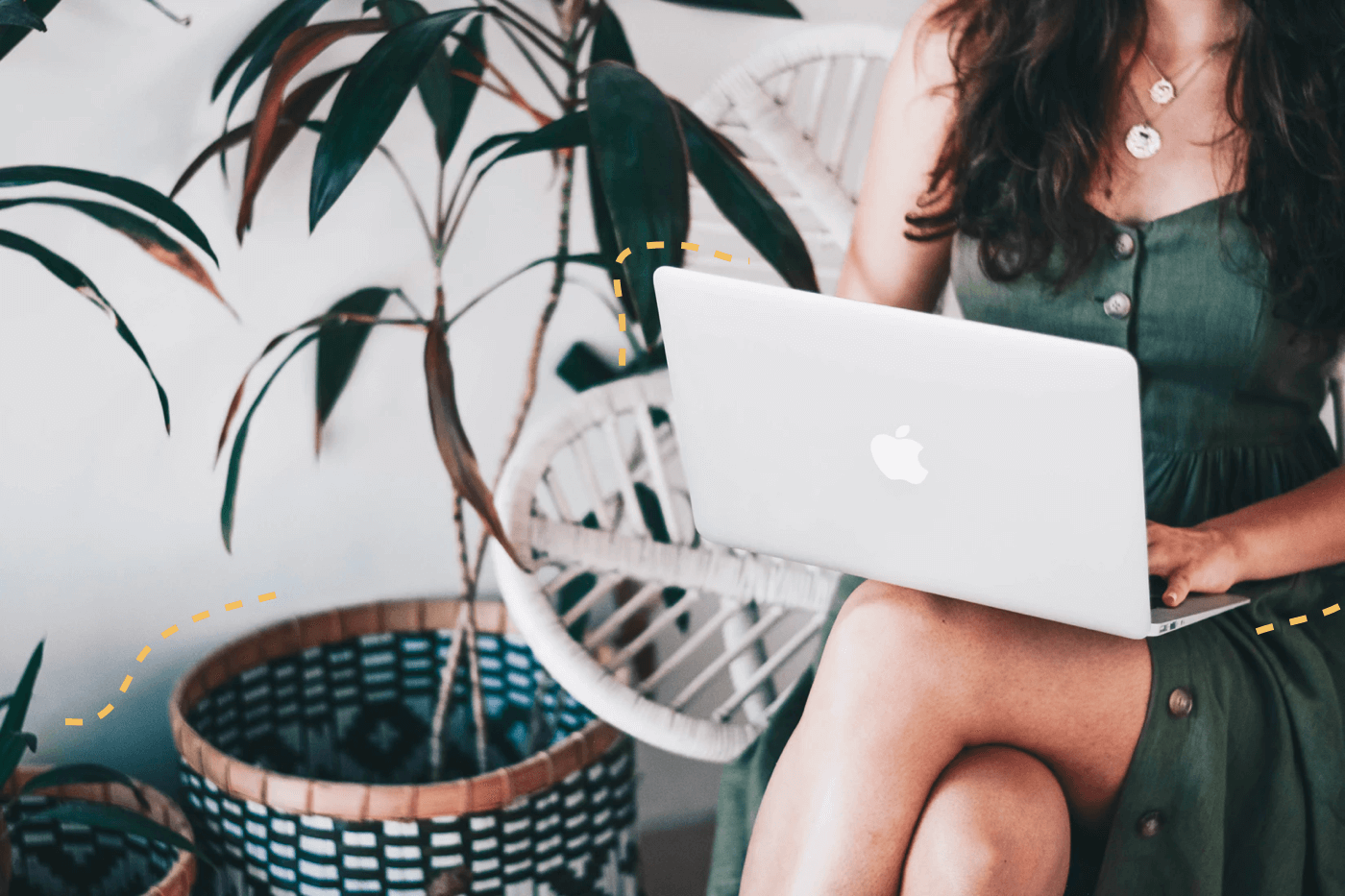 Start 2020 off on the right foot with well-designed email templates that help boost your engagement and revenue! The start of the year is a great time to revisit your email marketing strategy and incorporate engaging templates and automations that build better relationships with your customers. From welcome emails, to back-in-stock notifications, these wicked templates are guaranteed to level up your current email strategy and drive conversion. Let's dive in!
Welcome New Subscribers To Your Brand
Welcome emails are a great way to introduce subscribers to your brand. Generating 320% more revenue per email than any other marketing email, they're proven to be your best chance at getting subscribers to convert, and are an essential piece in any ecommerce email strategy.
We recommend automating your welcome emails to trigger upon sign up so that they send right when the email is most relevant to each individual subscriber. This increases the chances that your new subscriber will open your email, which will help you achieve better deliverability in their inbox in the future.
Barebones's welcome email is a great example of how you can grow your email list by offering new signups a 20% discount code. The email is clean and simple with a captivating image, a promo code, and one CTA to 'Shop Now'. By using only one CTA, subscribers are driven to click-through to shop.
Welcome Email Subject Line: Welcome to Barebones!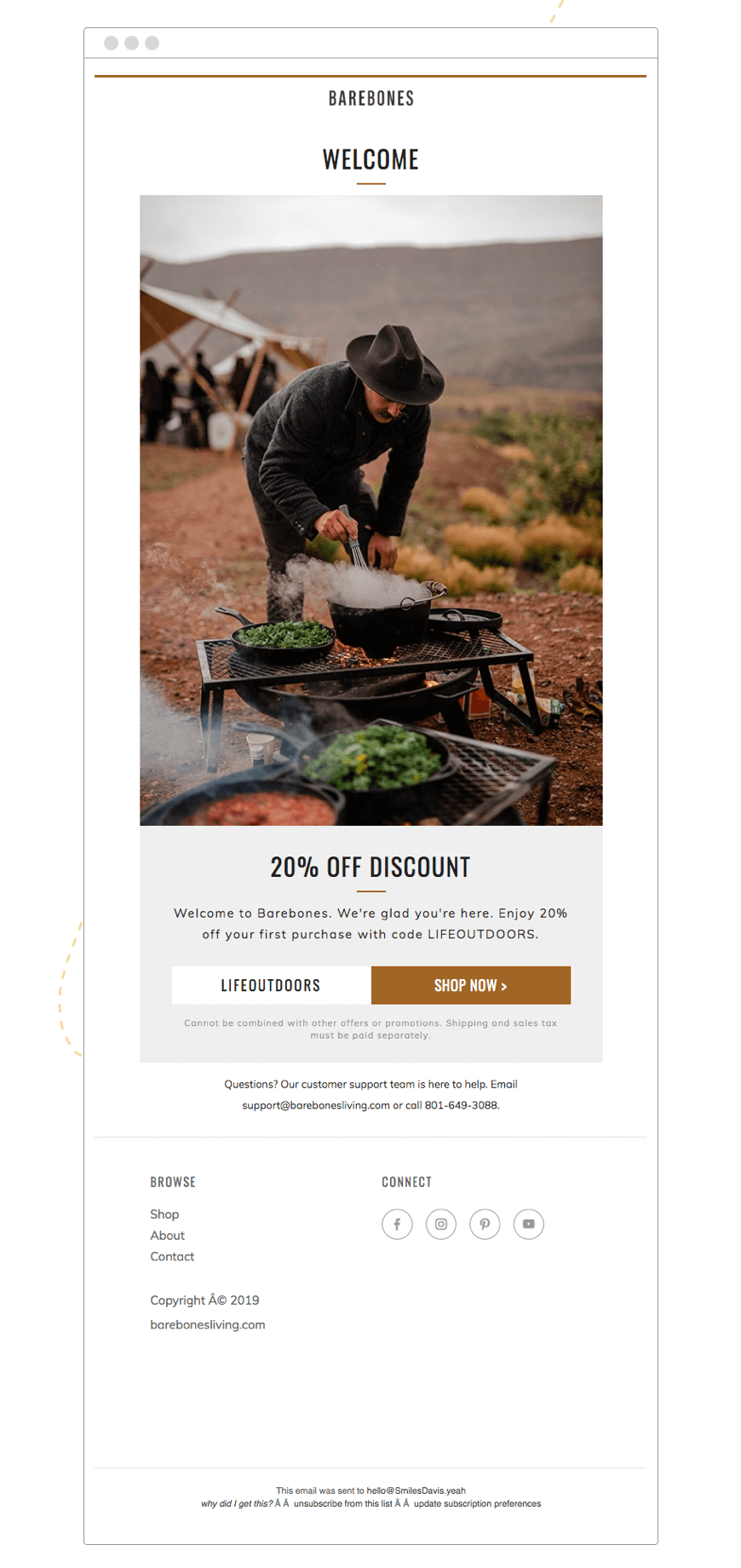 Offer Trade-In Credits for Old Clothes
The new year is a time for clearing out the old to make room for the new. Taylor Stitch leverages this in their trade-in email, productively sharing their brand values while enticing customers to trade-in old clothing for a credit they can use towards future purchases.
This timely email campaign is a great way to drive higher engagement and build brand advocacy, all while giving subscribers a good reason to support the brand and shop.
Trade-In Email Subject Line: All reward, no risk
Send Abandoned Cart Email Reminders
Abandoned cart email automations are triggered to send after a customer adds an item to their cart without completing their purchase. With an average cart abandonment rate of 70%, there's a lot of potential revenue to gain by sending a simple reminder email.
Moment sends a minimal yet engaging abandoned cart email, reminding customers of the item(s) they've left behind with a clear CTA to conveniently return to their cart. By having a CTA that links back to the cart with the item(s) still inside, the brand makes it as easy as possible for customers to complete their purchase. Moment even includes their 12-month case warranty in the email–eliminating any doubt for the customer that this is a good purchase.
Abandoned Cart Email Subject Line: Leave something behind?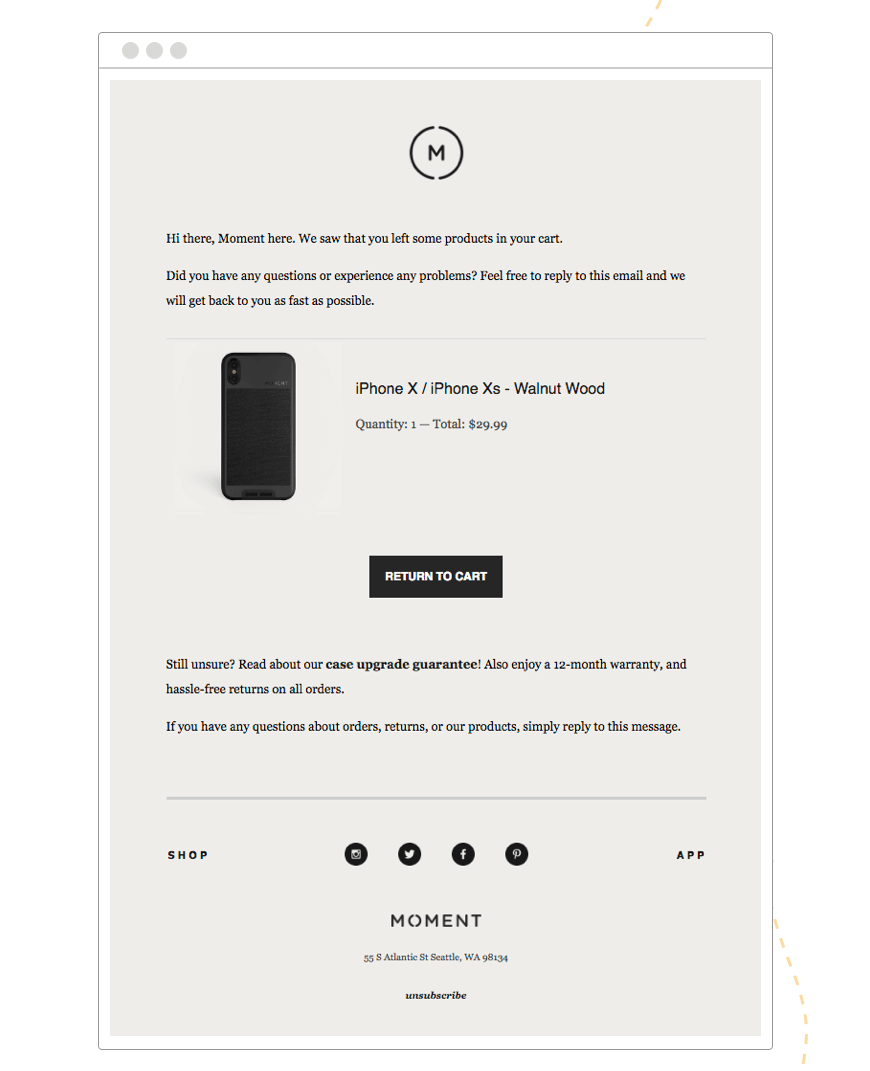 Back In Stock and Lower Price Email Notifications
Let your customers subscribe to hear about specific products that catch their attention. By showing purchase intent, these customers are highly likely to convert when receiving back in stock and lower price email notifications.
Uniqlo does a great job of both, with on-brand designs that get straight to the point for their customers. By designing a clean template and simply swapping copy for the type of notification customers subscribe to, the brand entices customers to jump back into shopping.
Lower Price Email Subject line: Open to see the new price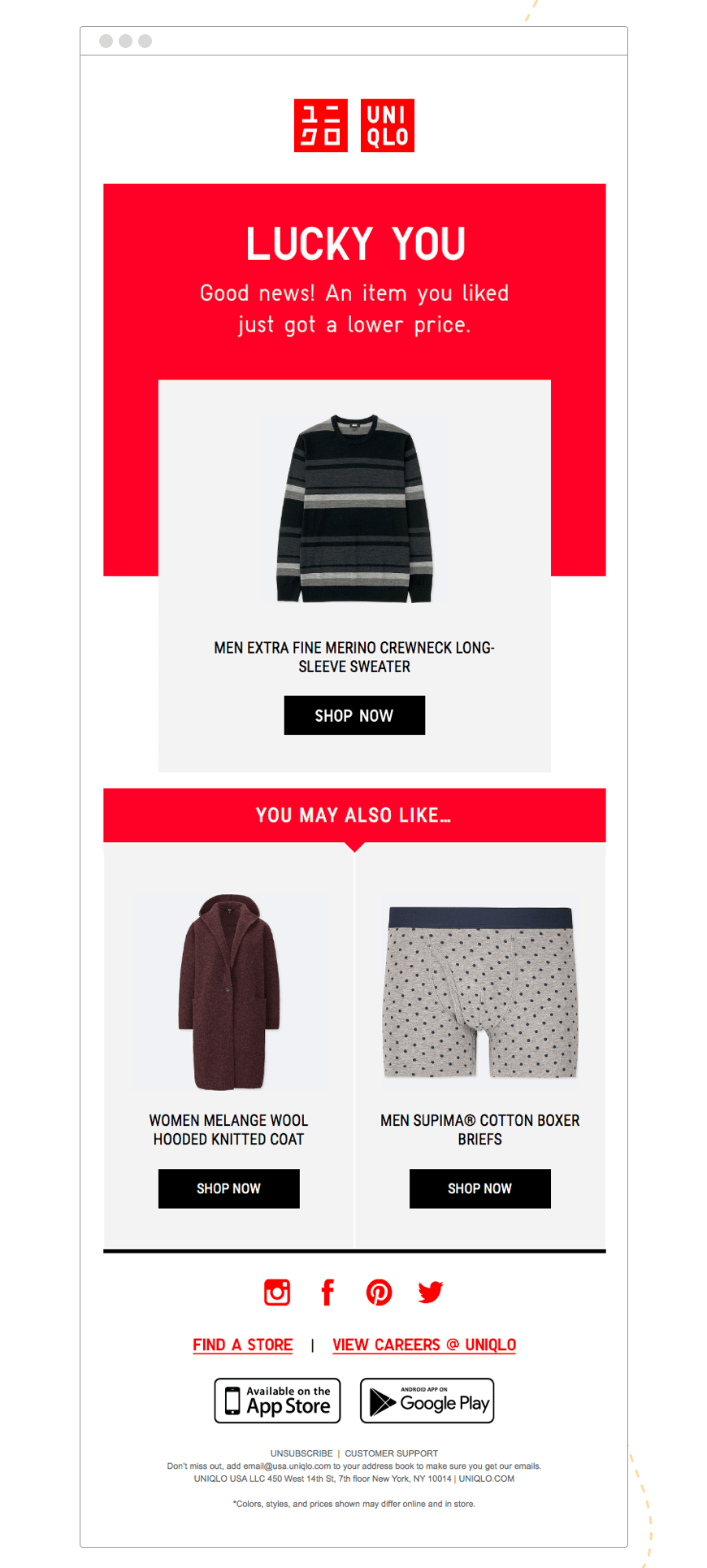 Back In Stock Email Subject line: Good news! We've restocked

Uniqlo also recommends similar and popular products at the bottom of these emails, increasing the chance that their subscribers will click through to view products.
Wrap Up
Start your 2020 email marketing off on the right foot with email templates that boost ecommerce sales and better engage your customers. From setting up a welcome series, to enabling back in stock notifications, don't be afraid to test out new email marketing strategies! Want more reading? Check out our CEO's email predictions for 2020 to stay ahead of the curve.