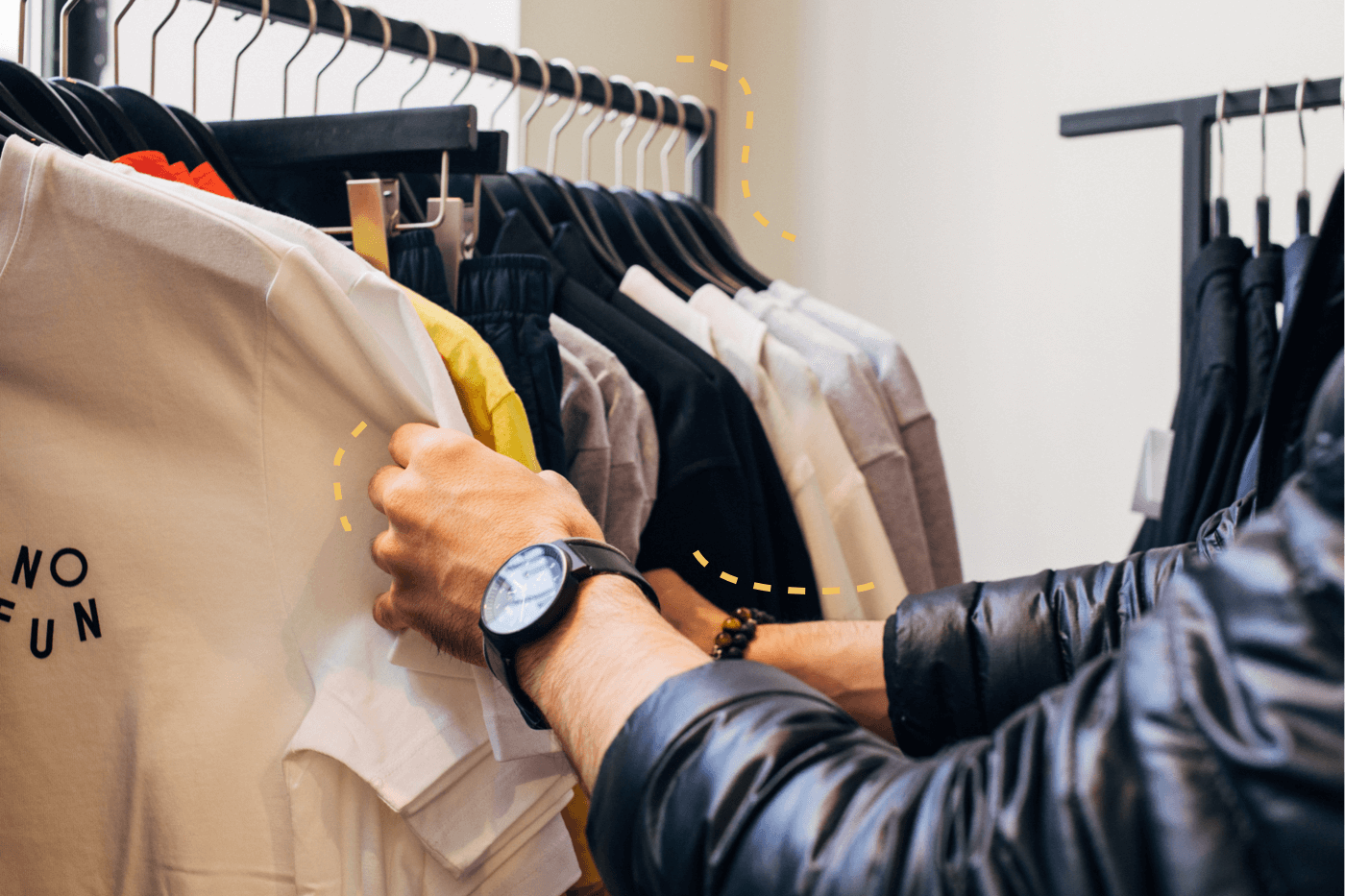 You've probably heard of abandoned cart emails - a staple of ecommerce email marketing, they give shoppers a gentle nudge if their online cart is left full without checking out. These emails are famous for helping ecommerce brands recover revenue, but you may not have heard of the   other player in town.
Browse abandonment emails catch shoppers who haven't made it to the cart yet. A potential customer's browsing session can get cut off for any number of reasons, and browse abandonment emails help keep your Shopify store top of mind even after they've left.
Related: Best Practices for Browse Abandonment Email Series (With Examples)
The goal is to recover revenue from shoppers who have already shown interest in your brand. According to SaleCycle, browse abandonment emails average a 37% open rate, a 14% click-to-open rate, and a 12% conversion rate on those clicks. This means that for every 1000 visitors that leave your Shopify store, you could be making an additional six sales - money otherwise left on the table.
Shopify doesn't offer browse abandonment automations directly on their platform, and third party integrations connecting your store to an ESP can lack transparency and predictability. Instead, you can use an ESP that integrates directly with Shopify and offers features like browse abandonment automations to bring your email marketing game to the next level. (Hive's one of them!) These emails will trigger when a visitor has looked around your site but hasn't added any items to their cart.
So how can you use browse abandonment emails to grow your customer base and capture more revenue for your Shopify store? Here are a few tips to help you get started:
Recommend Popular Products
Visitors to your website are like window shoppers until they actually buy something. They may like what they see, but something's stopping them from making a purchase. You can put your best foot forward by including recommended products in your browse abandonment emails.
Some ESPs will offer features that allow you to include recommended products in emails. With Hive, for example, you can drag and drop a Product Recommendation content block into your email to automatically show recipients the most popular items in your Shopify store. This allows you to showcase your brand, and gives you more opportunity to snag a sale.
Related: Hive for Ecommerce Stores
In this email from Sunday Somewhere, they not only show the recipient the item they were browsing, but also some of their bestsellers. They finish off the email with a grid from their Instagram, allowing them to share more of their brand inspo with the reader.
Subject line: Just for you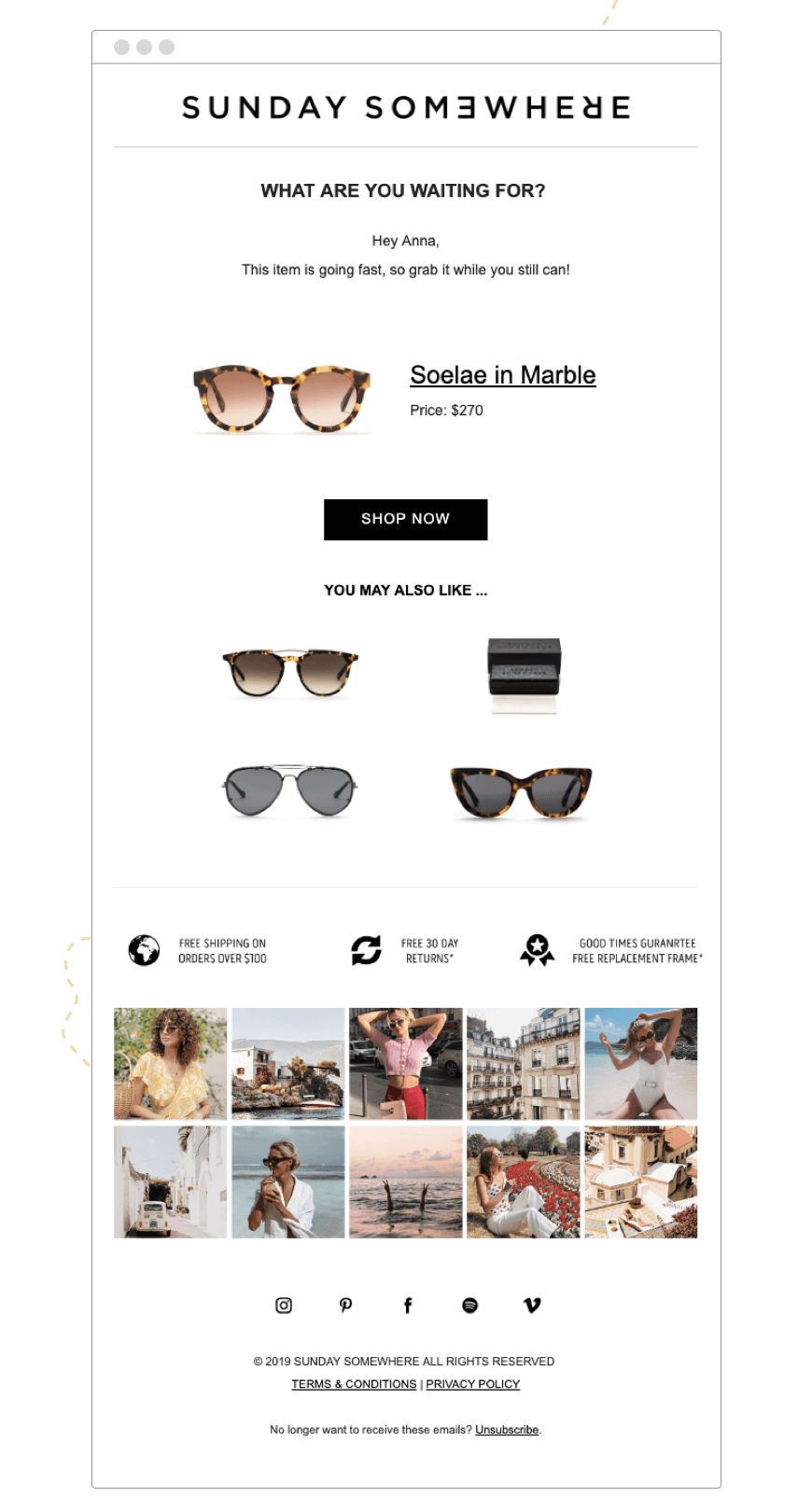 Send Them a Discount
One of the most effective ways to make the sale? Offer a little incentive! Customers who make a purchase are 27% more likely to make another one in the future. Getting shoppers to that first step can help you grow your Shopify store's customer base, and potentially lead to a second purchase. Discounts are a simple and powerful way to connect with your audience and turn that browse abandonment into a sale.
Here, you can create a discount code that will remain the same across all your browse abandonment emails, or you can find an ESP that lets you merge in custom discount codes (so each email is unique!)
Keep Things Personal
One of the most important strategies you can use when building emails is personalization. Tailoring your message to be specific to the reader can improve CTRs by 14% and conversions by 10%.
Generally, you can personalize emails by including subscriber names, or build emails to target subscribers in specific locations or demographics. For browse abandonment, you can design emails that pull the reader back in based on their browsing behavior.
Wayfair has built a reputation for their well-targeted strategy, following browse sessions up with emails that include customized copy and product suggestions tailored for the customer. In this email, personalization can be found in the subject line, the featured image, related product suggestions, and even the secondary product "deals", which are also pulled from prior browsing behavior.
Subject line: INSIDE: The Coffee & Cocktail Tables you were looking for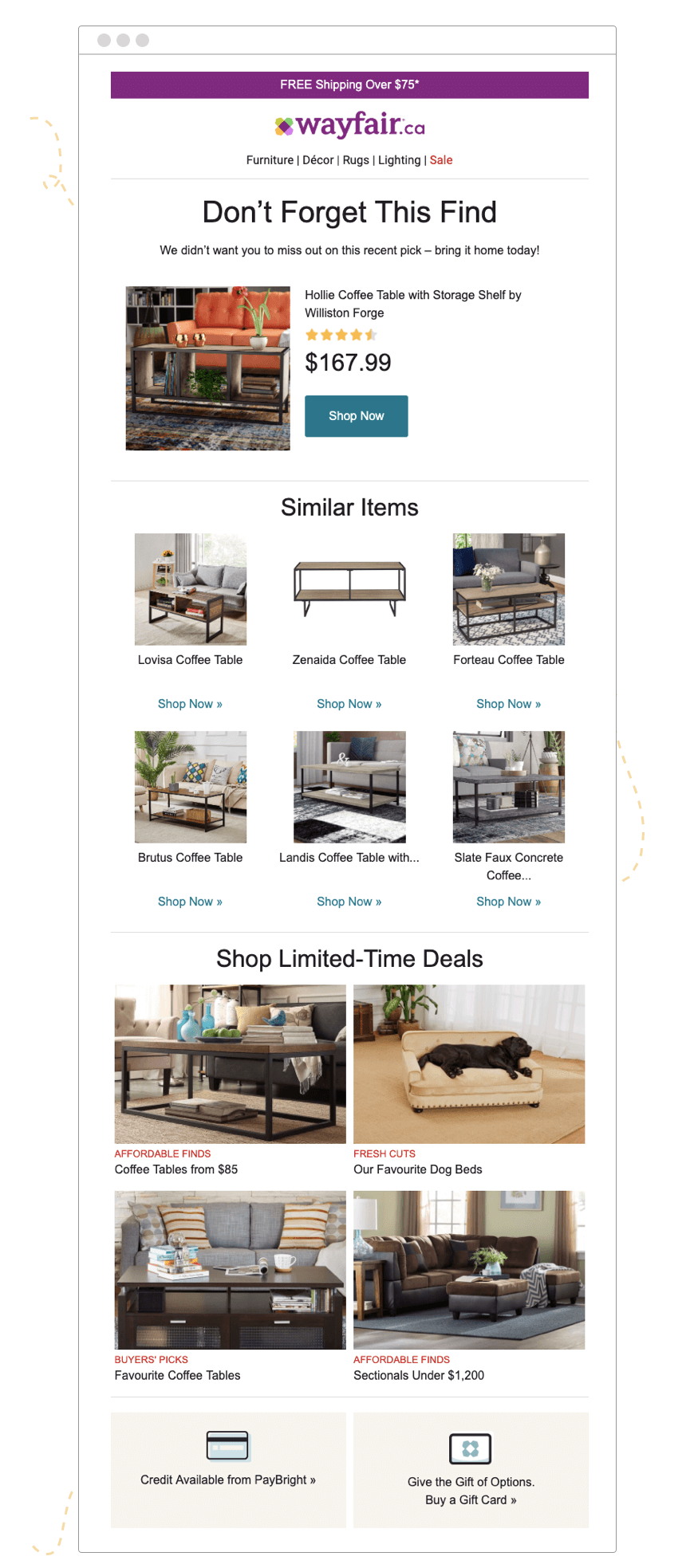 Make It a Series
What's better than one email? Two emails! Turning your browse abandonment strategy into a short series of emails will give your ecommerce brand more opportunities to connect with potential customers in different ways.
Solo Stove does a great job of this, first sending a quick email with a reminder for shoppers and the opportunity to connect if they have any questions. This is an effective way to get in front of potential concerns that may be preventing shoppers from making a purchase.
Subject line: You Spotted Some Great Gear But...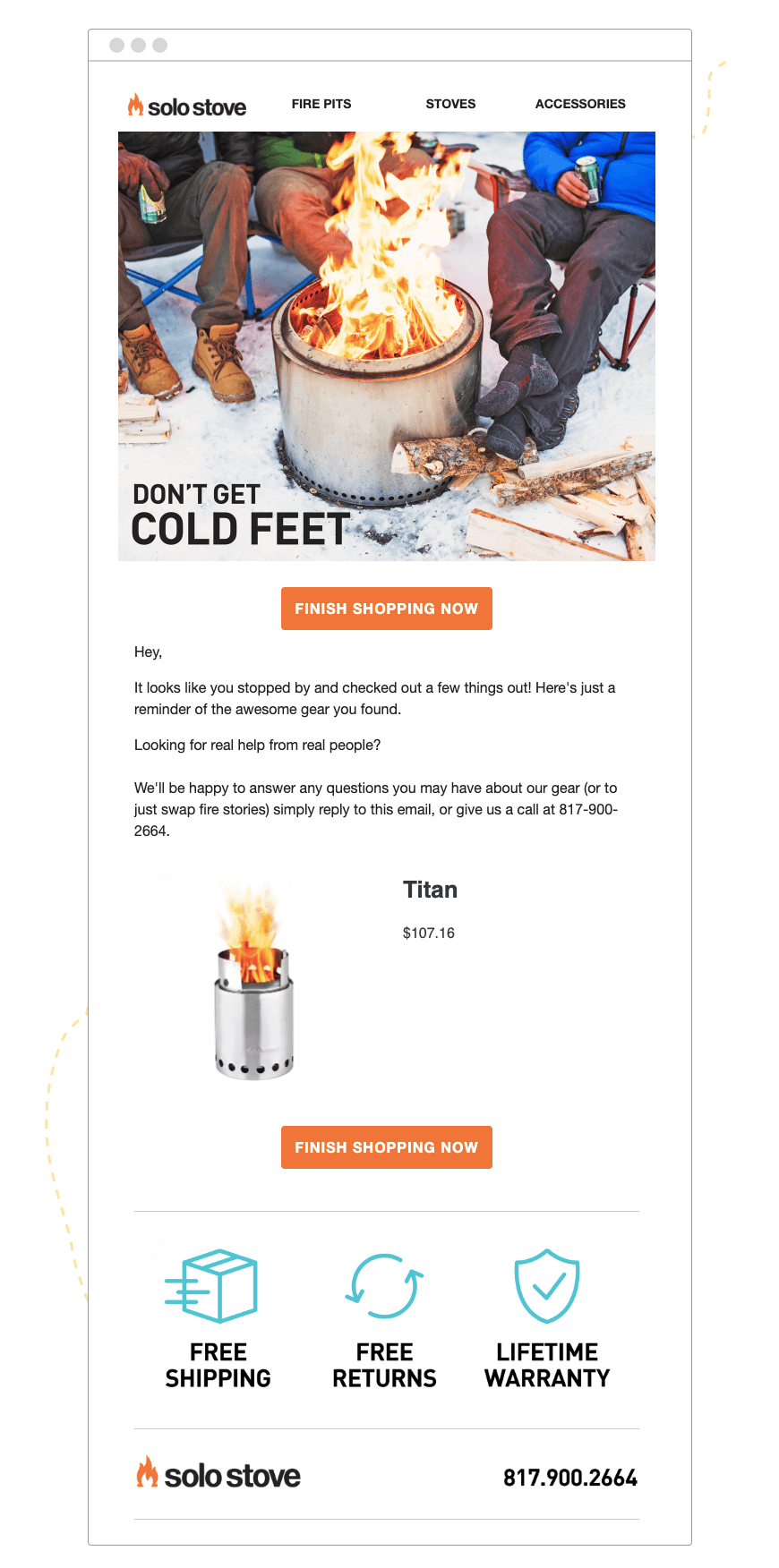 One day later, Solo Stove sends a second email, upping the ante. Here, they offer a discount for shoppers who don't bite after the first email. This strategy allows them to test the waters before offering a financial incentive.
Subject line: 👀 An Offer For The Gear You Were Eyeing…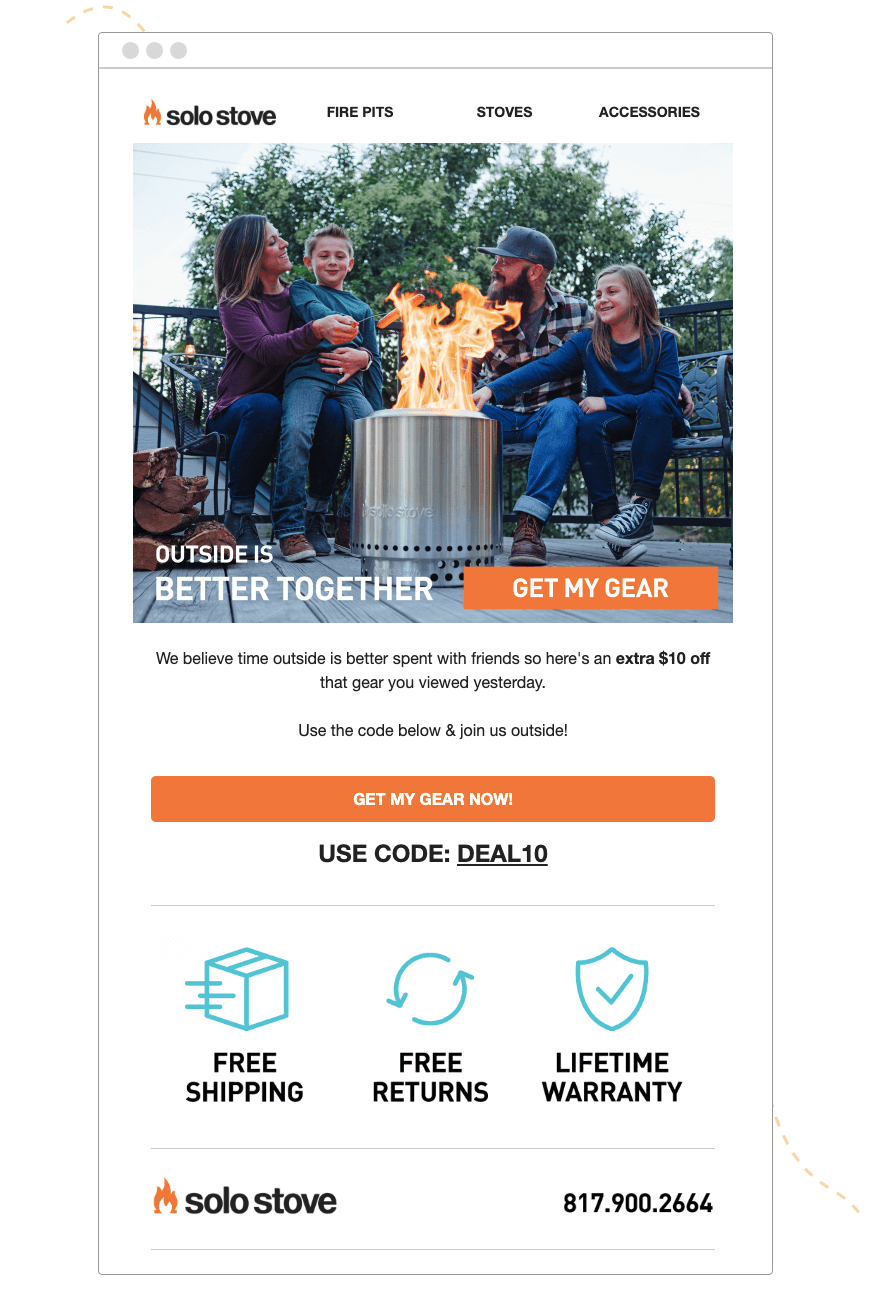 Ready to automate?
By building browse abandonment emails, you can connect with your Shopify store's larger audience and grow your customer base. Use hands-off automations to showcase your brand, incentivize, and personalize emails, recovering otherwise lost revenue.
Interested in seeing what your Shopify store could accomplish with Hive? Get in touch with us for a demo here.