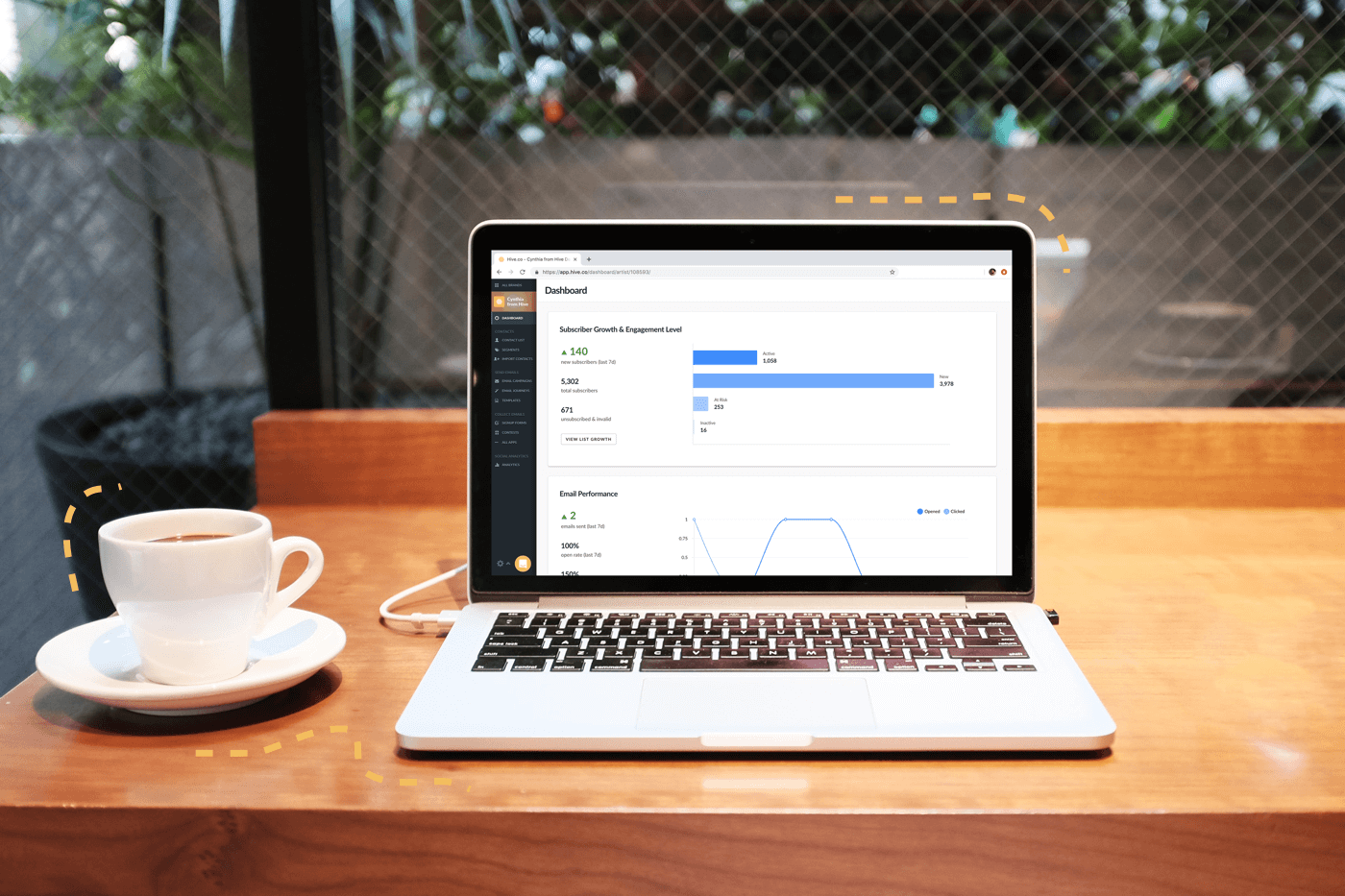 This month, we're focused on giving you more visibility into what's new in Hive and what's changed with your email marketing performance. If you've been checking the changelog, you'll be well-acquainted with these updates! Read on to learn more about why we're excited about each new release and what it means for your day-to-day use of Hive.
📈 The new dashboard
Now you can see a full overview of your email marketing right on the dashboard, from how your list is growing and moving through engagement levels, to how much revenue you're generating from emails sent in Hive. We've brought this data to the forefront so you can see all the metrics that are important to your business as soon as you log in.
Subscriber Growth & Engagement Levels
Track list growth, movement through engagement levels, and unsubscribes.
Email Performance
Track emails sent, overall engagement, and average opens and clicks.
E-Commerce Performance
Track revenue generated from Hive, the breakdown between campaigns and journeys, and overall revenue from your store.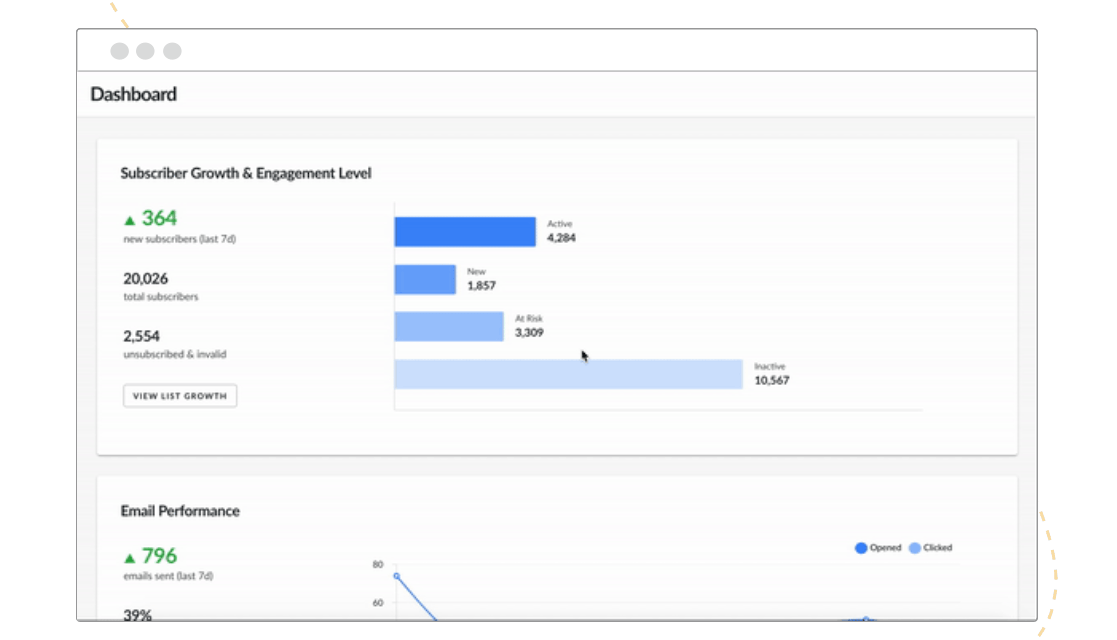 📒 Changelog of what's new
To help you regularly keep up with what's new in Hive, from new features to improvements that will make your life easier, you can visit the changelog at updates.hive.co.
For even easier access, click the yellow chat icon in the bottom left of your Hive dashboard and check out the 'What's New' section.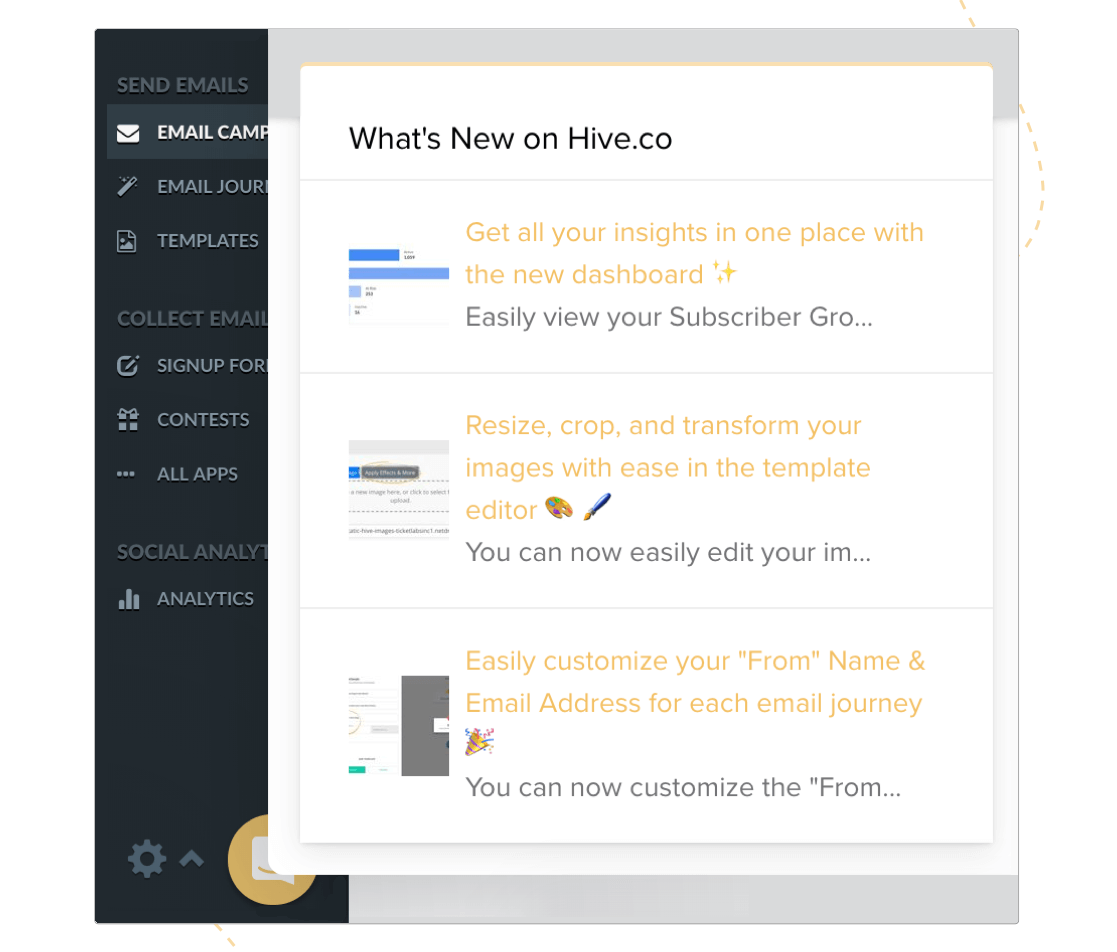 🎨 Edit images in the template editor
Don't have photo editing software on your computer? No problem. With just a few clicks, you can edit any image in the template editor - resize, crop, or transform. Just look for the Apply Effects & More button once you've uploaded an image.
🗣 Custom "From" Name and Email Address in journeys
If you have an email journey with multiple steps, you can now increase engagement and align it with your brand by sending different email from different senders. For example, send the first message in your welcome email series from the founder, the second from your team, and the third from your company.
🤑 Engagement Level and Total Spent on contact list
Continuing with the theme of more visibility into the numbers that matter, you can now view 'Engagement Level' and 'Total Spent' for each subscriber in the contact list. Getting more immediate transparency into the engagement of your subscribers will help you craft more effectively targeted campaigns.
Wrap Up
With a little more insight into the day-to-day of your email marketing, these updates will help you see your successes and areas for improvement more easily. We hope having a simple way to see what's new with Hive helps you take full advantage of how you can iterate and improve your email marketing strategy!