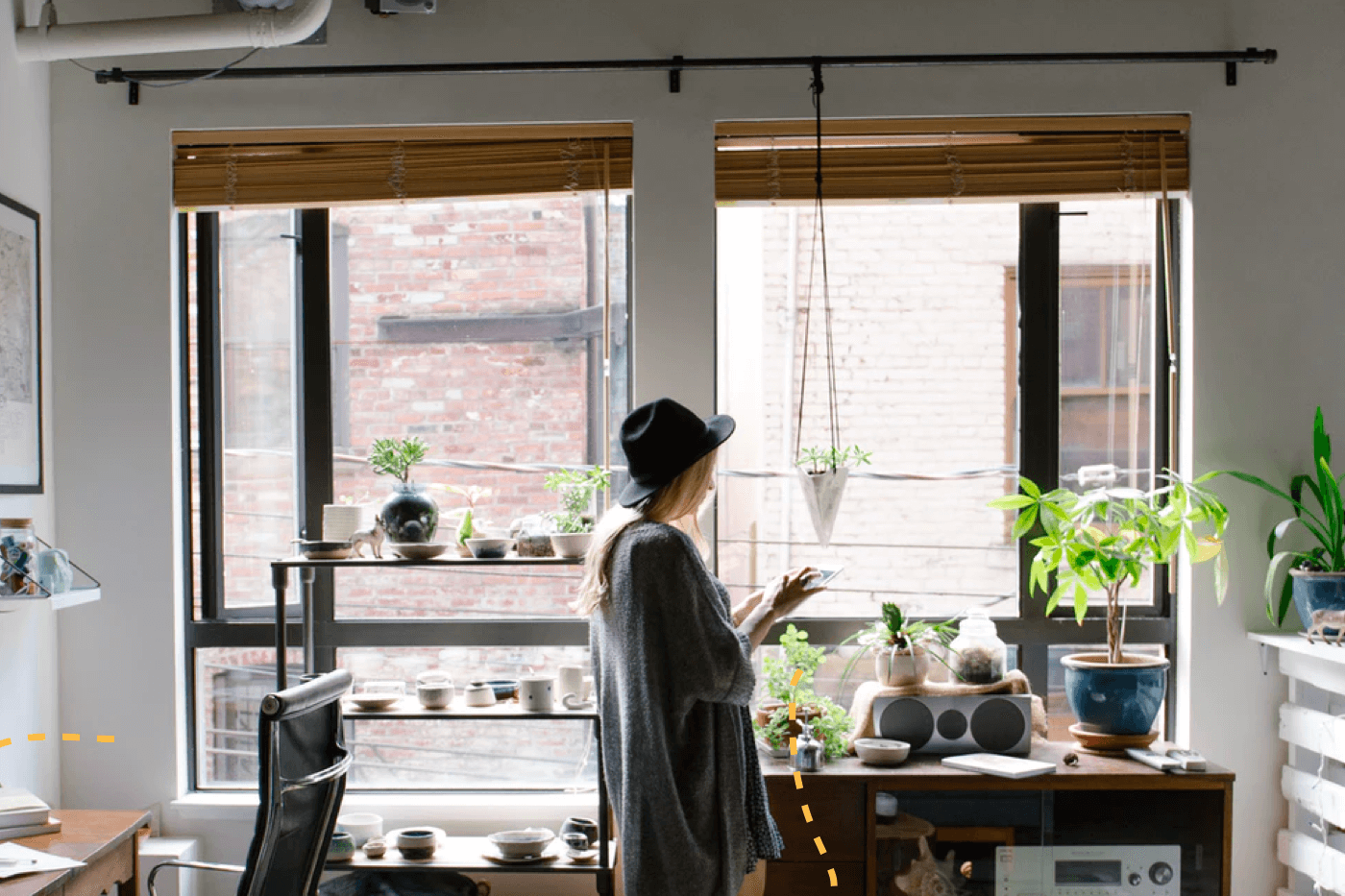 In these tough times, contests and giveaways are the perfect way to stay engaged with your audience while inspiring a smile. Plus, who doesn't love potentially winning a fun prize? Contests and giveaways are excellent tools you can use to connect with your audience, grow your email list, attract new brand awareness, and drive sales.
However, much like a party, the success of any contest or giveaway depends largely on participants "showing up." In this article, we'll talk about nine strategies you can use to drive participation in your contest or giveaway (without pouring your budget into paid ads!) and keep that fear of low engagement far at bay.
Reward referral entries
One way to drive participation is to put the contest entrants to work as influencers - recruiting their friends and family to take part in your contest or giveaway. You may be thinking, "Why would anyone want to recruit more participants if it lowers their odds of winning?" But if you offer extra chances to win to those who are able to recruit referral entrants, it actually increases their odds by quite a bit (if you allow them more than one extra entry).
Use contest software that allows you to generate a referral link for each participant. If someone enters through the referral link, the original participant earns extra chances to win - award them three or more chances to make it worth their while. It's a great way to incentivize sharing and get fresh eyes on your brand.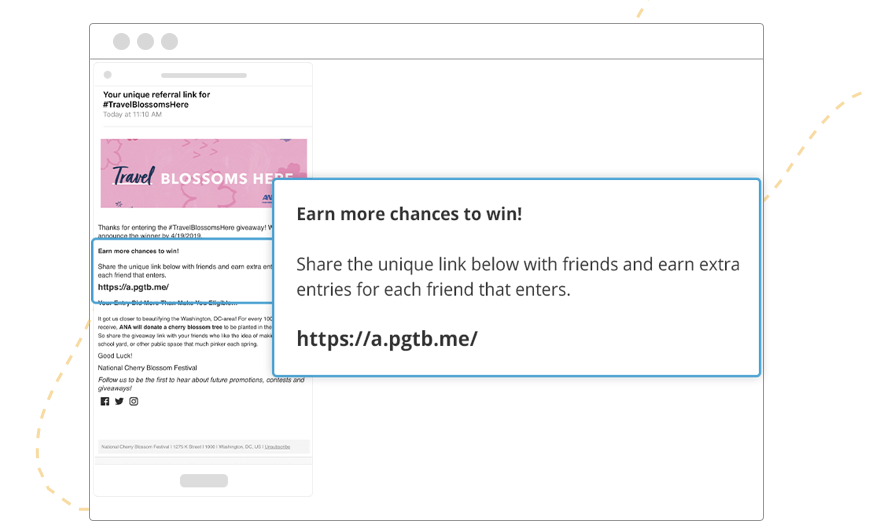 Make it "instant win"
In the 21st century, "instant" is almost an expectation. Instant streaming television, instant car insurance quotes, instant bank deposits - the list goes on. There's no exception when it comes to participating in a giveaway. When participants can find out immediately if they've won, it generates a level of excitement traditional giveaways can't contend with.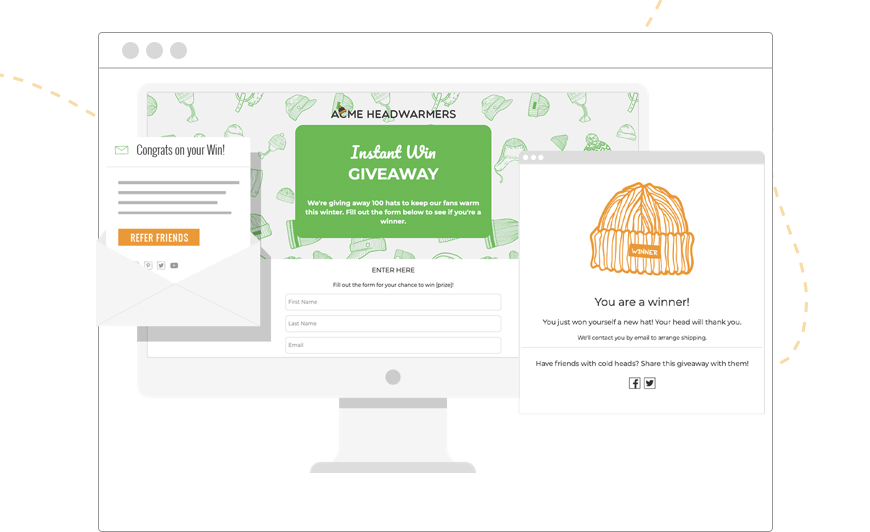 Make it "limited entry"
Add a sense of urgency to the excitement of a new contest by setting a cap to the number of entries your entry form will accept. It may sound a bit counterintuitive to driving more entries, but the psychology really works.
You may be wondering how limiting entries to your giveaway can drive participation. The answer is simple - run more than one! Running regular contests and giveaways in association with your brand will strengthen the relationship you have with your audience and keep growth at a steady incline.
In a limited entry giveaway, the prize structure can be more traditional, for example, if your cap is at 1,000 entries, the first 1,000 participants are entered for a chance to win one prize. Or, you can give a small prize (product samples, limited editions, or even a discount code) to all of the 1,000 participants.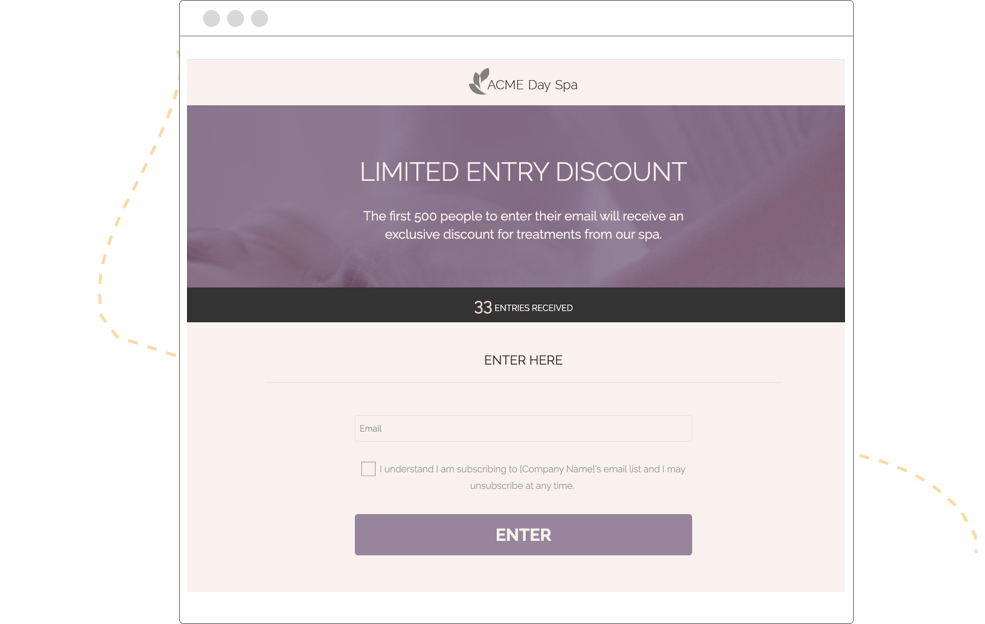 Offer multiple prizes, including a grand prize
After buying a lottery ticket, we all daydream about what we'd do with the millions in prize money, but know deep down we won't win. However, when there are lots of prizes at stake, the prospect of winning seems like more of a reality.
Giving away multiple prizes doesn't have to break the bank. You can offer small prizes such as branded merchandise (t-shirts, hats, beanies, etc.), discontinued products, or anything you may have taking up space in storage. Another strategy is to partner with complementary companies. They can kick in more prizes and also offer other benefits. I'll talk more about this later on.
Let participants "show off"
Pets, kids, outdoor adventures, cars, home improvement projects - your customers have phones full of photos they're just dying to show off. A photo contest structured around a popular subject matter gives proud parents, pet owners, weekend warriors and the like the opportunity to do just that.
You don't have to run a pet-related company to host a "best pet" photo contest. Businesses of all kinds can get creative to fit in a popular subject with their brand.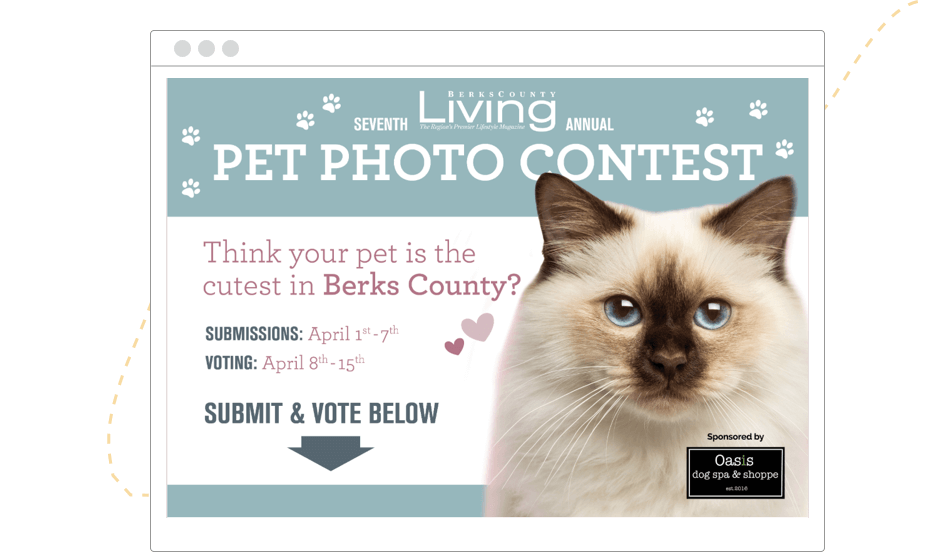 Make the barrier to entry simple and painless
This strategy won't help you to drive participation, but rather to keep you from driving it away. When asking for personal information, you must tread lightly. These days, even the most basic information - email address, phone number, date of birth - is safeguarded. Therefore, even if you're successful at driving traffic to your contest, your participation rate will plummet if the entry form asks for too much information.
There are a few ways to capture data without raising any eyebrows. If you're asking for data that's out of the ordinary, explain why you want it. For example, ask for a birth date to enroll the entrant in your "birthday club" to receive exclusive discounts and coupons on their special day.
Offer a coupon or discount to participants
Coupons and discounts are the perfect complements to any contest or giveaway, because they not only add an extra layer of incentive to participate, they also help you drive sales and convert participants into customers.  
Set up an autoresponder to go out immediately after an entry is submitted. This automated email can contain a discount code and say, "Thanks for participating! We'll announce the winner on _____. Until then, enjoy 20% off in our online store."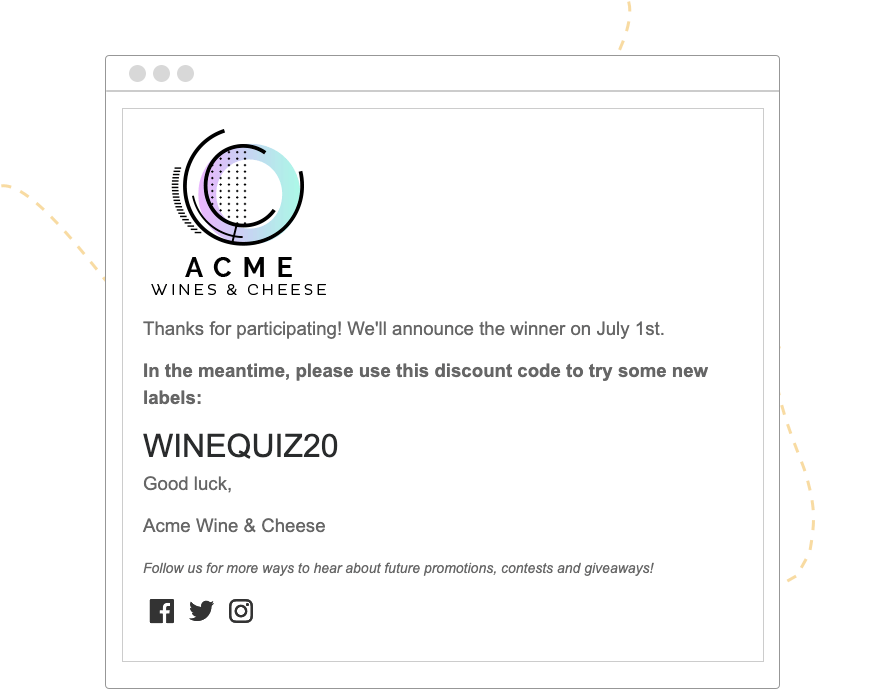 Another way to incorporate a coupon or discount in your giveaway would be to send an announcement that the winner has been chosen and include a consolation - your 20% discount - to help soothe the sting of not winning.
Advertise your contest
Advertising your contest is a no brainer, but be strategic in how you get the word out and you won't have to spend all of your ad dollars on driving participation. Maximize the use of social media, link to your campaign from your website, from within emails, and announce your contest at events or in your store to boost exposure.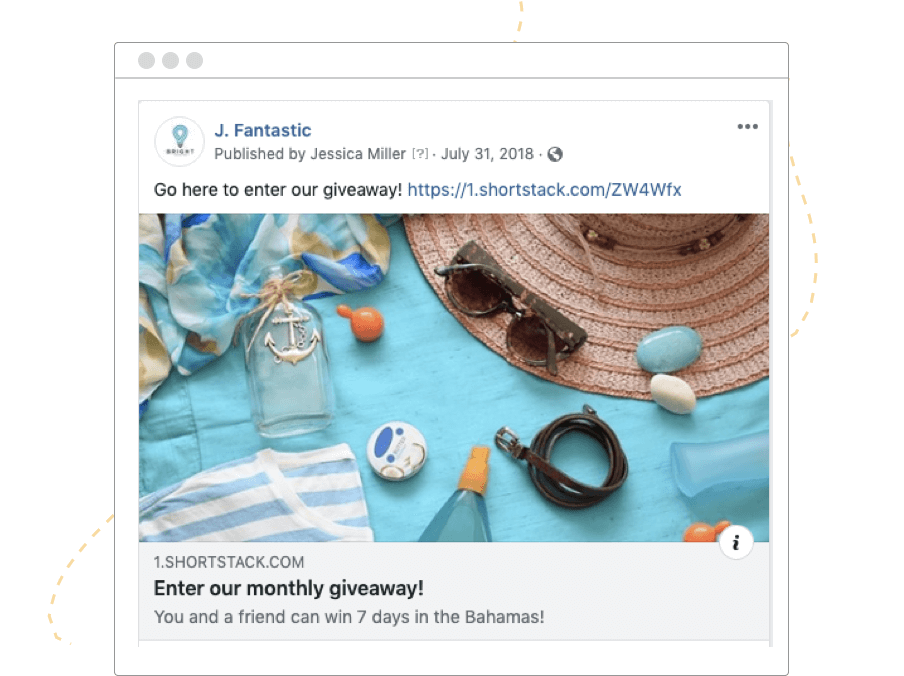 Recruit a partner
A clever way to double your reach without spending a dime is by recruiting one or more contest partners. The company should be complementary to your business but not a competitor. For example, a ski resort could partner with a ski equipment company to offer an all-encompassing prize for a ski weekend complete with new skis and boots. In this example, L SPACE swimwear and apparel partnered with a cosmetic company to give some lucky winner a "new year wardrobe and beauty drawer refresh for 2020."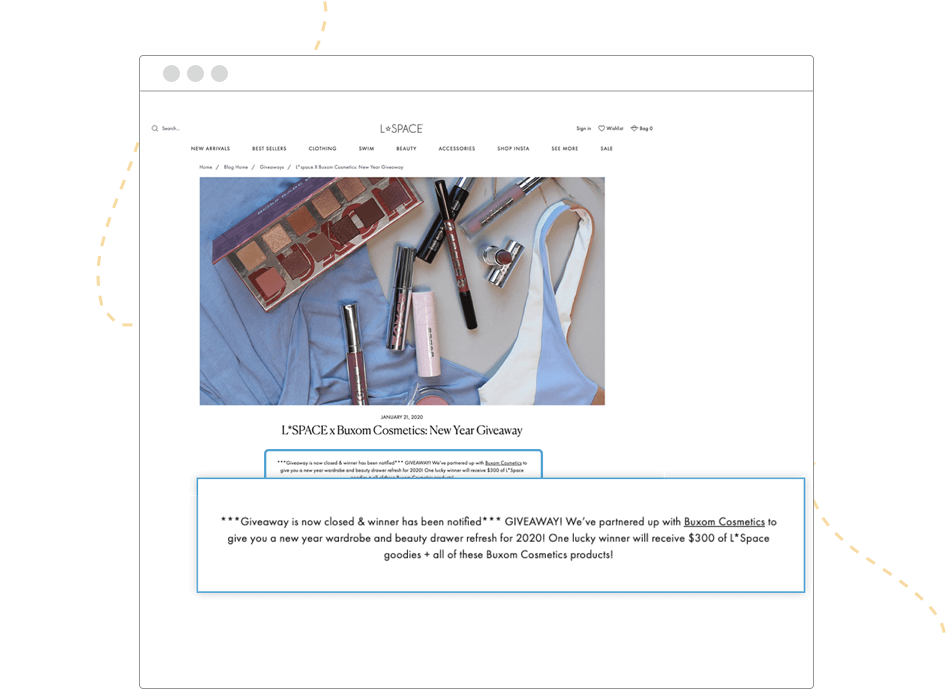 Contest partners can do more than pony up additional prizes. If their products or services are complementary to yours, your audience is most likely similar as well. Therefore, any advertising they do will be hitting your exact demographic, exposing your brand to a fresh new audience of potential new customers.
To summarize
In anything we do, we want to make sure we're maximizing our ROI. Contests and giveaways are exciting on their own, they're great marketing tools and completely recession-proof. But with a few additional elements added to drive entries, you'll sleep better at night knowing you're doing all you can to get the most engagement.
Use a few of these strategies, or even all of them to boost excitement, incentivize referrals, and help you get the word out about your campaign. Your contest's entries will help you achieve bigger goals such as growing your audience, your email list, your pool of leads and, of course, drive more sales.