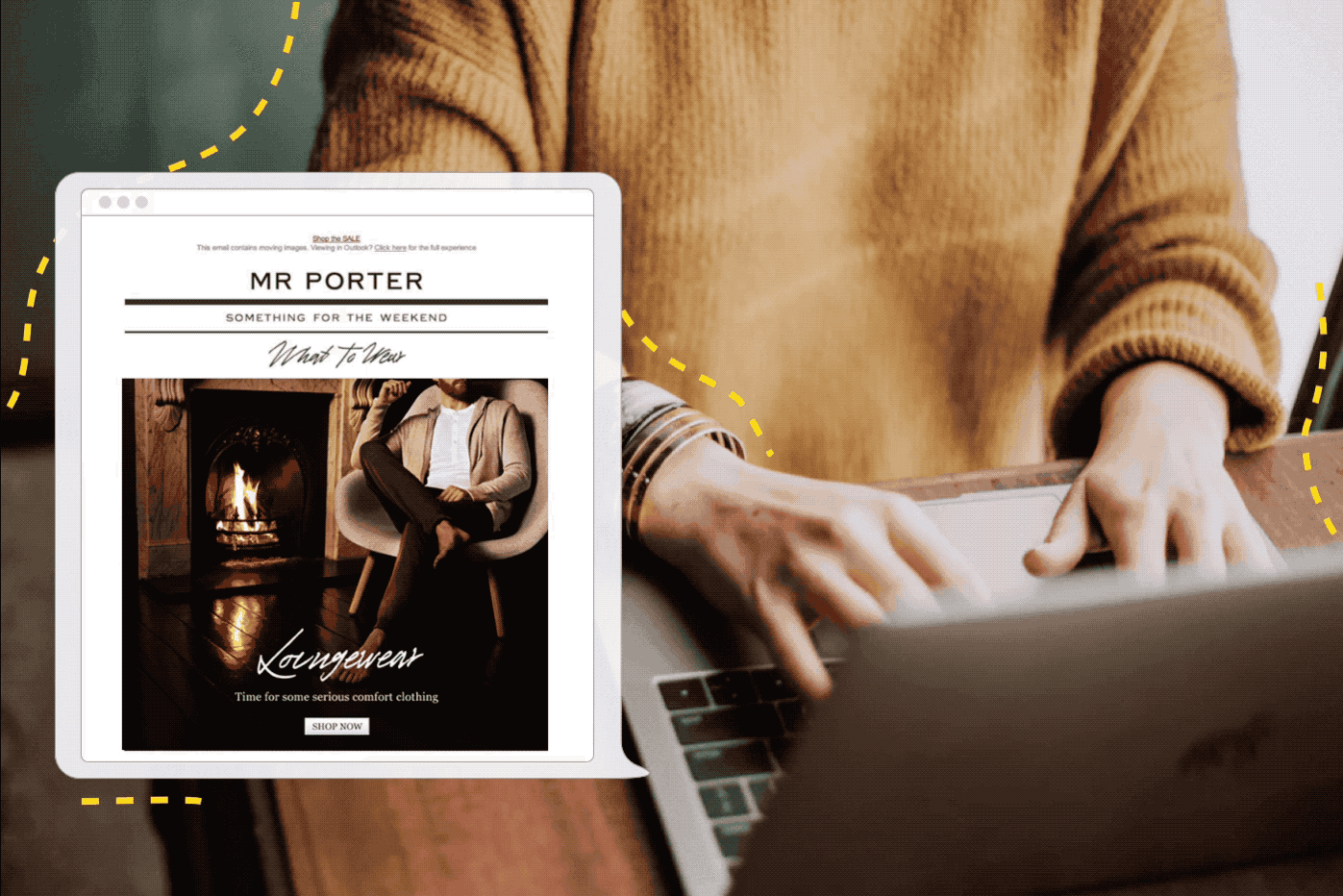 The leaves are changing color and the days are getting cooler, which means fall is around the corner! Embrace the cozy sweaters and warm tones in your next email campaign to get your customers excited for a new season of products. Let's fall (haha, get it?) into these inspiring email templates 🍂
1. Trunk Collective
Introduce customers to your fall essentials by using a captivating photo and descriptive copy. Trunk Collective keeps it simple with a visual email and straightforward CTA. Instead of going the traditional route of using a header image, they use a background image that spans the entire email. This little tweak sets them apart in the inbox.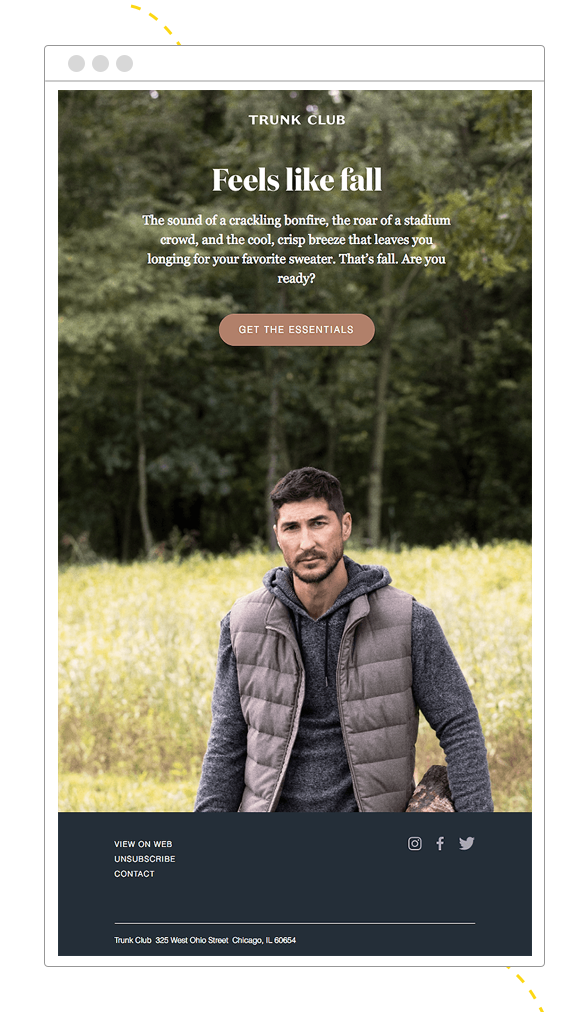 2. AVI-8
It's important to make sure all your email flows are aligned, which means updating your automations to reflect seasonal changes. An easy one to keep relevant is your welcome email, which is proven to have the highest engagement rate when compared to all other automations. AVI-8 hits all the right notes with their welcome email, using a product shot featuring warm fall colours, a cosy brown sweater, and an overall darker theme.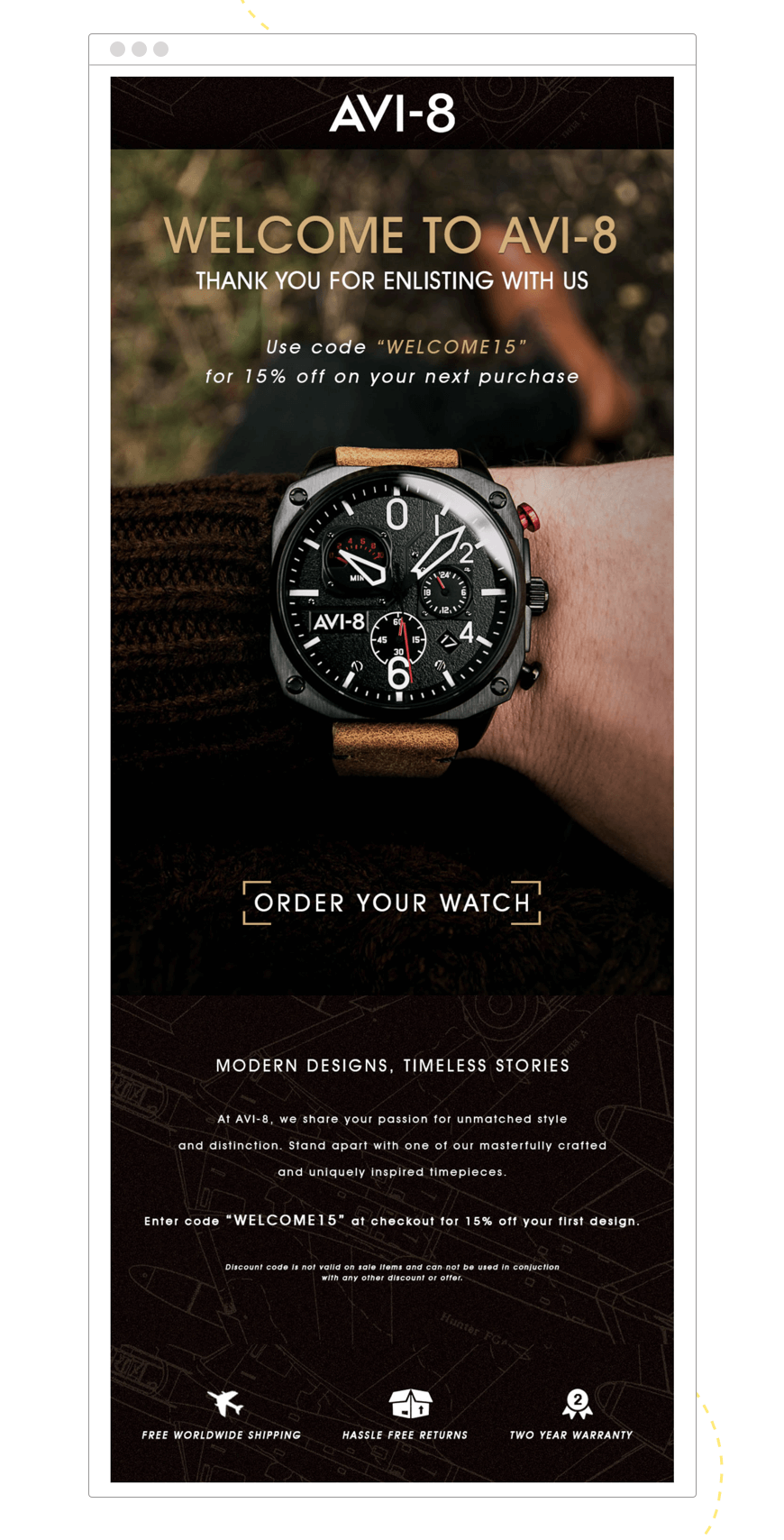 3. The Arrivals NYC
This chic outerwear brand keeps it minimal when it comes to email design, but they entice customers to click through by adding GIF elements to their buttons. By using flashing arrows, the buttons in this The Arrivals email are sure to capture customers' attention.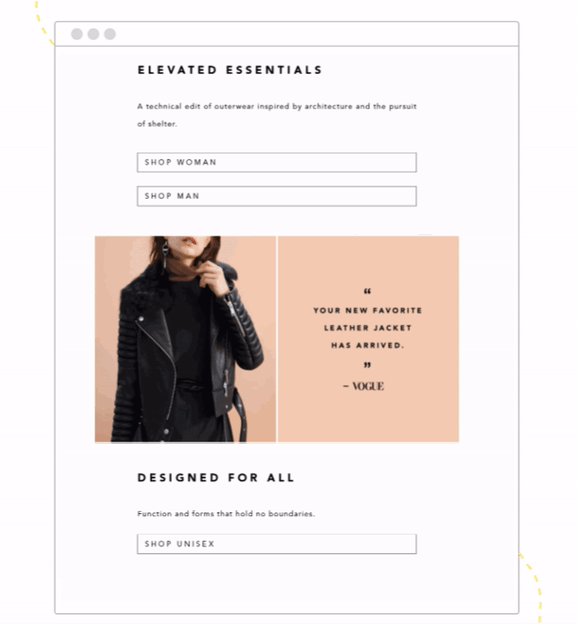 4. Bang & Olufsen
Here's a good source of inspiration if your products aren't as seasonal as clothing: Bang & Olufsen introduce their AW18 collection of audio accessories using clean, warm toned imagery. They've organized their email in a streamlined way, linking out to the full collection before breaking out each product into sections. It's a good example of being strategic with the art direction of your photo shoots by incorporating warmer tones for a fall vibe.

5. Aritzia
Aritzia launches their fall collection with 'The Perfect Ten' campaign. Instead of blasting their customers with a link to the full collection, they've featured ten essential products that tease customers and encourage direct product views. This is a great way to optimize the amount of clicks it takes for a customer to view a product they like, and encourages customers to start adding items to their cart. They've also linked out to popular categories at the end of the email to drive higher conversion.

6. Mr Porter
Another way to mix it up is by using a cinemagraph - a still photograph where a minor and repeated movement occurs. It's like a GIF, but more alluring because of its subtlety. This is an effective way to capture your customers' attention while keeping the focus on your products and CTA.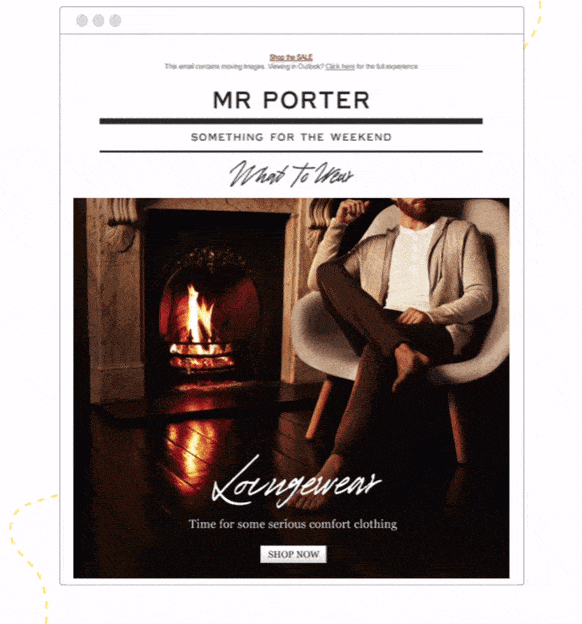 Start cozying up your next campaign!
With fall in the air, it's the perfect time to start thinking about ways to cozy up your emails. Whether you try a cinemagraph for the first time or play around with a warmer theme, your customers will appreciate your readiness for the season!