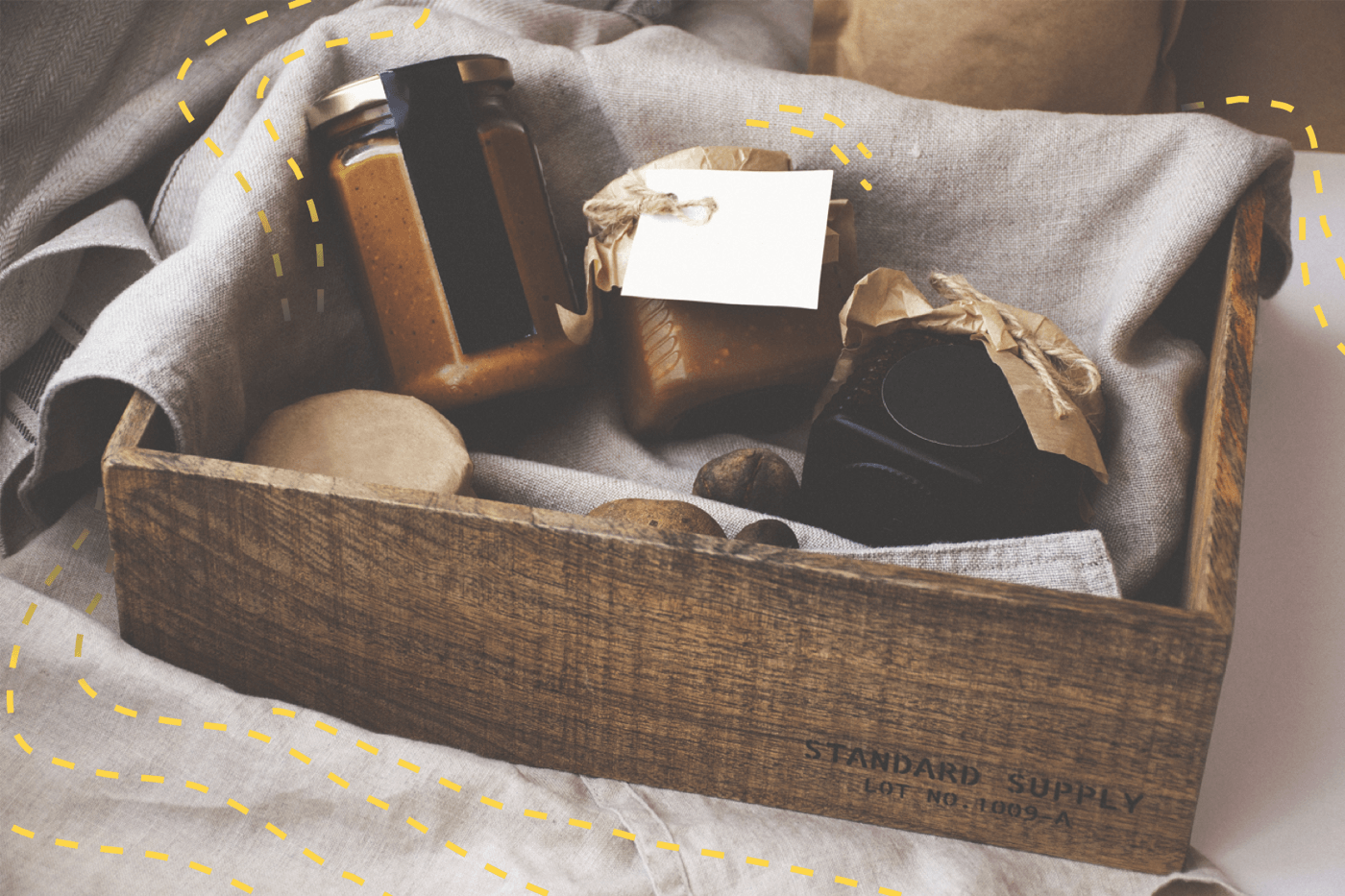 If you run an ecommerce store, it's likely you have something to offer Father's Day shoppers - from books to event tickets to electronics, people buy all sorts of things to try and surprise Dad. According to the National Retail Federation, the projection for American spending this year is a whopping $15.3 billion. Crazier yet, 33% of Americans plan to shop for Father's Day gifts online!
It's time to get your emails ready - this post includes templates and easy but powerful marketing strategies to implement in your Father's Day campaign this year.
1. Artifact Uprising: The Father's Day Sale
Artifact Uprising corners the market on Father's Day with personalized gifts - from framed photos to photo albums. They tick all the boxes with this email - a discount, gift with minimum purchase, and a tone that matches the warm sentiment of the holiday. Bonus, they even let shoppers know when they have to order by to get their gifts to Dad in time.

2. Dollar Shave Club: Uh Oh. Forgot about Father's Day?
Dollar Shave Club recognizes the often last-minute nature of shopping for gifts with this clever email outlining an easy way to get a gift card to your door before the big day.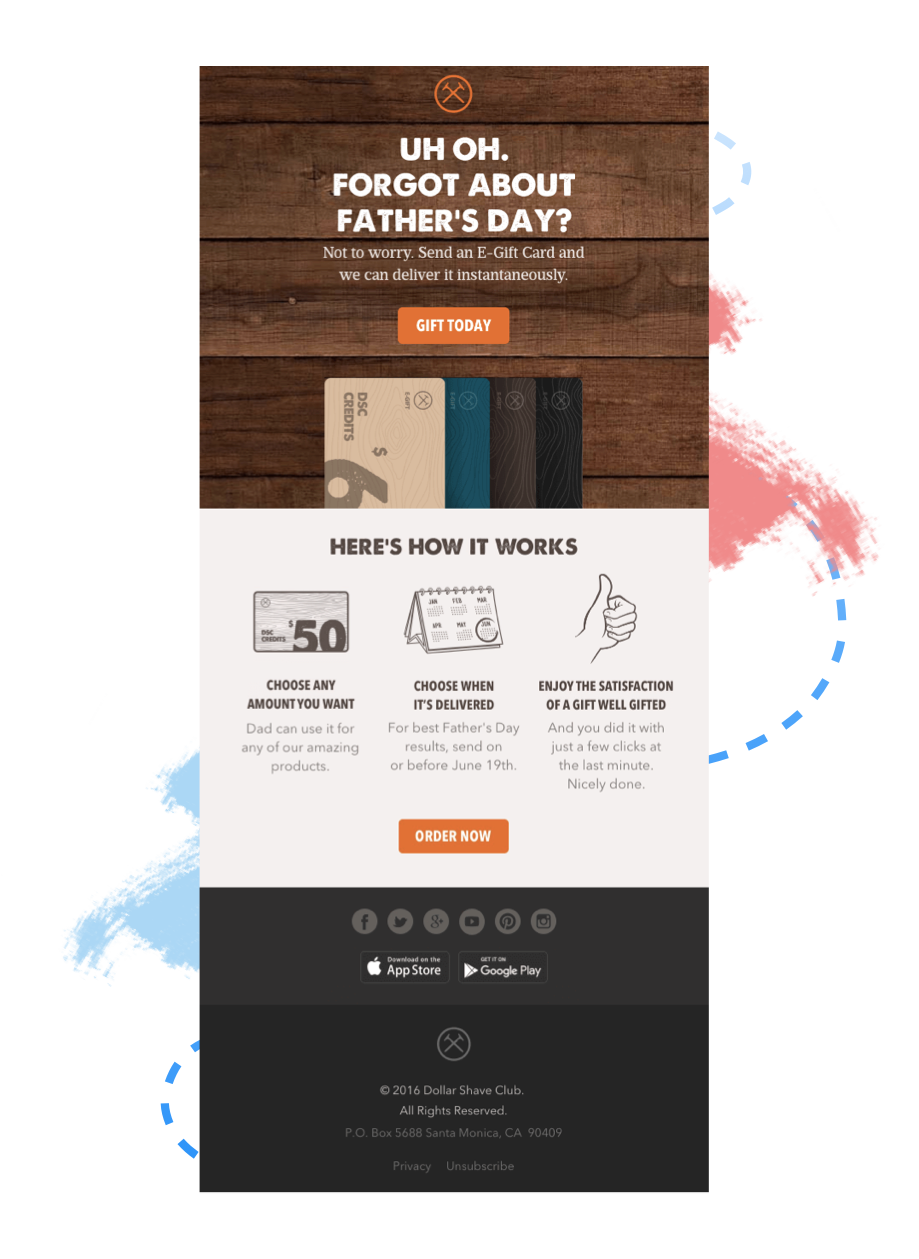 3. Grovemade: Father's Day Gift Pick
Gift recommendations and guides are an easy way to get customers thinking about your brand when shopping for Father's Day. Bonus points: for holidays that are on a different day every year, it's helpful to remind customers when they need to have their gifts ready by. Grovemade accomplishes both by simply stating the date under their gift recommendation (worth noting: this year, it's on Sunday, June 17!).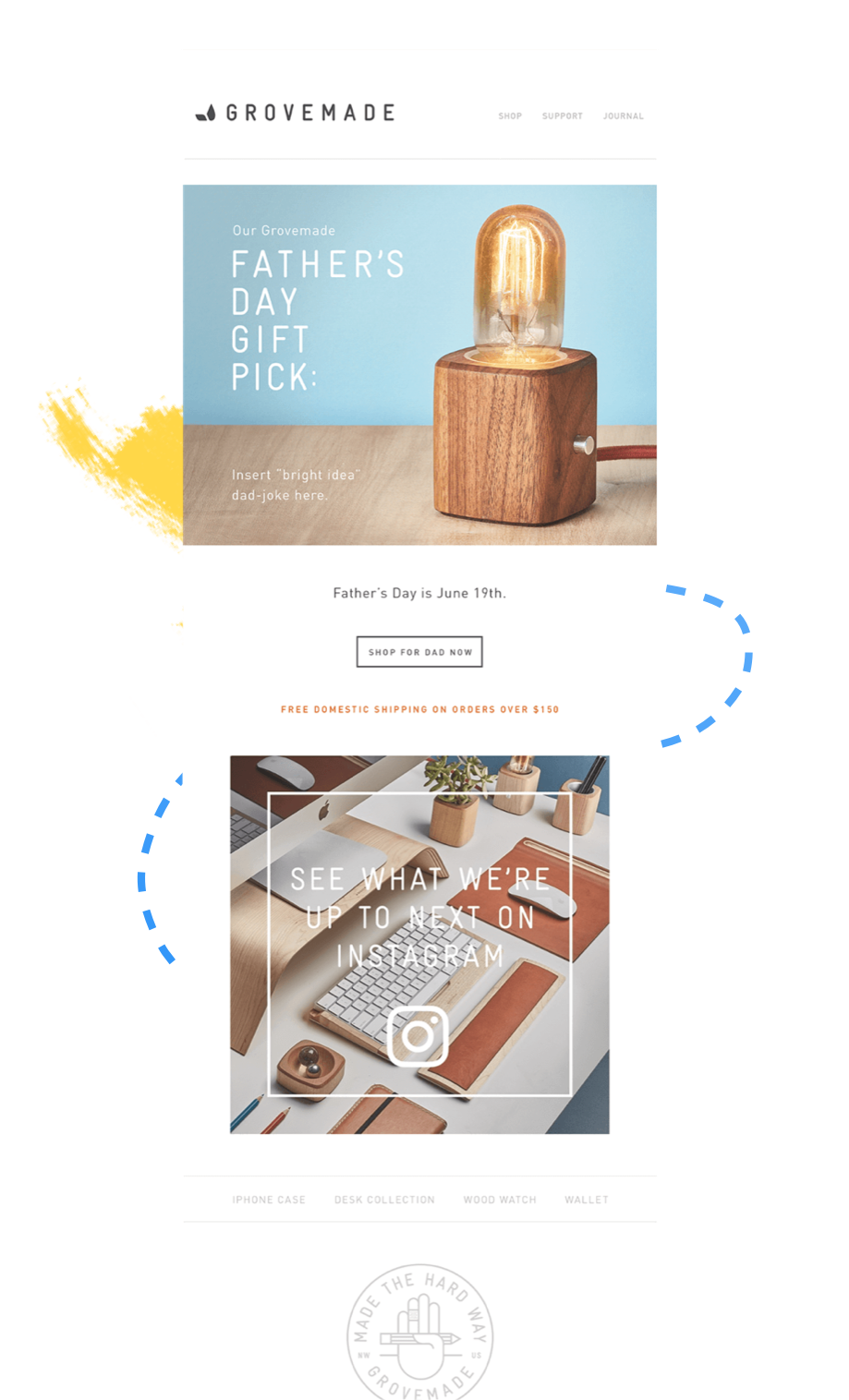 4. Harry's: Times of Their Lives
According to Psychology Today, studies looking at brain activity have shown that when evaluating brands, consumers primarily use emotions (personal feelings and experiences), rather than information (brand attributes, features, and facts). Harry's uses their email campaign to tell a story of father and son that tugs on heartstrings, grounding their brand in something more meaningful than just shopping for gifts.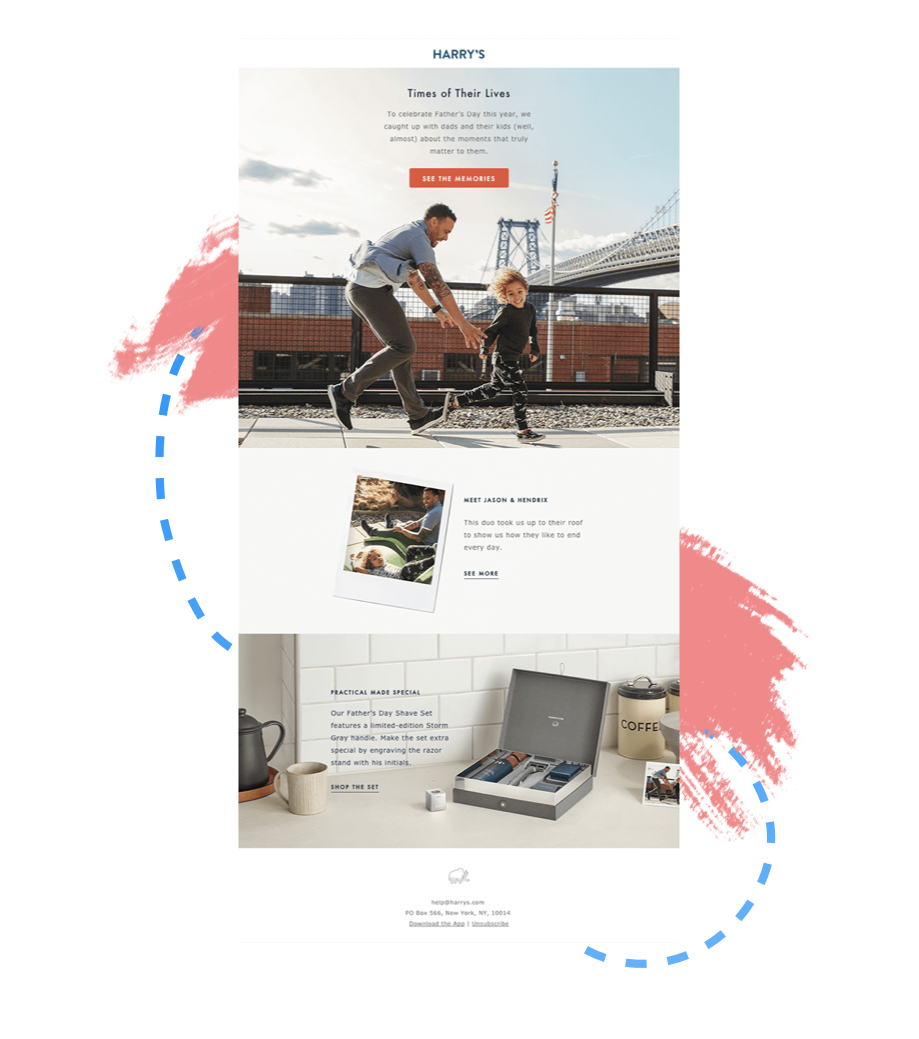 5. JCrew: Get 40% - 50% Off Father's Day Picks
JCrew uses some funny dad joke copy and clear images of potential gifts to promote their Father's Day sales. Tip: If you know the average amount each customer spent around Father's Day last year, you can use it in a strategic way to create a bulk discount that incentivizes larger purchases, like JCrew does here with 20% off your purchase of $100 or more.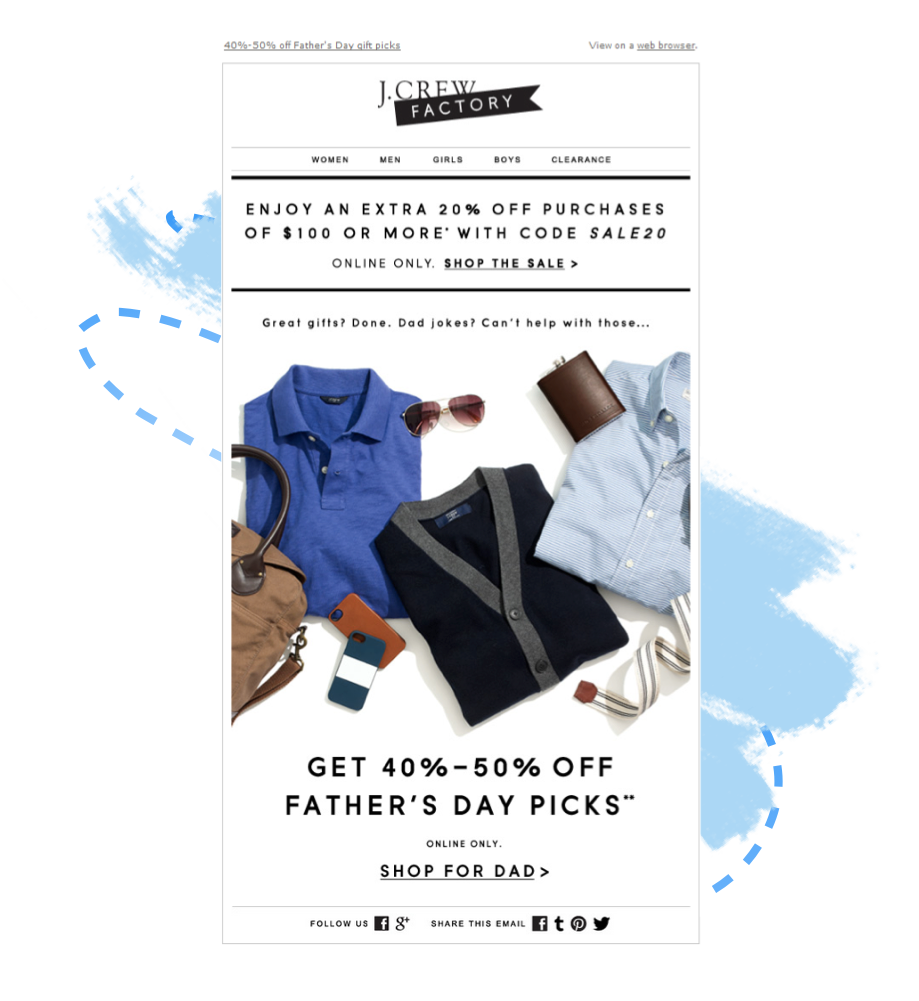 6. Saxx Underwear: Support the Man Who Supported You
Saxx's never disappoints, always hitting the nail on the head with copy and visuals true to their brand. Here they use a discount code with a clear expiry date, encouraging customers to act fast and get in on the sale.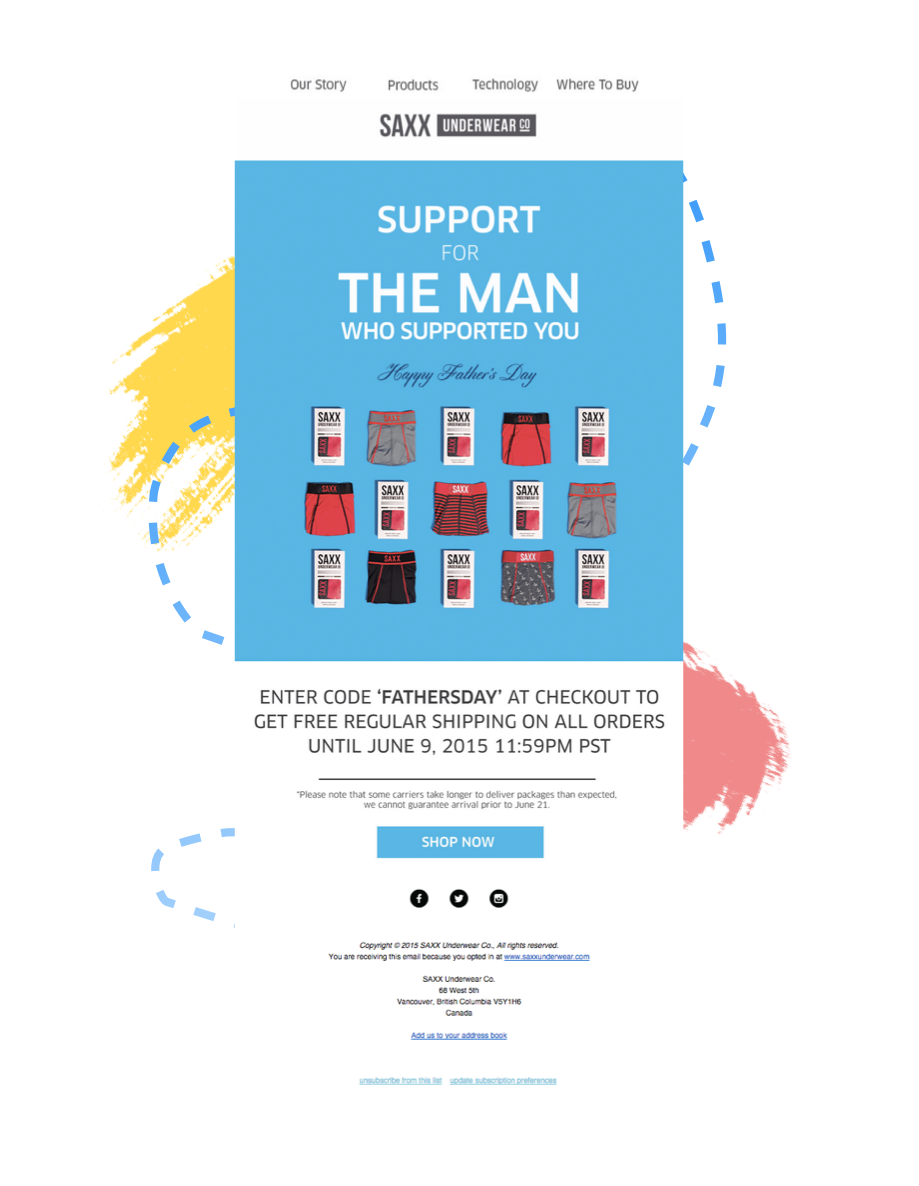 Happy Father's Day!
Now it's time to get templating - combine a few of these tactics to create a clever email marketing strategy that convinces shoppers that they should choose gifts for dad from your store.