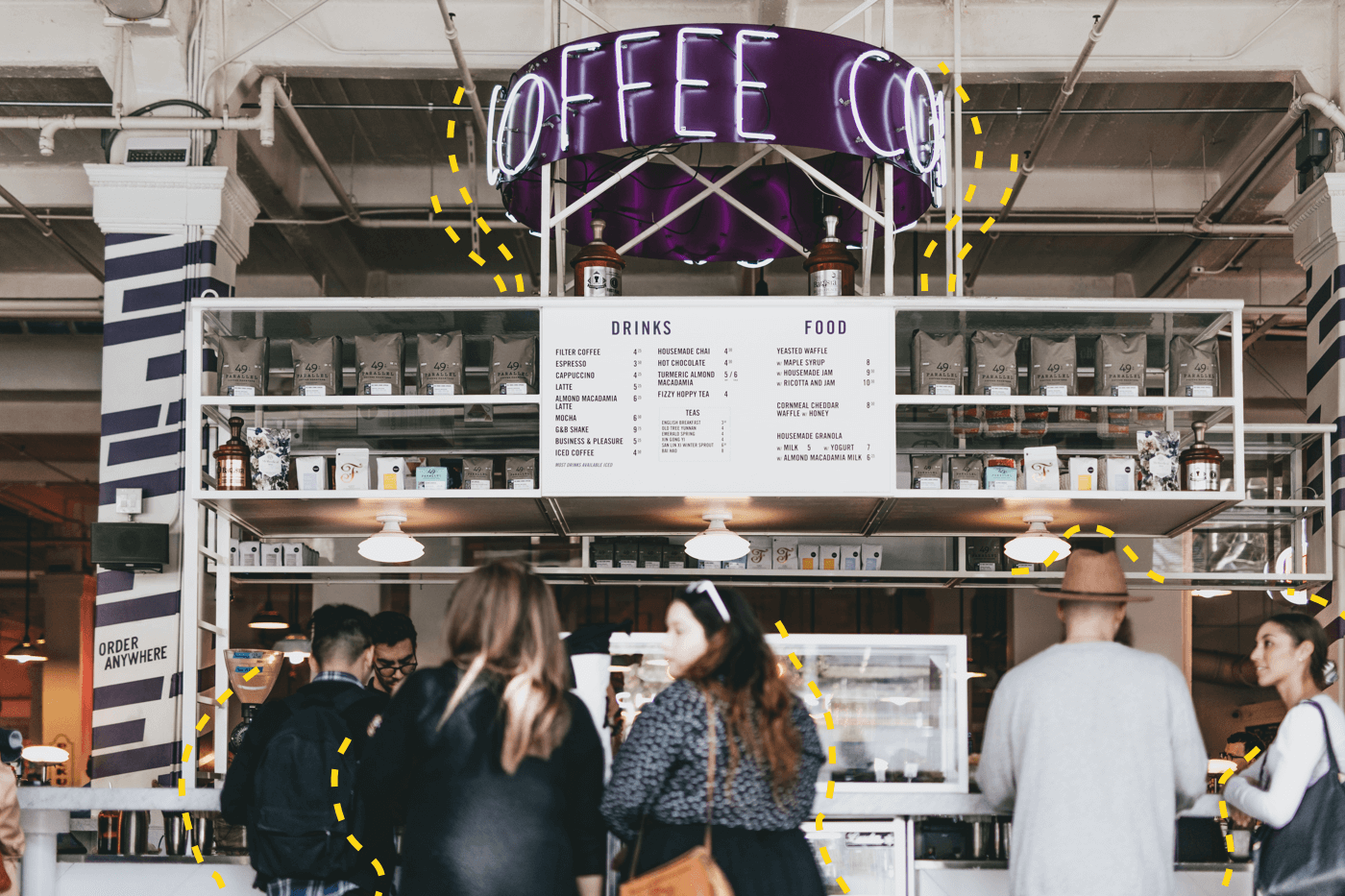 In today's ecommerce landscape, customers are most loyal to brands that have cultivated meaningful experiences for each step of their buying journey. According to a Walker study, customer experience will overtake price and product as the key brand differentiator by 2020. For marketers, this means finding ways to improve customer experience will be top of mind.
The key to differentiating customer experience lies in making your customers feel personally catered to and appreciated. By automating email campaigns, you save time while creating even more impactful experiences when emails are triggered by unique customer actions. More importantly, the more effort you put into developing strong relationships with your current customers, the more repeat purchasers and long term brand advocates you'll create. According to Harvard Business Review, acquiring new customers costs anywhere from 5 to 25 times more than retaining existing ones, so prioritizing current customers is worth your time!
Let's look at the ways you can start leveraging email to create a customer experience that sets your brand apart.
1. Cater to customers at every step of the buying cycle
As mentioned above, you can automate email campaigns triggered on specific user actions for each step of the customer lifecycle. Because these messages feel personalized, they're more engaging and have been found to generate 320% more revenue than non-automated campaigns. Automations range from the first email you send to welcome a customer, to the abandoned cart email reminding your customer to complete a purchase. Check out the 5 automated email journeys you should be sending as an ecommerce brand for some inspiration.
2. Make them feel special on meaningful dates
Everyone loves the friend who shows up with a surprise gift on their birthday - why not be a brand that does this too! Celebrating your customer's special day is a great way to create brand advocates. It doesn't have to stop with birthdays - there are a ton of holidays you can celebrate with a gift with purchase or themed-coupon code. You can even send subscribers something special on the anniversary of when they joined your list!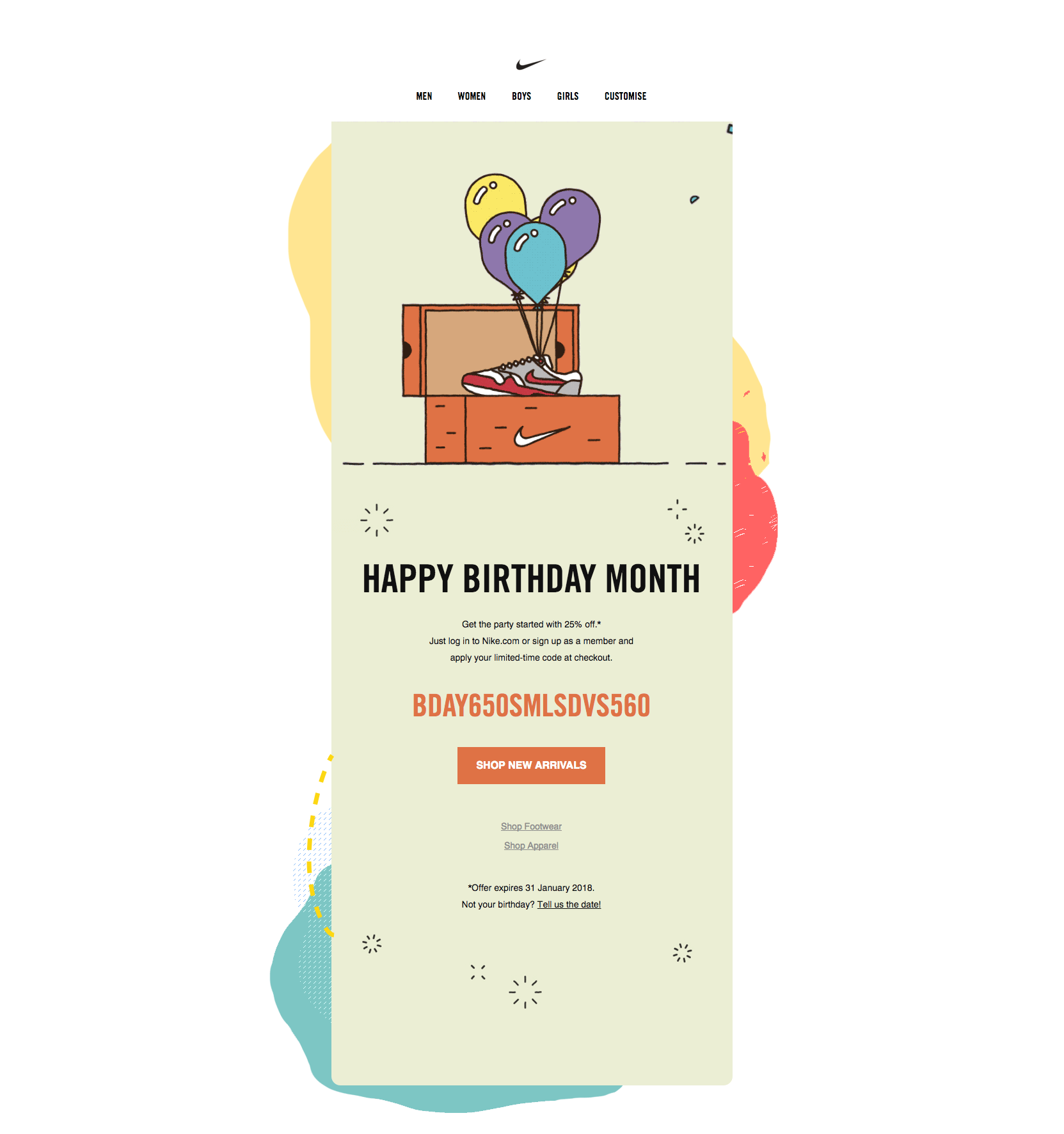 Nike's Happy Birthday email celebrates customers with fun, relevant graphics and an exclusive coupon code for customers to treat themselves. The email is simple, and the coupon code and CTA button are displayed in bright colours to drive clicks.
3. Offer rewards with a loyalty program
According to the 2017 Bond Brand Loyalty Report, 81% of consumers say rewards programs make them more likely to continue purchasing from a brand. You can easily integrate rewards programs like Smile.io into your email campaigns for a more seamless experience where customers organically see their points and status. With Hive's Smile.io integration, you can display a customer's unique point balance in your emails, send an email reminder when they're close to a reward, and segment VIP customers - making it easier to send them exclusive content.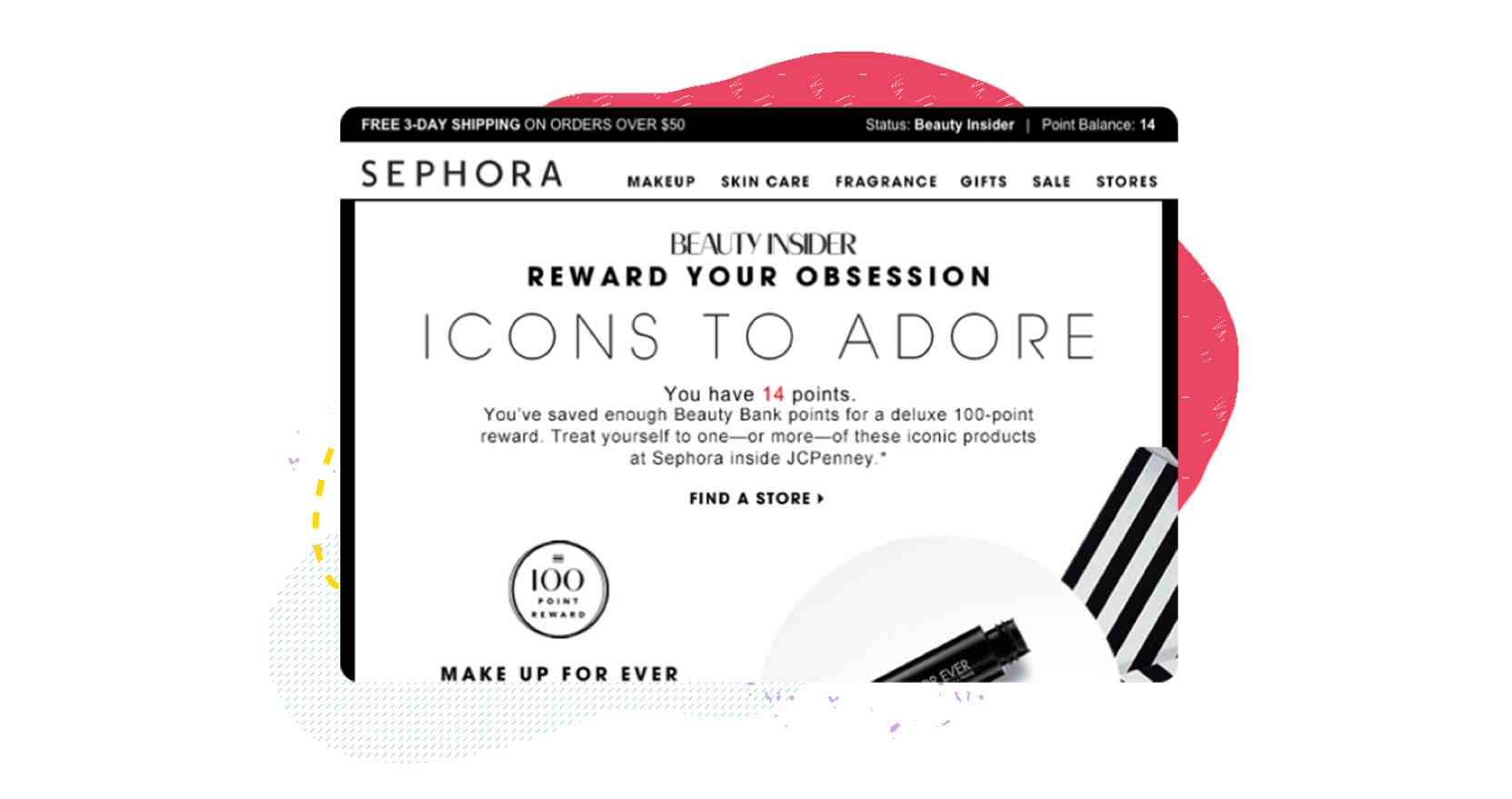 Sephora integrates customer point balances into their emails as a reminder of how many points they have. This incentivizes customers to earn more points so they can redeem them for deluxe beauty rewards.
4. Show your appreciation
Showing you care can go a long way in impacting customer satisfaction and loyalty. 68% of businesses have lost a customer because the customer felt the company was indifferent to them. You can set your brand apart by thanking customers at each milestone, whether it's in a handwritten note or an email is up to you!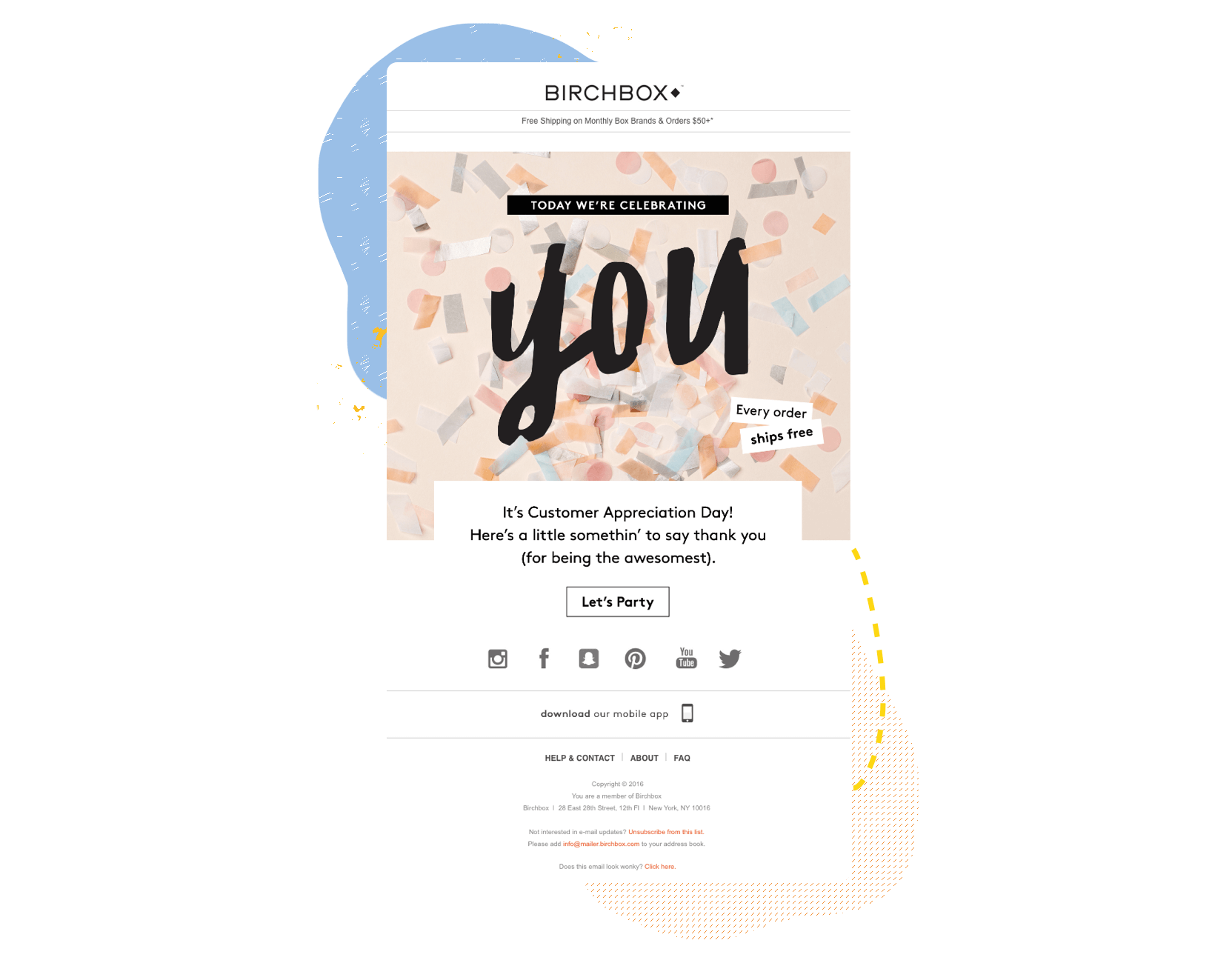 This email from Birchbox expresses appreciation for customers with fun graphics and free delivery. They use copy that makes you smile and a 'Let's Party' CTA to create the ultimate appreciation email.
Tip: If you have location data on your customers, you can strategically host appreciation events in areas where your customers are densely populated.
5. Give your top customers the first scoop
Who doesn't love feeling special?
You can make your VIP customers feel extra special by sharing new arrivals, sales, and event announcements with them first. Not only does this encourage spending, it helps nurture your relationship with them in the long term. You can filter contacts based on how much they've purchased from you, making it easy to send tailored content to your highest value customers. Through Hive's Shopify integration, you can segment by customers in the top spending percentile.
You're ready to leverage email to create meaningful customer experiences!
It's time to integrate these tips into your email strategy to show your customers love! With new customers costing anywhere from 5 to 25 times more to acquire, creating these experiences for customers who you've already acquired can drive real ROI.