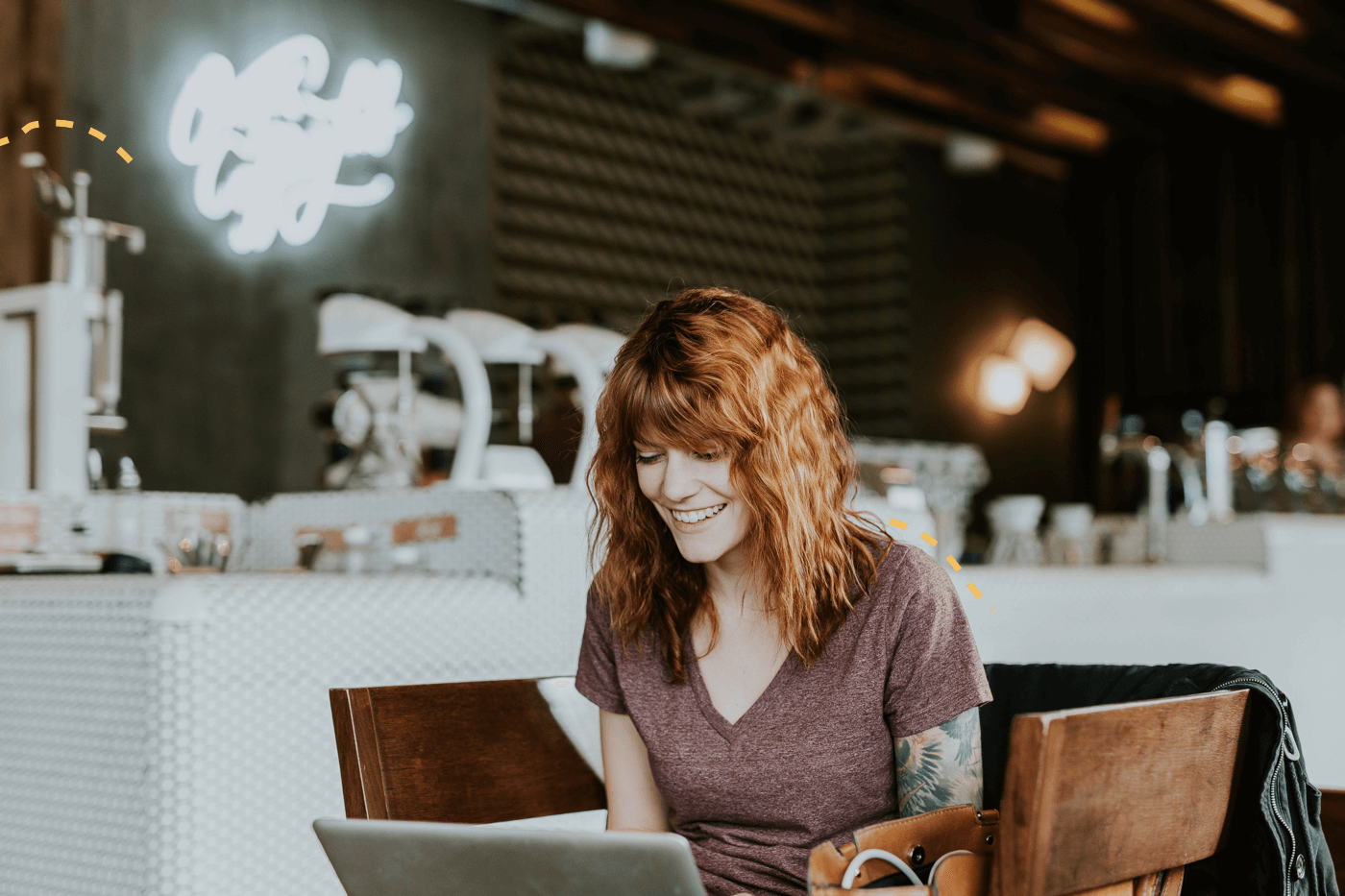 The goal of every brand's email strategy is to engage customers and build stronger relationships with your brand. An ESP like Hive can help you build a strong email strategy focused on maximizing engagement, so you can consistently land in customer's inboxes and never miss out on potential revenue on your Shopify store. Remember, email is still the biggest driver of revenue and has an ROI of 3800%, meaning for each dollar spent you get a $38 return. To make sure you're leveraging the power of email, there are a few key things an ESP can help you do. Keep reading to find out!
IP Warmup & Backend Management
Every ESP manages a pool of shared IPs your emails get sent out on. Your specific sender reputation is built on your unique domain and subdomains, and those IPs. It's important that you choose an ESP that maintains their IP health, and more importantly, one that helps you ramp into your sends and build a strong sender reputation. Luckily Hive has automated IP warming and does the hard work for you! Without IP warming, you're not laying the foundation to make sure your emails are consistently getting opened which could lead to them being sent to spam.
So, what is IP warming?
IP warming is the process of slowly ramping up your sending volume over time, in order to establish a positive sending reputation. You do this to make sure you have a positive reputation with ISPs like Gmail, Outlook and Yahoo, so your emails consistently land in customers' inboxes.
If you don't warm up your IP before sending out emails, ISPs see you as a suspicious brand and are more likely to send your emails to spam.  Hive's auto IP warmup ramps into your sends by sending to your most engaged subscribers first, signalling to ISPs that recipients want to be receiving your emails as engaged subscribers are likely to open and click. Sending to big chunks of your list right away and not warming up shows erratic sending behaviour (big spikes in volume), and over time, ISPs may start blocking you from sending email. It's important to build a positive sender reputation from the start, as it's harder to repair this once it's damaged.
Smart Sending
Smart sending is all about sending the right emails to the right people at the right time. You should never send blasts to your whole email list because that's a surefire way to hurt your deliverability and get sent to spam. Instead focus on sending emails to your most engaged customers, and winback your inactive and at-risk customers with strategic campaigns.
Segment By Engagement Levels
Though email lists churn at an average of 22% per year, most marketers don't have visibility into which individual subscribers are about to fall off. Unlike other ESPs like Klaviyo and Mailchimp that make you manually create dynamic segments and then filter based on past engagement data, Hive automatically buckets customers into new (have received less than 5 emails), active (engaged with any of the last 5 emails received), at-risk (haven't engaged recently but received at least 5 emails), inactive (haven't engaged with the last 10 emails), and invalid (unsubscribed, bounced, or spam complained) segments.
Check out this blog on the power of engagement levels and why you should be using them as part of a strong segmentation strategy.
On average, 66% of customers in an email list fall under inactive so take extra care in making sure you don't continue emailing them, which could cause them to unsubscribe completely. When you leverage their previous engagement data, you can better tailor their email experience based on the unique relationship they have with your brand so far. With this segmentation strategy, you can differentiate between customers that love your brand and want to continuously hear from you, and those that have lost interest and haven't engaged in a while.  Continuing to email those unengaged customers will lower your overall opens and clicks, and damage your deliverability to all your subscribers (even your engaged ones)!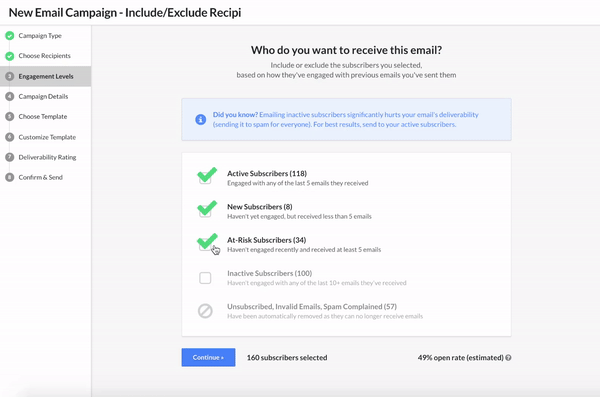 Trigger Automations Based On Customer Behavior
Email automations are an important part of creating a brand experience that's unique to each customer! You can cater to your customers' needs by sending hyper-targeted emails based on their actions on your site. With Shopify Email, you're not able to send automated email campaigns without integrating with a third party app. With Hive in your toolkit you can build your own automation or use pre-built journeys for everything from Welcome automations to New Customer Thank Yous, and Abandoned Cart automations that make it easy for you to engage customers at every step of their buying journey.
Welcome Automations
There's no other way to put it, a Welcome automation is essential to a strong email strategy! Over 74% of customers expect to receive one once they've signed up to your list. Welcome emails have a 91% open rate because at this point they've just expressed interest in hearing from you. With an ESP like Hive, setting up a welcome automation is as easy as 1-2-3. Don't believe me? Try it out for yourself!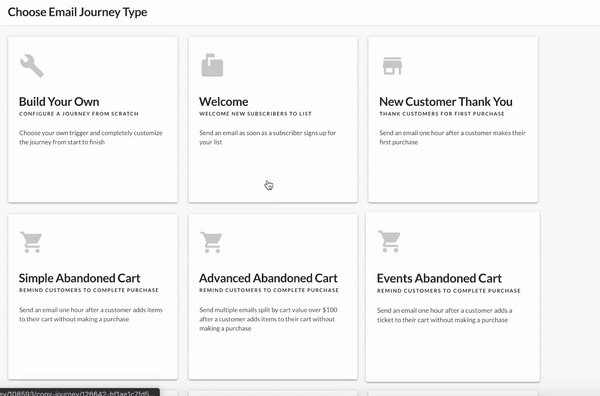 New Customer Thank You Automations
There's a lot of competition out there meaning you need to differentiate yourself enough so customers choose you over another brand. A great way to do that is by creating a New Customer Thank You automation on your ESP! Showing new customers that've made a purchase some extra appreciation is one of the best ways to set your brand experience apart, and build brand loyalty.
Abandoned Cart Automations
Most ESPs will recommend you set up an Abandoned Cart Automation so you don't lose out on potential revenue. About 70% of customers that start a checkout don't end up completing their purchase but Abandoned cart emails average a 10% conversion rate, meaning more engagement and more money for your brand.
Browse Abandonment Automations
Go one step further and engage the 39% of customers that browse products without making a purchase. Browse abandonment emails have an even higher conversion rate (12%) than simple abandoned cart email, meaning for every 1200 customers leaving your online store, you could be making 120 more sales - money that would otherwise be left on the table. These are hyper-targeted emails that get more engagement because of the relevant timing and targeted messaging.
Using Conditional Splits
With an ESP like Hive you're able to send hyper-targeted automations using conditional splits which leads to better targeting, better engagement and improved deliverability. A good ESP will recommend setting up conditional splits for your abandoned cart automation based on customers' cart value, and sending specific emails geared towards high value carts and low value carts
Use An ESP And CRM In One For Better Segmenting
When you have thousands of subscribers, it's difficult to maintain a holistic view of your email list, and you might end up sending content that your subscribers aren't interested in. An ESP like Hive that also works as a CRM makes it easy for you to manage all of your subscribers without the hassle of dealing with multiple fragmented lists. With Hive's CRM you're able to get a full view of your subscriber base and can filter your entire contact page with 100 different parameters directly on your contact list.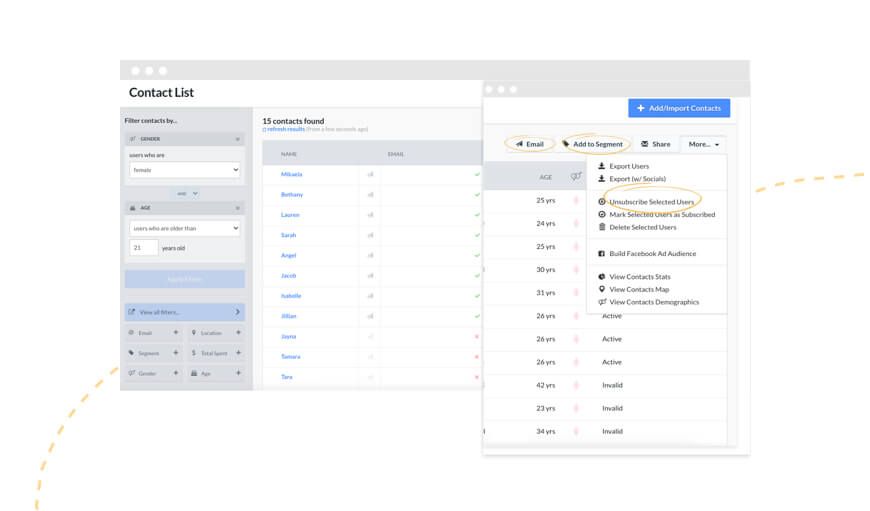 In Hive, you can create both live and static segments based on your brand's needs. Static segments are updated manually while live segments update over time as subscribers' enter and exit the filters you set. With Hive's CRM, you're able to create unlimited segments based on past purchase behavior, demographic, or location data to send hyper targeted emails with no extra cost for subscribers that live in multiple segments. It's a surefire way to increase your engagement over time because you're only sending emails that are super relevant to your customers needs.
Send Beautifully Designed Emails Optimized for Engagement
While Shopify Email lets you create emails based on their branded templates, there aren't many options to customize for your brand's needs.
That's where Hive's template builder comes in! You have the flexibility to either send emails based on pre-built templates or create your own based on some best practices!  It's fully customizable so you can send emails that are fully catered to your customers' needs.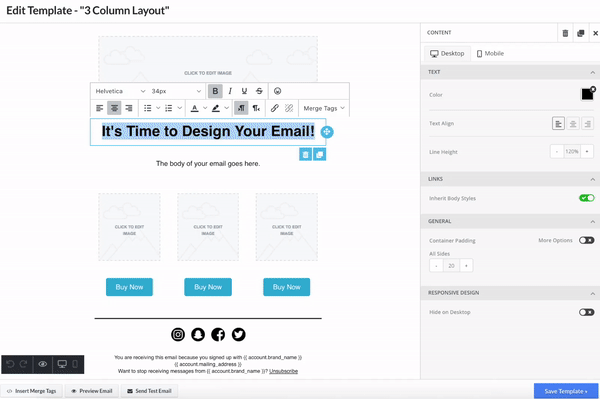 Make Sure Your Emails Are Personalized
Always make sure your emails are as personalized as possible! That includes merging in first names, recommending products based on their preferences, or even giving them something special on their birthday.
Clear CTA
One of the most important features of an engaging email is the CTA. Make sure customers know what to do and it's clearly visible above the email fold. Having clear CTA's will translate to higher conversions.
Social Icons
It's always important to include social icons so customers can stay connected to your brand. It's all about building that relationship and enhancing their brand experience!
Wrap Up
A good ESP is the backbone of a strong email marketing strategy. If you're on Shopify, adding a powerful ESP like Hive to your toolkit will help you build stronger customer relationships that sell more, and keep customers coming back. The built in features in Hive focus on engaging customers in meaningful ways, ensure better deliverability,  and make it easier for you to send engaging emails that will drive higher conversions in the long run.
Ready to give Hive a try? Here's our 10 day free trial!