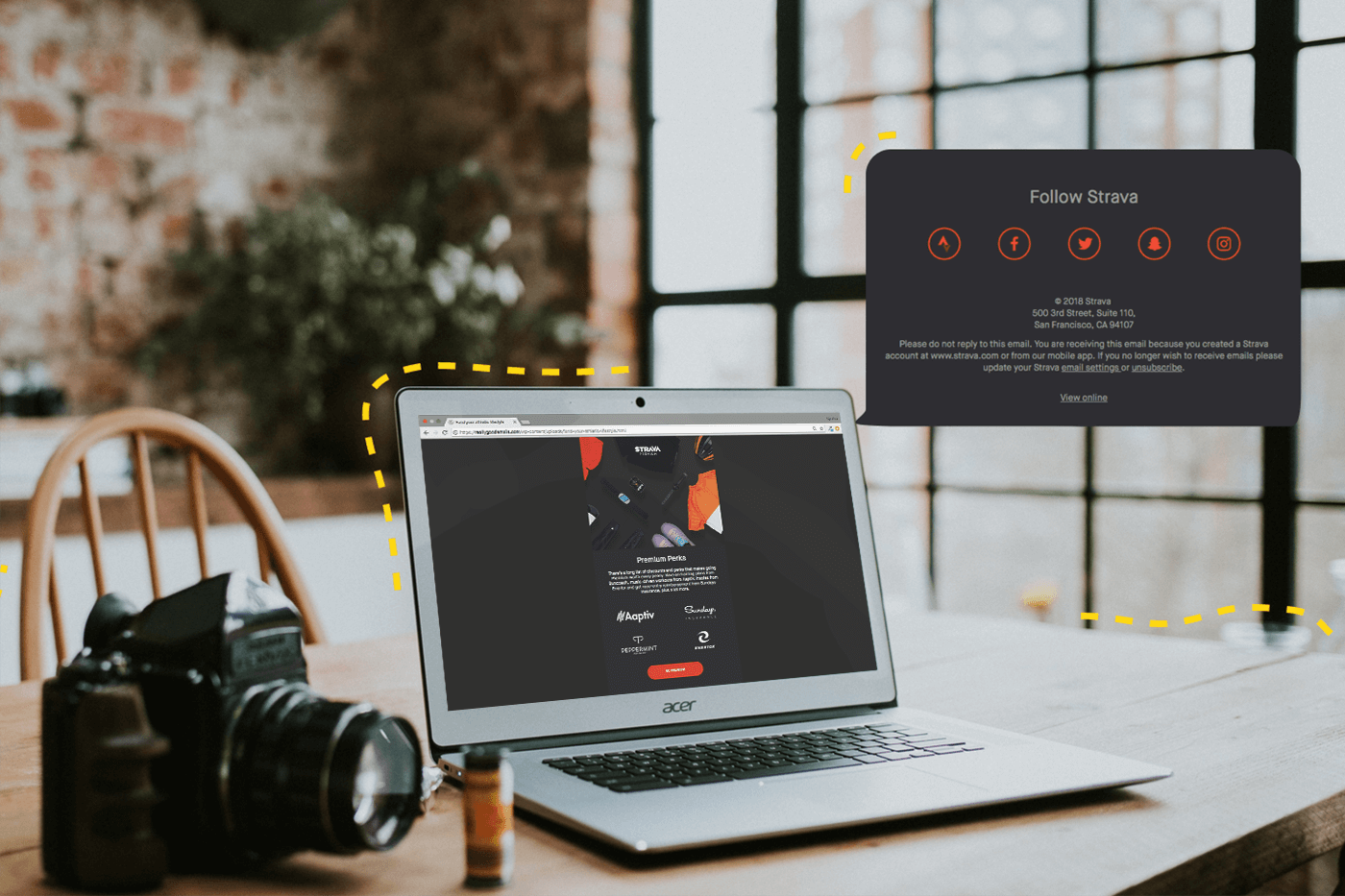 When it comes to crafting the perfect email, most marketers focus on getting the right message across through a combo of killer copy, impactful graphics, and alluring CTAs. What you're probably not thinking about? Your email footer.
It might not be the first thing your subscriber sees when they open your email, but your footer plays an important role in continuing their brand experience, providing other pertinent information about your brand. Your footer can also make a difference when a customer thinks about unsubscribing.
Let's gain inspiration from five super impactful email footers 👉🏼
1. Make sure you comply with spam laws like Madewell
We can't write a blog about email footers without going over the components that are required by North American spam laws. Madewell is a great example of a brand that complies with all the requirements.
Here's a checklist to help you make sure you're also in compliance.
Include:
Company Name
Physical Street Address
A link to unsubscribe or manage email preferences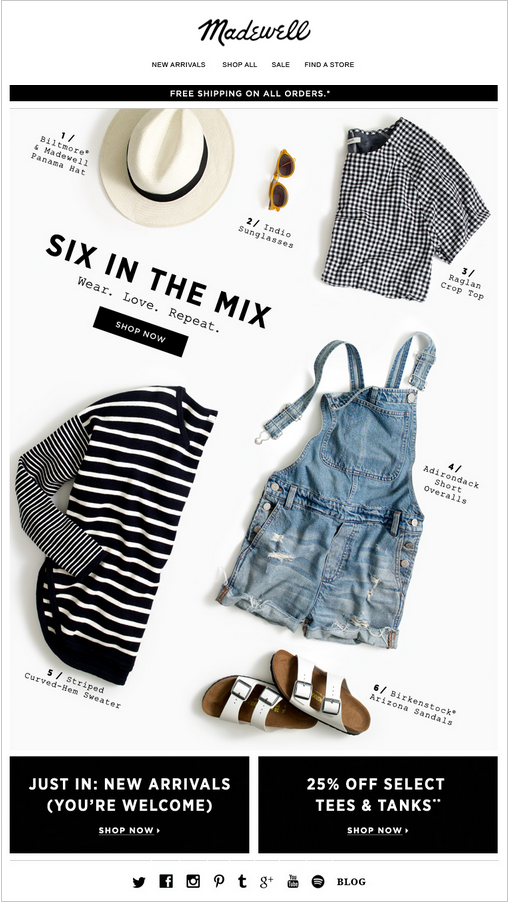 2. Use color to drive clicks like Strava
Strava strategically uses a pop of colour in their email to capture their subscribers' attention. Their email is fairly minimal, with the exception of the bright orange that's used to draw subscribers to their CTAs ('Go Premium' and social icons in the footer).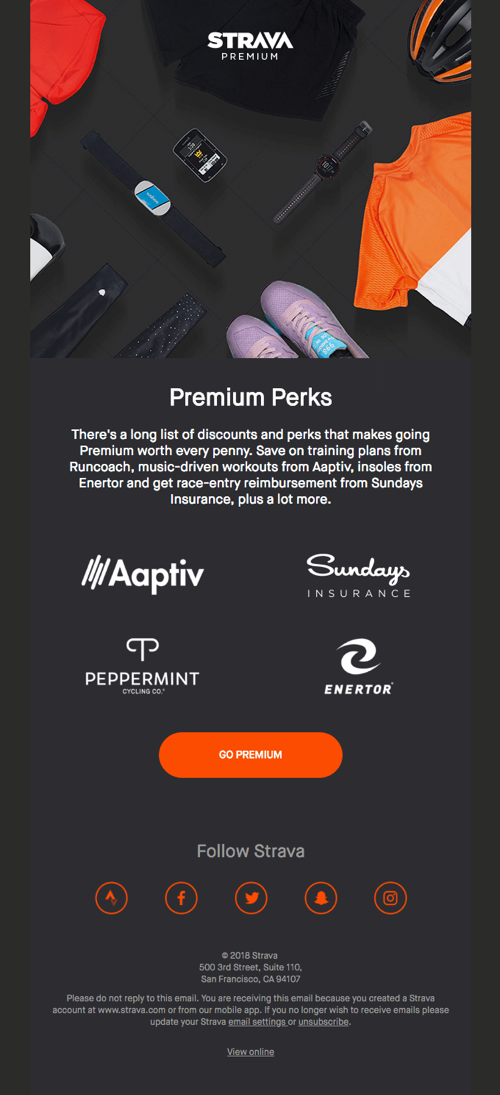 3. Emphasize brand values like Taylor Stitch
The first thing you see in Taylor Stitch's email footer is a link to their customer support. By placing this URL at the top of their footer, the brand shows that they value their customer relationships and are always around to help. Their footer also emphasizes their mission statement, which is bolded to enforce their values, further establishing an opportunity for customers to feel connected to the Taylor Stitch brand.
Tip: Including a link for subscribers to manage their preferences is a great way to deter them from completely unsubscribing. Bonus points to Taylor Stitch for including it in their email footer, but minus points for forgetting to include their mailing address!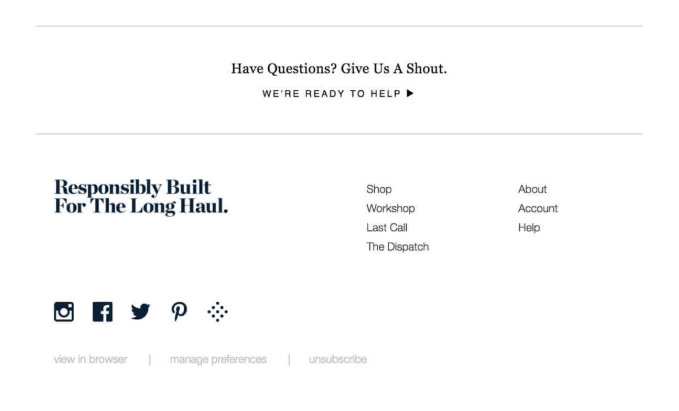 4. Balance community with e-commerce like Nike+ Run Club
Nike+ Run Club's email footer is jam packed with educational elements for subscribers, balancing their goal of building a community for runners and encouraging subscribers to complete a purchase. The top section of the footer focuses on providing value to subscribers, demonstrated with recipient-oriented links including how to Find a Run Club, download the Nike+ Running App, or download a guide on running. The bottom half of the footer is e-commerce oriented, with four easily understood icons that highlight the ease of purchase online.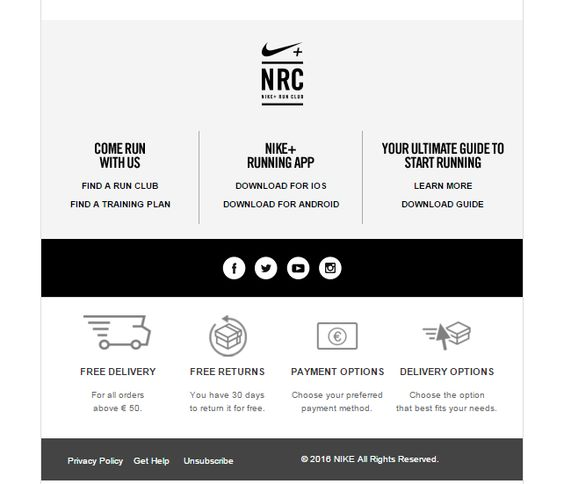 5. Encourage App Downloads like Plated
If your brand has an app, your email footer is a great place to showcase it. Plated strategically adds a button for subscribers to download their app right in footer, not only letting recipients know that they have an app, but also leveraging their existing email list to maximize downloads.
Feel inspired? Get cracking on your email footer.
Congrats, you now have a pretty cohesive understanding of the email footer landscape - one could say you might be an email footer connoisseur 😂 Now it's time to implement these tips into your own email footer for your next campaign! Remember, your footer is valuable email real estate - use it to help your subscribers feel connected to your brand, and give them a reason to stay subscribed!