As the weather gets warmer, many online retailers see a dip in sales (as high as 30% compared to peak months). But don't be dismayed by these stats - summer is a great time to get creative with your marketing tactics and embrace the excitement of the season! Customers are getting ready to replenish their summer wardrobes, snag a hot discount, or stock up for vacation. To get your creativity flowing, we've collected 5 summer email templates sure to heat up your customers' inboxes.
1. MEC: Kick off camp season with free shipping
MEC comes in strong with their subject line right off the bat - embracing seasonal trends and offering an incentive for customers to start shopping. They know customers are beginning their camping seasons on the May long weekend, so they've given them everything they need to get geared up in one place. Add in some urgency and a sprinkle of escapist copy, and you're as good as gold.

2. Penguin: 📚 + ☀️ = 🎉🎉🎉
We love a good emoji, and Penguin uses them here in a fun, engaging way. This email screams summer and they do a great job using the season to their advantage. Like MEC, they make it easy for customers to find exactly what they're looking for by highlighting hot summer reads. The vibrant colours are seasonal and attention-grabbing, and varying images and text draw the eye through the email. In the end, a summer-y and on-brand literary quote ties the email together.

Related: 5 Tips to Design a Beautiful Email
3. Net-A-Porter: Upgrade your getaway style
Net-A-Porter combines ecommerce and editorial content in their email to provide a valuable and seamless experience for the reader. Customers can read through for fashion inspiration and shop the pieces all in the same place. The enticing copy reads like a magazine, helping chic and aspirational summer style feel accessible through the brand. Low-key CTAs throughout make it easy for customers to click over to the site at any point in their journey, without an aggressive sales approach.

4. DAVIDsTEA: Check out these crowdpleasers
Sometimes short really is sweet. This email from DAVIDsTEA packs a punch, using intense, contrasting colours to highlight their CTA, showcase their products, and leave us feeling thirsty. The result is a highly effective email that invokes summertime and bolsters their brand.
Tip: Mixing shorter emails into your strategy alongside longer newsletters can help keep customers engaged and let you test what content they respond to most.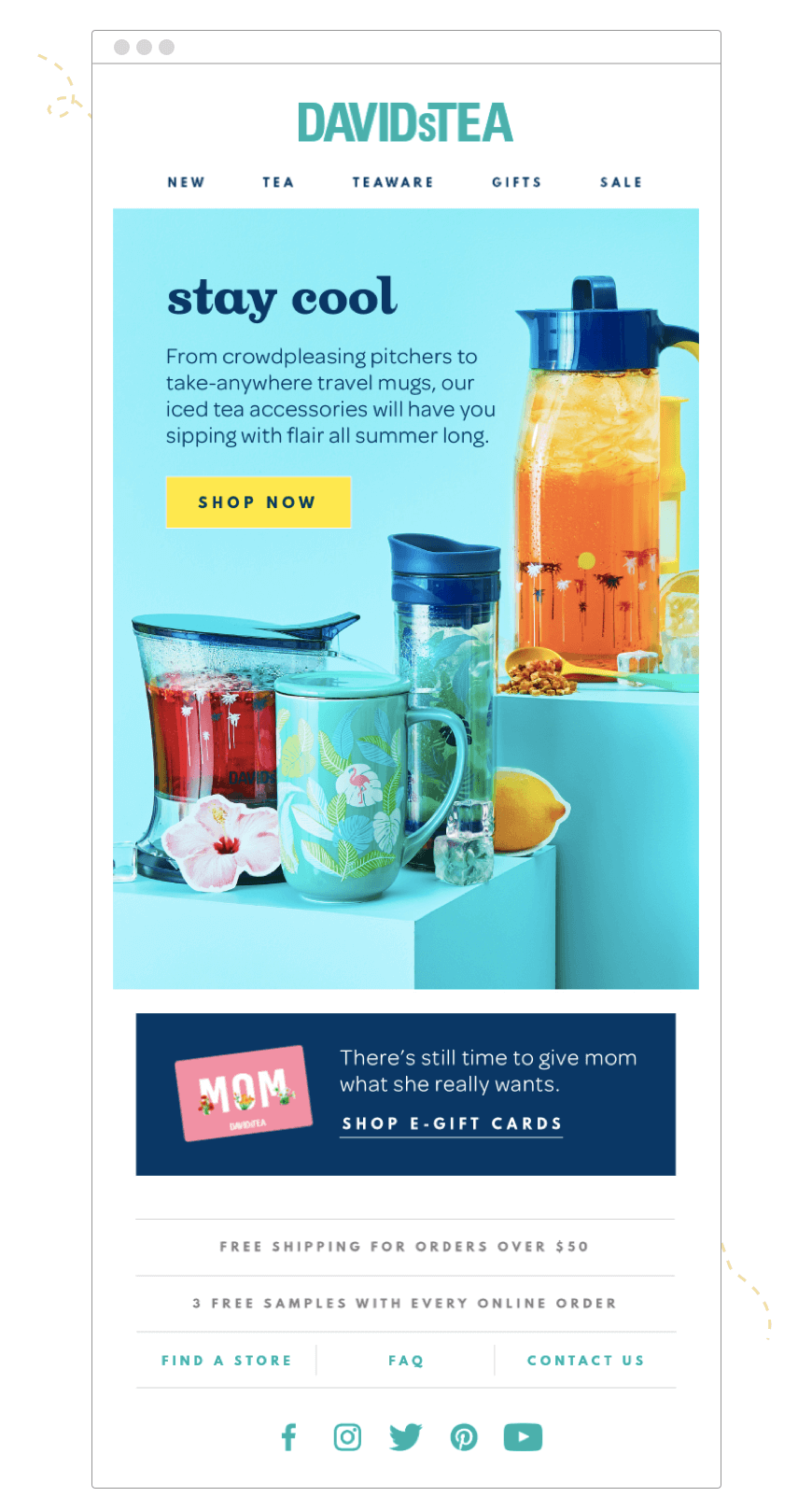 5. Aerie: Tan lines, sunshine & 50% off shorts & swim!
Rhymes and a deep summer discount - what more could we ask for? Aerie puts their sale front and centre here using large fonts and clear CTAs. A sale is a great way to kick off a new season or collection! Keep scrolling and you'll see they use layered images to emphasize their fun, laid back brand and tie in other summer items to cross-sell to potential customers.
Tip: A shoppable footer menu can be an effective way to showcase a broader range of products and get customers onto your site at the end of an email.

Get creative with your own campaigns!
Summer is the perfect time to experiment, whether creating new templates or A/B testing campaigns. Find a way to build on summer excitement using your own products and you might be surprised by what the warm weather brings in.