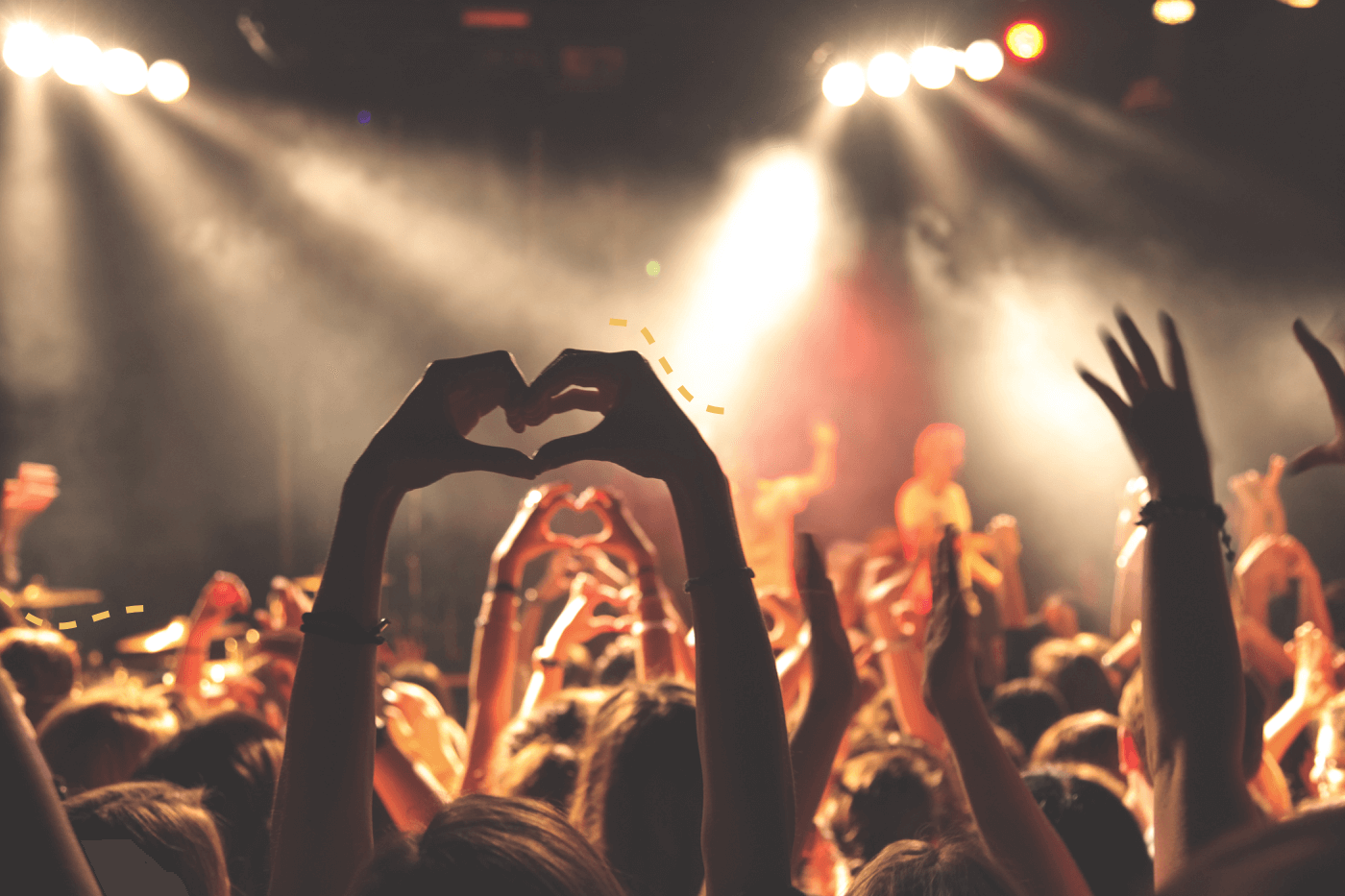 With music events currently at a standstill, fans want to stay connected with their favorite artists through physical mementos! Fans love merch, making it a 230.3 billion dollar industry and growing 9.9% every year. With stats like these, now's the perfect time to design emails that drive traffic to your online store. With the templates below, you can leverage email to increase your merch sales and stay connected with your #1 fans. Let's dive in!
Include Personal Touches in Your Emails
Subject Line: South Of The Border…
Ed Sheeran's promotional email highlights his new music video and specially made merch at the bottom. Ed's note at the top adds a personal touch that makes it feel like it's coming straight from the artist and less like a promotional campaign.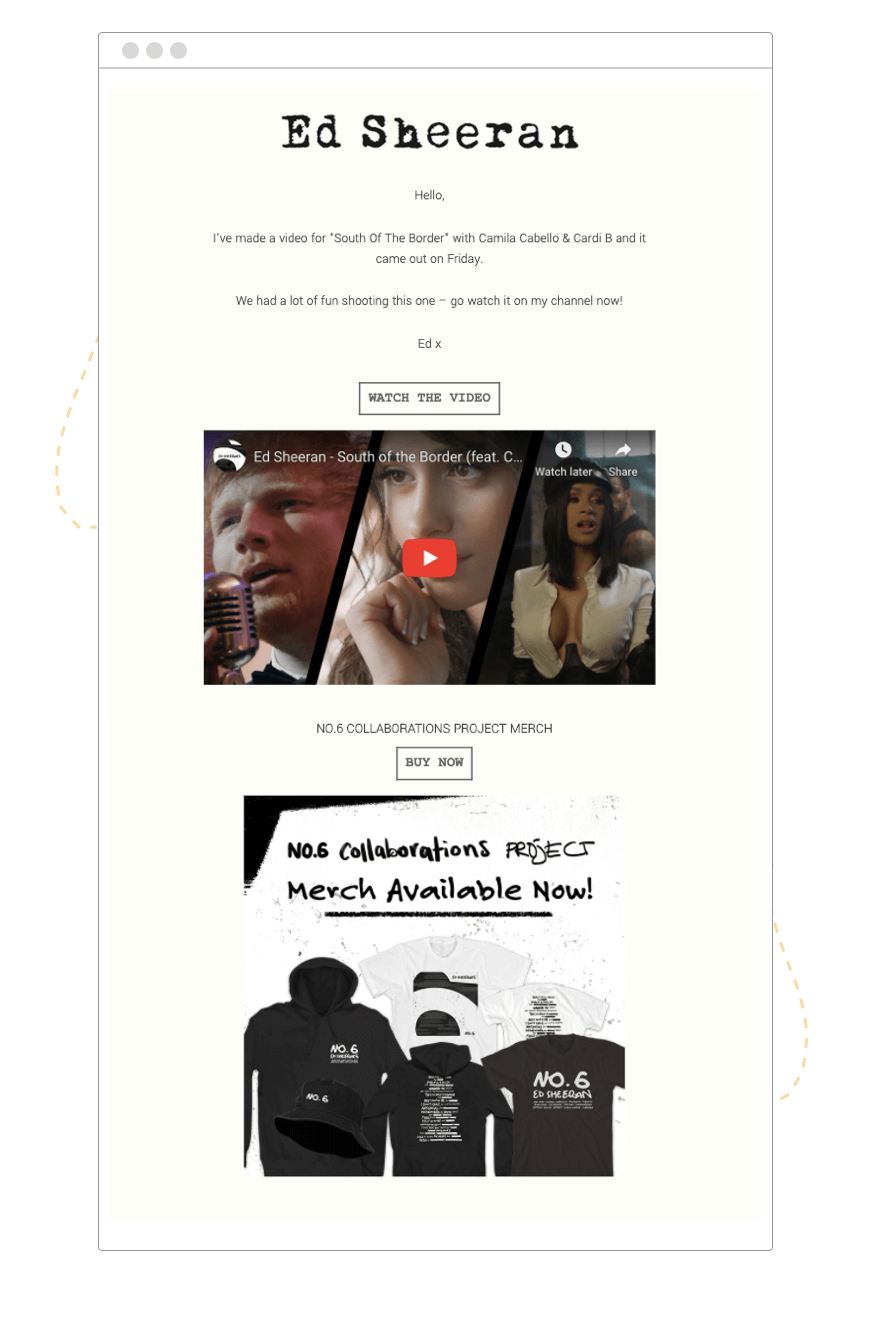 Add Freebies
Subject line: Free Gift With T-Shirts!
This email includes merch from Ed's Divide World Tour for fans that couldn't make it to a show but still want a piece of the action! Placing the different merch pieces next to the free wristband banner is a great way to encourage fans to shop now.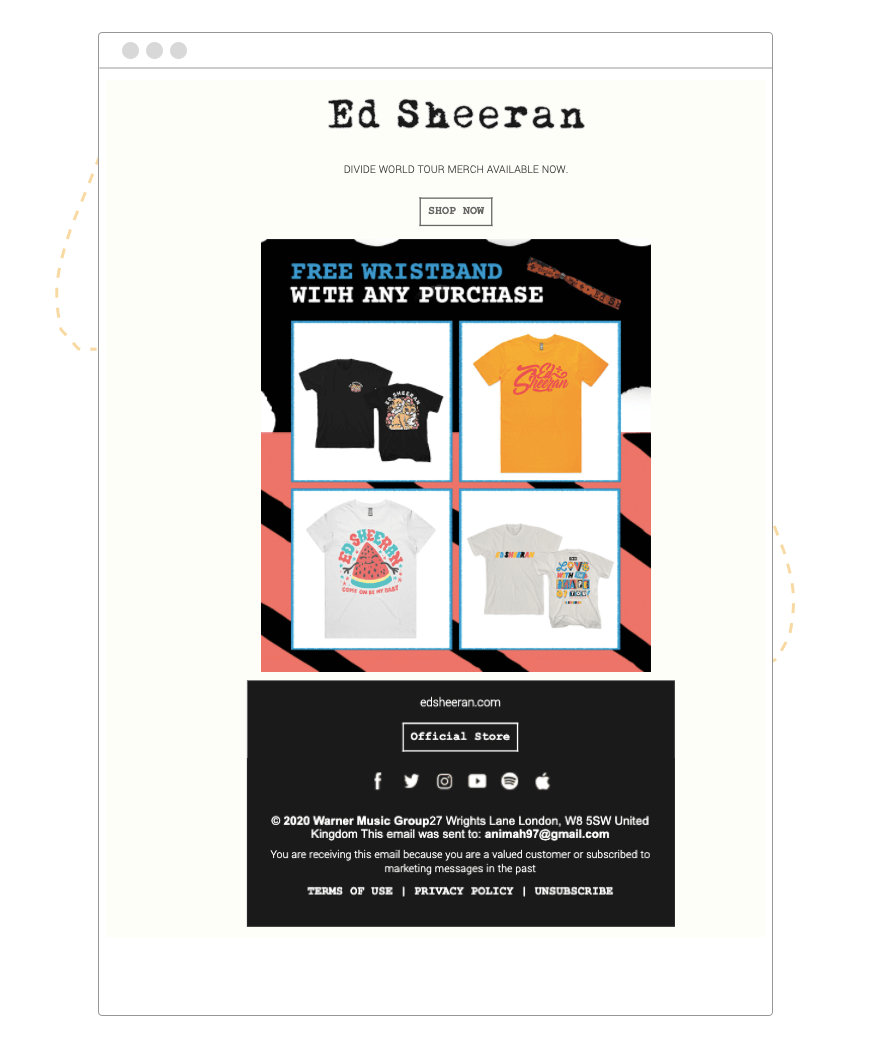 Include Loyalty Programs
Subject line: All the Disney+ we're obsessing over (& shopping)
Hot Topic is a merch store with hundreds of different brands under their umbrella. With a loyalty coupon program like Hot Cash, customers feel like they're getting something extra with their purchase, which entices them to spend more. The clear CTAs make it super convenient for customers to be redirected to their product of choice.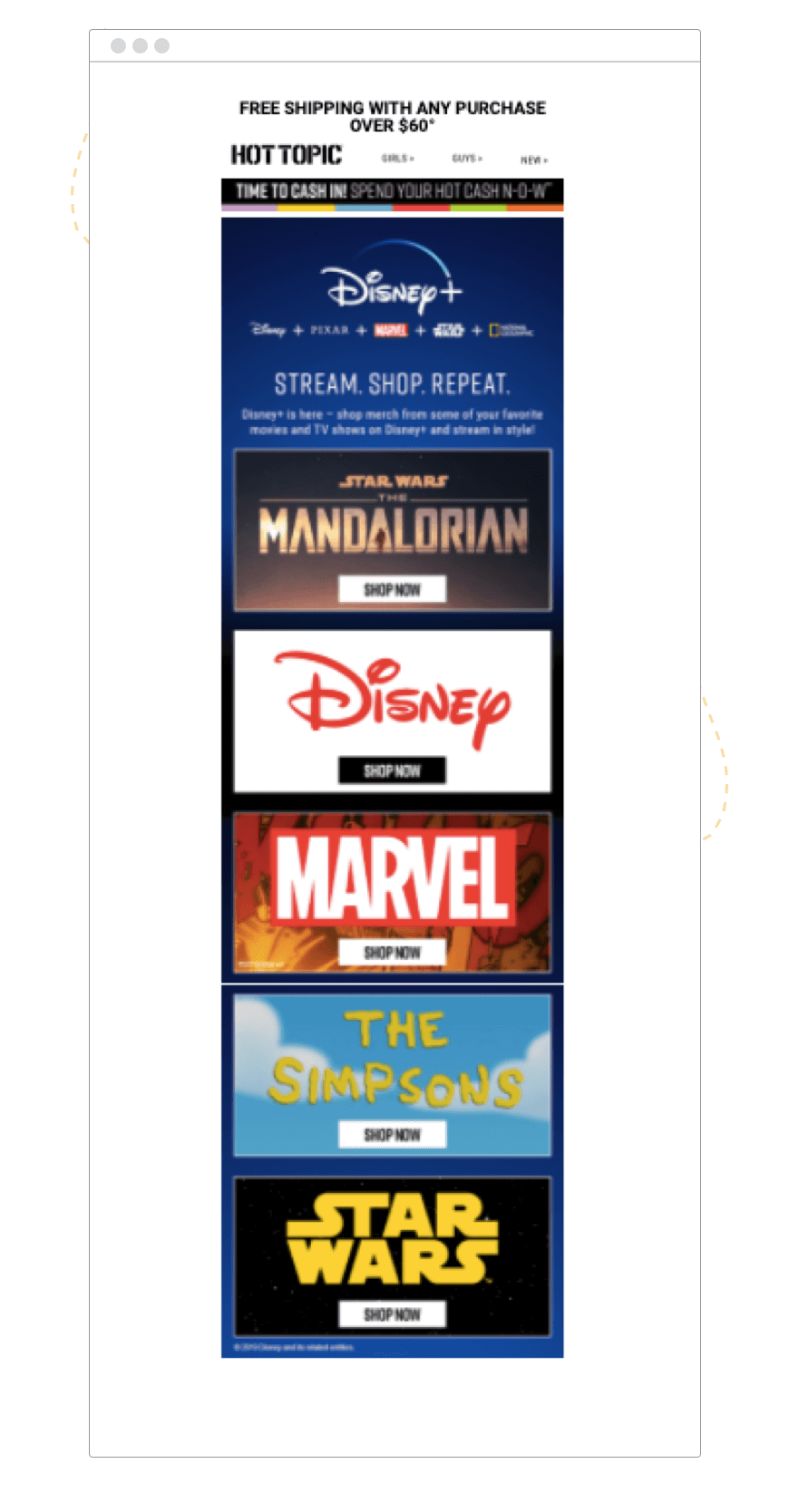 Reward your Top Buyers with Discounts
Subject line: We're feeling the love 💜
In your next campaign, leverage automated emails like the one below to build stronger relationships with your top customers. This Dolan Twins' email rewards frequent purchasers with 15% off their next purchase and includes a personalized coupon code and CTA that takes you directly to their merch shop. Use this as a guide to show your biggest fans some extra love!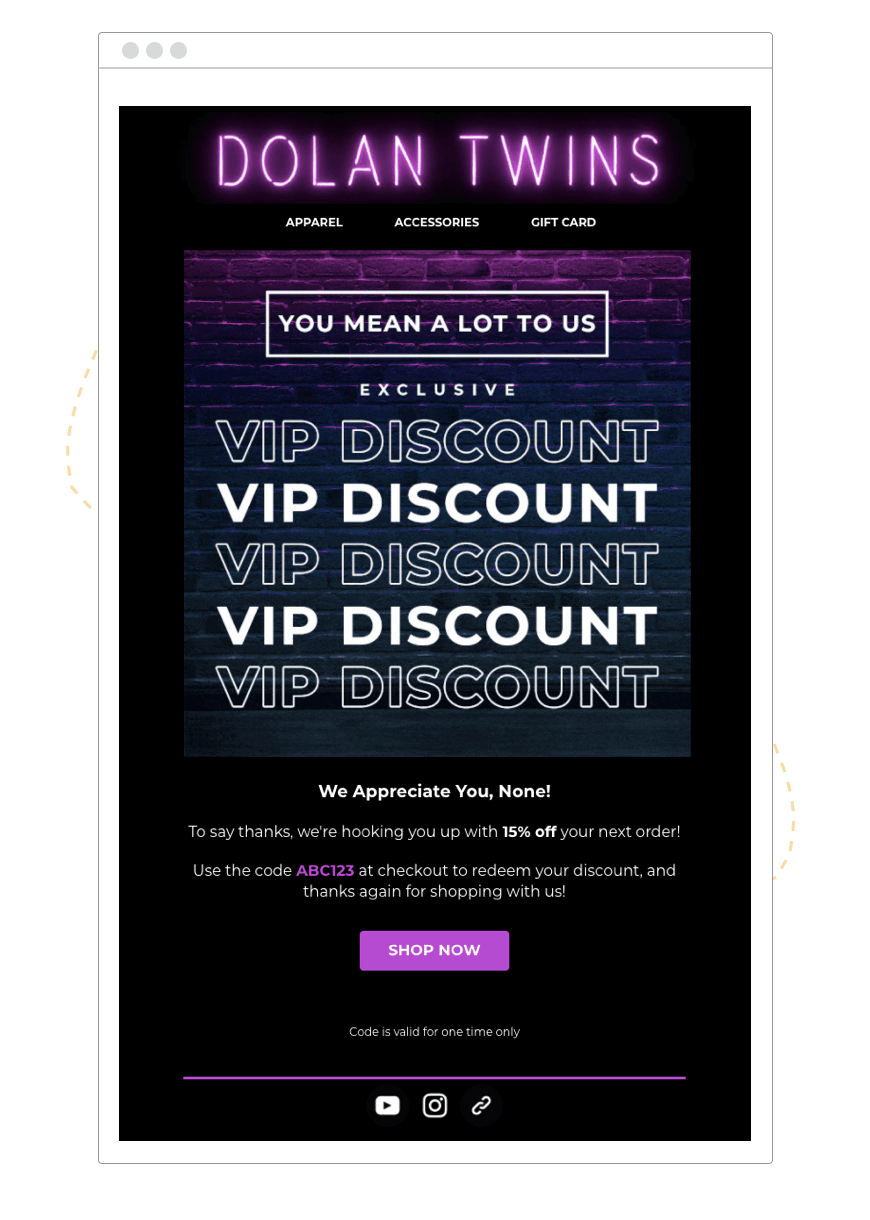 Wish Your Fans a Happy Birthday!
Subject line: Happy Birthday!
Who doesn't love getting birthday presents? With this automation, you can celebrate your fan's birthday with 15% off their next purchase. Most birthday discounts only last for a limited time so it's a great way to encourage customers to purchase within a set time frame!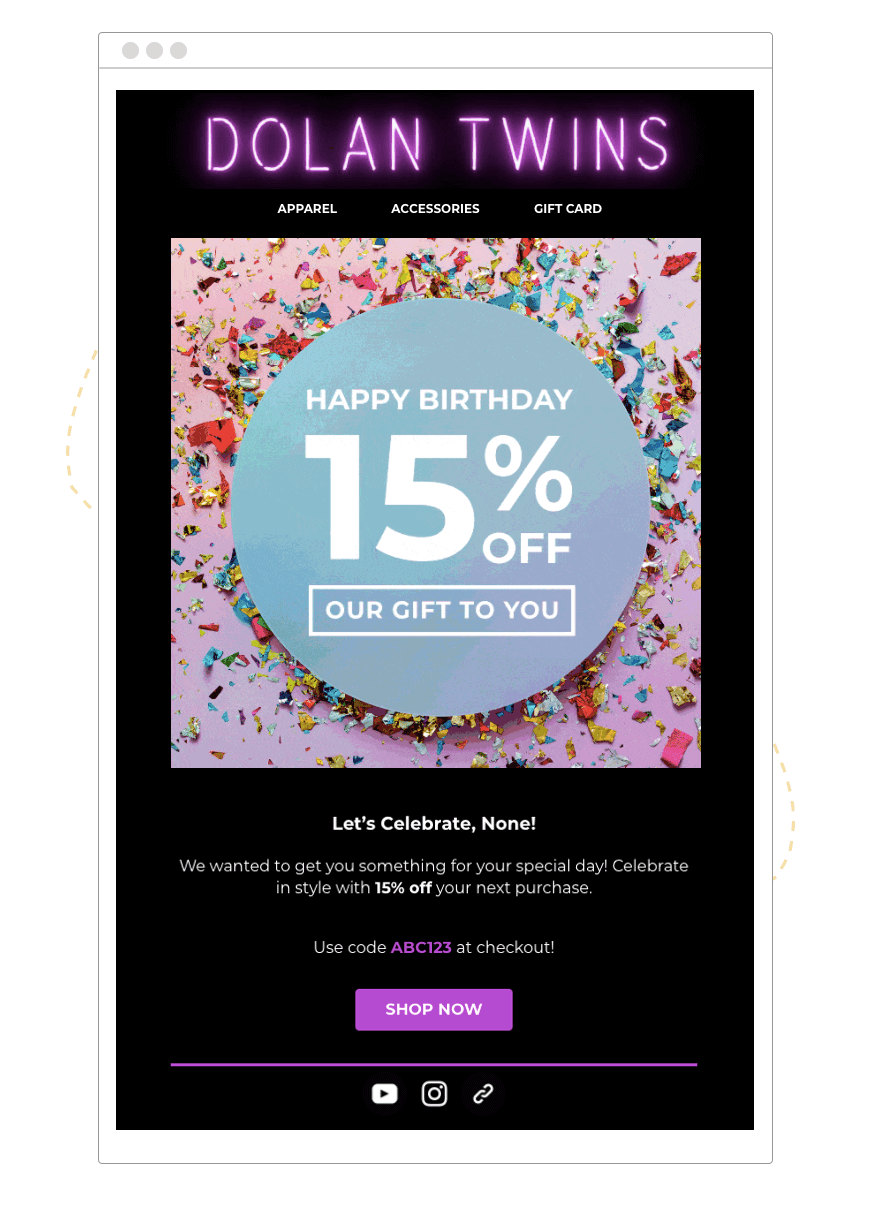 Wrap Up
Adding personal touches, and setting up targeted automations can help you connect with your fans and elevate your next merch email campaign. If you're looking for more design ideas, check out 6 of our favorite ecommerce templates.