Pride month is upon us, and communities around the world are donning rainbow gear to celebrate diverse sexual and gender identities. As inclusivity and the championing of equal rights for LGBTQ+ people become increasingly mainstream, countless companies are jumping on board with Pride-themed products and marketing.
While the commercialization of Pride can sometimes be a point of contention, some members of the community feel that popularization is a step forward. Either way, if your brand values LGBTQ+ rights, there's no time better than June to connect with that audience! We've pulled five emails from companies that are doing it right:
JINsoon: Happy Pride! Love love!
Pride is a huge month for the beauty community as people of all genders embrace the rainbow through their hair and makeup. Here, JINsoon gets creative with their graphics, sharing their message through nail polish while using negative space to help it stand out. Below, they include shoppable links so subscribers can easily find and purchase each featured product.

Floom: Celebrate Pride 🌈
Floom have built out a dynamic campaign, not only embracing the pride aesthetic through their bouquets but also targeting the heart of the movement in its execution. Their eye-catching GIF draws the reader in, while their copy elaborates on their mission to donate all proceeds from this collection to an LGBTQ+ charity. If your brand engages in activism, this is a great way to walk the walk and built trust with your customers.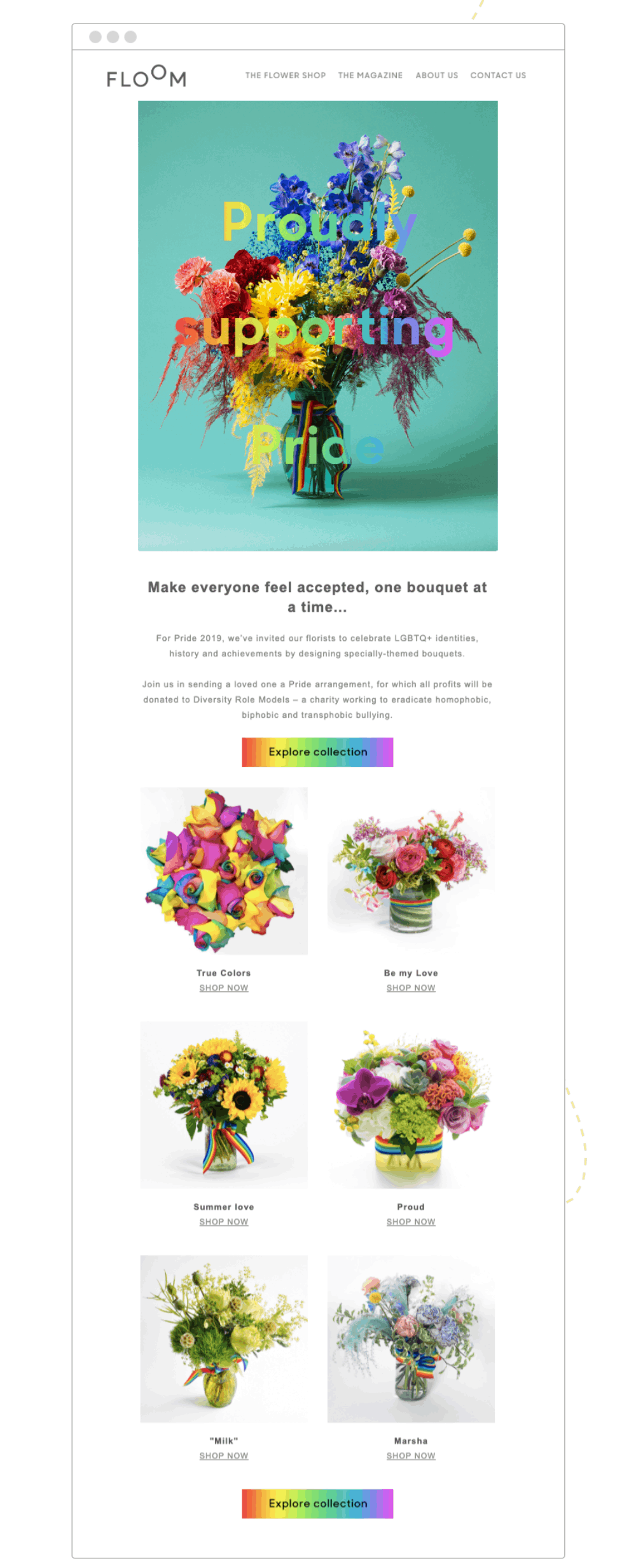 Tattly: Pick Your Pride Tattly!
This email from temporary tattoo company Tattly does a great job of showing instead of telling. Choosing soft and subtle agendered imagery, the brand showcases their inclusivity without any "look at me" tactics. Their CTAs to "pick" your Pride Tattly insinuate that customers were already planning to get one, helping them along in their purchasing decision.
Tattly also knows that subscribers look for value in their emails, so they've built their promotion as a newsletter - scroll down and you'll see links out to other Pride content from across the web.

Morphe: 🏳️‍🌈 It's here! PRIDE Live in Color Collection 🏳️‍🌈
Also promoting a custom Pride collection, beauty brand Morphe brings in influencers from the LGBTQ+ community to give their message clout. Their scrolling GIF is a compelling design element that showcases their brand diversity.
They do a great job of conveying their unique brand voice through email copy, noting that the collection was created to celebrate "bold, brave LGBTQ+ babes and allies". Like Floom, Morphe puts their money where their mouth is, donating all net proceeds for the collection to The Trevor Project.

CoEdition: Proud & Loud - Have you met Alysse?
In this email, CoEdition uses their platform to highlight an LGBTQ+ member of their community, getting social buy-in from a popular fashion blogger and driving traffic to their Instagram through cross-promotion. Another example of doing good through ecommerce, CoEdition created a campaign-specific promo code customers can use to drive proceeds to a local LGBTQ+ charity.
Something many of these brands do well is put Pride messaging front and centre, tying in specific Pride-related products afterward. This flow makes a statement about brand values that builds trust and is more compelling for readers. Here, CoEdition follows up their feature with a shoppable rainbow-curated selection of apparel.

The Tea
If your brand genuinely cares about and engages with LGBTQ+ rights, June is a great time to get loud and proud. Celebrating diverse identities is an effective way to showcase brand values and build inclusive messaging. Though if you aren't a champion for LGBTQ+ rights the rest of the year, it's best to continue with your usual programming - suddenly shifting gears to reach a specific audience can be off-putting for members of the community.
Otherwise, Pride Month is the perfect opportunity to show the world what you care about and get creative with your email marketing. Let your rainbow flag fly!