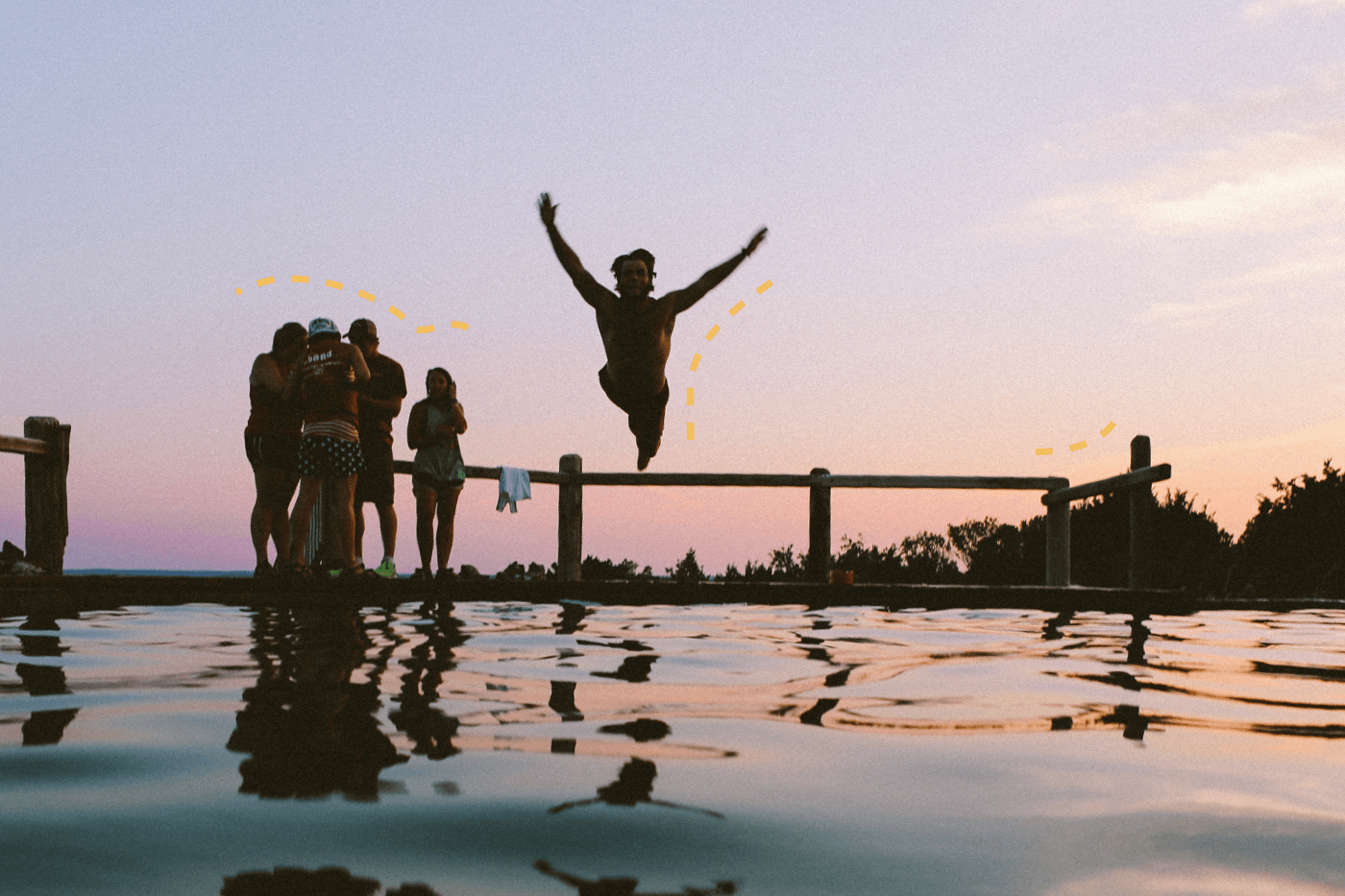 Summer may be coming to a close, but one of the biggest shopping months of the year is on the horizon! September is big in retail, from back-to-school to fashion magazines' biggest issues of the year. Last year, Labor Day became the first day outside the famously spendy November and December holiday seasons to surpass the $2 billion mark in online sales.
Want a piece of the pie? Labor Day is a great time to jumpstart your fall season by offering a sale or enticing promotion. To get you inspired, we've gathered five Labor Day email templates from ecommerce brands doing just that.
1. Rent the Runway
Subject line: Re: Your Labor Day Plans
Rent the Runway is a great example of an ecommerce brand using a holiday to their advantage. Here, they propose subscribers rent their Labor Day weekend wardrobe and offer outfit inspo to suit any occasion.
Consumers may think of Rent the Runway as a service meant for more formal events - this email is a powerful way for them to diversify, educating potential customers and capturing new sales.

2. Article
Subject line: [Sale] Can a Labor Day Sale be *too* good? 🤔
Short, sweet, and cheeky, this email template from Article has it all. We love that their subject line is prefaced by a simple sale announcement. If the subject gets cut off, or their message doesn't resonate, they can still capture subscribers interested in a good deal.
They keep the rest of the subject line fun and personable, building that all-important relationship with the customer. The body of their email is clear and precise, including a deadline to build urgency. Finally, Article uses contrasting colors to draw attention to the most important detail of all, their CTA.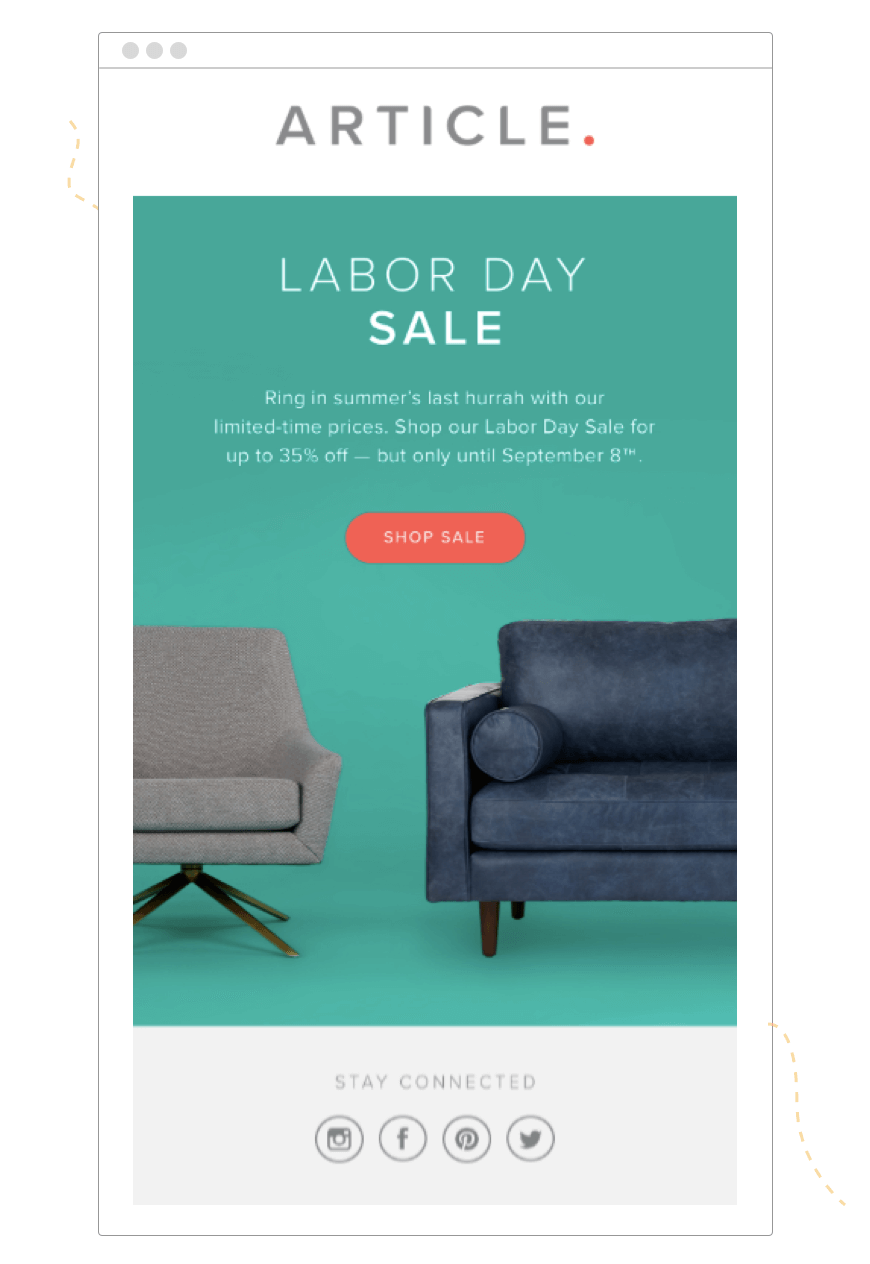 3. Kelty
Subject line: Labor Day Savings Start Now!
In this email, Kelty puts their playful brand persona front and centre. Their offer of a flat discount across the site gives readers a glimpse at exactly what they could be getting, helping bridge the gap from browser to purchaser.
Kelty also uses strong design principles, taking advantage of negative space and color to draw eyes to their offer, CTA, and throughout the rest of the email.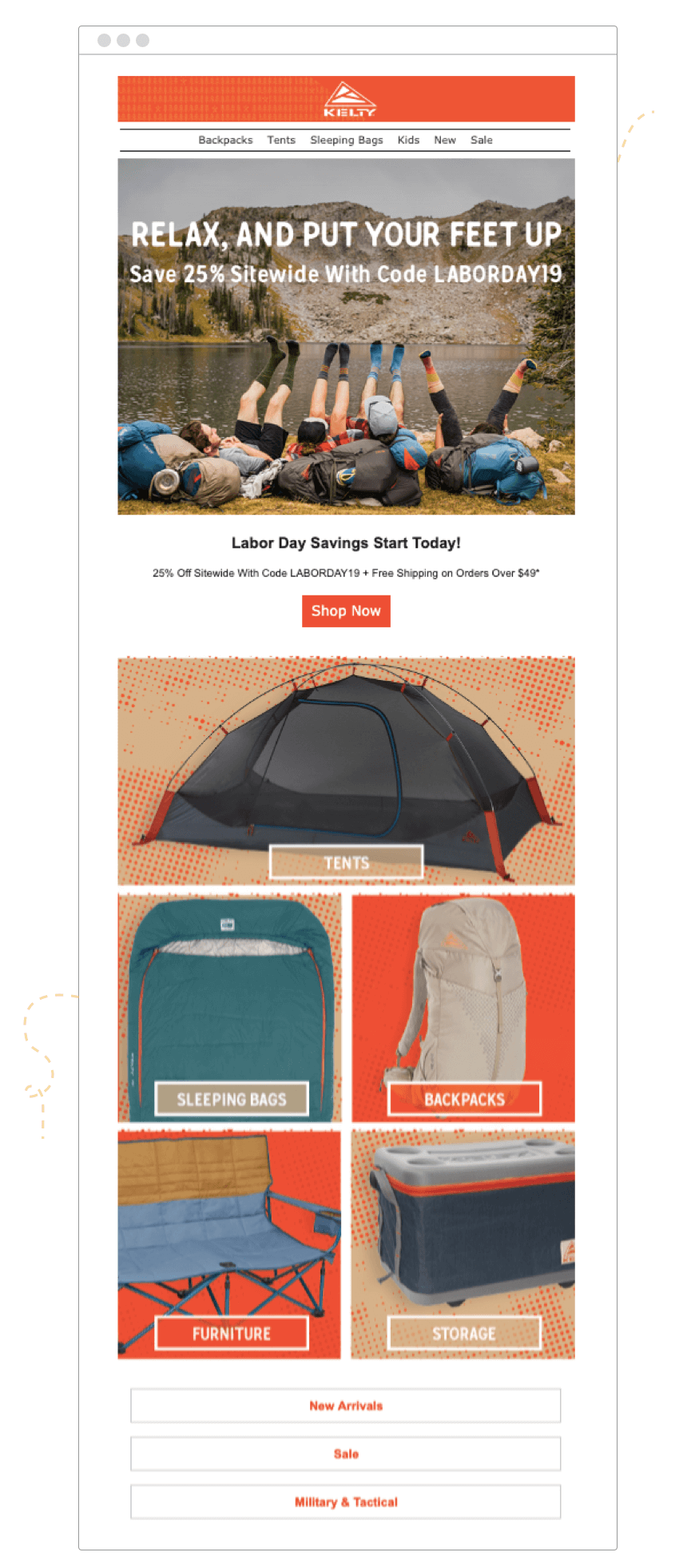 4. Porter Road
Subject line: So Many Cookout Options
Nothing goes better with a long summer weekend than some BBQ. Porter Road jumps on the opportunity by sending this well-branded email. Playing on the popular quiz format, their email practically begs subscribers to click through, with each selection leading to specific product pages.
For readers who don't take the bait, Porter Road offers motivation by way of free gift with purchase, plus an incentive for customers that do a little word-of-mouth promoting on their behalf.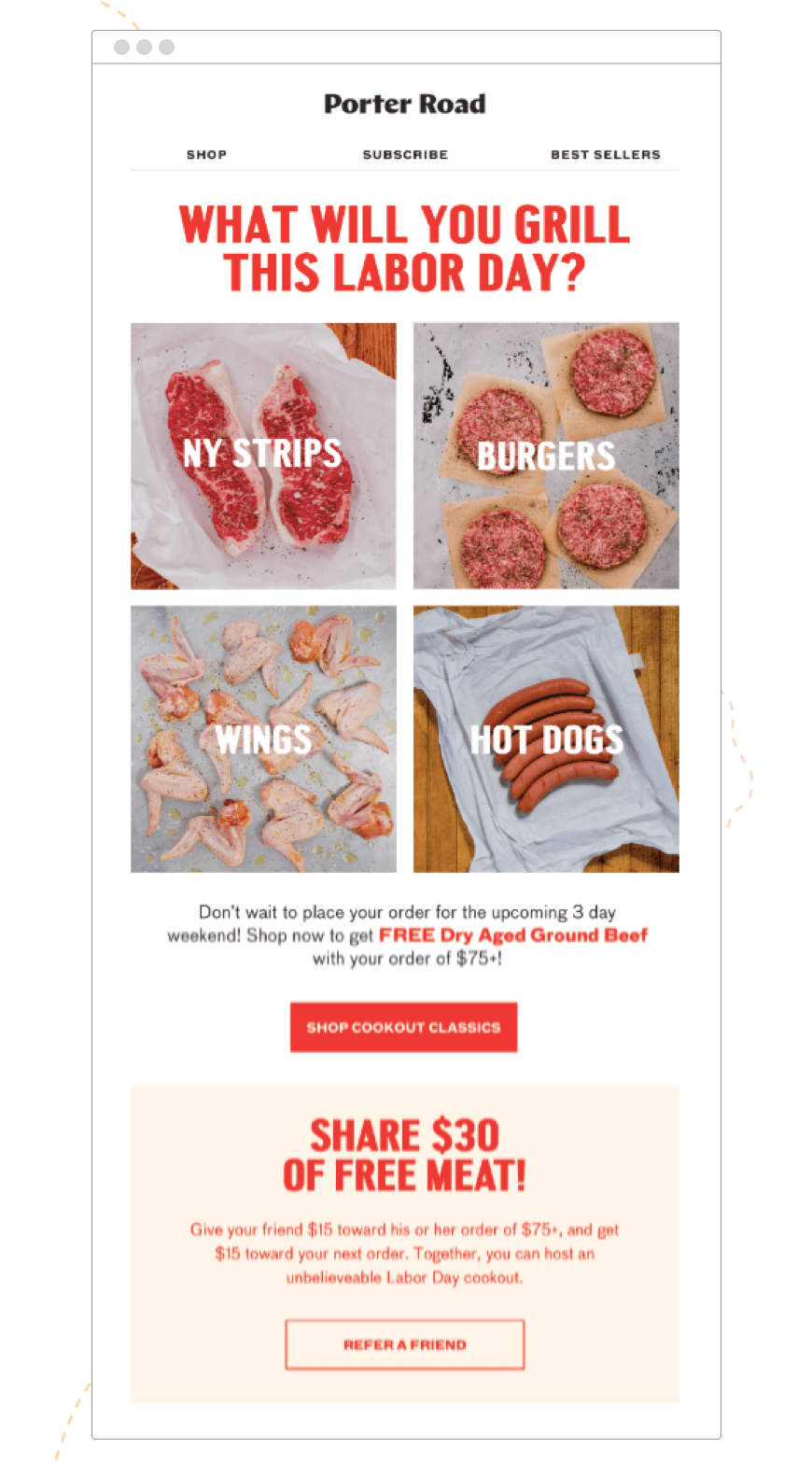 5. Winc
Subject line: ✨ Labor Day savings start NOW! Take 40% off when you become a member today. ✨
Another dynamic duo? The long weekend + alcohol. Winc uses Labor Day as a chance to bring on new members, taking their 40% discount and turning it into returning customers. After upping the ante with this email template's rich summer hues, we can practically taste the chardonnay.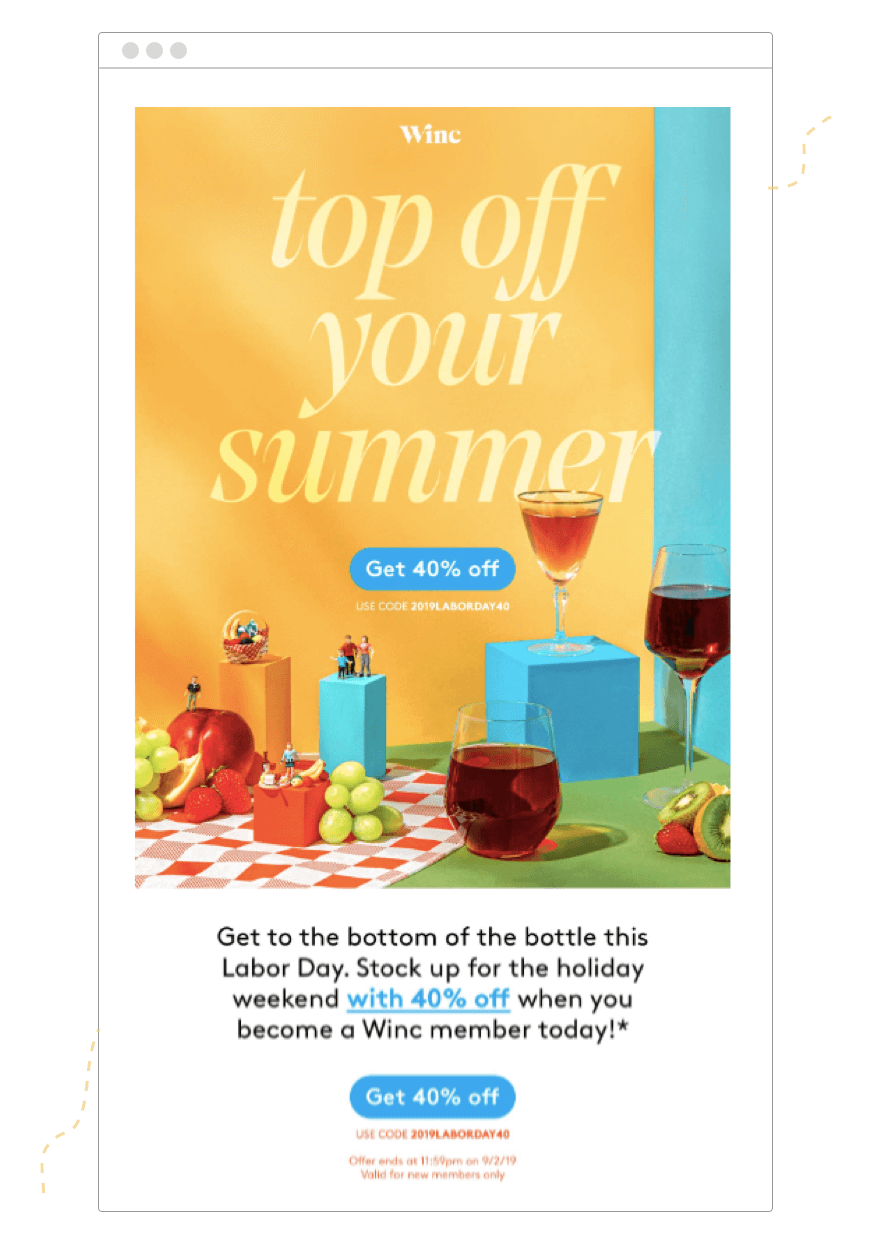 How will you celebrate?
This Labor Day weekend we'll be at cottages, on the beach, and BBQing in backyards, but that won't stop us from feeling fall nipping at our heels. Jumpstart your ecommerce brand's autumn season with a Labor Day promotion and watch the sales roll in.