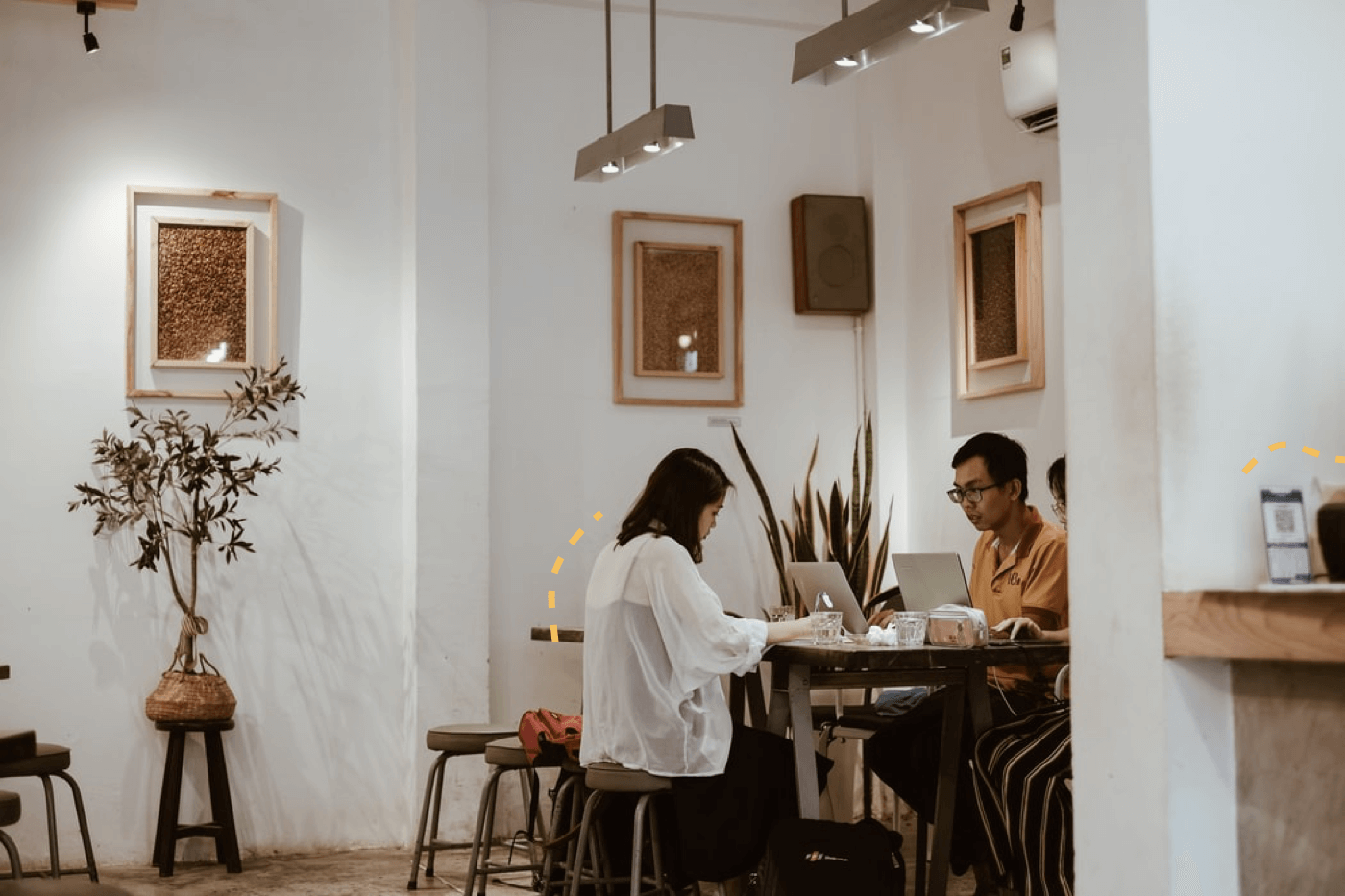 The last few months have seen new and unprecedented challenges for businesses due to the COVID-19 pandemic. With store closures, a shift in focus to ecommerce, and new mandatory safety measures, many businesses have had to adapt and create fast and effective changes.
After weeks of mandatory shutdowns, some businesses are gradually re-opening their doors with significant safety measures in place to adhere to social distancing rules while shopping. It's important that these safety measures are communicated effectively to your customers leading up to stores reopening. To help you craft these emails, we've rounded up some fresh email templates that will grab your customers' attention, while sharing important rules and your brand's plan to maintain a safe environment for both employees and customers. Let's dive in:
1. Sephora
Sephora gets clients excited about coming back to their stores by emphasizing that the current COVID-19 safety measures are working, and by thanking customers for their support. In their email to the Beauty Insider community, they address the new safety measures they've implemented to keep their customers and employees safe.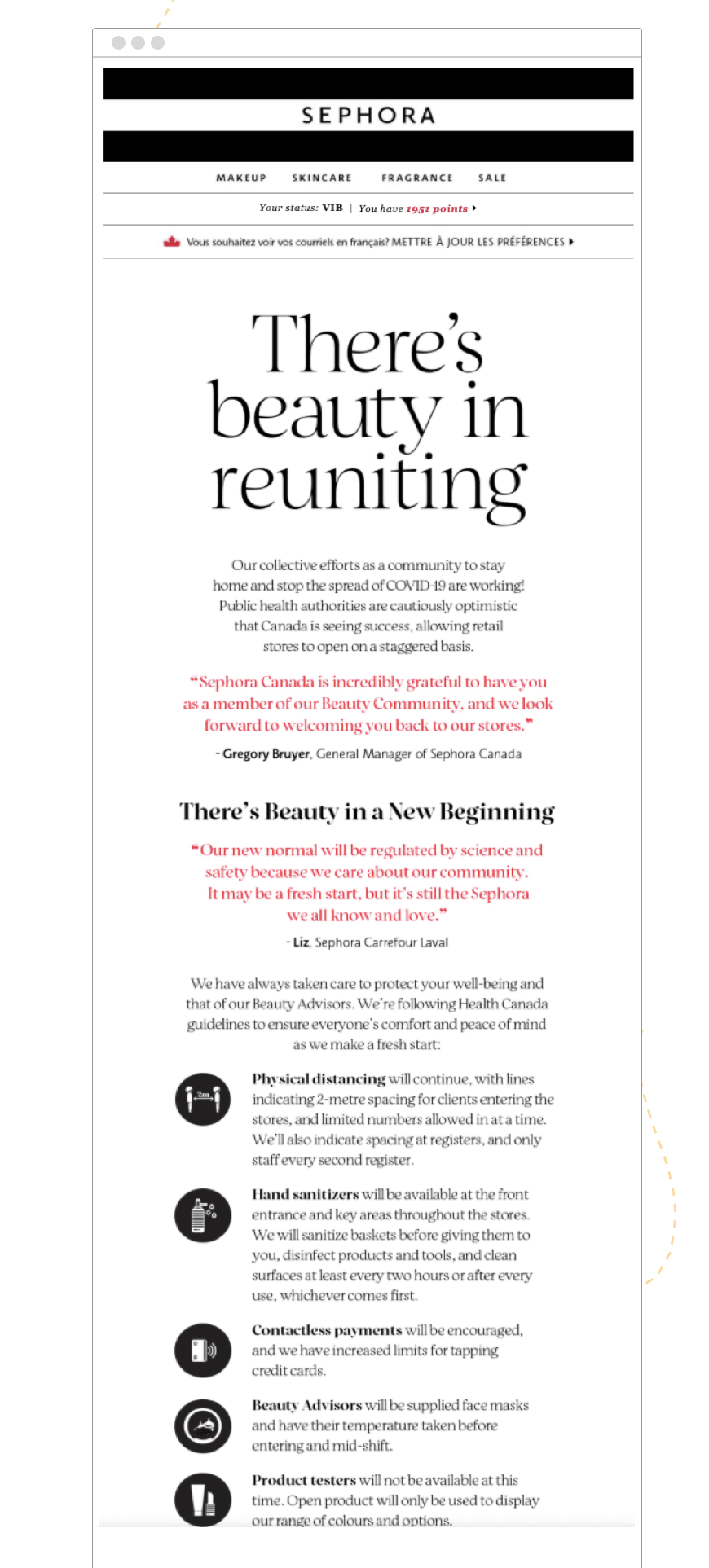 2. Indigo
Indigo echoes the excitement seen in Sephora's email and pairs it with fun spring imagery and home decor so customers can feel excited about returning to their stores. They include a CTA linking to their list of stores that are reopening, making it super easy for customers to access that information. They also provide their safety plan and the measures that they will be taking in order to maintain a safe environment.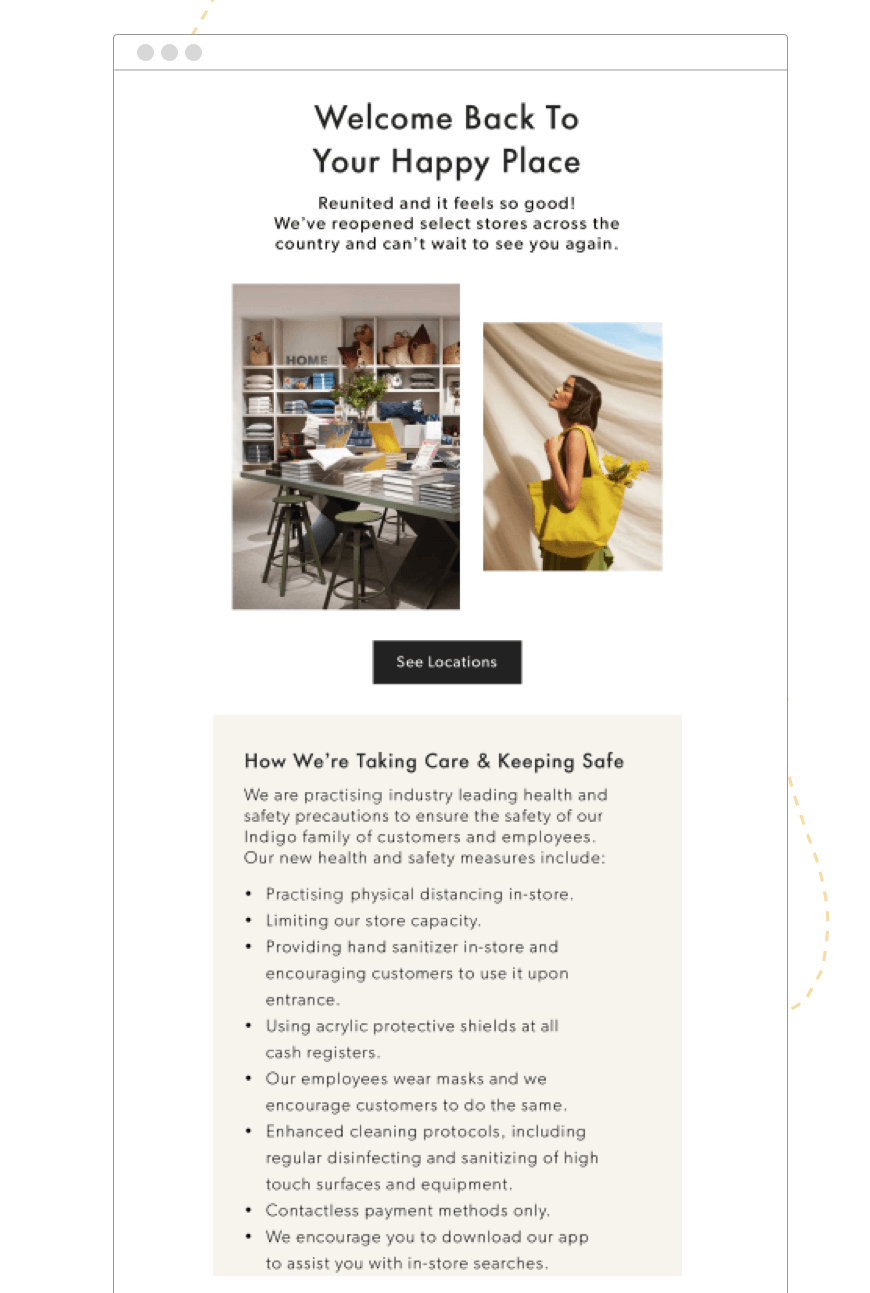 3. Bath and Body Works
Bath and Body Works takes a different approach by sending out an email that customers can engage with in order to be the first to know about stores reopening. This is a super effective strategy because it not only allows them to target their store launch emails to specific customers who fill out the form, it's also a way for Bath and Body Works to collect location data on their subscribers (which they can use to segment emails in the future for better engagement)!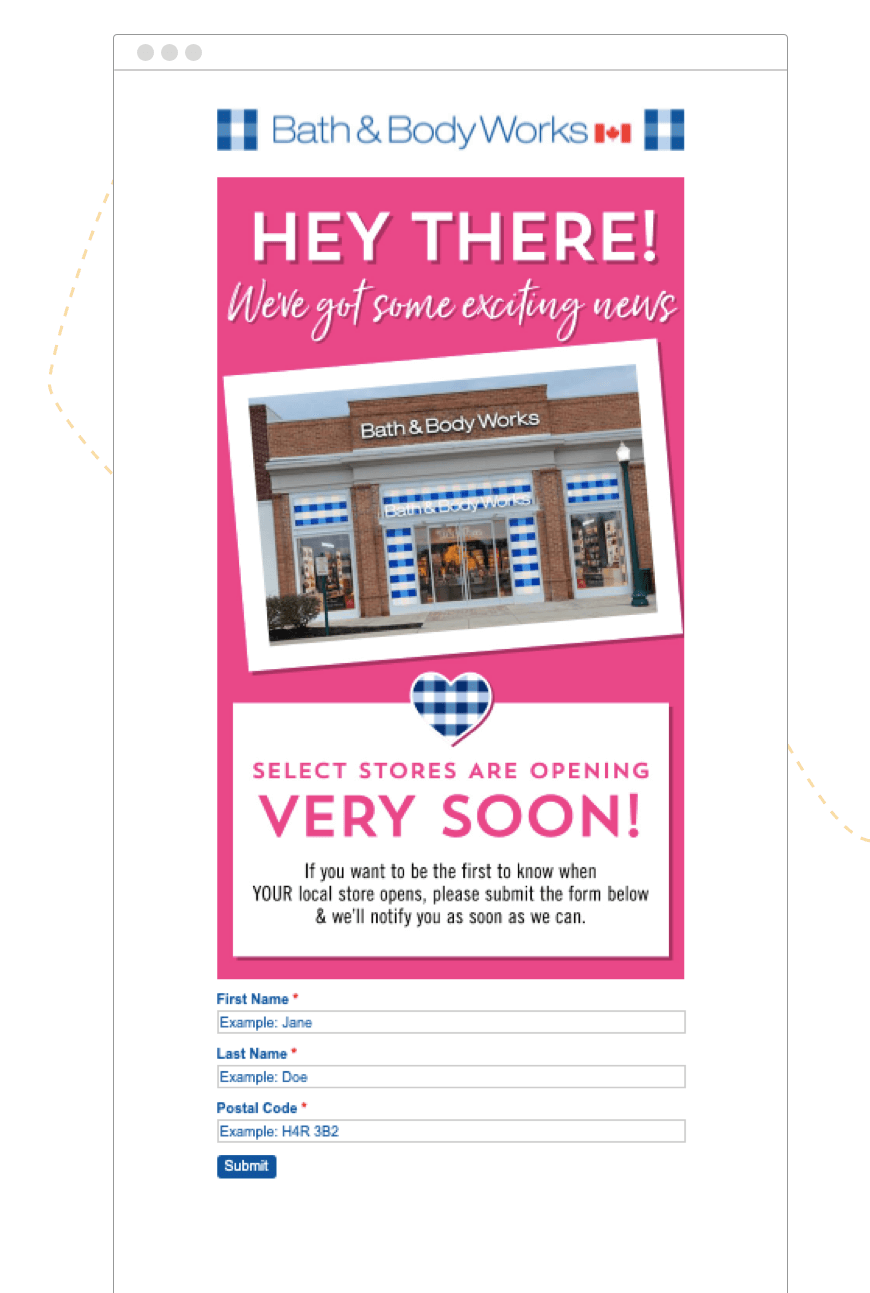 4. Journeys
Journeys' keeps their message clear and simple. They place their CTA front and center so that customers can easily find which stores are open. They also highlight exactly what they'll be doing to keep customers and employees safe.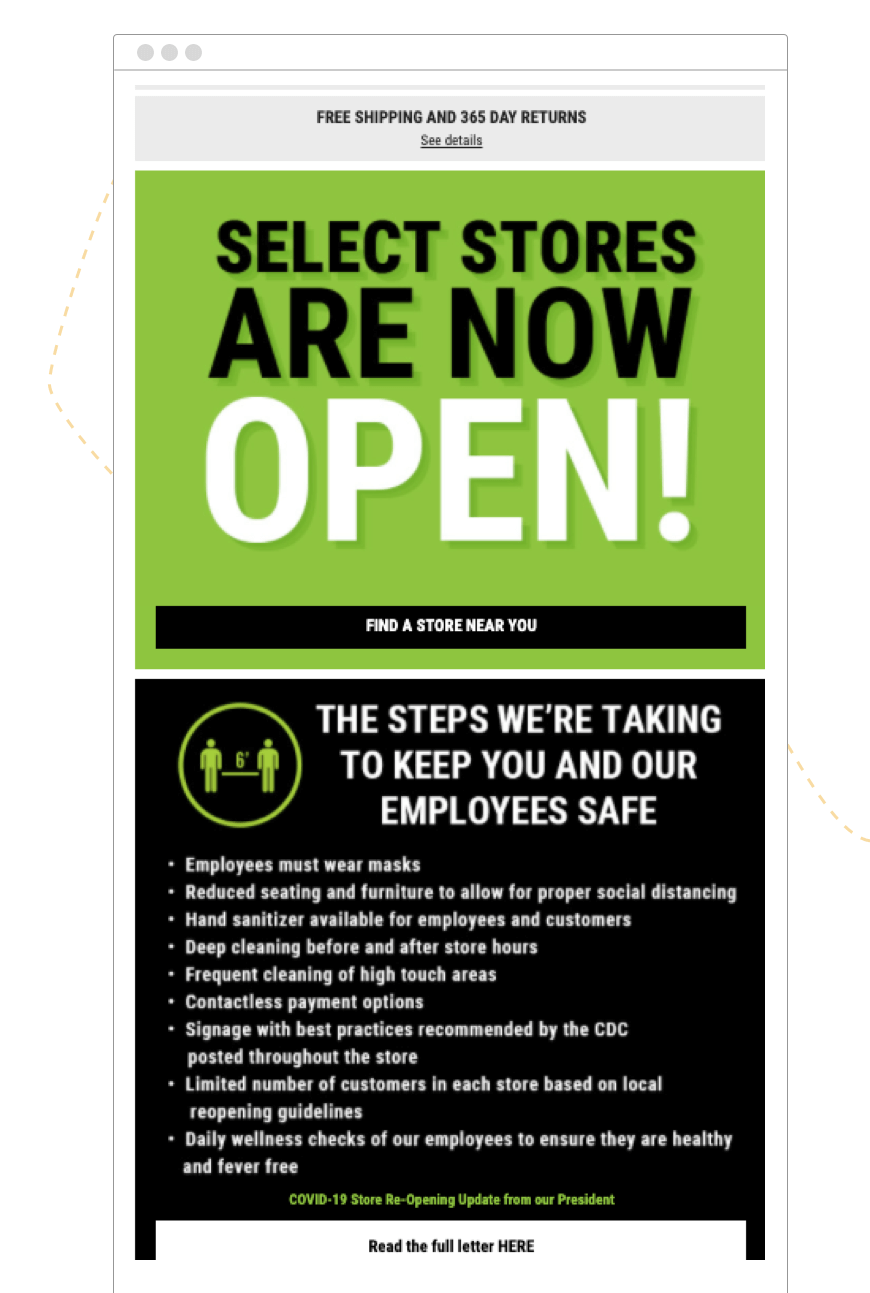 5. Le Château
Le Chateau also focuses on putting their safety precautions front and centre of their store reopening email. At the bottom, they include a blurb about their new face masks, a super relevant and effective way to get that product in front of customers who'd be interested.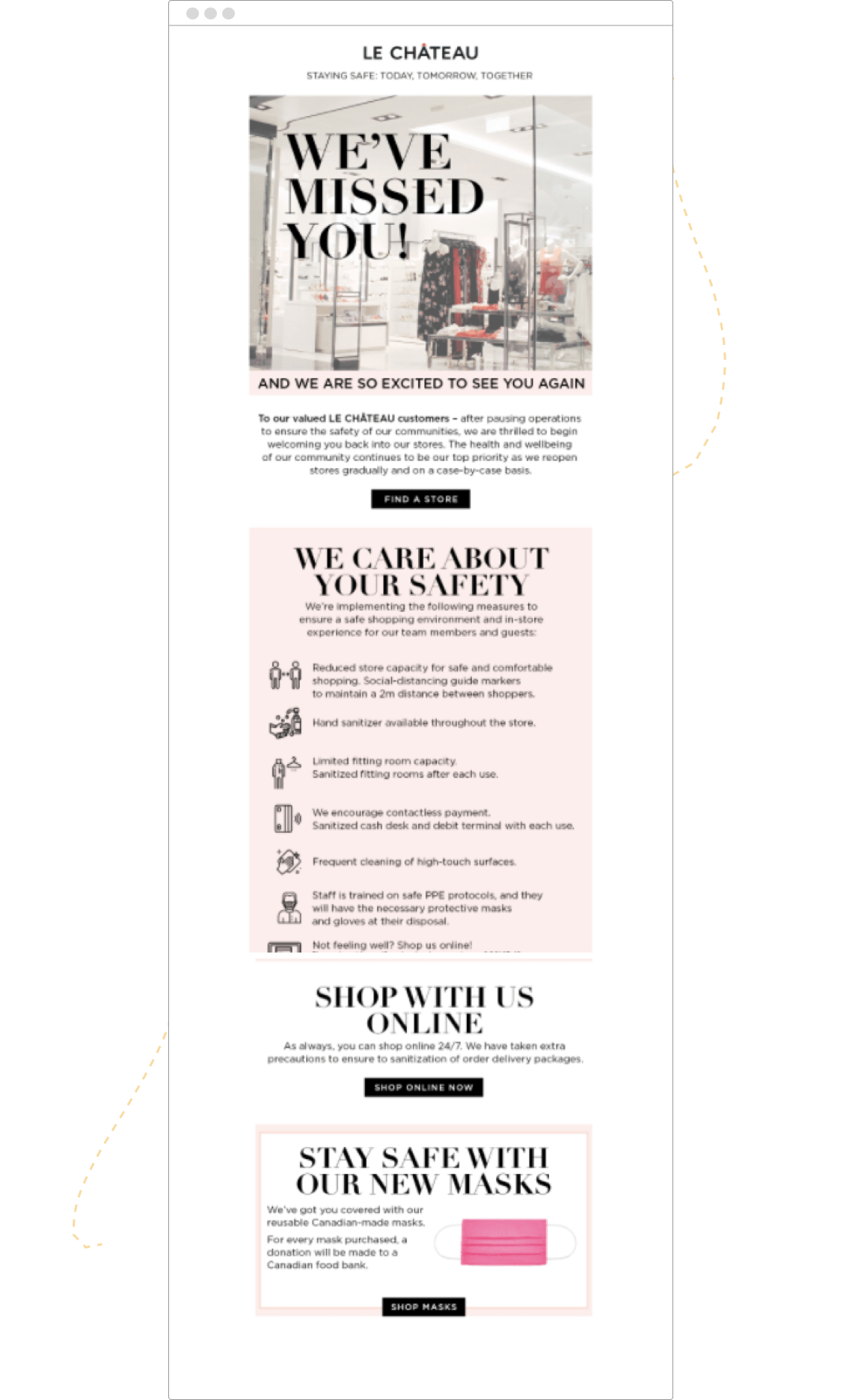 Wrap up
The above templates are great examples of how your store reopening emails can be fun and engaging, while also sharing valuable information about your safety measurements. Physical distancing measures and safety precautions are not glamorous subjects, but are relevant to what your customers want to know during this time. Not open yet? Check out these tips to boost your online ecommerce revenue during these times!