Whether you celebrate Christmas, Hanukkah or just like showing appreciation for your loved ones this time of year, holiday shopping is in full swing! Now that we've survived the madness of Black Friday and Cyber Monday, it's time to focus on the last stretch of the holidays. We've put together some of our favorite templates for the season of giving for inspiration.
Vitruvi
Vitruvi highlights their essential oil winter collection in this email as the perfect gift for the holiday season. They play with the senses, showing the scents in the collection and the discount you get from buying the bundle. A well-placed CTA takes you right to shop, with free shipping, returns, and warranty clearly outlined at the bottom of the email.

Everlane
Everlane stays true to their brand by showcasing their ReNew line as a gift option. We love the clever subject line 'Regifting? Bad. ReNew? Good.' and the straightforward promotion of their values: reducing waste by upcycling plastic into cold weather clothing. Lastly, splitting up women's and men's styles by increasing warmth rating is a fun way to get subscribers scrolling to the bottom of the email.

A.M. Thorne Jewelry
A.M. Thorne keeps it simple, knowing that offering a discount right when customers are shopping for the holidays is a great way to get them to choose their brand over another. This email shows that effective email marketing doesn't have to be complicated - a branded image showcasing products and straightforward discount information is all you need!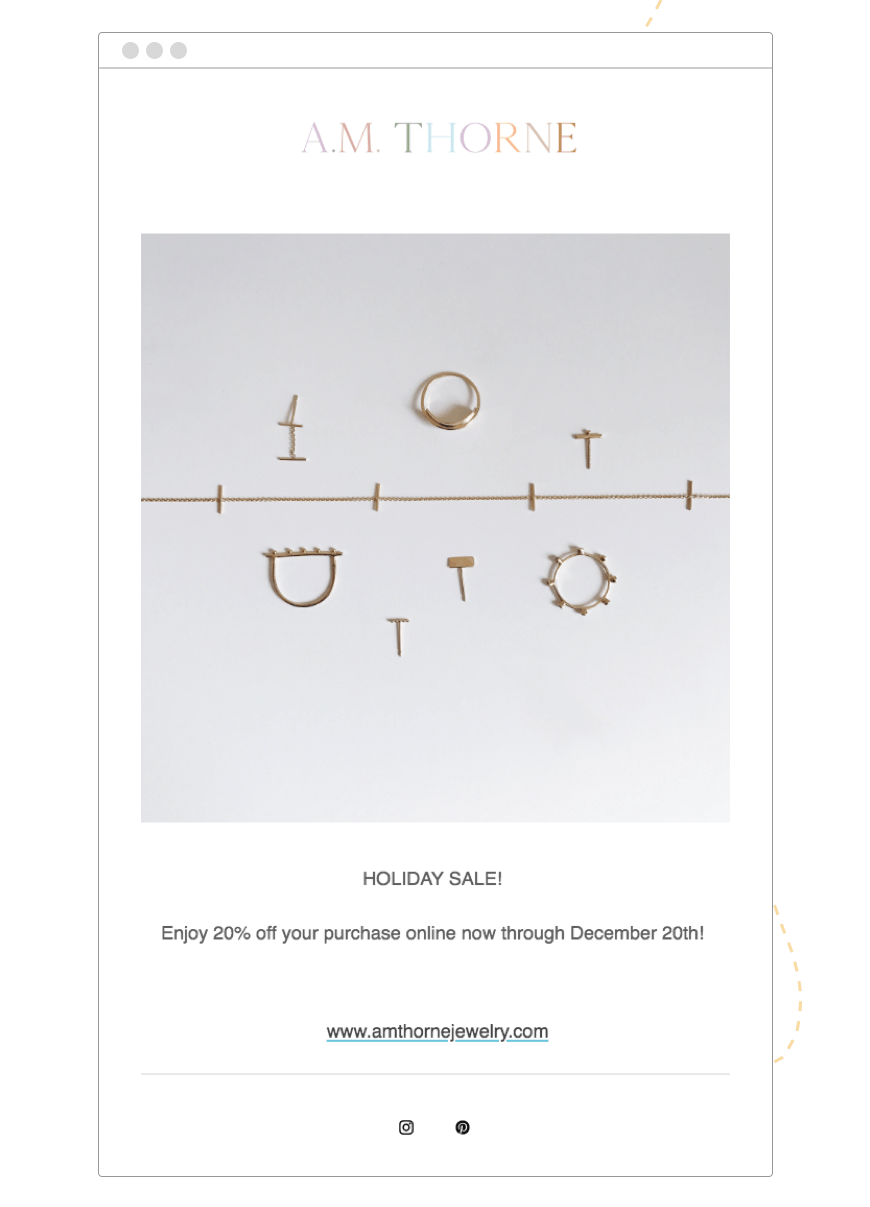 ASOS
During one of the busiest times of year, customers appreciate reminders to get their Christmas shopping done before shipping deadlines. ASOS sent this reminder a day before the deadline, with an eye-catching GIF guaranteed to stand out in the inbox and three clear options to shop.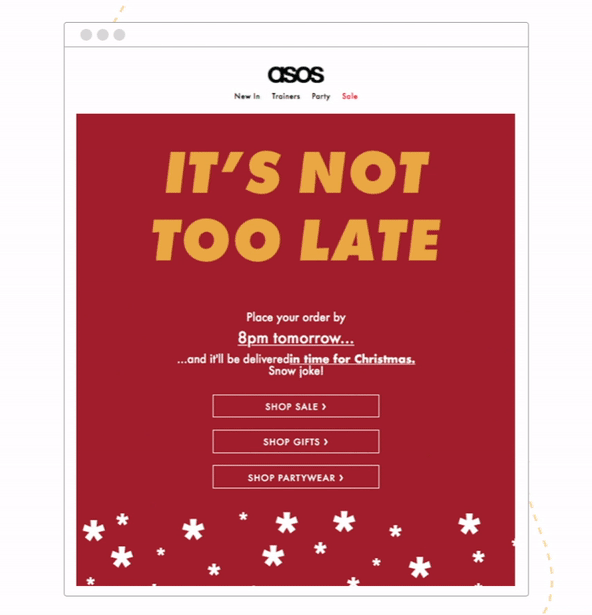 BarkBox
BarkBox hits it out of the park with this fun holiday-themed campaign. They do it all: rewrite a classic Christmas song, showcase their products, and include a funny comic. There's nothing people love more than their dogs, so a BarkBox is an enticing gift suggestion. It's hard to go wrong when you're working with dogs!

Wrap Up
The holidays are the perfect time to offer your best deals to subscribers and ultimately celebrate the season with them. Have fun with color and copy in your campaigns, include clear CTAs with every email you send, and show subscribers why you're the right choice for all their gifting needs this year.