If you run an ecommerce store, you know that abandoned carts are one of the main pains eating away at your bottom line - according to Baymard Institute, 67% of online shopping carts are abandoned.
Here's a hypothetical: if your monthly revenue is $20,000 and you turn 20% of those abandoned carts into sales… you could make $4,000 more a month (yup, that's $48,000 a year).
To understand how to tackle the abandoned cart problem, you have to first understand what's causing cart abandonment:
Not sure which of these could apply to your store? Regularly go through your checkout flow with a critical eye to see if you're creating any friction for your customers.
Once you've revisited your checkout and removed as many barriers as possible, the next best thing you can do is send automated emails to customers who've abandoned their shopping carts. Abandoned cart emails sent within three hours have a 40% open rate and 20% click-through rate according to research done by Business Insider (that's the 20% you need to increase your monthly revenue!).
If we're on the same page, you agree that it's time to set up an abandoned cart email! Here's some inspiration from clever abandoned cart emails:
1. J Crew: Shopping bag today. Closet tomorrow.
According to a study by Kissmetrics, 54% of shoppers purchase products left in their shopping carts if those products are offered at a discount. J Crew expertly uses this in their email - they let the customer know the product is on sale, but not the exact sale price. This is a smart way to create enough intrigue to click.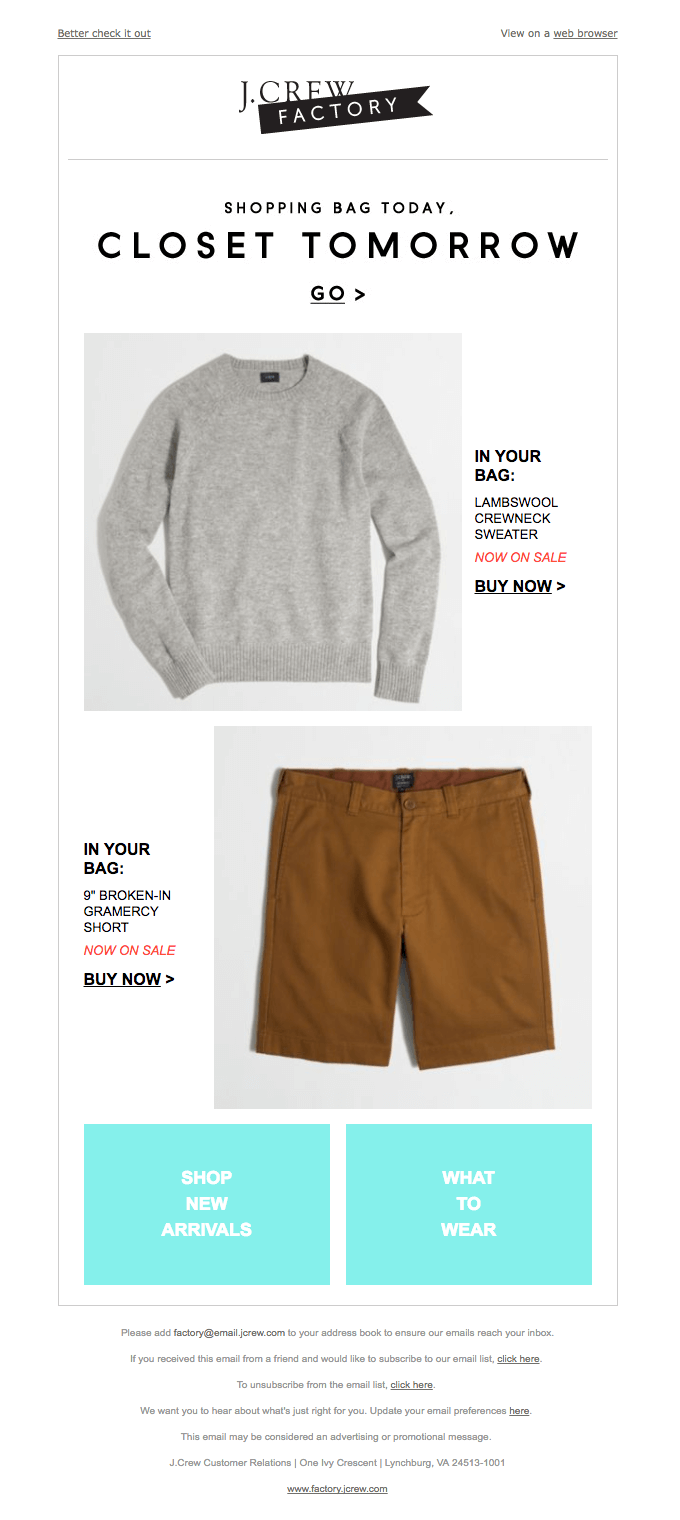 2. Google: Going, going, (almost) gone
Google hits the nail on the head with this email by creating a subtle sense of urgency. The email is simple and gets the point across - buy now, or you might miss out.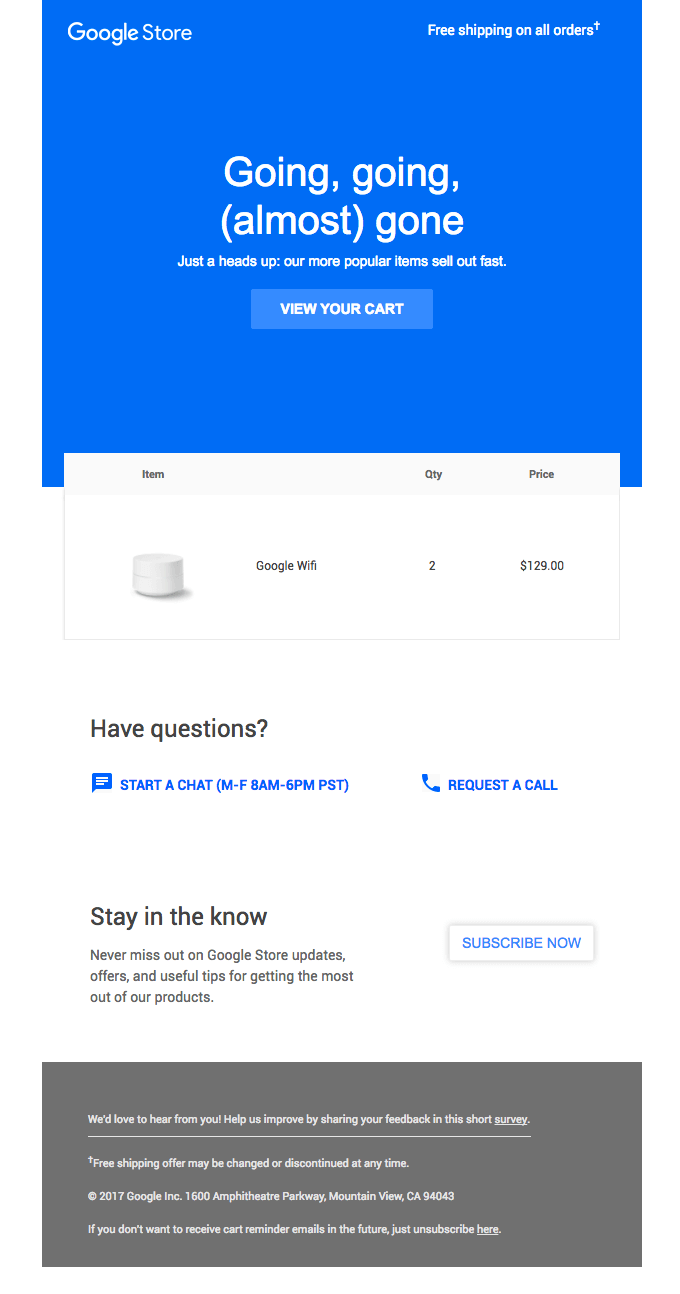 3. Huckberry: Shipping = Free
Huckberry addresses the number one reason for cart abandonment with this email. If covering shipping for your customers when they leave their carts has the potential to increase your revenue, it's a powerful strategy to consider.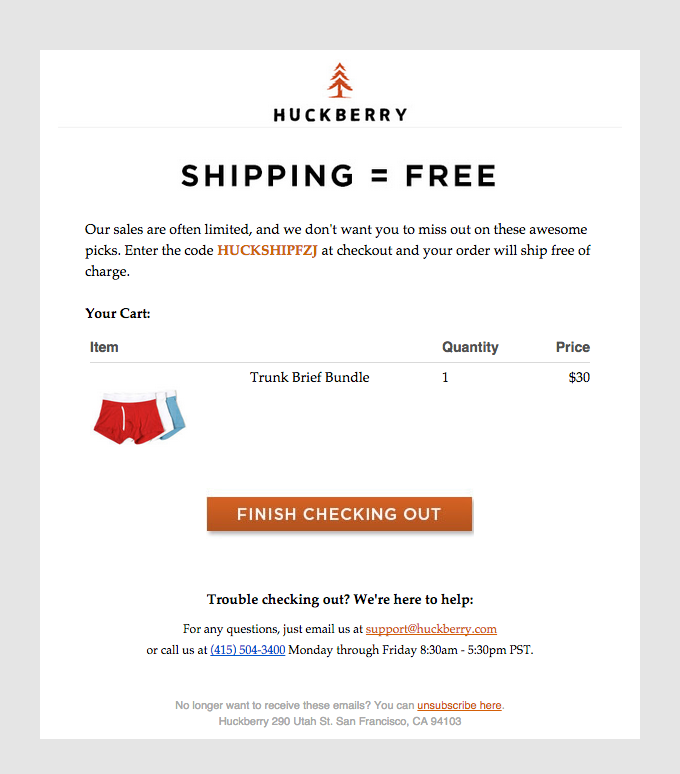 4. Casper: Come back to bed
88% of consumers trust online reviews as much as personal recommendations. And 16% of shoppers abandon carts because they were just doing research. Casper's email includes a compelling review and impressively on-brand copy to give indecisive shoppers the final push they need to purchase.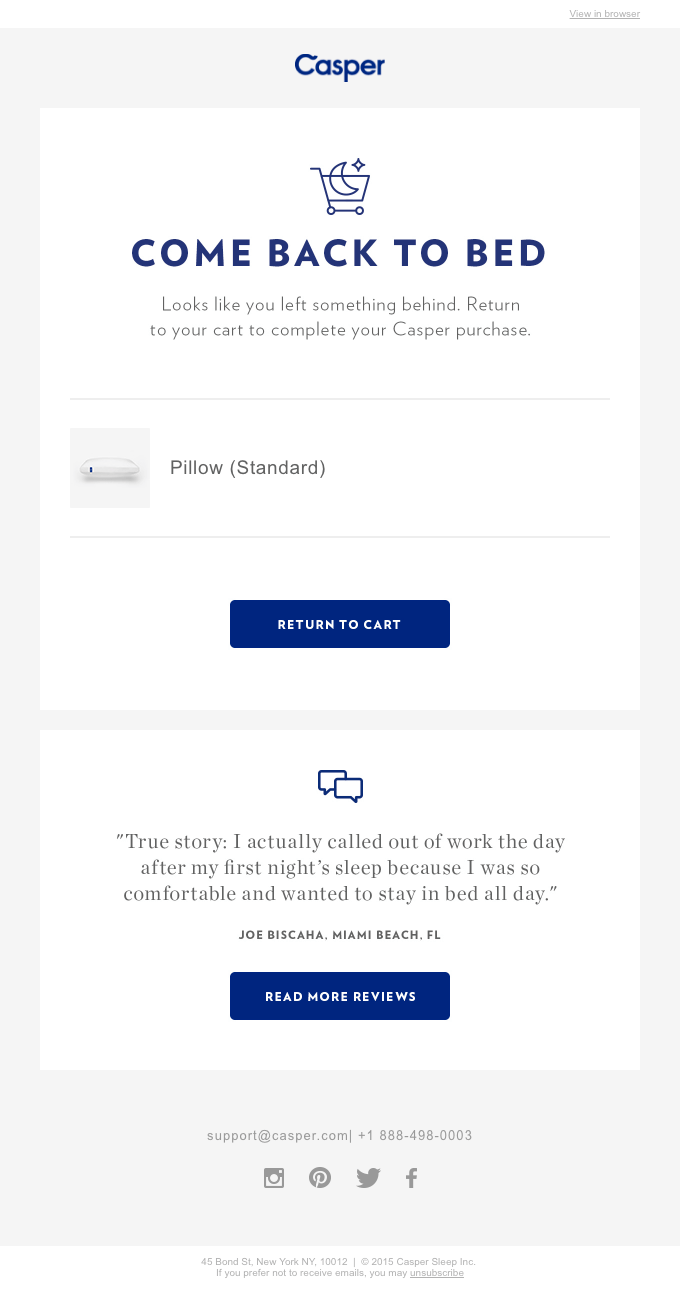 5. Target: New price alert.
Similar to J Crew, Target's email focuses on items that are on sale. Bonus - they also include similar product recommendations, taking advantage of the opportunity to upsell.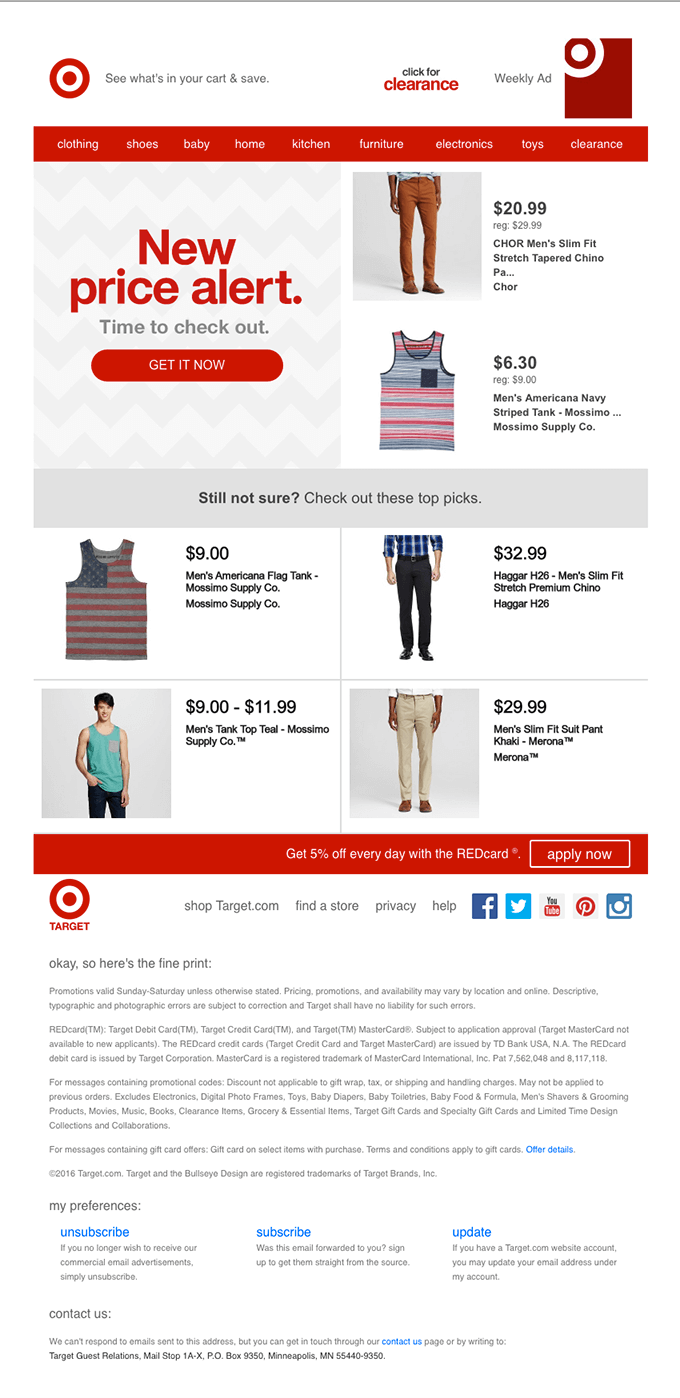 Now that you're feeling inspired, it's time to create an abandoned cart flow for your online store!
Start off with one email 2 hours after a cart is abandoned. Then check in to see the impact on sales - depending on your store, it might be effective to add another reminder a day later as well. Play around with timing and cadence to find the perfect strategy that recovers the most sales for you.