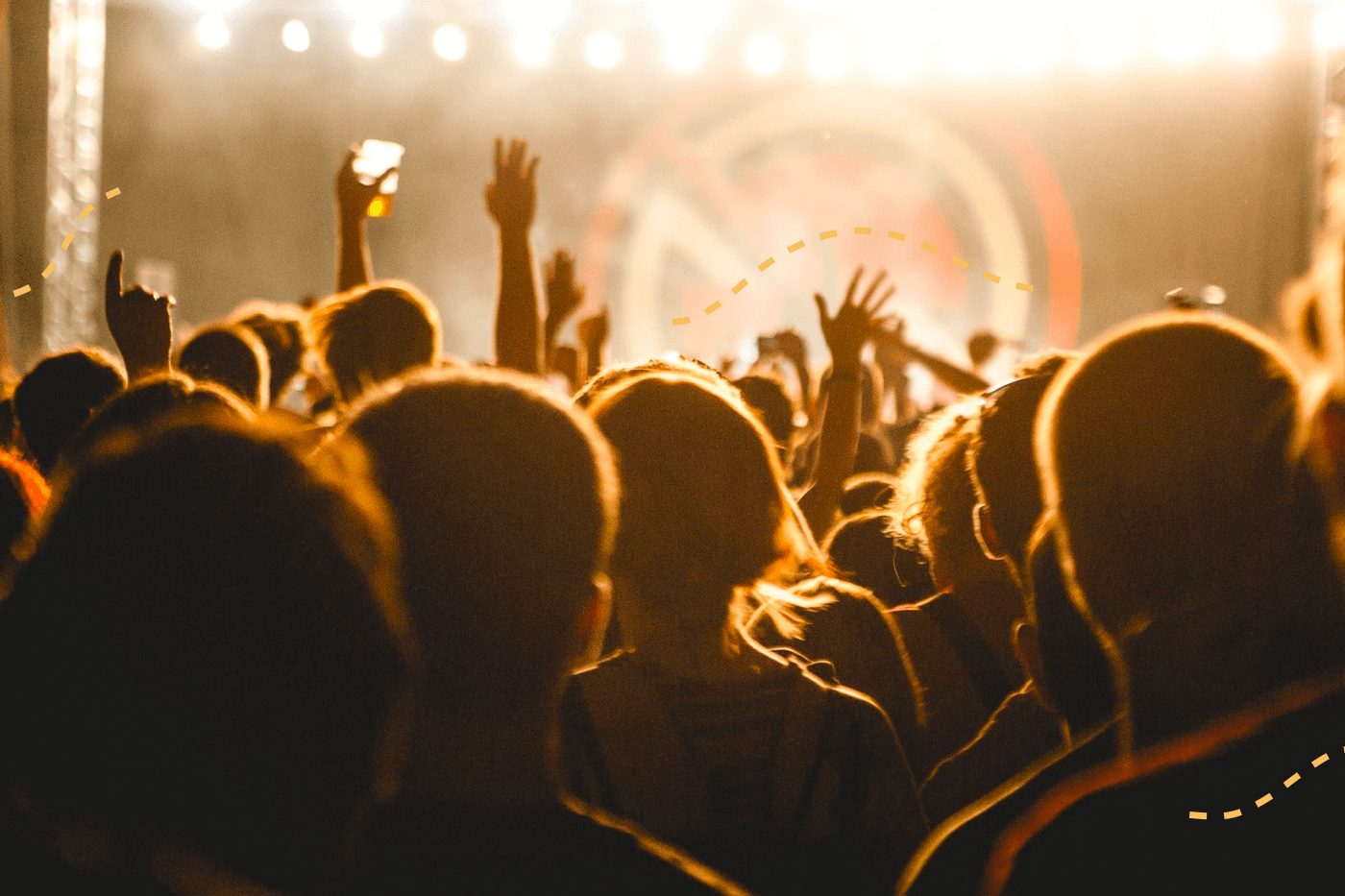 According to Eventbrite, up to 70% of people who start a checkout don't buy tickets at all. That's a lot of fans who've explicitly expressed an interest in attending an event you could convert by sending an email. More specifically, an automated abandoned cart email.
Abandoned cart emails automatically trigger to send when fans add a ticket to their cart without completing their purchase. These automations help you create personalized fan experiences since they're based on unique individual actions, resulting in higher opens and more ticket sales. Let's dive into five abandoned cart email templates proven to boost ticket sales to inspire your abandoned cart automation:
1. Insomniac's EDC Festival Abandoned Cart Email
Insomniac strategically leveraged FOMO (fear of missing out) for their abandoned cart email, letting fans know that festival passes were 90% sold out and to act soon so they didn't miss out. The straightforward email design gets straight to the point, with the main graphic showing "90% sold out" above the fold. Fans know right upon opening the email that they have to act fast, and click the bright CTA to buy tickets.
Subject line: Don't miss your chance to join us!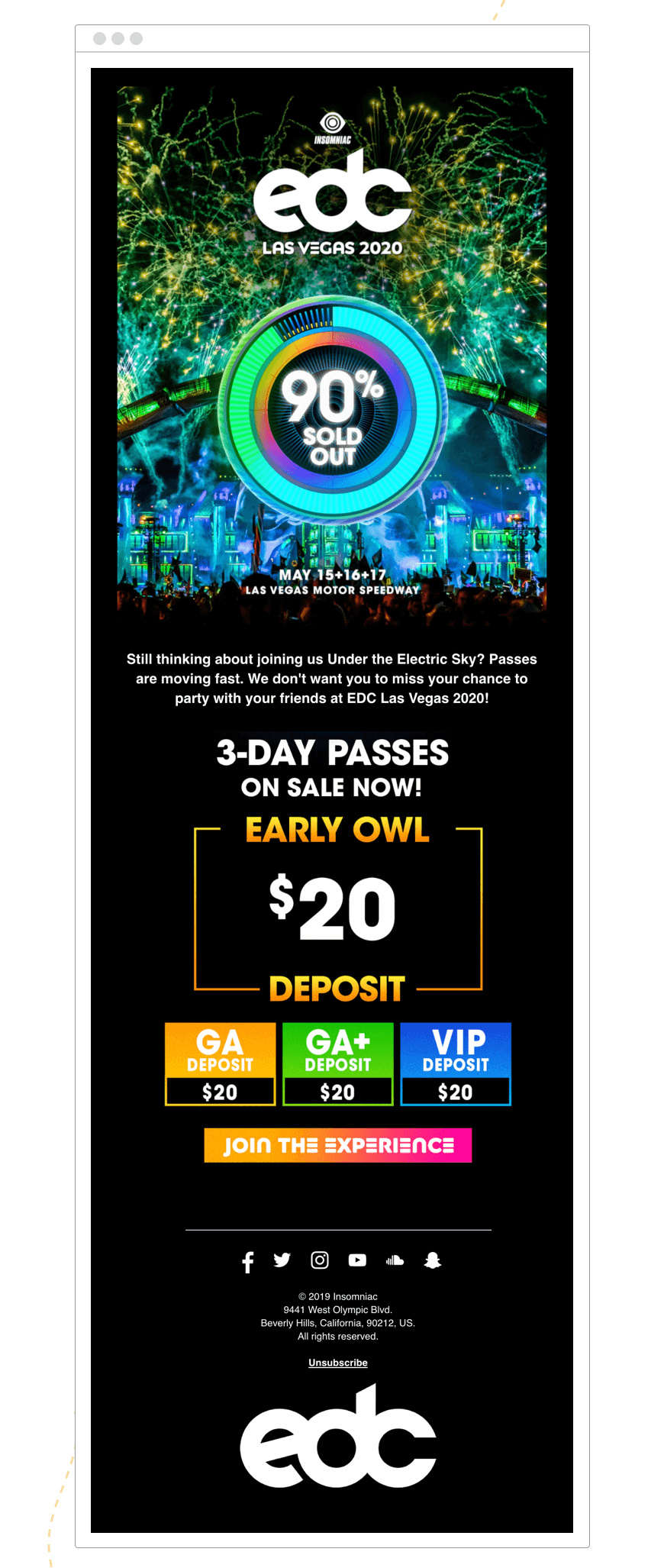 2. Ticketmaster's Simple Abandoned Cart Email
If you're on a ticketing platform that offers abandoned cart automations, you have the option of sending simple abandoned cart emails. As long as you're not looking for customized branding, these emails do the trick for reminding fans to buy tickets.
Subject line: John Mayer Tickets Are Waiting For You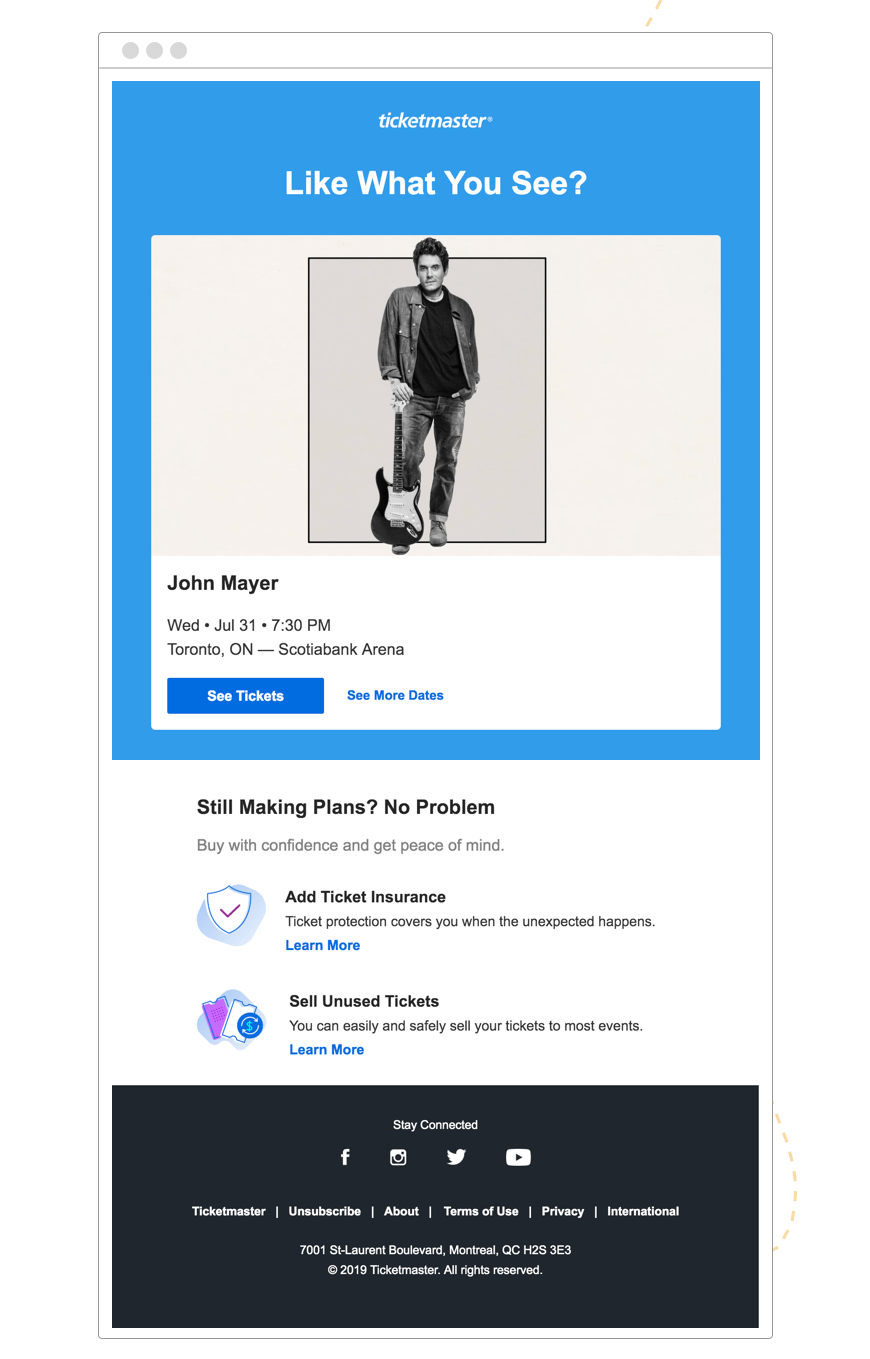 Related: Why Event Marketers Should Be Sending Abandoned Cart Automations
3. Lollapalooza's Low Ticket Warning
Lollapalooza's low ticket warning email is a great example of how abandoned cart email automations don't require extensive bandwidth to set up. By simply tweaking their festival graphic to say 'low ticket warning' and writing targeted email copy to induce fan FOMO, Lollapalooza effectively creates an abandoned cart email to get fans to buy tickets now.
Subject line: Low Ticket Warning ⚠️4-Day GA Tickets Are Almost Gone!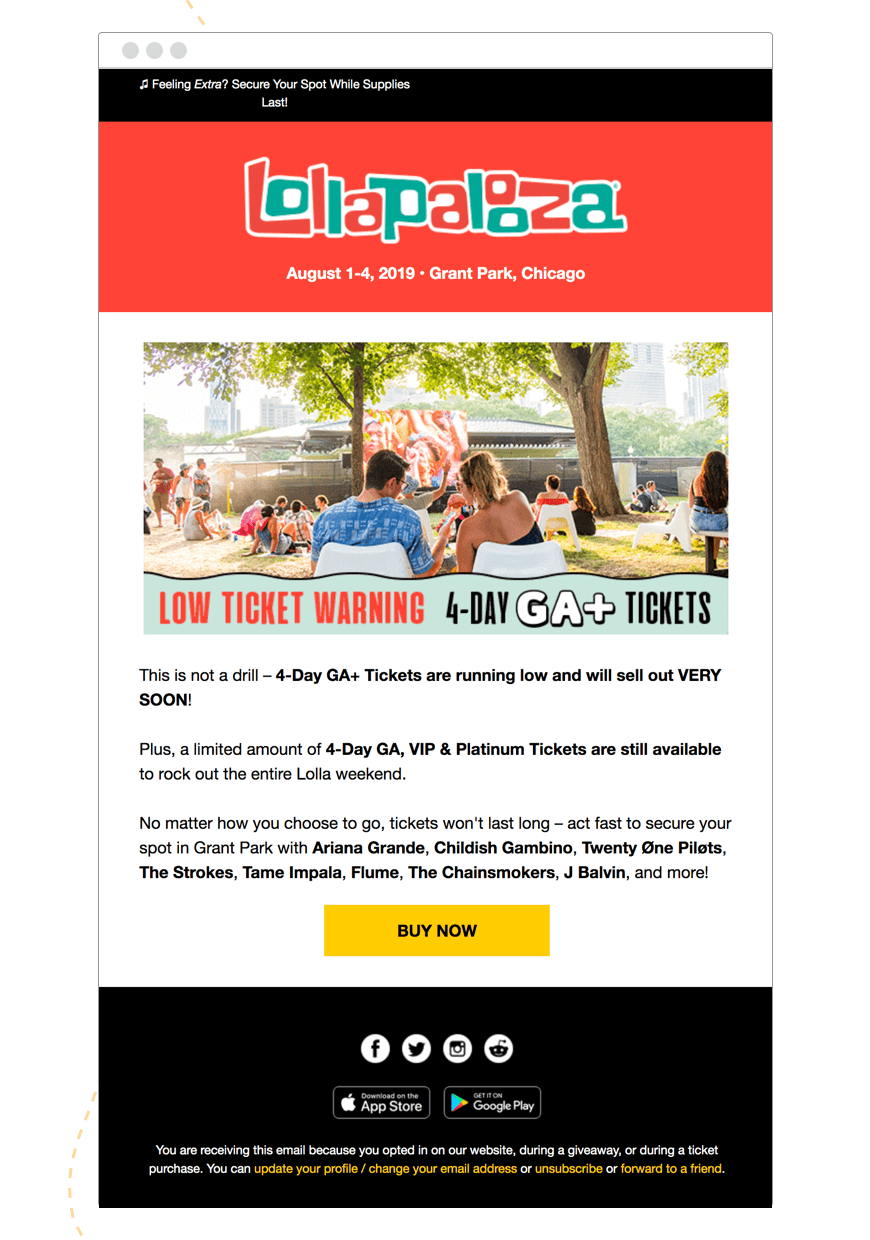 4 & 5. ComplexCon's Abandoned Cart Series
ComplexCon leveraged the power of a multi-step abandoned cart automation to sell tickets to ComplexCon Long Beach. ComplexCon sent a last minute '1 day away' email targeting fans who abandoned their cart last minute, followed by a 20% off discount to sweeten the deal. If you want to take it to the next level, a three-step cart abandonment email automation is proven to maximize your revenue, with research showing that those extra steps bring in 69% more revenue than a single-step abandoned cart automation.
Subject line: 1 Day Away - Last Minute Tickets Still Available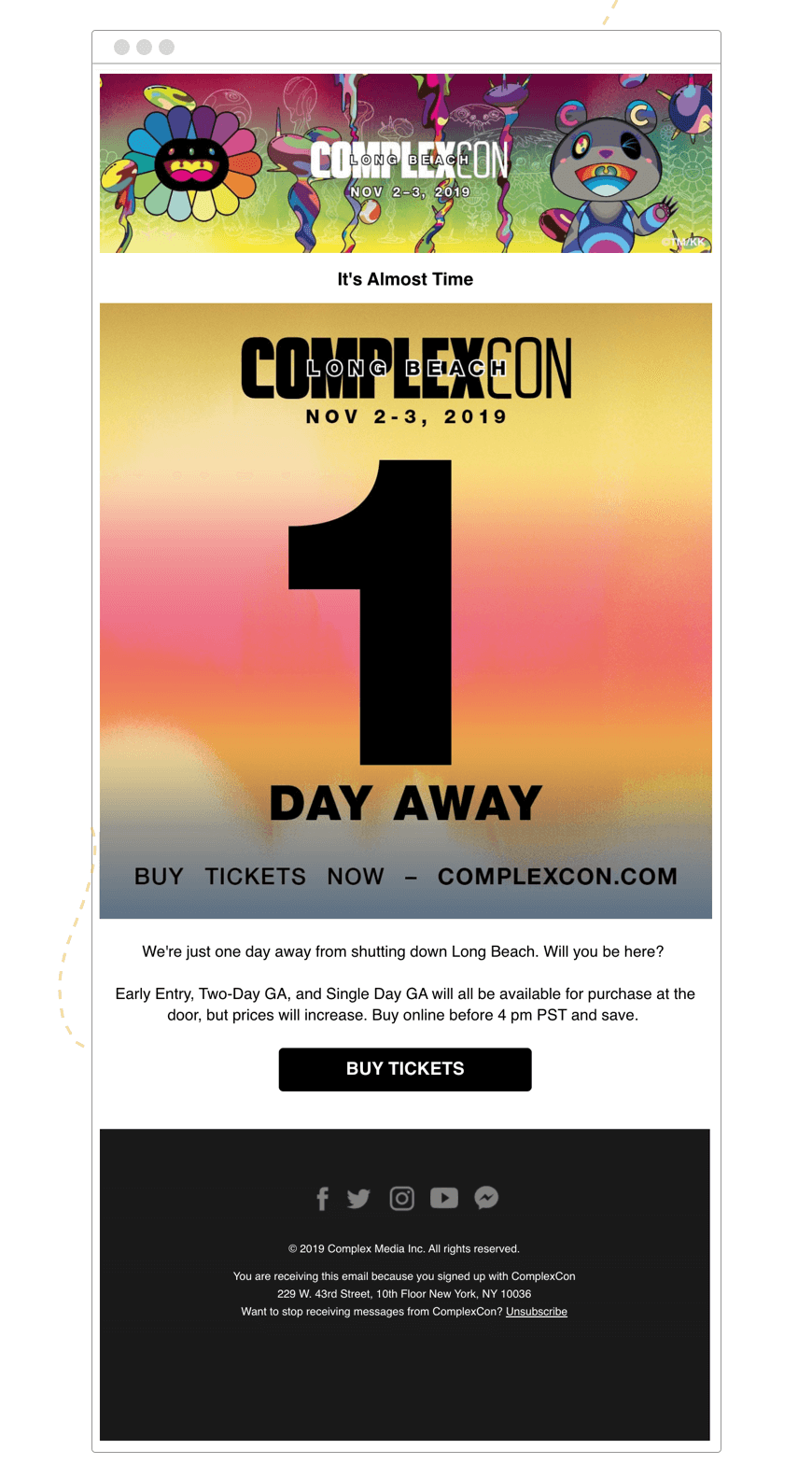 Subject line: 20% Off - Offer Ends Tonight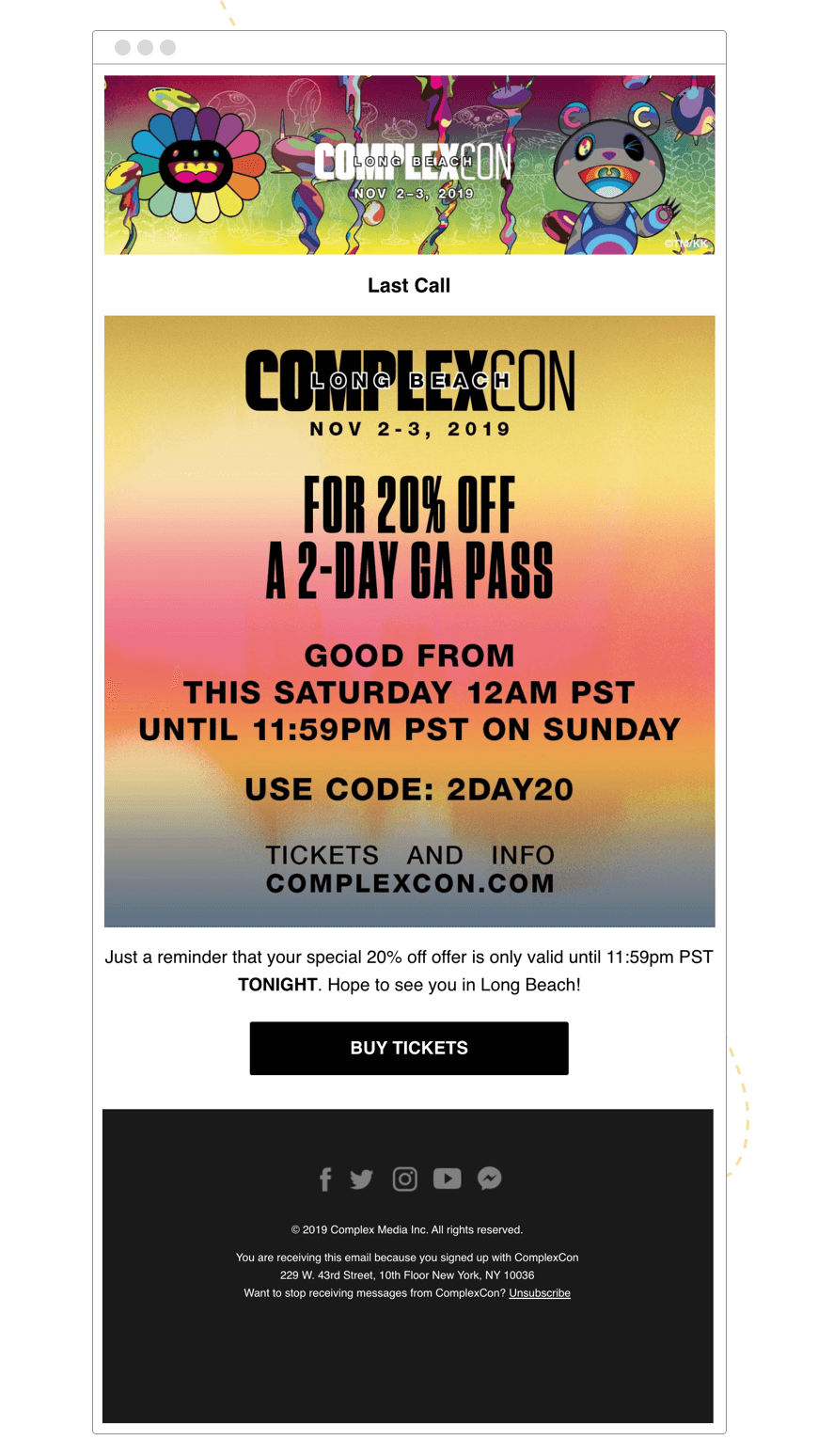 Wrap Up
Event marketers are beginning to realize the power of automations to sell more tickets. With some inspiration from these top event brands, you're ready to start brainstorming how to leverage abandoned cart automations for your next event.
Interested in learning more about how automations can help level up your event email marketing strategy? We've created a comprehensive guide sharing all the tips and tricks on the top three foundational automations every event marketer should set up: