The sun's out, more and more fans are fully vaccinated, and the hottest post-pandemic events are just around the corner. To take full advantage of the current excitement, you need to leverage the power of SMS and add it to your roster of marketing tools to sell more tickets and drive higher revenue. With over 65% of consumers doing most of their shopping on their phones and more than 61% of businesses having increased their SMS budgets in the last year, now's the time to hop on the SMS bandwagon.
Not only are SMS automations great for targeting fans that are spending most of their time browsing on their phones, but you're more likely to get a conversion because of how relevant and timely they are. The best part? You can set up these automations in 5 minutes and walk away and let them work their magic, completely hands free. Let's dive in!
Welcome SMS
Welcome new subscribers to your list with an automated text that sends right when they sign up, with a discount code to drive sales right away. Over 74% of customers expect a welcome as soon as they sign up for your list, making them a must have in your marketing workflows.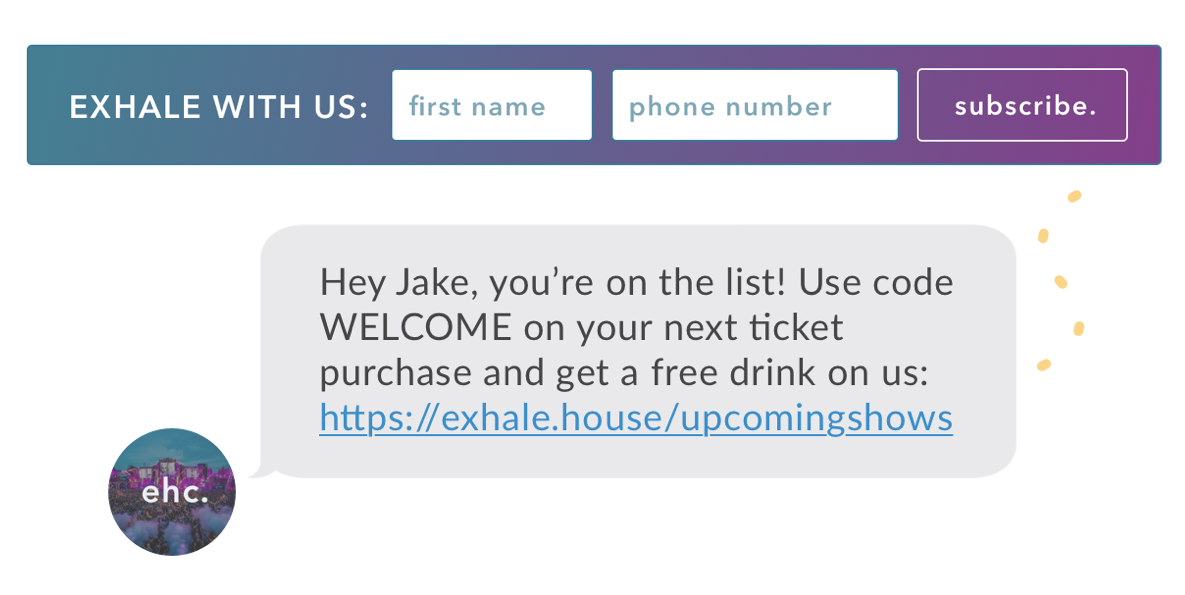 Birthday SMS
Show your subscribers you love them with an automated text on their birthday! Include a promo code to celebrate.
Abandoned cart SMS
Over 70% of fans who start a cart don't buy tickets at all. Without an abandoned cart automation, that's a lot of potential revenue left on the table (two to four trillion from abandoned carts a year as a matter of fact).
Recover revenue with a cart reminder SMS sent to subscribers who added tickets or merch to their cart but didn't complete a purchase. This automation can drive over 20x revenue, so it's one you don't want to miss.

New customer thank you SMS
Thank subscribers who've just made their first ever purchase with a promo code to show your appreciation. This is a great way to build brand loyalty and customer retention.

High value customer SMS
Send an SMS to your highest-spending customers with an exclusive invite or offer that makes them feel special.
Wrap up
With SMS automations, you're able to engage your audience, send hyper-targeted texts that are guaranteed to maximize conversions, and drive higher revenue for your future events. Want tips on how to grow your SMS list and collect phone numbers? Check out this blog post on How to Grow Your Events SMS List and Sell More Tickets.
Get all the strategies you need on events SMS marketing in The Event Marketer's Guide to SMS 👇🏼