Summer's here, more and more fans are vaccinated, and events are finally starting back up again. Now's the perfect time to re-vamp your email and SMS design to maximize engagement, drive higher revenue for your next show, and stay connected to your #1 fans. Let's dive in!
Include a contest
Ed Sheeran does a great job of getting fans excited about his upcoming single by including a contest that gives his fans the chance to win a video of Ed himself, playing a song just for them. All they need to do is click on the CTA and pre-order his new song before it's released. Who'd want to miss winning a prize like that, right?
The CTA is above the email fold, so fans can't miss it, and the email includes the teaser image for the new song. The email gives fans just enough to get excited without giving too much away about the new release.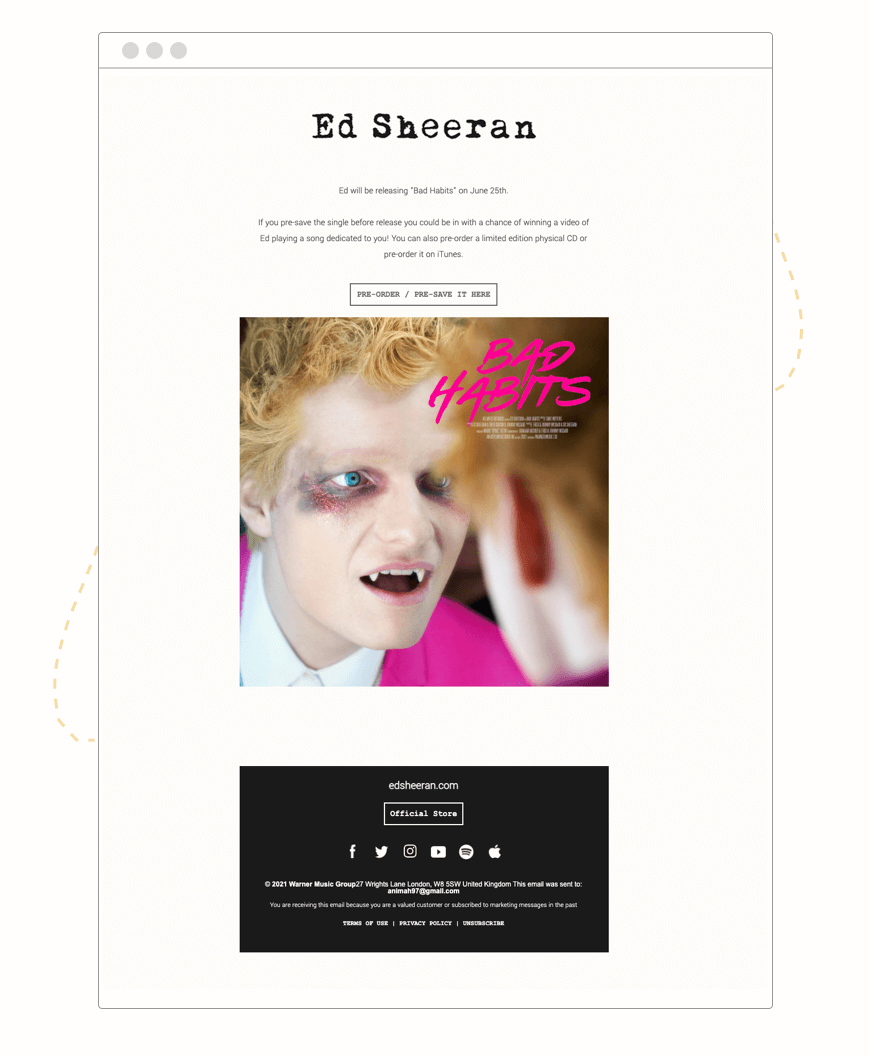 Winback email
After a year of no events, you might have some fans that have unengaged, and haven't read your last few emails. That's where a winback campaign comes in! Continuing to send emails to fans that are no longer interested in receiving your emails, is not only ineffective, but can hurt your deliverability in the long run!
Related: 2 Event Email Strategies To Re-engage Fans and Improve Deliverability Post COVID-19
This Warped Tour email is a great example of what your winback email should look like! They include clever engaging copy, and a CTA that lets fans opt back in easily.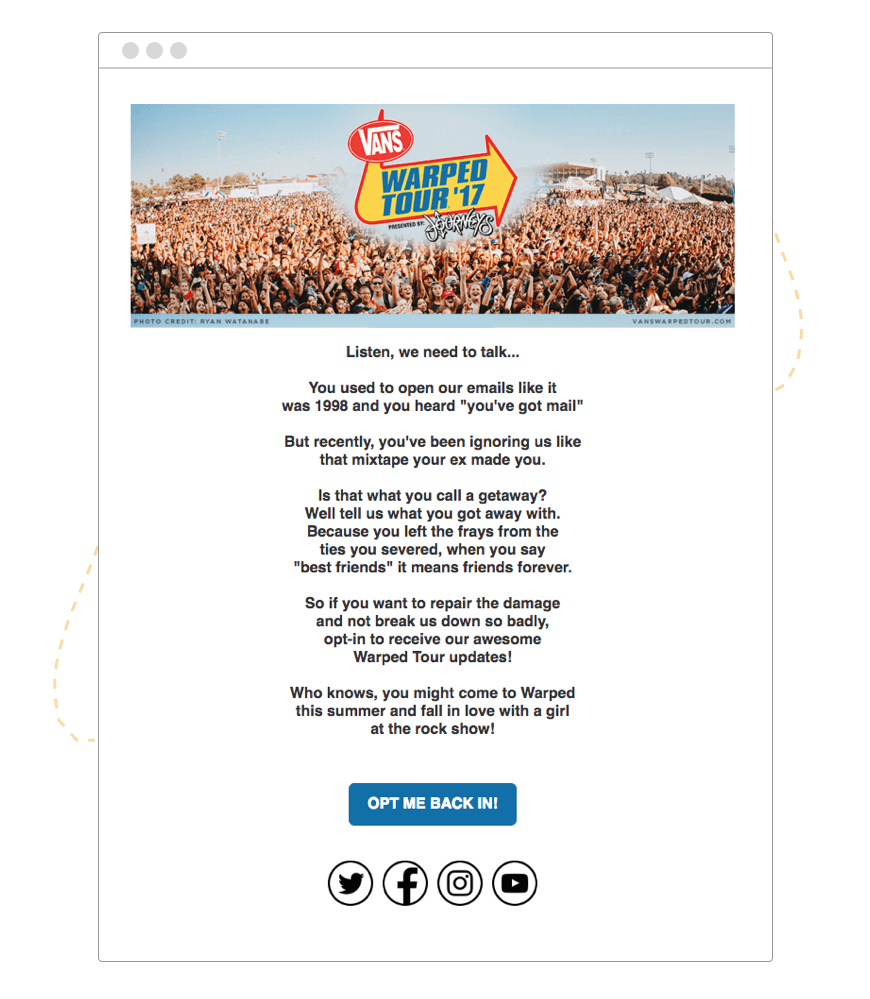 Reward your top buyers with discounts
This Dolan Twins' email rewards frequent purchasers with 15% off their next purchase and includes a personalized coupon code and CTA that takes you directly to their merch shop. Use this as a guide to show your biggest fans some extra love!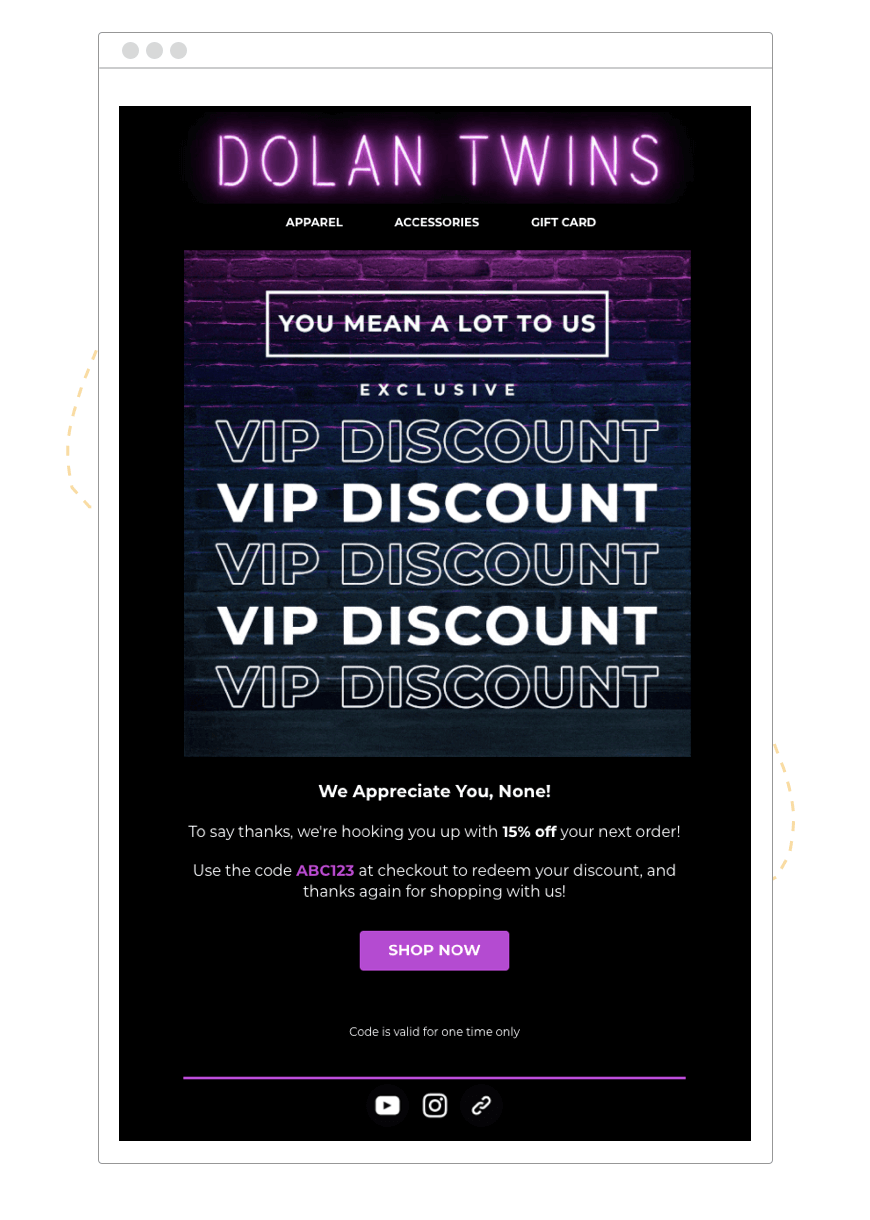 Limited time offer
If email's the king of marketing, than SMS is the queen. With over 65% of consumers doing most of their shopping on their phones and more than 61% of businesses having increased their SMS budgets in the last year, now's the time to hop on the SMS bandwagon.
Send a text message with the release of your new album giving fans a little gift for being the best fans in the world! Nick Jonas adds the iTunes link to buy with an image of his new album cover. The limited time offer creates that much needed FOMO to drive higher sales.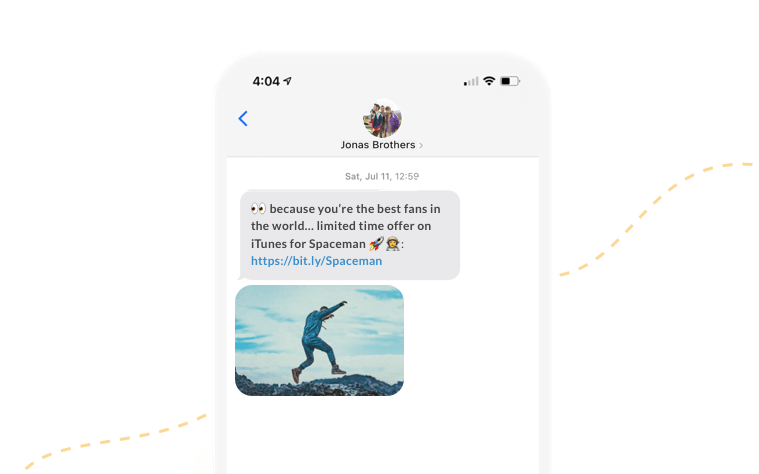 Wrap up
Whether you're sending out a campaign for your next tour, album release, or merch drop, taking the time now to revamp your email and SMS design can mean higher engagement, and more revenue in the future.  Remember to personalize your campaign as much as possible, pay close attention to the images you choose, and always include a CTA!
Get all the strategies you need on events SMS marketing in The Event Marketer's Guide to SMS 👇🏼