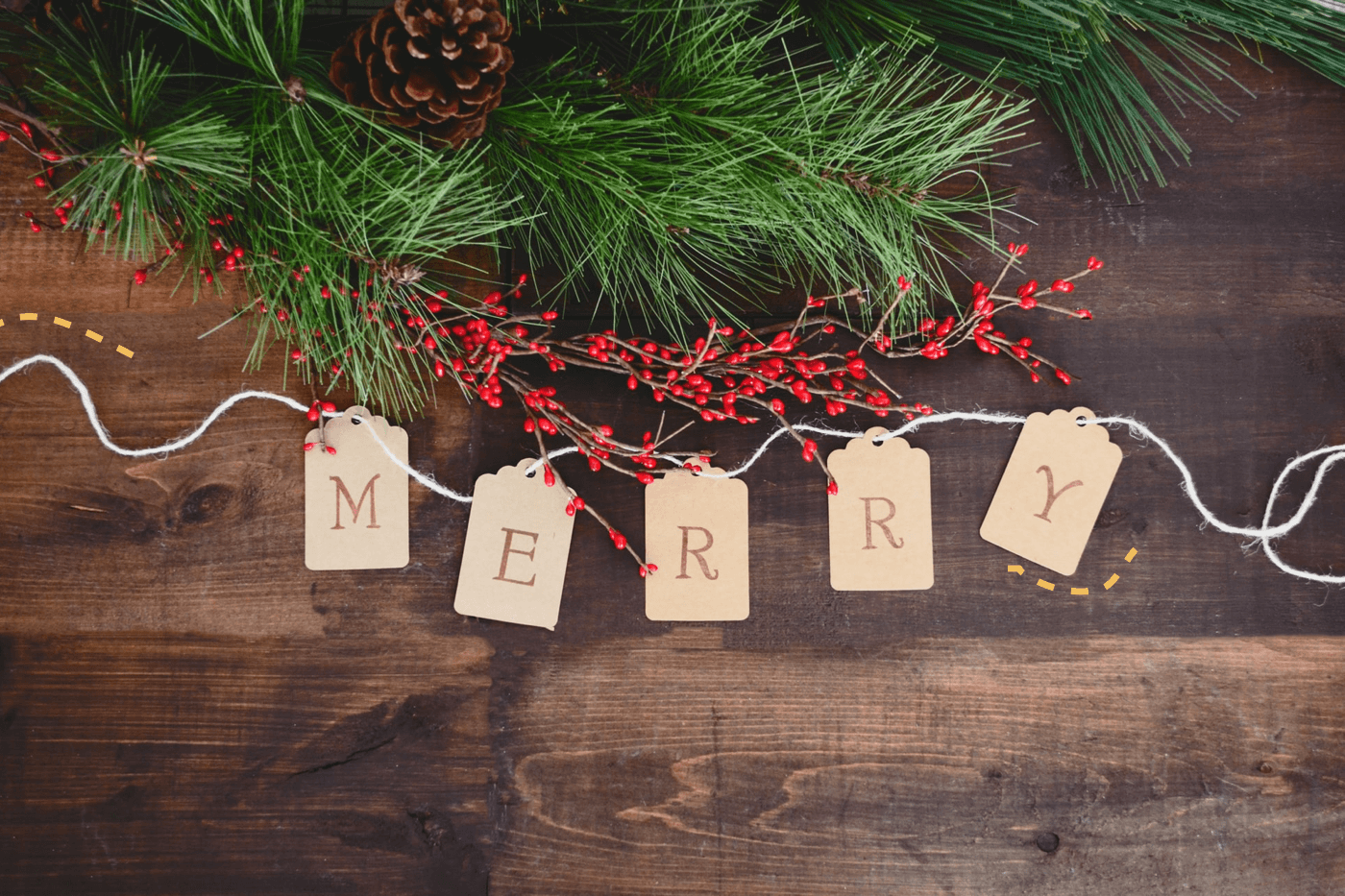 Santa's coming to town in a few short weeks and it's time to get your email strategy on the nice list! Last year's spending hit $1.3 trillion in the US alone, making it the busiest sales periods of the year. With email being the biggest driver of ROI ( for every $1 spent, you get a $38 return), make sure you're prepared with the right strategies to engage customers better and drive conversions. Let's get in to it!
Segmenting your audience
Segmenting your audience, and sending the right emails to the right people is the key to maximizing your conversion potential. Your targeting strategy should change based on the segments your customers fall into. Make sure you're segmenting based on the preferences they stated in your sign up form,  past purchase behavior, web behavior, and engagement levels.
Build a mobile - specific popup form to collect opt-in
To segment your list better, use a mobile specific sign up form like the one below to collect opt in! They're targeted toward mobile users and are personalized, relevant and give your customers a seamless browsing experience. There may be customers that only want to sign up for email or SMS, so you can set up a standard popup form for desktop where SMS sign up is optional, and a specific mobile popup form that specifically asks for SMS opt-ins.
Start off with asking your customer for the basics - their name, birthday, and phone number. Then go one step further and ask about their interests, and what they want to hear from you about. By asking the right questions at signup, it'll be easier for you to build hyper-targeted email and SMS campaigns that maximize engagement.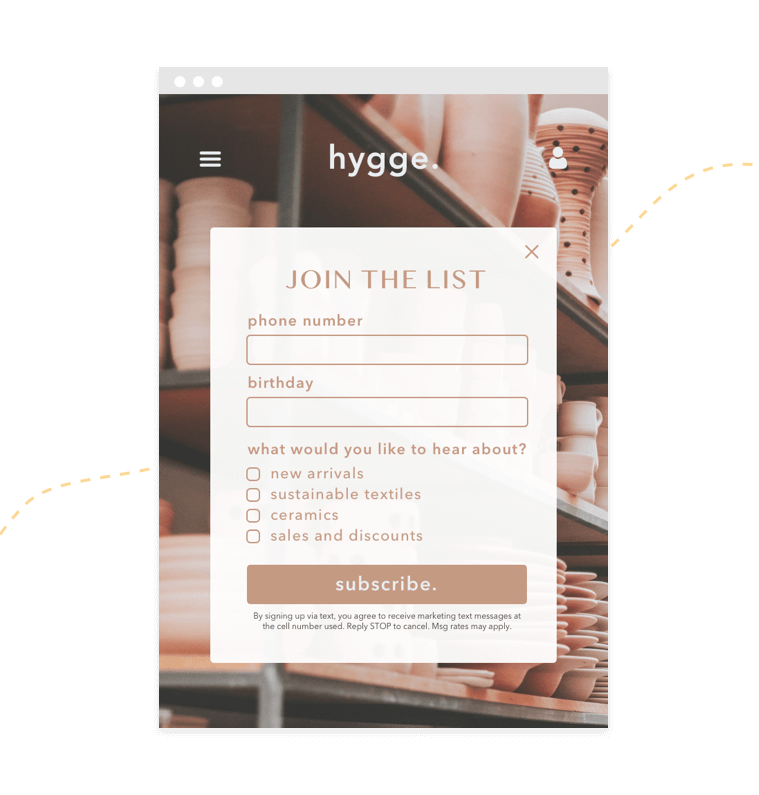 Setting up the right automations before the holiday season
There's no question that automations directly increase open rates and conversions, meaning more money in your pocket. Your email automations are tailored to your customers' unique journey with your brand and triggered by their actions on your site. Because they're hyper-targeted and relevant to the customers' current needs, you'll start to see higher conversions with your emails. Make sure you have these automations set up before the holiday season:
Welcome Automations
New Customer Thank You Automations
Abandoned Cart Automations
Browse Abandonment Automations Using Conditional Splits
Post-holiday automations
Focus on Deliverability
Deliverability is the most important factor of any strong email campaign. What's the point of sending great emails if no one's actually receiving them? Center your email strategy around customer engagement and make sure you're doing the four steps below to ensure your Christmas emails consistently land in your customers' inbox.
Cleaning Your List
Creating Welcome and Winback Automations
Using Subdomains
Sending Consistent and Targeted Email Campaigns
Must have Christmas templates
Here are two must have templates you should be using to drive higher conversions this Christmas holiday! The key is to personalize your campaigns, make it interactive with eye catching images and gifs, and always include a CTA that directs customers to your site.
Smart Home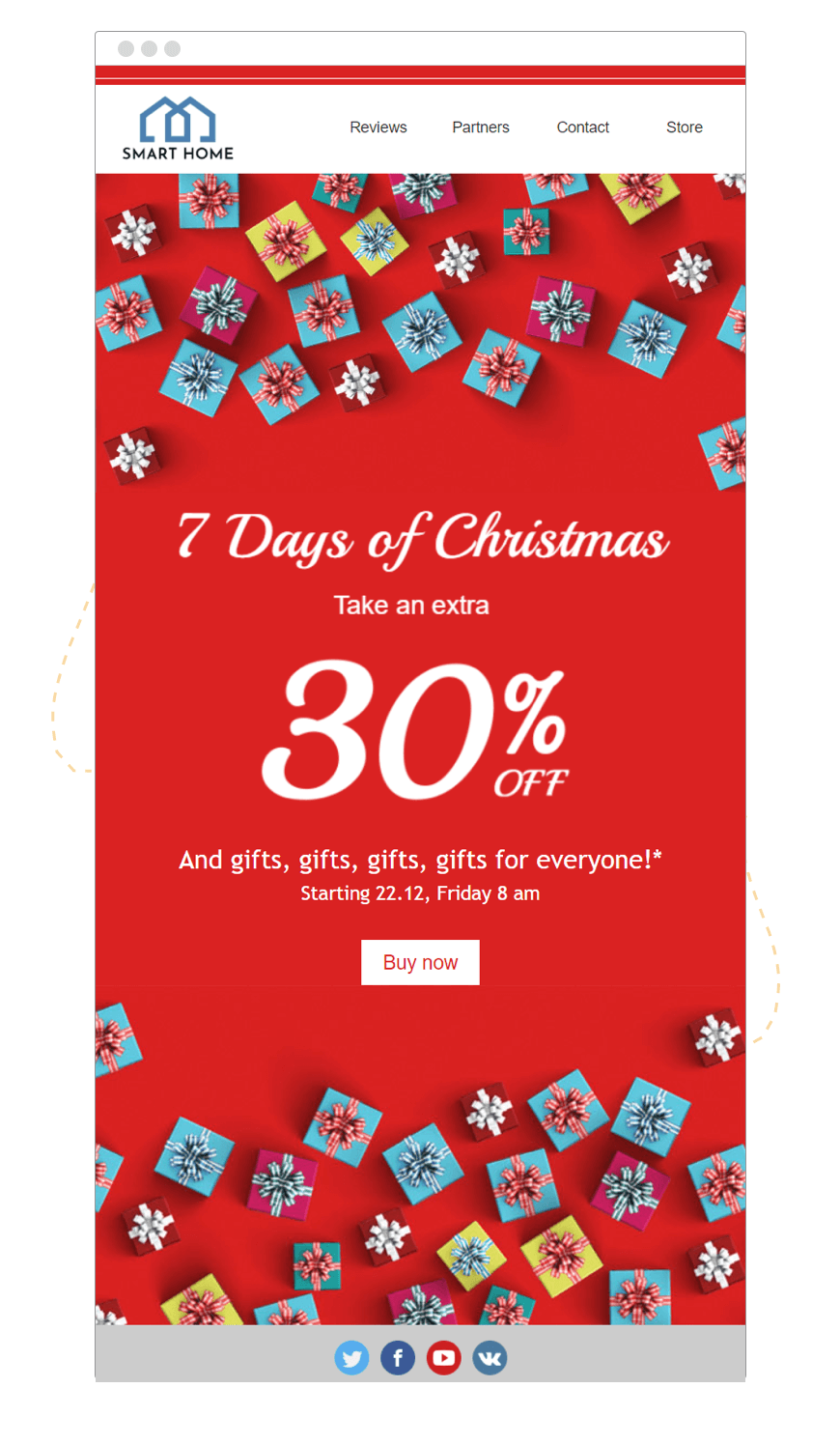 This is a great email example by Smart Home announcing their Christmas sale. They put their sale discount front and center, captivating customers right away with their offer. Note that their CTA is above the email fold making it easily accessible which leads to higher conversions.
Starbucks

Starbucks' holiday drinks are a staple during the Christmas season! Their much loved holiday flavors are front and center with a CTA directing them to order. It's a great way to remind customers that their holiday drinks are back and that they should get that sweet holiday treat they've been craving all year long. They also included product recommendations that would be perfect for holiday gift-giving.
Wrap up
Christmas might still be a few weeks away but it's never too early to start building your holiday email strategy.  With the strategies outlined above, you'll have everything you need to create a comprehensive Christmas email strategy that focuses on engagement and driving revenue for your brand.