3 Strategies To Grow Your Email And SMS List Before Your Post-Pandemic Events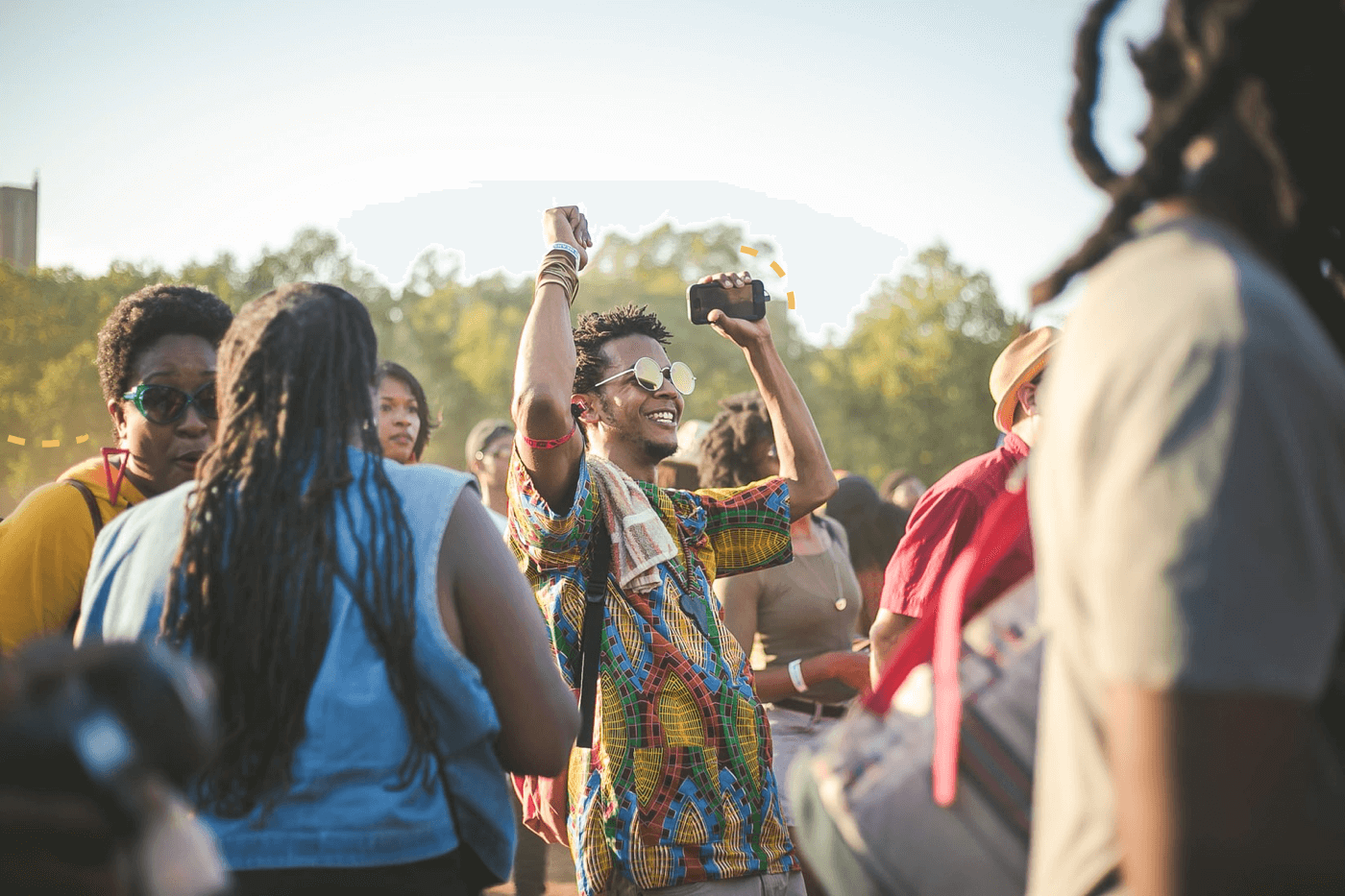 Vaccines are rolling out and after a year of heavy restrictions due to the pandemic, events' are finally starting to ramp up again. As event marketers you probably can't wait to announce your next events, and plan new email strategies to get your post-pandemic event email campaigns in tip top shape. Your fans have also been eagerly waiting for the past year to get back to their favorite concerts and festivals, so it's the perfect time to ensure your strategy is optimized to grow your email and SMS list. The more excited fans you have signed up to your list, the more people see your emails, and the more revenue your emails will drive.
Grow your audience with all the tools in your arsenal including popup forms, your social reach and your current email strategy and watch your list grow with new fans who can't wait to get out to your shows. Let's get this show on the road!
Set up a popup form
As an event marketer, you've probably seen a few embedded popup forms in your time and they should be the first tactic you use to build your list. They're easy to set up, hard to ignore, and usually incentivize signup with a sweet offer or discount, making them an effective way to build your list!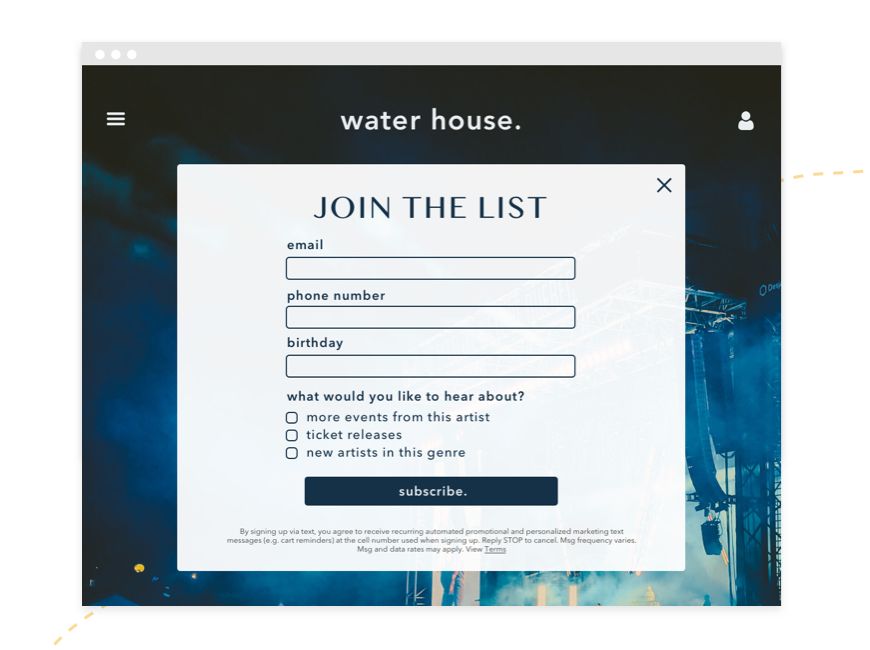 Start off by asking your customer for their name, email, phone number, birthday, and location. These are all important indicators that can help you identify which events they'd want to go too based on their demographic. For example, you wouldn't send emails about an event happening in New York, if they live in Dallas, or a show at a 21 and over venue to an 18 year old. Sending irrelevant emails sends a signal to customers that they shouldn't open your future emails, and can hurt your deliverability and even land you in the spam folder if you're not careful.
Related: 21 Email Segmentation Ideas for Event Marketers [Cheat Sheet]
Once you get the basics out of the way, ask them about their favorite artists, what music they listen to, and what events they're interested in to get a sense of who they are, and what type of emails they'll engage with! Not only are you building your list but using a popup form is a great opportunity to get some customer data, that you can use to pull insights and send targeted campaigns that maximize engagement right from the start. The more relevant customers find your campaigns, the less likely they'll lose interest, drop in engagement, and churn from your list!
Setup a mobile-specific popup form
Setting up a popup form is the first step, but to give your customers an even better event-going experience you need a mobile-specific popup form that targets customers on their phone, and specifically asks them to sign up for SMS. By getting fans signed up to your SMS list, you're able to send them useful information about the next event, send itineraries, update them with important updates about the artist, and even promote your future events.
The set up is easy since you're asking the same questions about their name, birthday, and interests as you would with your regular popup form, which you can then use to send hyper-targeted and relevant SMS that get instant results. The same rules apply as the regular popup form but only ask for their phone number at sign up, and save email for the web browser popup.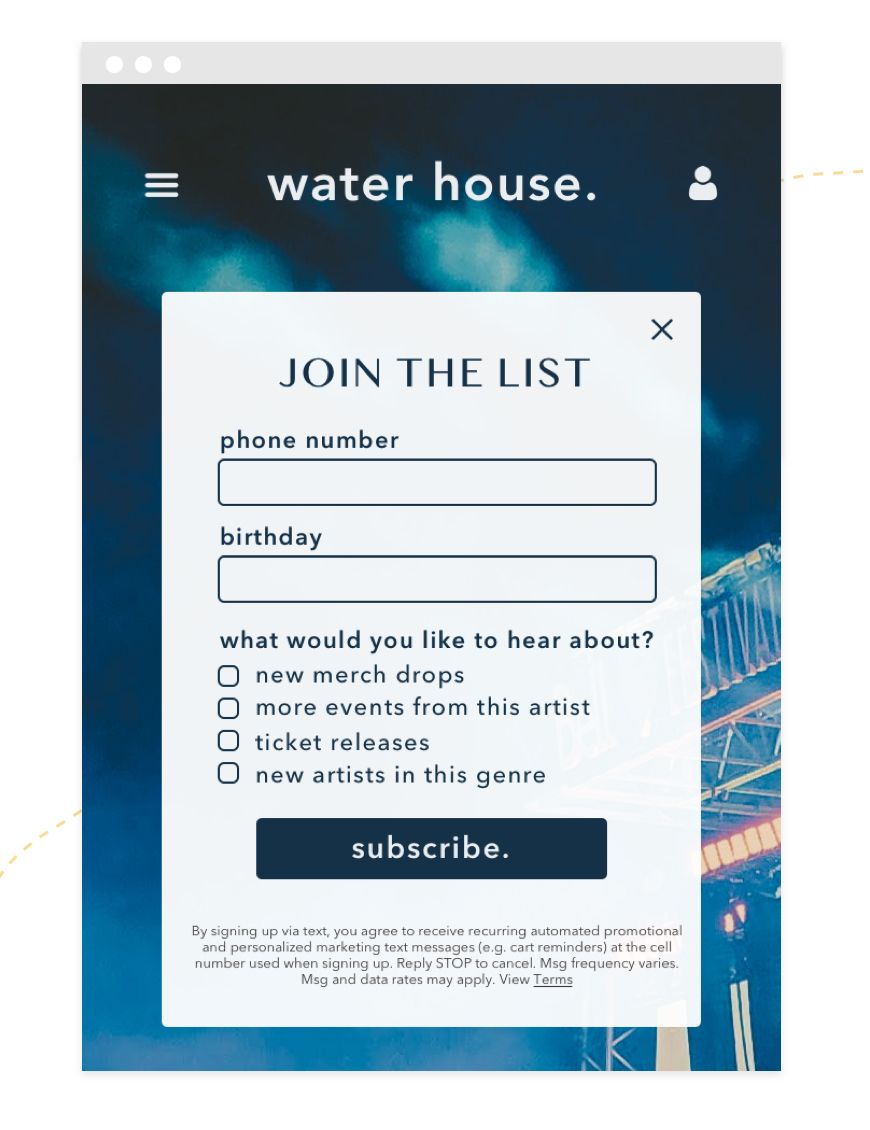 Set up a contest on your socials!
A contest is a sure fire way to grab future event customers' attention that already have a slight interest in your events and get them on your list! Post your contest on Instagram or other socials to turn those followers into email subscribers so you have a direct line in the future. We LOVE data and since your social media followers are the ones engaging with your contest, and participating, you already have great data about which events and artists your new subscribers are interested in. If your customer enters a contest giveaway for free merch for a specific band, you already know that they're fans of the band and are probably interested in concert tickets, and you can guess that they're interested in that genre of music. Use this insight to create a segment ( a group of subscribers that meet certain requirements) of subscribers who are interested in the artist, or products that are featured in the contest, so you can send them specifically targeted emails in the future.
The contest's just the beginning of your relationship with the customers that entered! Post-contest, send a follow up email to entrants who didn't win with a discount code for the event. Remember, the quality of your list is more important than quantity, and contests are a great way of identifying and targeting the exact audience members with high interest and purchase intent. Even if they don't buy, it's worth taking advantage of this high engagement period to generate clicks, build brand awareness and peak their interest for next time.
Set up a welcome email with an exclusive discount for SMS signups
Welcome emails are a must have for any email strategy, and chances are you probably already have one set up. With just a few clicks, you can revamp your welcome email to start asking for SMS signups. For event marketers, it's super important to get customers on your SMS list, because you'll be able to text them for event updates, send artist information, and it's an easy way to get increased engagement for your campaigns.
If you don't have a welcome email set up, here's a quick refresher on why your email strategy needs one:
Over 74% of customers expect to see a welcome email as soon as they sign up for your list, making them a necessary component of your overall email and brand experience strategy
Welcome emails have an average open rate of 91%, so you're more likely to have someone opt in for SMS if you include sign up as a CTA
Use your welcome email to send an exclusive discount for your next show to encourage purchases and share your brand story with new fans
Your welcome doesn't have to only include email! If you really want to wow customers with your brand experience right at the beginning of your relationship, add SMS into your current welcome email workflow. Most brands give a 10% off discount for their next show to new customers in their welcome email and you should still honor that while asking customers to sign up for SMS. In your welcome email, pair your initial welcome discount with a contest that gives customers the chance to win free tickets to your next show. All they need to do is sign up for your SMS list. Your initial welcome discount is the offer that gets people through the door and initially interested enough to sign up to hear from you in the first place.
Related: 3 Automations to Set Up for Your Events Brand, Today
Wrap up
The past year and a half have been hard for everyone, but with restrictions finally getting back to normal your fans can't wait to get back to seeing their favorite artists in concert. This is a great opportunity to grow your list with new fans and make your comeback event bigger than ever. Make sure to ask the right questions in your popup form, use your social following to build your list with contests,  and set up a welcome automation that asks for SMS as a CTA and you'll see higher sign ups in no time!
Want to take your marketing campaigns to the next level? Check out the Ultimate Guide to Driving Revenue with SMS in 2021 for everything you need to know about SMS as an email marketer. No fluff, no frills — just the most effective ways to add SMS to your existing marketing workflows, so you can get your SMS strategy converting from day one.