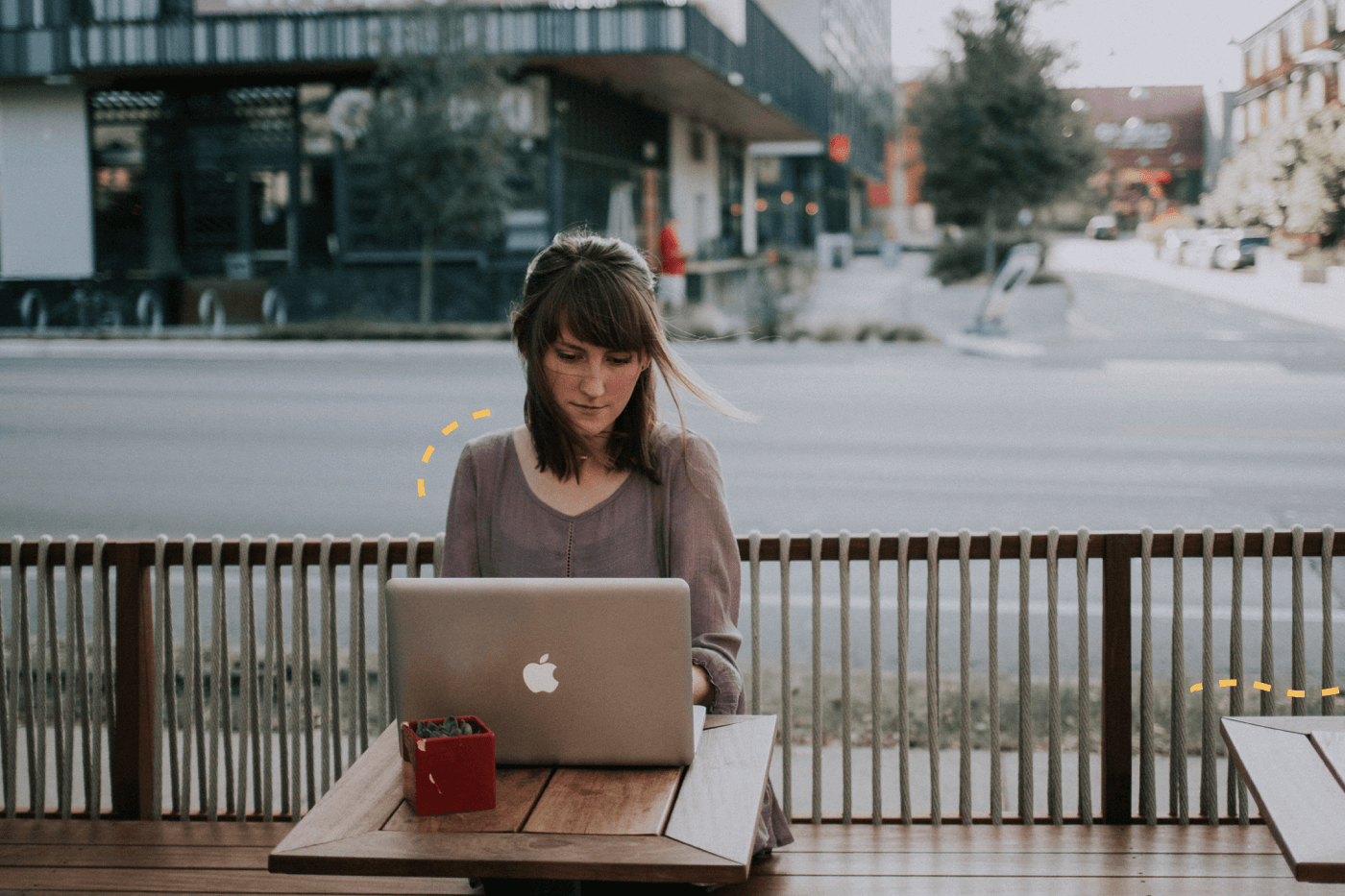 Email is the king of marketing, but as inboxes become more crowded, SMS has stepped in as the perfect queen in the email marketer's toolkit. With a 98% open rate, it's no surprise that 61% of brands increased their SMS marketing budget within the last year. And with 65% of customers doing most of their shopping on their phones, now's the time to leverage the immediacy and native push notifications of SMS to maximize revenue.
To leverage SMS, you first need to build your list with customers that want to receive your texts! No matter what industry you're in and how big your business is, your goal should be the same: get people excited to sign up. Here are three strategies you can use to drive higher signups for your list in no time. Let's get into it!
Set up a mobile specific popup form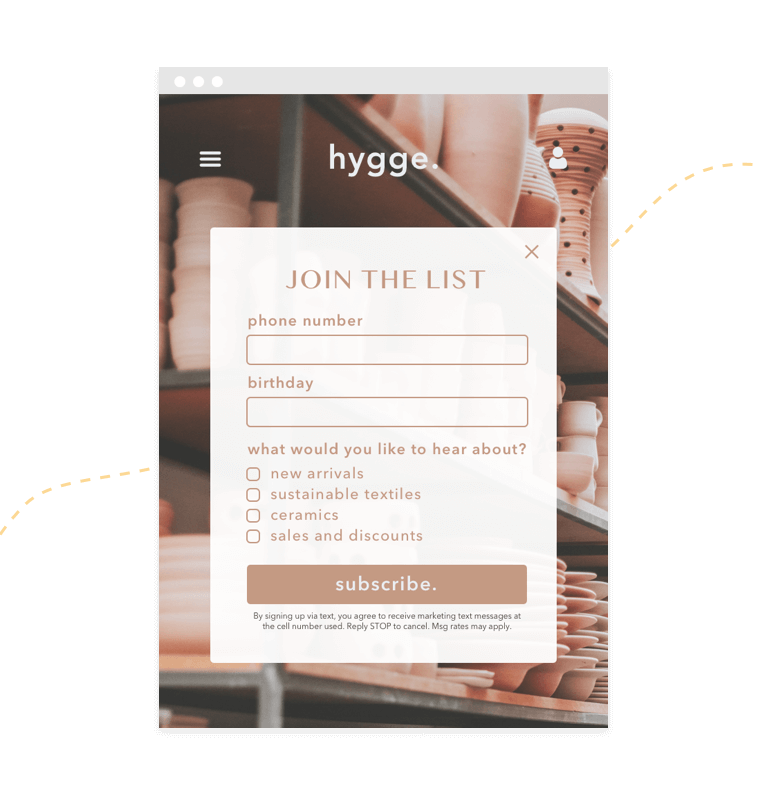 A mobile-specific popup form is a great way to collect opt-in because they're targeted to mobile users, creating a personalized, relevant and seamless browsing experience. There may be customers that only want to sign up for email or SMS, so you can set up a standard popup form for desktop where SMS signup is optional, and a specific mobile popup form that specifically asks for SMS opt-ins. Not only are you targeting customers through every channel, but growing both your email and SMS list.
Mobile-specific popup forms are also the perfect opportunity to collect customer preferences, which are the key to sending targeted campaigns right from the get-go! Start off with asking your customer for the basics - their name, birthday, and phone number. Then go one step further and ask about their interests, and what they want to hear from you about. By asking the right questions at signup, it'll be easier for you to build hyper-targeted email and SMS campaigns that maximize engagement. The more relevant customers find your campaigns, the less likely they'll lose interest, drop in engagement, and churn from your list!
Welcome email asking for sign up
Subject line: Welcome to the fam 💛 P.S. here's 10% off for signing up!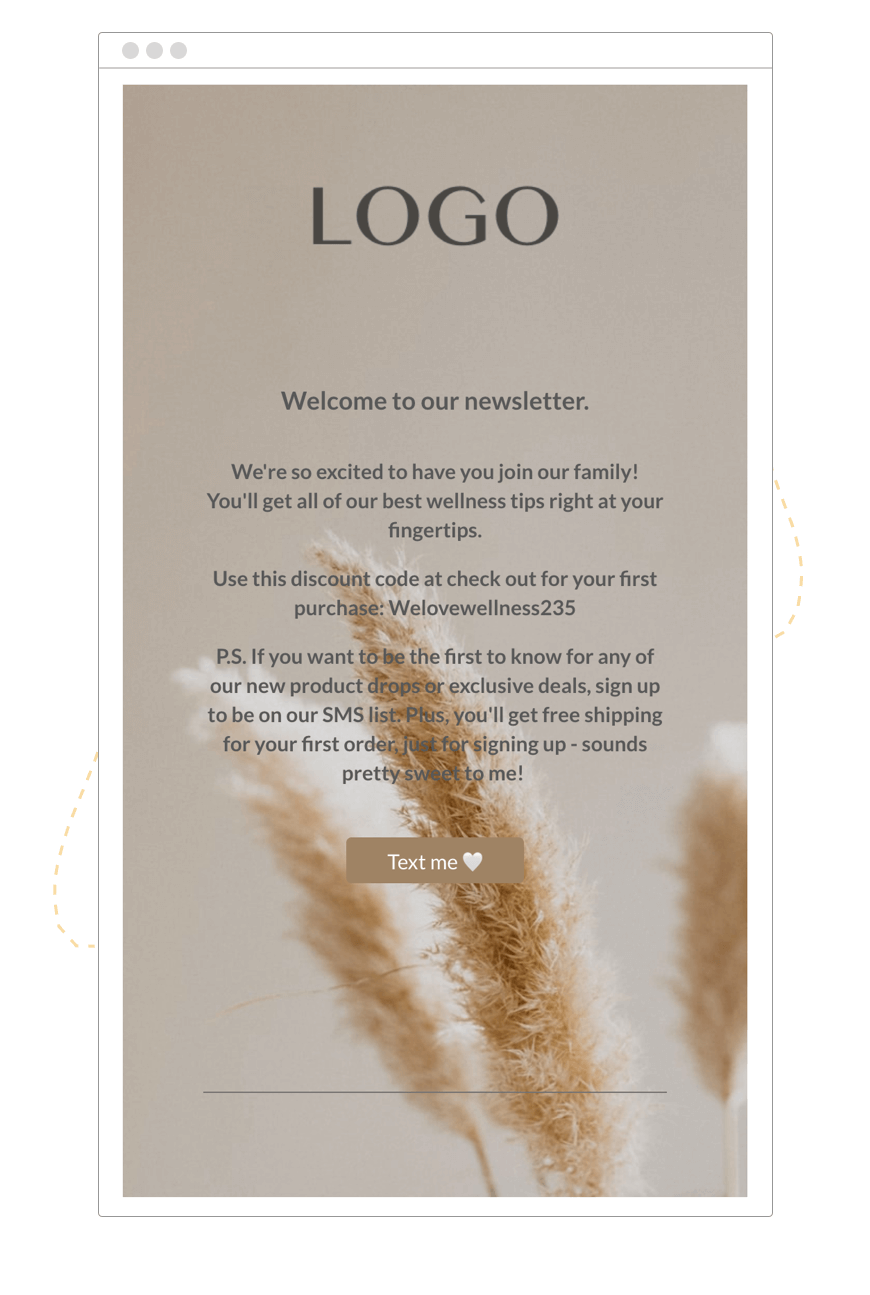 Welcome emails are one of the best tactics to engage customers right at the start of their journey with your brand, since over 74% of customers expect to see a welcome email as soon as they sign up to be on your list. You most likely already have one set up, and with a few simple changes, you can use your welcome email to get customers to sign up for your SMS list.
With an average open rate of 91%, you're more likely to have someone opt-in for SMS if you include sign-up as a CTA in your welcome email. Most brands use their welcome email to give a 10% discount to new customers who've just signed up to be on their email list. And you should honor that, even when you're asking customers to sign up for your SMS list. Your initial welcome discount is the offer that gets people through the door and initially interested enough to sign up to hear from you in the first place.
In the email example, the brand included their welcome discount, but added something extra to entice customers to also sign up for SMS. Pair your welcome discount with free delivery for their first purchase and you're guaranteed higher sign-ups to your SMS list. Also, make sure you tell customers what they can expect from your texts, and always include a CTA above the email fold to increase conversions!
Exclusive discount for SMS
Subject line: Who doesn't love 20% off? Sign up for SMS and redeem your discount 💸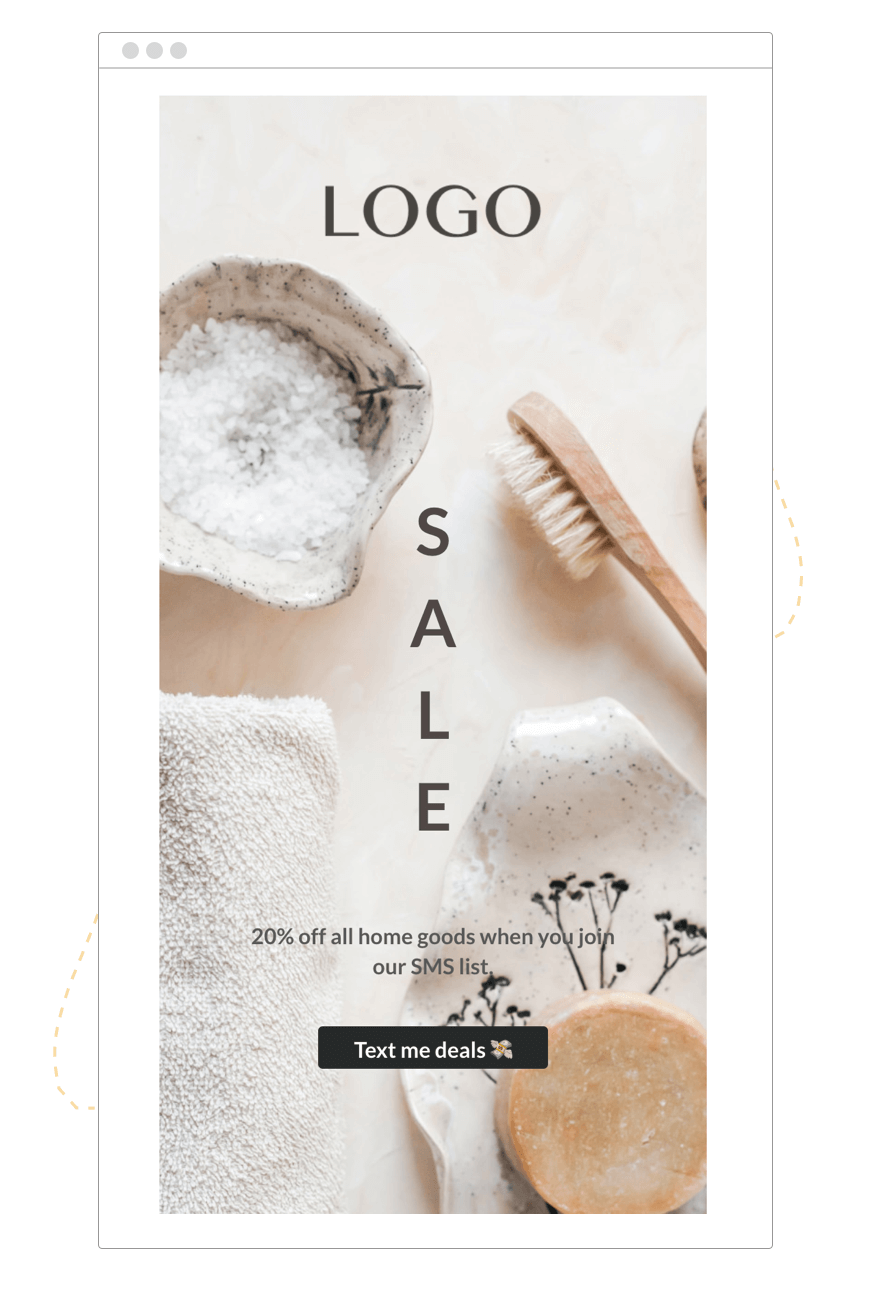 Everyone gets excited about a discount - especially when you feel like it's an exclusive deal only you're getting. An exclusive discount for customers that sign up to be on your list is a great way to target those customers that may be on the fence about signing up for SMS. Make sure to keep your copy short and sweet, and add a CTA that takes customers straight to your sign-up form.
Wrap up
Building your SMS list is the first step in creating a strong SMS strategy that maximizes customer engagement, and drives revenue for your brand. Make sure you're asking the right questions in your mobile sign-up form, asking for SMS opt-in in your welcome email, and adding a sweet incentive that gets customers excited about signing up and you'll be growing your list in no time.
Want to dive deeper into SMS strategies you can use as an email marketer? Check out the Ultimate Guide to Driving Revenue with SMS in 2021. No fluff, no frills — just the most effective ways to add SMS to your existing marketing workflows, so you can get your SMS strategy converting from day one.