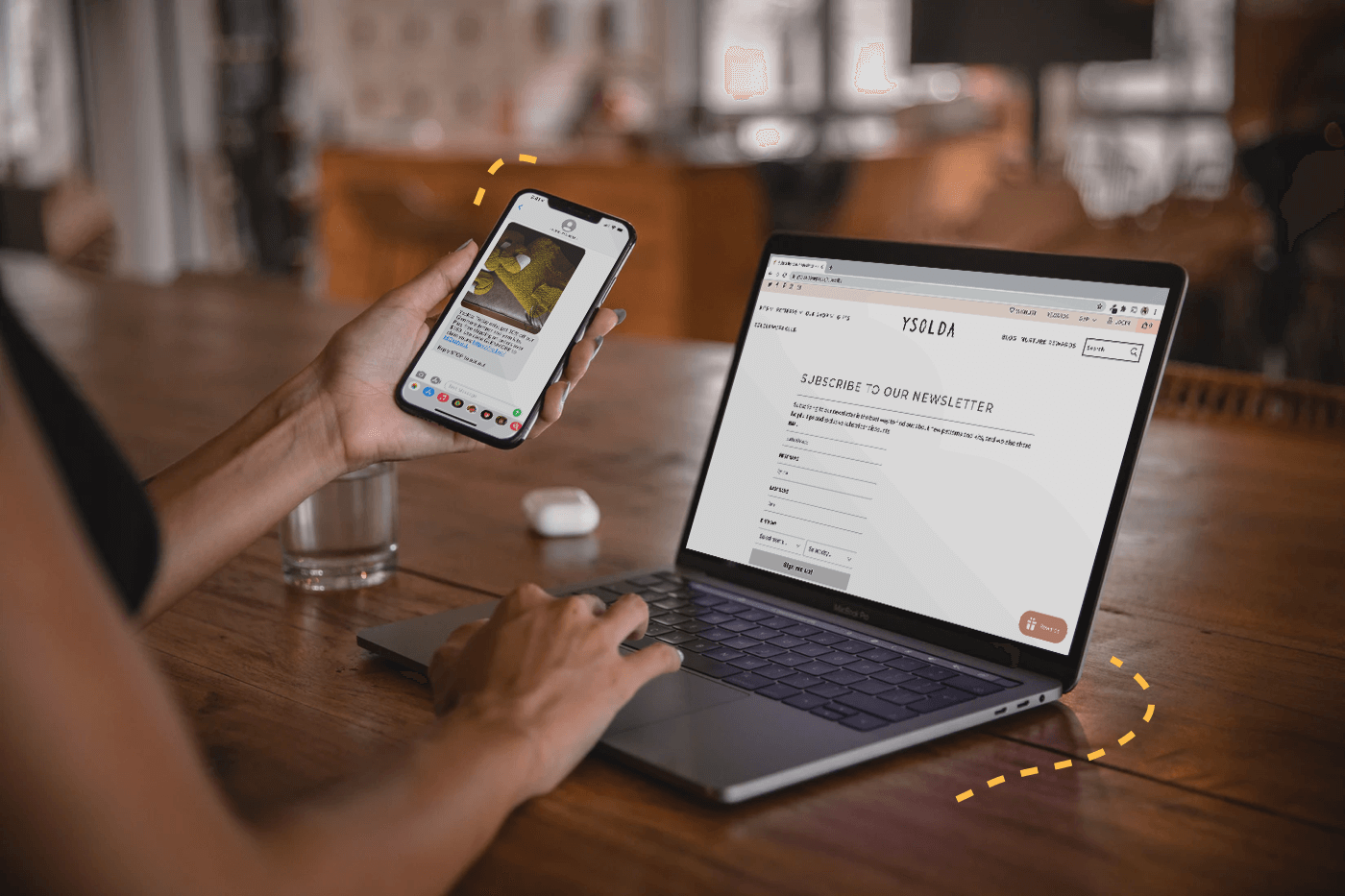 We all know email is the bread and butter of marketing, but as inboxes become more crowded, SMS has proven itself as a powerful channel to build stronger customer relationships and drive higher conversion. With a 98% open rate, it's no surprise that 61% of brands increased their SMS marketing budget within the last year. And with 65% of customers doing most of their shopping on their phones, it's the perfect time to leverage the immediacy and native push notifications of SMS in your existing email workflows to maximize revenue.
Think about it, when was the last time you received a text you didn't read? In fact, 90% of SMS campaigns are read in the first 3 minutes.
Your email strategy should be driving 40% of your brand's revenue. Add SMS and take that percentage even further. Here are 3 effective SMS strategies you can add to your existing email workflows to maximize customer engagement and drive more conversions. Let's dive in!
Add an SMS split to your current welcome automation
If you want to nurture customer relationships right from the beginning, you need to add SMS to your welcome automations. You're probably already familiar with how powerful welcome emails are in introducing customers to your brand. 74% of customers expect a welcome as soon as they sign up for your list, similar to how customers expect to be greeted when walking into your store.
For customers you've collected SMS opt-in from, sending a welcome SMS instead of an email guarantees higher opens and clicks. You're not battling a crowded email inbox, and SMS messages are often delivered immediately too. Leverage the immediacy of SMS to send new signups a welcome text right away, and include a discount to incentivize quicker conversion.
We recommend adding SMS into your existing welcome automation workflow with a conditional split on SMS opt-in. This saves you time and helps you effectively engage any new subscribers who've opted into SMS, while subscribers who only opt in to email continue to receive your existing welcome flow.
Quick tip: Welcome automations with multiple emails and SMS still perform the best. Set up your welcome SMS series to send an initial text, followed by one or two emails with longer content about your brand, and a final text reminding new subscribers to use their welcome offer.
Fun Fact: brands that send coupon codes through SMS see 10x higher coupon redemption than codes shares on other channels (like email, socials, etc). Include a discount in your welcome SMS text to guarantee higher sales.
Grow your list with a mobile-specific SMS signup form
To fully leverage the potential of SMS, you need to collect SMS consent! A mobile-specific popup form is a great way to collect opt-in because they're targeted to mobile users, creating a personalized and relevant browsing experience.
Some customers may only want to sign up for SMS or email, so use a standard popup form on desktop where SMS opt-in is optional, and a mobile popup form specifically asking for SMS opt-in to increase signups and grow both your email and SMS list.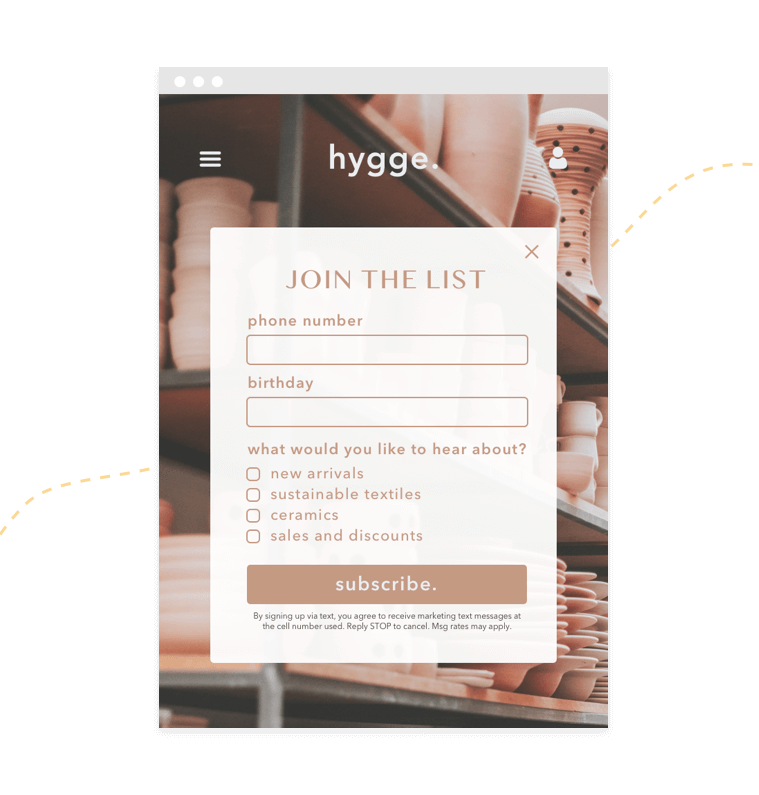 Mobile-specific signup forms are also the perfect opportunity to collect customer preferences, so you can send targeted campaigns right from the get-go. In addition to asking for the basics like name, phone number, and birthday, ask your new SMS signups for their interests and what they want to hear from you about. By asking the right questions on signup, it'll be easier for you to build hyper-targeted email and SMS campaigns that maximize engagement. The more relevant customers find your campaigns, the less likely they'll lose interest, drop in engagement, and churn from your list!
Action your customer data to drive ROI from email and SMS
As email marketers, customer data is the backbone of our strategies. Without it, we'd be lost on how to engage customers, where they are in their buying journey with our brands, and we wouldn't even know whether they're browsing our products or adding them to their carts. But most email marketers aren't leveraging the full potential of their customer data.
From browsing behaviour to past purchase data, managing your list to action your data will not only help make your campaigns more effective, you'll also be able to spot customer insights that can inform your greater marketing strategy. From how different customer cohorts engage with your brand, to what promotions and discounts work best for customers with cart orders above and below your average cart size. Drive ROI from your email and SMS strategies by utilizing the data you gain from your campaigns, so you can tailor your brand experience to build stronger customer relationships that improve retention and drive revenue. Here are two key customer characteristics you should leverage:
Previous browsing and purchase behavior
By analyzing your customers' previous browsing behavior and purchase data, you can filter for patterns and pull insights to predict the behavior of your future customers. For example, is there one key product that all your repeat customers buy? That product may have been their introduction to your brand, and why they've continued to support and purchase from you. If so, leverage this product in your welcome emails, on your homepage, and even on your socials.
If you're selling products that have a recurring purchase pattern, like toilet paper or concealer, you can automate SMS campaigns to remind customers to restock before they're about to run out.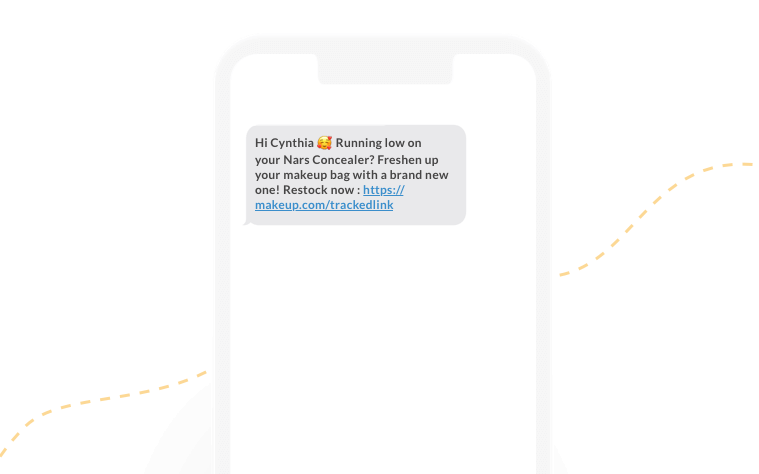 Average order size and cart value
Average order and cart value data can help you figure out your high value customers and top spenders. Pay special attention to their interests, browsing behaviour and purchase patterns, and send campaigns with tailored offers and recommended products to drive higher order sizes. For example, some demographics may have an average cart size of $100, while some may average $500. Segmenting on this data will empower you to build targeted campaigns based on what will most likely get them to convert. In this case, setting up an automation that sends a "10% off orders over $150" to lower cart size customers will bring up your overall average order size and drive more revenue. A good ESP (especially one like Hive with CRM functionality) will empower you to organize, manage, and action your data to find these insights.
Use an ESP that empowers you to action your data
An ESP with flexible data management is invaluable to creating an email and SMS marketing strategy that converts. Without an ESP that has powerful CRM capabilities, the process of actioning customer data is time-consuming and fragmented at best!
If you're evaluating your marketing tech stack and considering a new ESP, look for one with CRM functionality that syncs all your data so it's easy to organize, segment, and action your list. Quick plug – Hive has email, SMS, and CRM all in one! Hive automatically syncs all your data into comprehensive profiles, so you know exactly where customers are in their buying journey with your brand, which SMS and email campaigns they're engaging with, and what products they've been browsing and purchasing the most.
If you're not currently using an ESP with CRM functionality built-in, our team is happy to learn about your pain points and see how Hive can help. If that feels too salesy, our email experts are also offering free email and SMS strategy consultations, no matter what ESP you're on. There's no catch, I promise! If you're not sure where to start with SMS but want to take your email strategy to the next level, definitely reach out! Seriously, no strings attached.
Wrap up
Email is still the king of marketing, but with inboxes becoming more crowded and brands looking for new ways to engage customers, SMS has stepped in as the perfect queen in the email marketer's toolkit. With its immediacy, high engagement rates, and simple setup, SMS is the perfect addition to your current email marketing strategy if you're looking for ways to drive more revenue.
These strategies are just the tip of the iceberg of SMS for email marketers. Check out the Ultimate Guide to Driving Revenue with SMS in 2021 for everything you need to know about SMS as an email marketer. No fluff, no frills — just the most effective ways to add SMS to your existing marketing workflows, so you can get your SMS strategy converting from day one.