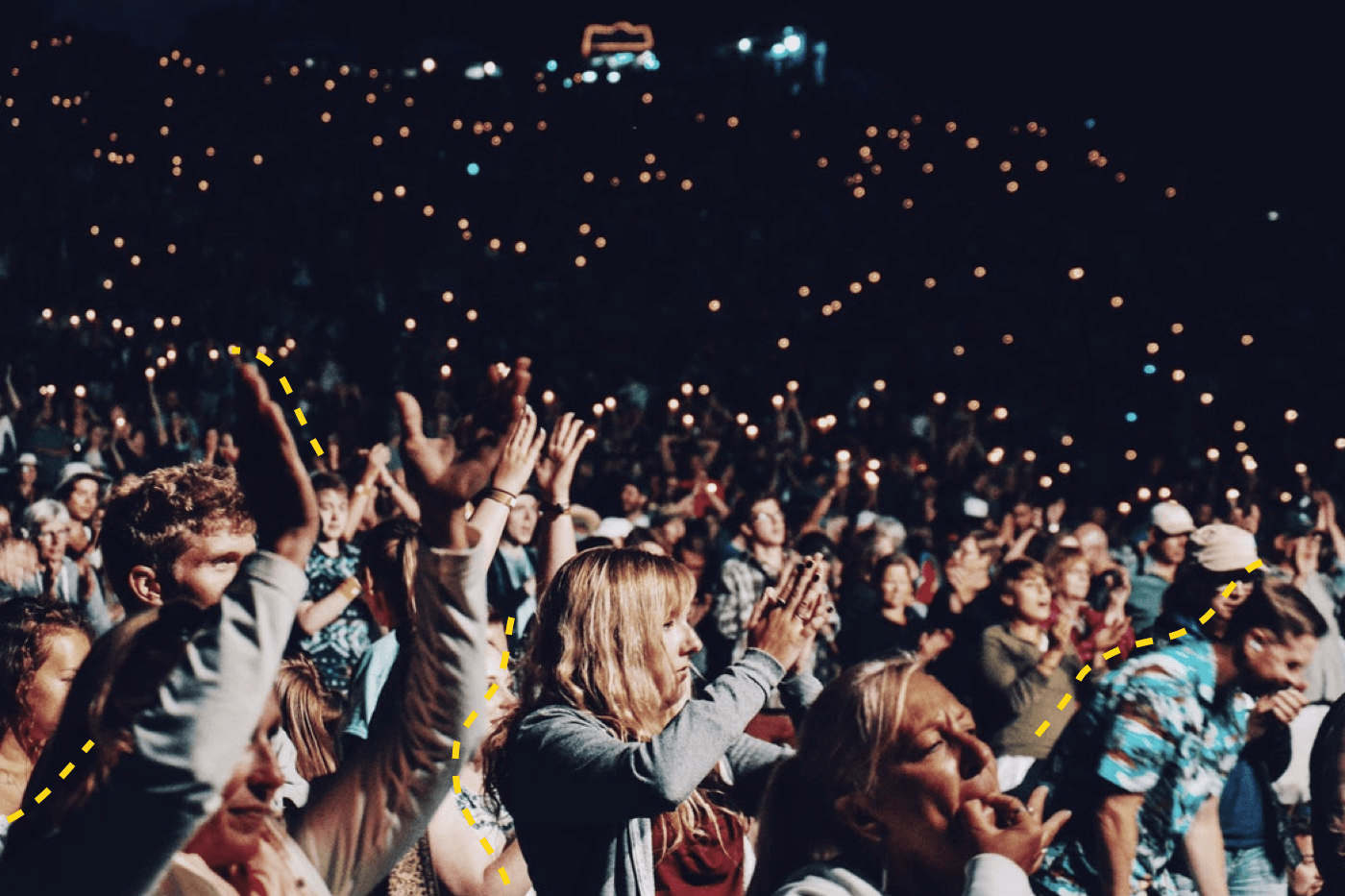 Have an upcoming show, but stumped on how you should design your email? We've narrowed it down to our top three favorite music event email templates, while also showcasing different segmenting strategies you can leverage to reach the right audiences.
Let's dive in to start sending smarter email and sell more tickets!
1. Artist-specific announcement email
Knowing what artists your attendees are interested in is a powerful thing. Segmenting based on those interests and sending targeted emails? Even more powerful.
SeatGeek sends straightforward emails announcing artist-specific shows, designed with the artist's brand in mind. There's just enough Post-inspired influence in this design for fans to appreciate the email. Let's break it down by design and sending strategy:
Design Learnings
Use visuals that are consistent with the artists' brand. From the bold orange to the barbed wire inspired by Post Malone's album cover (coincidentally now also tattooed on his forehead), fans can easily recognize who this email is talking about.
Keep copy simple. The email lets attendees know there's a show in Boston soon. The play-on-words cleverly incorporates his most popular song names into the subtext for extra relevancy.
Use one CTA. There's one clear CTA driving customers to 'Find Tickets'.
Segmentation Strategy
For this type of email, you should send to segments of customers that have:
Attended a Post Malone event in the past
Expressed interest in Post Malone via signup flow or preferences center
Interacted with Post Malone related content on social media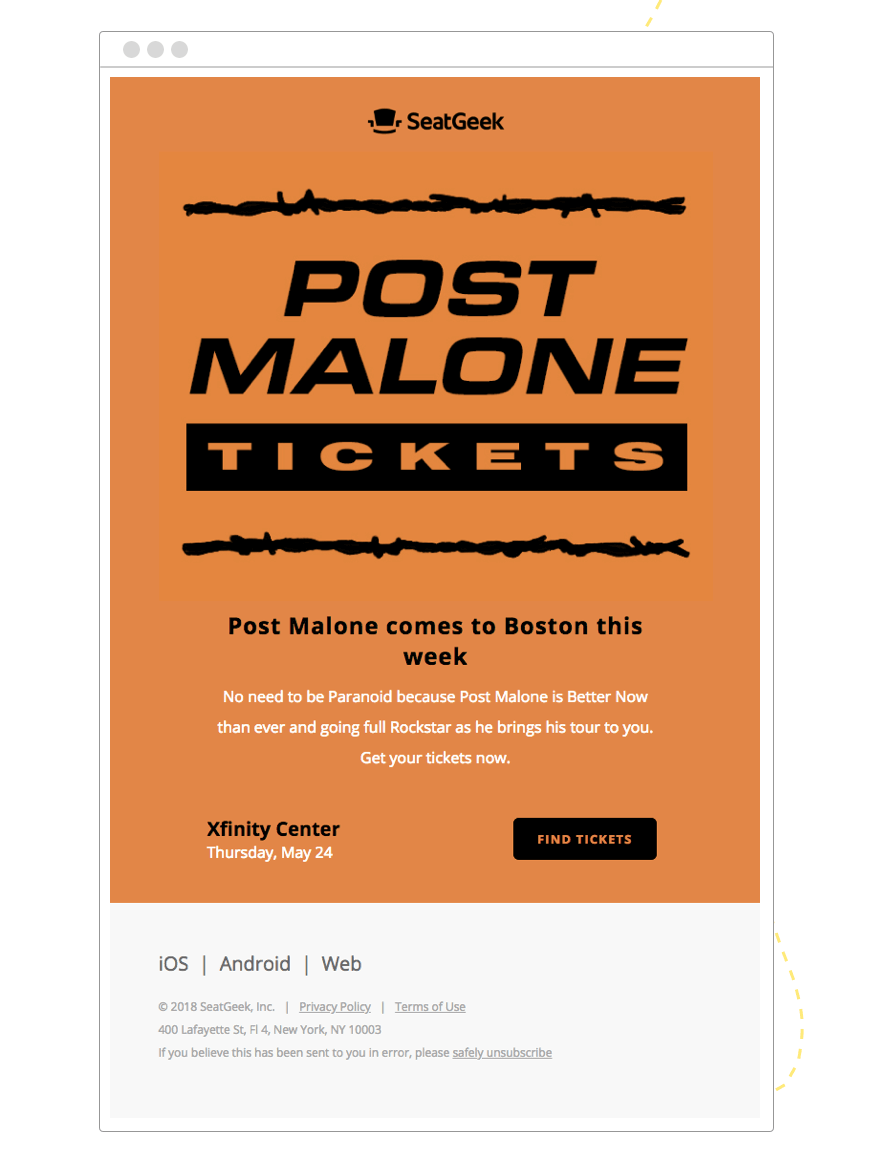 In honour of Posty, here's a song to entertain you for the rest of this blog post 🎵
2. Location-based contest
Apple Music sends segmented emails based on attendee locations. They've strategically leveraged contests as a way to build out their interest segments, since customers enter the contest by sharing which artists they'd like to win tickets to.
Design Learnings
Keep visuals minimal. The imagery in this email works hand in hand to emphasize London, both in the photo of the venue you can win tickets to as well as the stylized text displaying the city the email is targeted to.
Emphasize the CTA with a high-contrast color. Apple Music uses a light neutral in contrast to the otherwise dark black and white design, cleverly driving their attendees' attention to the CTA.
Segmentation Strategy
For this type of email, you can use broad data (like an attendees's location) to figure out more specific interests (like which artists attendees in this location are interested in). You can send to segments with subscribers who:
Are based in London
Have attended events at the London Roundhouse venue in the past
From here, you can automatically add attendees into specific artist segments based on who they want to win tickets to. This strategy will allow you to grow your segments, allowing you to send more targeted email campaigns in the future.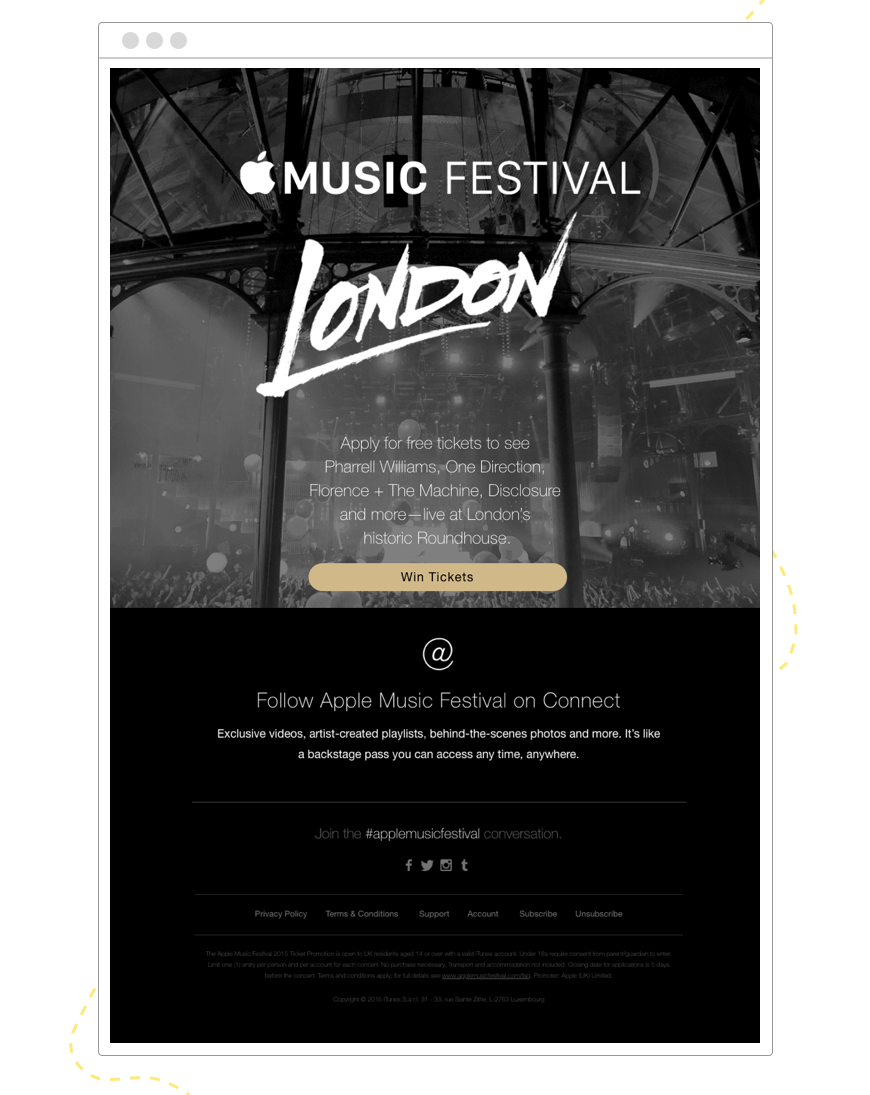 3. Early access presale
Digital Dreams announces their presale tickets to previous attendees as a way to encourage early ticket sales. Despite having more content in their email, a combo of intentional design and smart sending strategy make this an effective one.
Design Learnings
Use background colors to differentiate content blocks. Digital Dreams has separated sections by presale price and code, artist headliner announcement, and info about RFID bracelets, helping attendees understand the email content easier.
Strategically using multiple CTAs due to the length of the email. Though it's typically against best practice to use more than two CTAs, they've designed the buttons to appear with each section in both desktop and mobile view. This way, attendees can conveniently click a CTA without having to scroll back up. Note however, there are never two buttons in the same screen preview.
Segmentation Strategy
For this type of email, you should send to segments of subscribers:
Who've previously attended
New customers who've signed up on the Digital Dreams website
You can then segment based on engagement with the email. For example, creating segments for attendees who open or engage with the email as price-conscious or purchase tickets during pre-sale. On a more granular level, you can segment those who click the first CTA (directly under pre-sale ticket code) as price conscious vs. those who clicked the CTA under the artist headliner content block as artist-driven.

Bonus tip: When sending artist lineup announcements, consider layouts that are quick and easy to digest. Ever After Music Fest switched to a vertical layout when announcing their lineups for the two day event, driving higher conversions as attendees can more quickly pinpoint which day they're more interested in.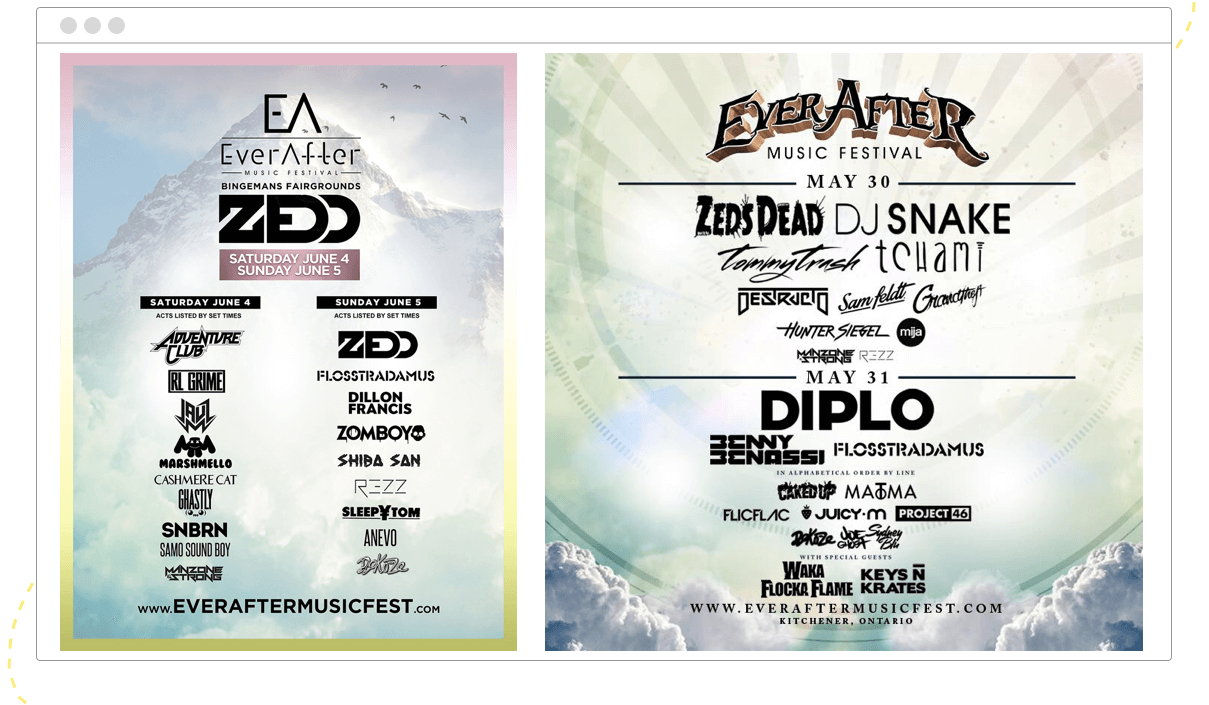 Wrap Up
Email design and segmentation go hand in hand in ensuring you're sending effective email campaigns. Through these three examples of design and segmentation, you're more ready than ever to start strategizing how and what you're sending to your attendees!
If you're looking for more tips on successful event email marketing, we recently shared 5 tips for music event email marketing success on the blog.