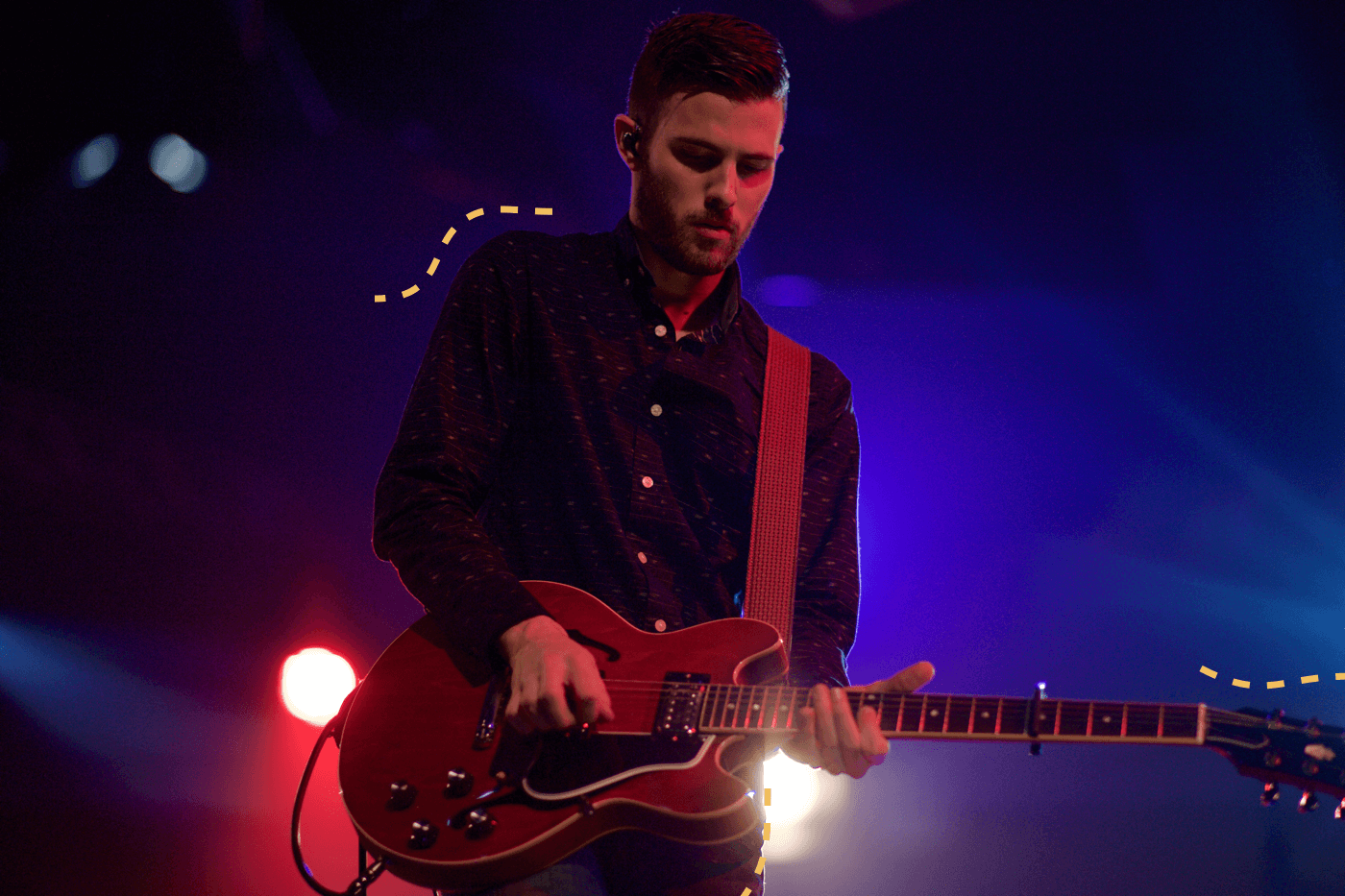 We know 2020's been a tough year for event brands because of the pandemic. With strict social distance regulations, brands are shifting strategies to keep fans engaged. With restrictions across Canada and the US starting to lift, event brands are getting creative. We've seen everything from virtual concerts, to socially distanced raves and drive-in movie nights. COVID-19 has also increased email engagement with open rates rising 20% from 2019, so it's a great time to rethink your email marketing strategy to engage your audience while events are paused. Let's get started!
Keeping Attendees Informed
Keeping attendees looped into the status of your events (especially those they've bought tickets to) should be an important part of your email strategy. While your audience is excited for events to return, they also want to feel safe and know that there are proper social distancing measures in place. In your email, you need to be clear about event details and safety protocols so your attendees feel safe. At the end of the day, your fans just want to feel reassured that they'll be taken care of!
Here's a great guide by Eventbrite you can reference for your next campaign! Note they include a section about why specific procedures were chosen to give attendees more context and reassurance.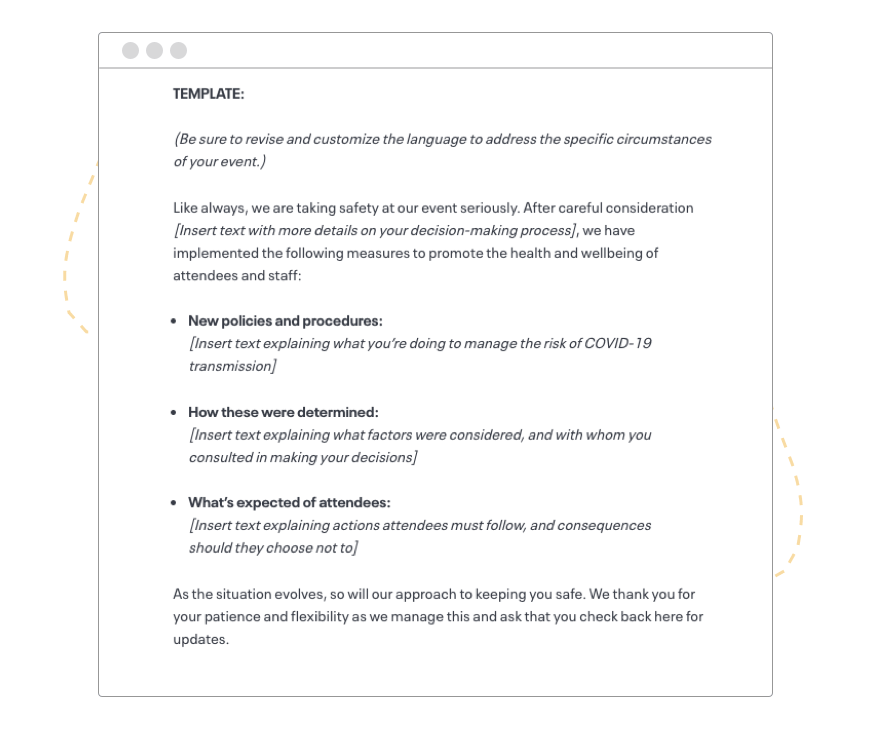 Keep A Consistent Send Schedule
Just because there aren't a lot of events happening doesn't mean you can't continue to communicate with your attendees! Leading up to your next event, continue to build the relationship you have with fans so you maintain a presence in their inbox.
Even though we're all aware that we're in the middle of a pandemic, customers want to feel a sense of normalcy and stay in the know about what their favorite brands are up to. Keeping a consistent schedule of communications is also crucial for your sender reputation and ensures that your emails continue to land in subscribers' inbox. Check out Avant Gardner's 'The Good Stuff' below - a new newsletter they created to connect with their community during the pandemic.

To read more about why they launched 'The Good Stuff', check out this blog!
Related: 5 Steps to Improve Sender Reputation for Better Email Deliverability
Make Sure Content Is Relevant And Mindful Of The Current Landscape
Sending well-targeted emails is more important than ever! Laws and regulations around the pandemic are constantly changing and highly specific based on location. When sending a new email, make sure that you're aware of the current state of the crisis and segmenting your sends by location. Most borders are still closed so you want to be extra careful when talking about international travel for events.
It's also important to use appropriate subject lines! Make sure that you're conveying the excitement of a new event while emphasizing the safety precautions you're taking. You wouldn't want to send emails with pictures of huge gatherings like the one below or subject lines that reference huge crowds because they're not appropriate for the current landscape.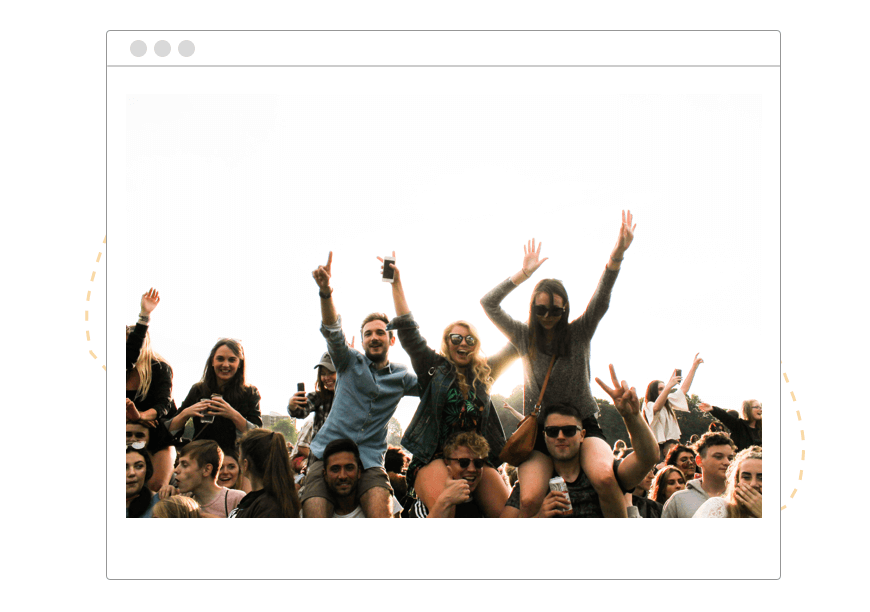 Wrap Up
We've been blown away by the innovation and creativity event email marketers have displayed to adapt their email strategies to keep fans engaged. Keep your email strategy relevant by keeping attendees informed, maintaining a consistent emailing schedule, and remaining aware of the current landscape that we're in!
Want to learn more about event email marketing during COVID-19? Check out this webinar!