Email and SMS are quickly becoming the must-have power duo for brands looking to engage their customers through the full buying journey. Email continues to be an amazing way to communicate with customers, but with a 98% open rate and consumers spending an average 3.5 hours a day scrolling on their phones, you can't deny the benefits of leveraging SMS in your omnichannel marketing strategy! Ecommerce grew by 30% last year, and over 65% of customers are doing most of their shopping on their phones. To take full advantage of this amazing duo, here are 3 email and SMS workflows you should set up to really drive revenue in 2021. Let's dive in!
Welcome series with SMS
A welcome series is a must for any ecommerce brand! Welcome emails have a 91% open rate and over 74% of customers expect to see one as soon as they sign up to be on your list. Think about it this way, it would be weird if you walked into a store and no one greeted you. It's the same with email! When a customer signs up to your list, they just indicated they're interested in your brand and want to hear from you! Leverage the immediacy of SMS to send a quick welcome message and discount code right away, and schedule a welcome series over the next few days to remind them of their discount code, while also sharing more about your brand and what they can expect from your future emails. You'll drive conversion by connecting with them instantly since chances are they'll see your SMS more than an email in their crowded inbox. Automating your welcome series and using both SMS and email will engage customers better right at the start of their journey with your brand, and lead to stronger customer relationships long term.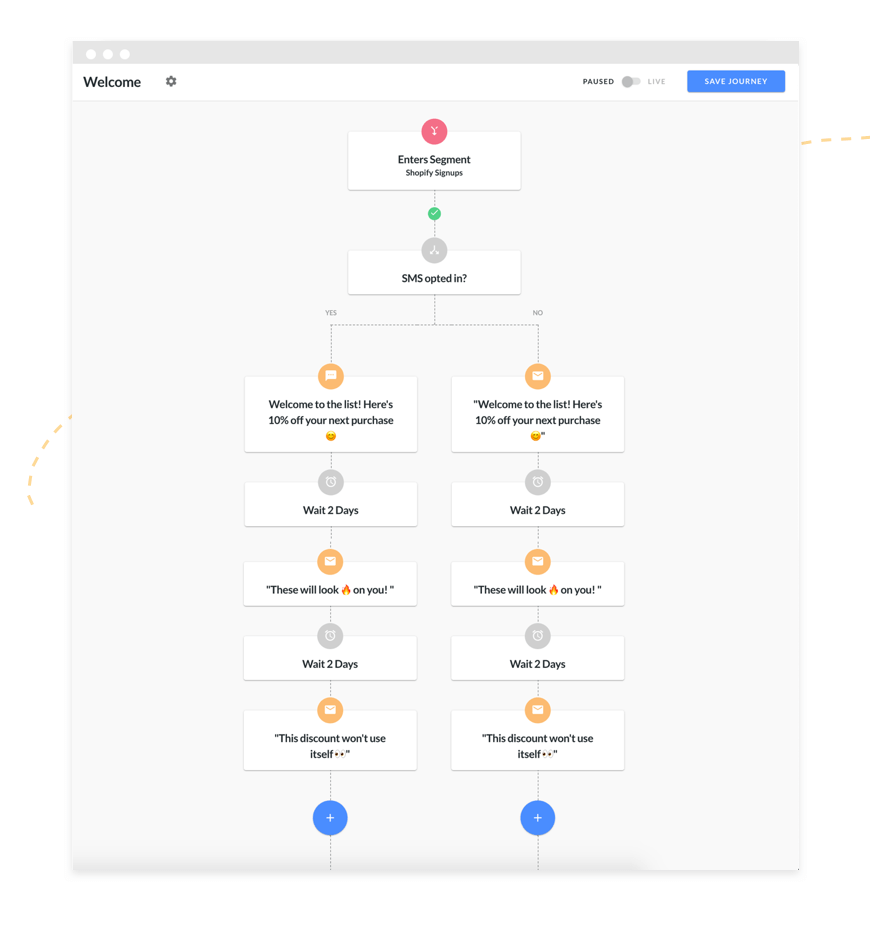 Read more: The Ultimate Step-by-Step Guide to Creating a Welcome Email Series
Order confirmation email and thank you for your purchase SMS
Pair your order confirmation email with a little extra thank you to new customers that just made their first purchase. Customers expect to see a confirmation email as soon as they make a purchase so it's a sure fire way to drive engagement and increase your open rate. Take your new customer thank you to the next level by including a 10% off SMS after their purchase to show your appreciation and stand apart from other brands.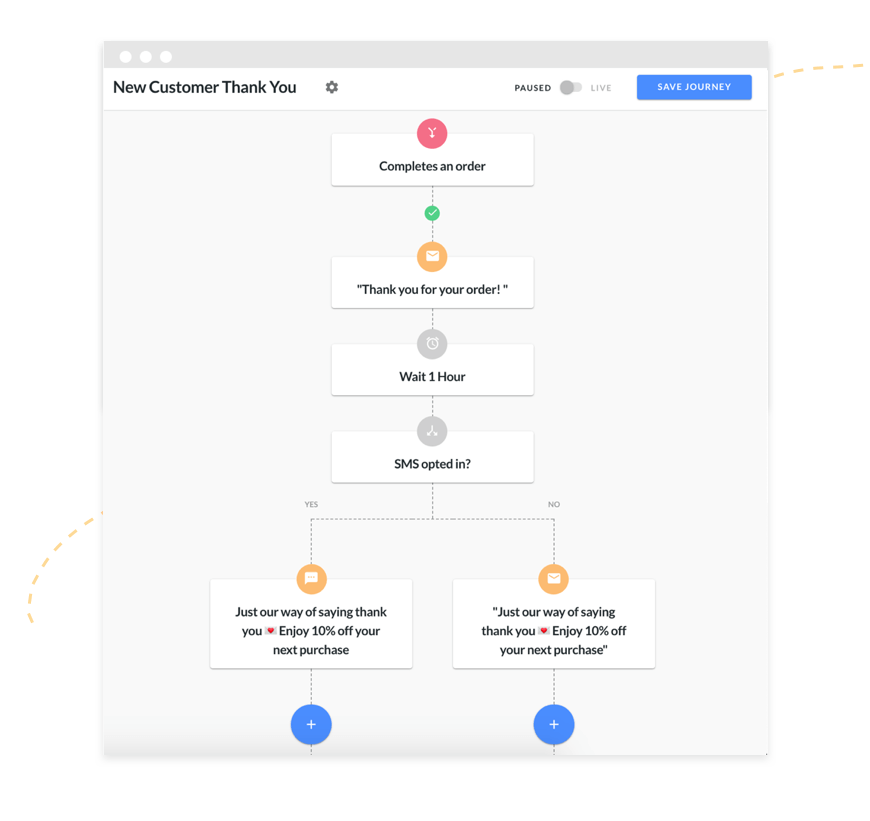 Abandoned Cart automation with SMS
SMS really shines when you add it to your abandoned cart email automation flows. Start by sending customers an email reminding them that they still have something in their cart. If they still haven't purchased, create a sense of urgency by sending an SMS reminding customers that their carts will expire or that the item is almost out of stock! Drive higher cart recovery by adding a small discount in your SMS messages to encourage customers to checkout right away.
Best practise is to follow the following format for abandoned cart SMS reminders:
This would look so good on you! Don't let it expire! Use code [code merge tag] to get a 20% off for the entire order. [link to the site]
Wrap up
There's no better duo than email and SMS for an effective omnichannel marketing strategy. When you combine both channels in your automated workflows, you'll get better customer engagement and drive more revenue! SMS is one of the most effective ways of communicating with customers on a more personal level, and after a year of limited face to face interactions, it's a powerful way to connect with customers and build long lasting relationships.
Dive deeper into omnichannel marketing and learn how SMS and email work together to drive higher conversion.