10 Lead Collection Methods You're Probably Not Doing (But Should)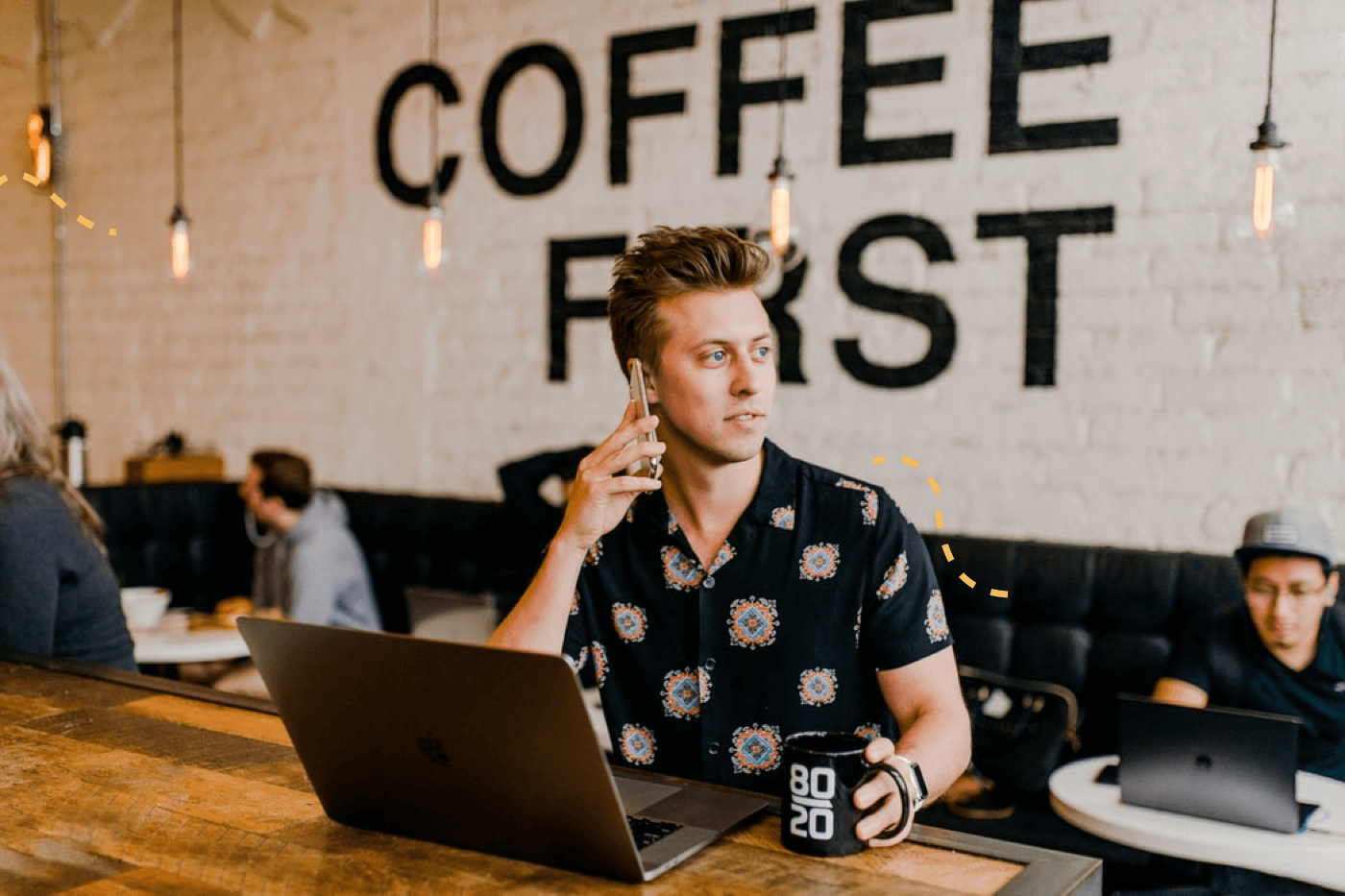 Your loyal customer base is like a reservoir - although not guaranteed, it represents the reliable body of customers that keep your business chugging along. Even during the best of times, some of the most loyal customers eventually leave. But when the economy is truly struggling, this is when your customer base is especially tested. Your reservoir of revenue must regularly (maybe now more than ever) be replenished.  
Customer acquisition can be time-consuming and costly, and your usual sources of lead generation may eventually dry up as well. Especially during these turbulent times - it's more important than ever to expand your reach in order to safeguard your business from losing revenue. So how do you go about broadening your methods of capturing new leads without breaking your back, or the bank?
In this article, we won't be talking about the obvious things you may already be doing, such as running paid ads. Instead, here are some not-so-obvious methods of lead collection that are great for just about any business.
Write a blog
You may not be a writer, but you are an expert in your field. When I recently had my carpets cleaned, the man wielding the wet vac took me on a post-shampoo tour of my carpet. He showed me a spot that looked dirty. "You see that? That's not a stain, that's a reverse pile - a defect in the carpet." He took me to where my home office is set up and said, "Do you see where the carpet is crushed? You'll want to get a protector for the floor." He noticed we had a new baby in the house and told me all of the amazing things you can clean with baby wipes. His extensive carpet knowledge was impressive, and I - someone looking to have cleaner carpets - was interested in what he had to say. My point is, no matter how seemingly mundane, whatever you have to say will be interesting to your potential customers.
As an expert in your field, use your extensive knowledge to write short articles geared for SEO (search engine optimization) that capture the attention of potential customers. If you're worried about not having enough to write about, I challenge you to think of peripheral topics around your business. For example, a carpet cleaning company could broaden their range of articles to cover carpet repair, in-home allergens, carpet care tips for babies learning to crawl and cats who mark.
If you're a retailer with an online store, focus the content around showing off your products in action. For example, a shoe seller wouldn't have to write solely about shoes (pun very much intended) but could write about fashion trends while highlighting specific shoes sold in their store. This will cast a wider net for potential readers and therefore expand your reach for attracting leads.
Use interactive marketing, like a quiz
Interactive marketing is any type of online contest, quiz, or giveaway that potential new customers can connect with. Quizzes, for example, are highly engaging and don't come across as an intrusive way of gathering contact info.
Check out this personality quiz - a quiz that serves an outcome based on how the participant answered a series of questions. It's a hugely popular way to catch the attention of new leads and also helps you understand their preferences.
This particular quiz collects an email address right before the outcome is displayed.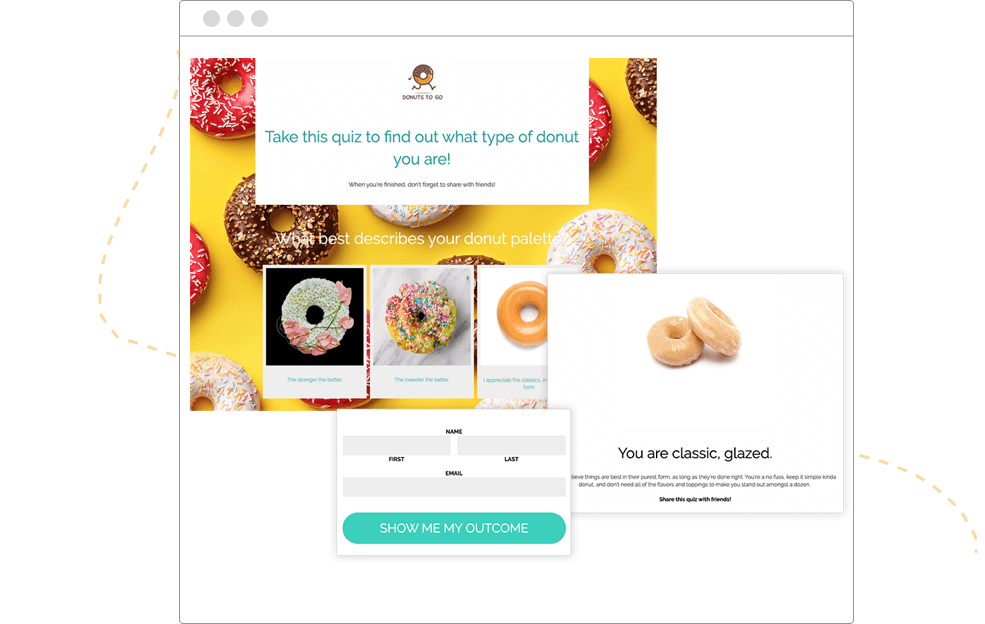 This strategy works wonders for those with an online store. Use a merge field in an automated email to be sent immediately after the form is submitted. You can include a discount code in the merge field related to the participant's outcome. For example, if their outcome was related to a specific product, send them 20% off that product in your online store.
Create a YouTube channel
One billion hours of YouTube content is viewed every day. There's a reason YouTube is so popular. If you're like me, when you need to learn something quick, a video tutorial trumps written instructions all day, every day. You can get in on the YouTube craze and be part of the millions of brands that use videos to help market their business.
Like a blog, your industry most likely has periphery subject matter that you can create content around. For example, are you a day spa? Your hair stylists can make hair tutorials, your estheticians can create skincare tutorials, and your massage therapists can talk about relaxation techniques for better productivity or better body mechanics to improve health.  
To collect leads from video views, you'll want to do more than entice channel subscribers. Create an online entry form and link to it in your video description. Tie this form in with your video somehow - for example, run a giveaway or use a quiz based on the subject matter (like this one). This way, you'll collect valuable contact info that will allow you to follow up with viewers.
Host a giveaway with referral incentives
As I mentioned before, interactive marketing is great for engaging online traffic. An effective form of interactive marketing is a contest or giveaway. Contests and giveaways are great for lots of reasons - they're fun and exciting, they allow you to gather contact info from each participant and help you qualify potential leads. They only have one problem - without the proper promotion, they're often seen and participated in by the same people already in your audience.  
A clever way to solve this problem is to put your contest participants to work recruiting new leads. Enlist them in doing the contest marketing for you by rewarding referral entries - in other words, offer entrants extra chances to win to those who get more people to participate.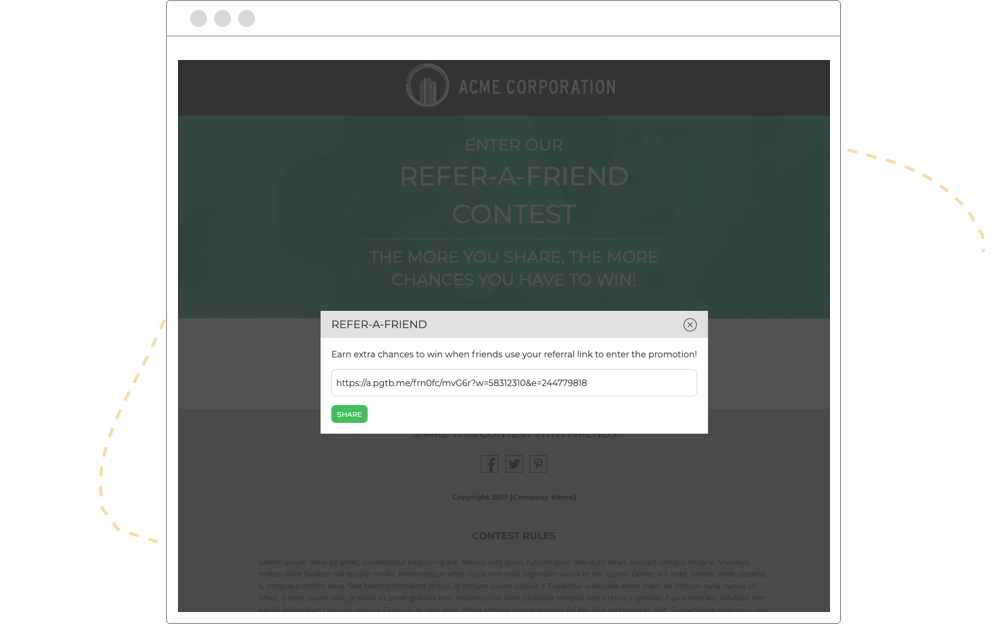 Host an event or attend a tradeshow
Good-ol'-fashion in-person connections are nothing new. But when hosting an event, or attending a live trade show, chances are, you won't have time to meet and chat with everyone. Make sure you build in a way to capture the name and email address of everyone who attends or visits your booth, not just those you were able to have a conversation with.
Create an online form that can be filled in from an iPad or kiosk. To incentivize form entries, turn it into a giveaway or offer a freebie to all entrants. This way, you'll drive more traffic to your booth, and have a means of following up after the event is over.
If you're the owner of a music or event venue, this method can help you attract patrons to your business again and again. Use the signup form as a giveaway to offer tickets to future events. With permission, add these entries to your email list. Then, send out announcements for upcoming performances and give exclusive discounts to those receiving your emails.
Offer an "Enter to Vote" contest
Voting contests are fun and versatile. Allow participants to submit entries of their photos, videos, recipes, stories, or any type of content - the sky's the limit. Then, participants will enlist their friends and family to visit your contest to cast their votes. The smart bit? Display a simple entry form that each voter must submit to reveal the voteable entries. This way, you're sure to tap into new territory when it comes to recruiting leads.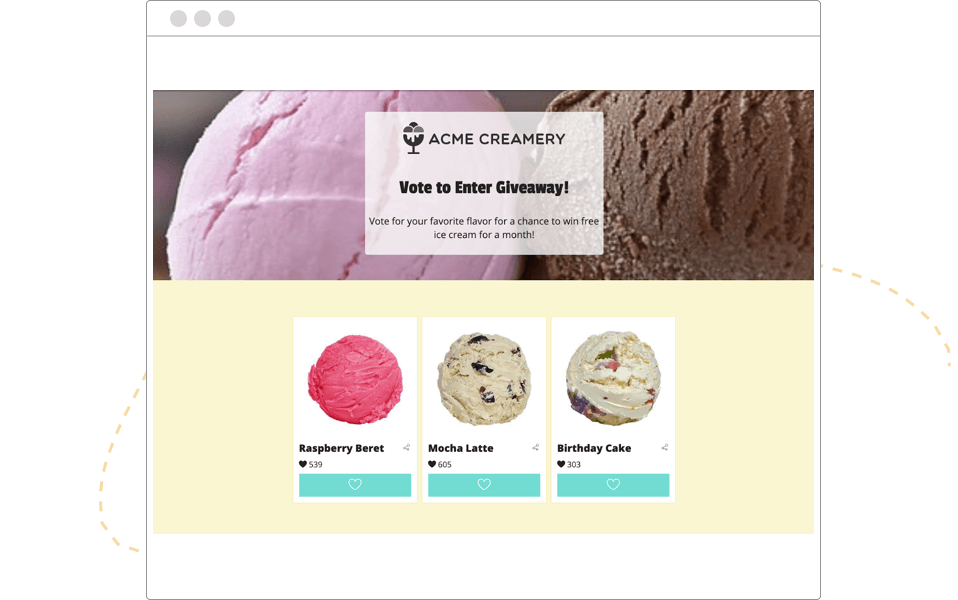 Use a "comment/like to enter" giveaway
If you've scrolled through your social media accounts recently, you've probably seen a giveaway that looks something like this: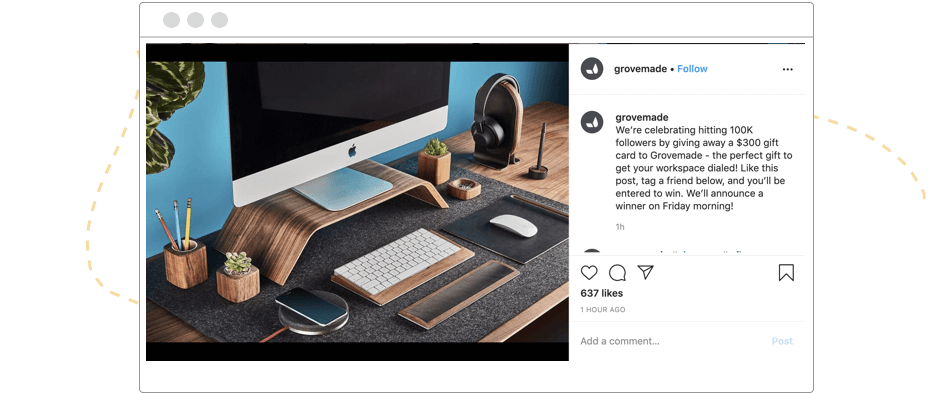 These types of giveaways are popular for two main reasons: 1.) They're super simple to execute and 2.) they get loads of participation. The downside to these simple giveaways is they don't help you collect valuable information to use for lead generation. In other words, usernames aren't very valuable unless you're willing to communicate solely through DMs.
However, the way to capture leads from a "comment/like to enter" giveaway is simple - use the eye-catching power of a comment/like giveaway as the hook to drive traffic to an online entry form for a second chance to win.
Create a hashtag contest
A comment/like to enter giveaway is a lot like a hashtag contest with an added benefit - you collect valuable user-generated content to use in your future marketing. This is how it works:  participants post photos or videos to Twitter or Instagram with your branded hashtag (and @mention on Instagram). Those entries are automatically collected in a feed. With contest software like ShortStack, you can display that feed on a landing page as a gallery of entries and enable a voting mechanism to make it a contest.
As we mentioned before, hashtag contests have a drawback in that they only collect a Twitter or Instagram handle, which isn't very useful when growing your list of leads. To collect contact information, offer an extra chance to win in exchange for an entry into a form.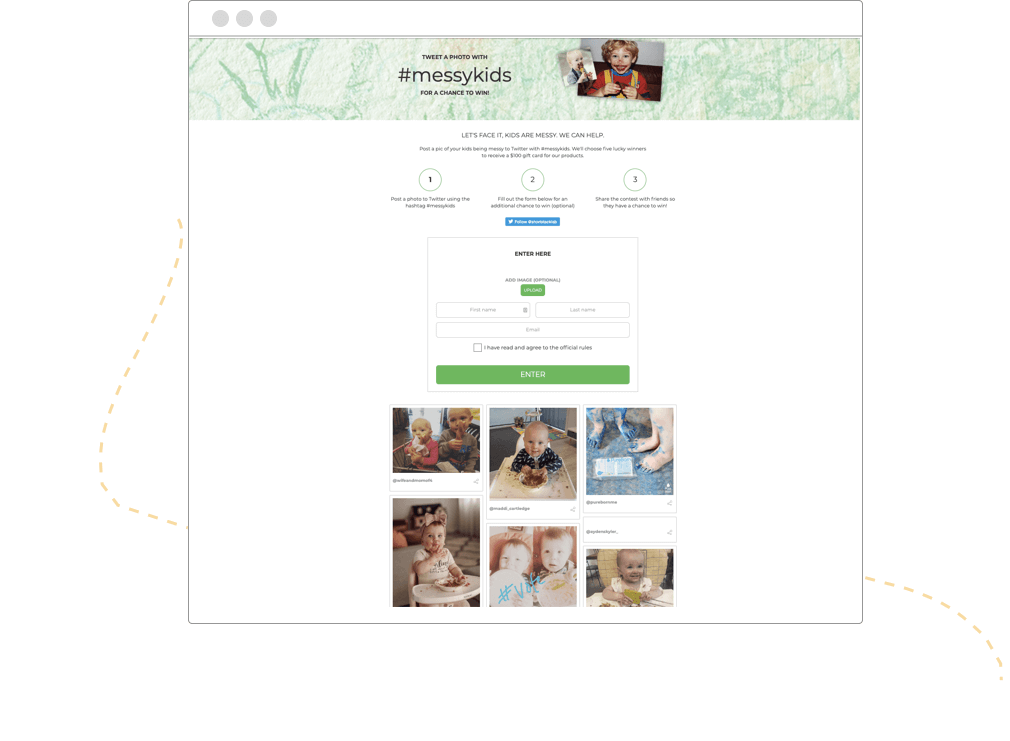 Use email marketing
You're probably already sending emails, but let's face it, with the amount of clutter in the average inbox, it's tough to get your email opened, let alone read. Use this little trick to get more subscribers and actually compete with the other emails in your recipient's inbox. Your CTA should never simply be "subscribe to our newsletter." Instead, think of a benefit your readership will get from your email updates.
For example, newborn babies go through ten major developmental leaps in the first year or so of their life. During a leap, parents may be wondering why their otherwise happy baby is suddenly not very hungry, fighting naps, and fussy. Signing up for this leap alarm can put new parents at ease before rushing off to the pediatrician.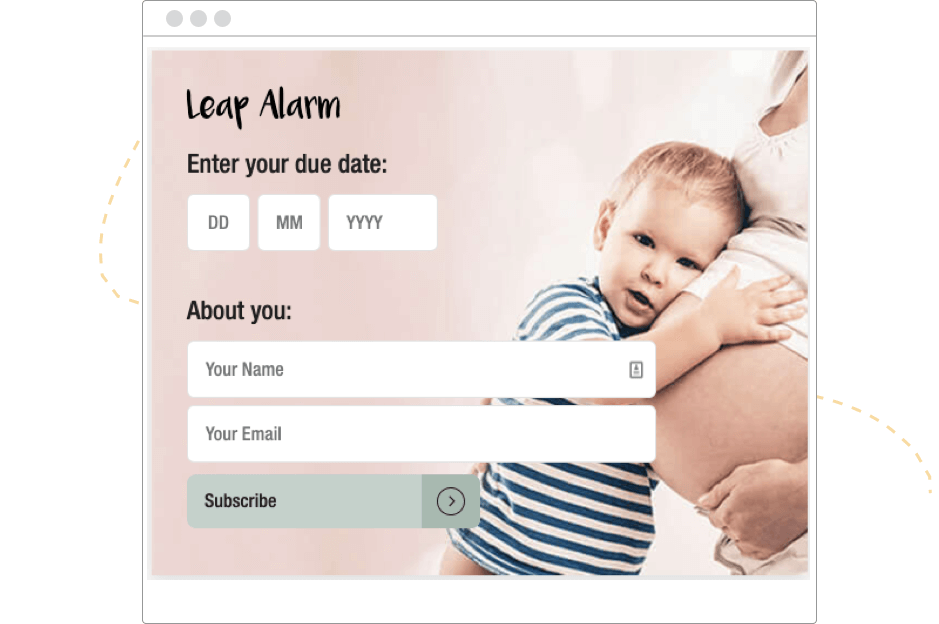 Other examples of email subscriber benefits could include exclusive coupons or discounts to be used in your online store, stock tips, motivational quotes, or as we mentioned before, announcements to upcoming events.  
Use Influencer Marketing
A common misconception is that influencers are unattainable Instagram celebrities with millions of followers, but the reality is that influencers can be found right in your own pool of loyal customers. That's right! To identify your potential influencers, find those who have used your products or services and have strong social media following. Get excited, because these folks are a lead generation machine just waiting to be tapped.
To help you identify your influencers, the easiest method would be to use software such as Uplfluence or Carro. Services such as these scrub your customer list to find those who have taken action with your business, for example, those who have signed up for your newsletter or made a purchase. Then, you can view a report that lists their contact, handle, and number of followers. With that info, you're primed for the next step.  
Reach out to those with a large following and offer them free products or services with the promise they'll post about it and use your branded hashtag. Then, if you'd like to further incentivize their participation, make them a unique discount code to advertise in their posts - if their followers use it, you can track the sales and cut the influencer a small commission check.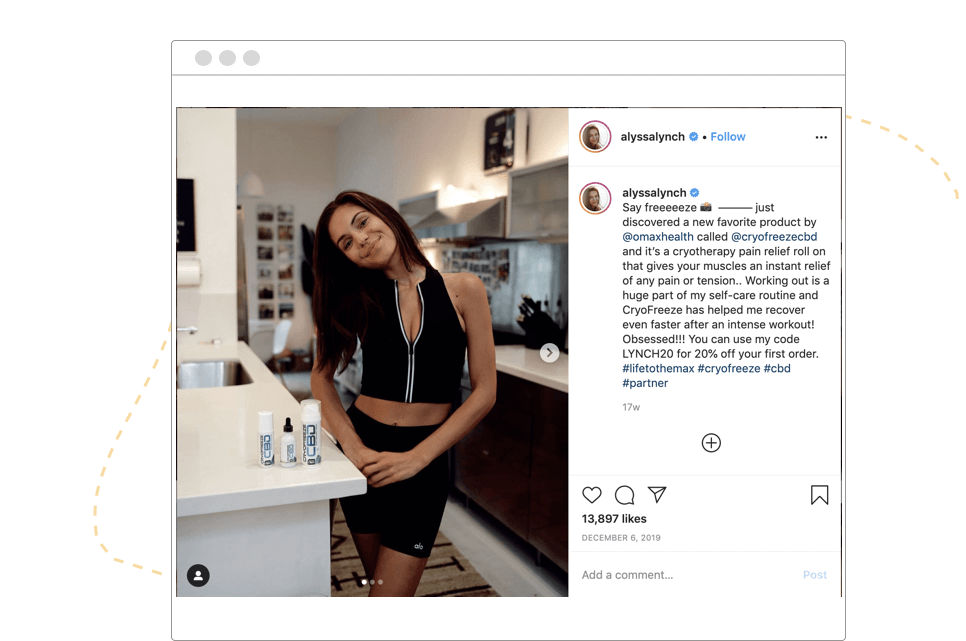 Always remember...
All leads are not created equal. If it's quantity you're after, you can always buy a list, but good luck converting those leads into customers! If you want qualified leads, it's important to tap the right places using the right strategies.
Eventually, when the economy begins to recover, it's important not to let customer acquisition go by the wayside. Get creative with these lead collection methods to keep your influx of leads brimming with potential.